Detectives
A detective is not someone who gets divine revelation.
Edition : Monday, November 18, 2019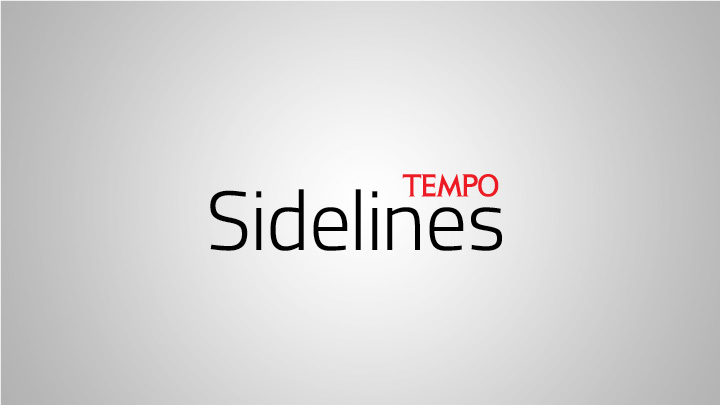 At least not the Sherlock Holmes I am thinking of, the famous detective of Arthur Conan Doyle's stories. Or Father Brown, the Catholic priest who solves criminal cases in G.K. Chesterton's fiction.
Detective stories are enjoyable because they are not (and they lack) religious tracts. Religion declares itself to have all the answers; detective stories on the other hand start with questions: who did X? How? What was the motive?
This creates suspense. Readers are put—or they put themselves—in the position of 'I-do-not-know' and move to the position of 'I-want-to-know' about what happens. Suspense is the tension that pushes the story towards an unknown yet-to-come.
Suspense keeps us engrossed. Imagine if we read a story that told us immediately who the thief was and how they did their deed—this would be different to, say, what fascinates us in Suman Hs' story Mencari Pencuri Anak Perawan (Search for who stole the girl). This novel is certainly not a didactic narrative that tells of a future with no unknowns, something that would make us stop at page 10 because there are no more surprises.
This is why when we finish almost all detective stories we have no urge to reread them: we already know who the murderer is on the Orient Express. Except when the narrative remains fresh as in John Le Carré's spy novel Tinker, Tailor, Soldier, Spy. At the end, we find out the identity of the Soviet agent who is embedded deep in the British secret service, but we still enjoy turning the pages again (or watching the film version). Tinker, Tailor, Soldier, Spy depicts not only the process of solving the mystery, but also, in its pleasurable and often moving storytelling, the story of a person weak yet steadfast because of a sense of duty, who holds noble ideals and yet is prepared to be a traitor.
W251bGwsIjIwMjEtMDUtMDggMTQ6NTE6NTIiXQ
Le Carré's spy novels, like the detective stories of Arthur Conan Doyle, Agatha Christie or G.K. Chesterton, fascinate us because they are about human failures and abilities without any divine intervention. If there is faith, it is on a barely perceptible level, or within the frame of rationalism. In The Blue Cross, Father Brown attacks Flambeau: "You attacked reason. It's bad theology." G.K. Chesterton, who was a devout Catholic, wrote fiction in which Father Brown often teases people who rush to accept supernatural explanations.
In the late 1920s, when detective stories began to take off, there was a club for detective story writers called the London Detection Club. Agatha Christie and Chesterton were among its members. There was a kind of vow among them: they would not write stories that used 'Divine Revelation, Mumbo Jumbo, Jiggery-Pokery or Acts of God'.
Even 'feminine intuition' was excluded. Think of Sherlock Holmes. He lived alone, was unmarried, unattractive to women, and proudly declared his belief in the power of the intellect, not intuition. In The Adventure of the Mazarin Stone he says, "I am a brain, Watson. The rest of me is a mere appendix." In The Naval Treaty he even says, while admiring the beauty of a rose, that religion "can be built up as an exact science by the reasoner."
The detective story indicates the arrival of the modern world and rationalism. Umberto Eco's famous novel The Name of the Rose, which posits religious fanaticism against scientific reason in a murder story set in a 12th century monastery, also marks the arrival of secularism.
In early 20th century Indonesia, the protagonist of Mencari Pencuri Anak Perawan (published in 1932) is a clever man called 'Sir Jon'. The word 'Sir' is attached to his name because he likes to use English words. He is a bachelor who lives alone with his servant in a coastal town, not in a village in the interior. Many different ethnicities and religions live side by side and the ties between them are strengthened with occasional games of soccer. Sir Jon dares to defy parental authority over an adopted daughter, a young woman called 'Nona', and with deft maneuvers, he kidnaps her.
Three years earlier, a two volume novel by Ong Hap Djin was pubished in Surabaya titled Kang Lam Yau?...atawa Si Boeroeng Walet dari Kang Lam. I discovered this detective story from Doris Jedamski's fascinating contribution to Clearing A Space: Postcolonial Readings of Modern Indonesian Literature (ed. Keith Foulcher & Tony Day, 2002). The main character, Wat Song, is called 'Sherlock Holmes of the East'. Like the London detective, he has a friend and assistant, Pouw Long. Wat Song knows that his life as a 'private' detective copies people in Europe. But he knows that detection involves different things for observation for a detective from Surabaya, like "the footwear of our people." Even so, he still says that "education, opinions, knowledge and many other modern things, almost everything comes from the West, from Europe [...]. The science of detective work also belongs to such modern knowledge."
This kind of acknowledgment was rare in early 20th century Indonesia—and still is today. But any lover of detective stories will know that Wat Song was not talking nonsense. At the basis of all detection is the assumption that there is no magic; its tool is thorough interrogation. Detective Wat Song: he stands for no dogma.
GOENAWAN MOHAMAD