The Bearded Charmer's Gambit
Surya Paloh is seen to be disappointed with the new cabinet appointments. He took the step of meeting with high-ranking members of an opposition party.
Edition : 18 November 2019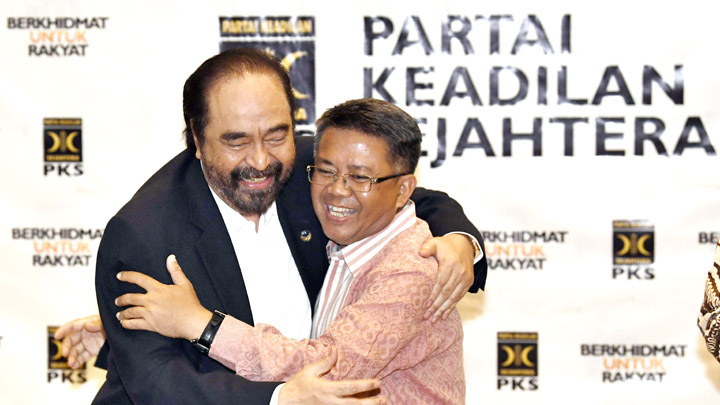 LAUGHTER was heard in the meeting room on the first floor of the Justice and Prosperity Party's (PKS) Central Executive Board office in Pasar Minggu, South Jakarta, on Wednesday, October 30. Having come there with an entourage of officials from the National Democrat (NasDem) Party, the General Chairman Surya Dharma Paloh repeatedly cracked jokes. Expressing his joy, the guest thanked the host, PKS President Sohibul Iman, for receiving him. "When hearts meet, it just works," said Surya, as PKS Chairman Mardani Ali Sera told Tempo, on Saturday, November 16.
NasDem Party Chairman Charles Meikyansyah, who was present in that meeting where traditional snacks were served, said that the event was very cordial. Surya, for instance, said that Sohibul, who he has long known, is more than just a friend. "Not just a long-time friend, but an old brother," said Charles, imitating Surya's words.
After the hour-long meeting, NasDem and PKS party officials held a press conference. When asked about the possibility of his party becoming an opposition party like PKS, Surya said that anything is possible. After that, in front of the journalists, Surya hugged Sohibul. The arms of that Media Group boss embraced Sohibul in a bear hug for about five seconds. According to Charles, Surya usually only gives a strong handshake. However, Charles said that his hug was a spontaneous gesture.
Surya Paloh's presence at PKS headquarters raised some questions from the coalition of parties supporting the Joko Widodo administration. Deputy Secretary-General of the Indonesian Democratic Party of Struggle (PDI-P) Arif Wibowo gave a reminder to coalition parties to keep their commitment. "Duplicitous politics should not be attempted by parties in the coalition supporting the government," said Arif a day after the Surya-Sohibul meeting.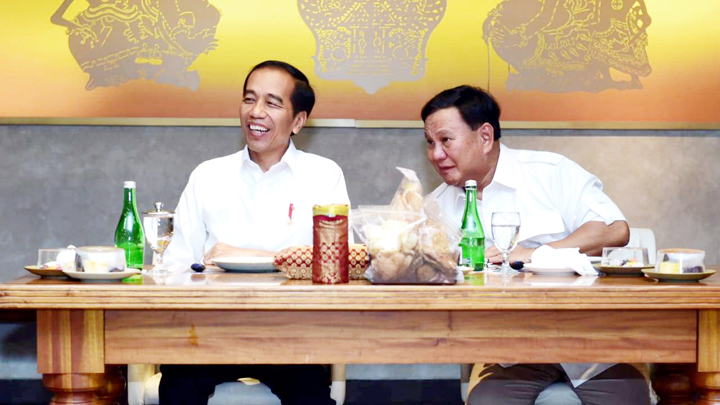 President Joko Widodo and Prabowo Subianto in Senayan, Jakarta, last July. BPMI Setpres/Mukhlis Jr
President Jokowi also mentioned Surya's affectionate hug. "I don't know the meaning of it, but that was not an ordinary hug," said Jokowi during a speech at the Golkar Party anniversary held at the Sultan Hotel on November 6. "I have never been hugged by Surya as closely as he hugged Sohibul Iman." Jokowi also said this in jest when he met with Surya in the waiting room. According to Charles, who was present then, Jokowi said the same thing. Surya, said Charles, only smiled.
That meeting between Sohibul and Surya had been planned long in advance. The two sat next to one another at the presidential inauguration. Surya then said that he wanted to visit the PKS. "Sohibul said that he would come to my office, but I said I would go to his office," Surya told Tempo. Surya's statement was verified by PKS Chairman Mardani Ali Sera. Zulfan Lindan, a NasDem politician, said that his boss often meets Sohibul at the Borobudur Hotel in Central Jakarta.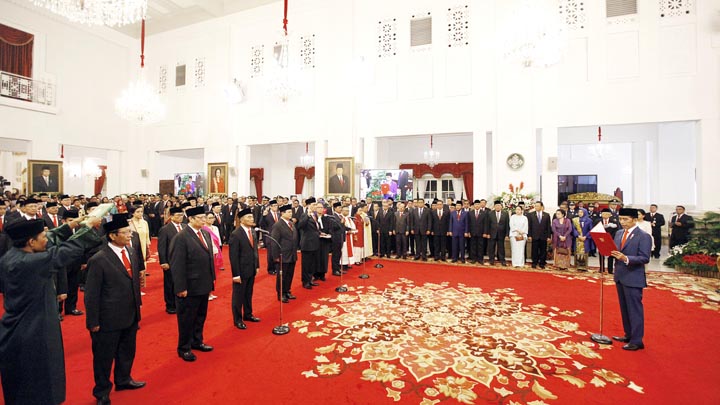 The inauguration of the Indonesia Progress Cabinet for 2019-2024 at the State Palace, Jakarta, October 23. TEMPO/Subekti
Surya-Sohibul's meeting on October 30 preceded by a meeting between some NasDem and PKS party politicians. They drafted three points of agreement: respecting each other's political choices, safeguarding Indonesian sovereignity, and mutual respect between nationalist and Islamic groups. According to Mardani, those politicians also agreed that the meeting would be attended by all top officials of both parties, without exception. The meeting was delayed because Salim Segaf Aljufri, Chairman of the PKS Consultation Council, could not make it.
Surya said that he had sent a signal to Jokowi regarding this planned meeting. During the inauguration of deputy ministers at the Presidential Palace on October 25, Surya mentioned the need for political communication with parties outside the coalition supporting the government. "Internal communications are well maintained, but communication with outside parties is no less important, to avoid any false pretense," said Surya.
Surya Paloh's visit to the PKS office, according to three high-ranking NasDem officials met by Tempo, came after his disappointment with the cabinet appointments. Surya did not agree with the inclusion of Gerindra Party into the coalition supporting the Jokowi administration. Surya sent this rejection signal after Jokowi met with Gerindra Party General Chairman Prabowo Subianto, his rival in the presidential election, at the Mass Rapid Transit (MRT) Station in Lebak Bulus, South Jakarta, on July 13.
NasDem Party General Treasurer Ahmad Sahroni denied that his boss was disappointed. "Pak Surya was surprised," he said. After that MRT meeting, said Sahroni, Surya suspected that Prabowo would likely join the government coalition. In his opinion, Surya was repeatedly concerned about the minimal control there would be over the government if the Gerindra Party joined the coalition.
Three high-ranking NasDem Party officials said that that meeting led Surya to invite the general chair of parties supporting the Jokowi administration to the office of the NasDem Party Central Executive Board on July 22. PDI-P General Chairperson Megawati Soekarnoputri did not attend it. Despite not stating it outright, Surya and three other party leaders, namely Golkar Party General Chair Airlangga Hartarto, National Awakening Party (PKB) General Chair Muhaimin Iskandar, and United Development Party (PPP) General Chair Suharso Monoarfa, signaled their rejection of Prabowo being a part of the coalition. "It is very important to maintain the fruitful solidity of the coalition of parties supporting the Jokowi administration," said Surya at that time.
Two days later, Surya met with Jakarta Governor Anies Rasyid Baswedan at the NasDem Party office. At the same time, less than a kilometer from the NasDem office, Megawati was receiving Prabowo at her home in Jalan Teuku Umar, Menteng.
The same top NasDem Party officials said that Surya was also disappointed because his request that the position of Attorney General continue to be held by Muhammad Prasetyo, a NasDem Party cadre, was denied by the President. According to them, Surya even modified his request, that Prasetyo be kept on in the position for just another year. However, Jokowi was still reluctant to change his decision.
NasDem Party General Treasurer Ahmad Sahroni verified the news that their party did hope that Prasetyo's term would be extended, not just for a year, but for the duration of the Jokowi administration. "If his performance has been positive, why not for five years? However, that is indeed the President's prerogative," he said. Jokowi later entrusted this position to S.T. Burhanuddin, the younger brother of PDI-P politician T.B. Hasanuddin.
After not obtaining the Attorney General position, said one politician in Surya's camp, NasDem hoped to get Minister of Agriculture position. However, Jokowi planned to give that seat to the Gerindra. This plan was verified by Sandiaga Salahuddin Uno in an interview with Tempo on October 25. Sandiaga said that Prabowo had suggested to him to become Minister of Agriculture. Because he did not have the relevant background experience, that former deputy governor of Jakarta rejected it.
The position of Minister of Agriculture was later given to the NasDem Party, which was entrusted to Syahrul Yasin Limpo, a former Governor of South Sulawesi. Gerindra received the position of Minister of Maritime Affairs and Fisheries, which was given to Edhy Prabowo. Ahmad Sahroni said that his party did not know what ministerial appointments the President would make.
Surya Paloh, in an interview with Tempo, denied being disappointed with the cabinet appointments. "We wholeheartedly accept it. We are grateful to have three ministers there. God will be angry with us if we complain after having three ministers," he said. "Not every bearded fellow such as myself is averse to carrying benevolent values."
A few days before the NasDem Party Congress was held on Friday, November 8, Surya Paloh met with Jokowi at the Presidential Palace. Surya's visit, according to NasDem Party Chairman Charles Meikyansyah, was to ensure the President's presence at the NasDem Party's 8th Anniversary on November 11. "We gave the invitation long ahead of time," said Charles.
Lestari Moerdijat, a member of the NasDem Party High Council, who was present during the meeting, said that Jokowi and Surya communicated very well at the Palace. She denied the news of a strained relationship between the two. According to her, they often meet and communicate. "In that meeting, Jokowi and Surya had a lot of laughs," she said.
One thing they chatted about was the photo of Surya hugging PKS President Sohibul Iman that went viral, and Jokowi's statement about that photo. Speaking to Surya, said Charles, Jokowi said that he would clarify his reaction to that photo at the NasDem Party anniversary event.
The relationship between Jokowi and Surya was seemingly tight once again when Jokowi and Megawati attended that NasDem Party anniversary. In his speech, Jokowi said that there was nothing wrong with Surya hugging Sohibul. He said that he was just jealous seeing the two embrace. "If that hug was for a commitment to brotherhood and unity, then what could be wrong with it? Don't make arbitrary assertions," said Jokowi.
After his speech, Jokowi hugged Surya. Surya said that he was grateful that the "President is highly skilled at joking diplomatically, (and) we should be grateful that this is the case," said Surya.
DEVY ERNIS, HUSSEIN ABRI, FIKRI ARIGI