From Prayer Mat to Sinning
A number of mass organizations in Bekasi are involved in political activities, and compete in offering security services. Local officials are backing them up.
Edition : 18 November 2019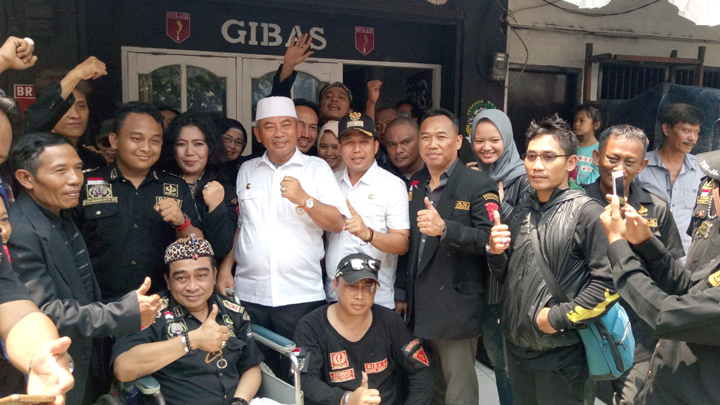 DANGDUT (folk music originating from Arab and India) music is thumping at the veranda of the Consolidated Children of Siliwangi Initiative (GIBAS) secretariat in Bekasi on Friday, November 15. Dozens of youths in black clothing gather around glasses and bottles. They are joking around, and sometimes scream along with the music. "They are the area sector heads who are on duty," Deni Muhammad Ali, Bekasi GIBAS' chairman, told Tempo that afternoon.
The GIBAS secretariat in Jalan Komodo Raya, West Kranji, Bekasi, West Java, is never deserted. Deni said that five GIBAS heads from each subdistrict take turns guarding the headquarters every day. He pointed out that this duty system maintains the communication among his members. Those who miss their scheduled duty are fined Rp100,000.
This mass organization's name has been frequently mentioned after the demonstration in front of the gas station at Jalan Siliwangi in Rawalumbu, Bekasi, at the end of October. In videos of the demonstration, which has gone viral on social media, Deni is seen to be the most ferocious orator.
They were protesting Bekasi administration's policy, which halted the recruitment of Bekasi mass organization alliance members as parking attendants. This alliance consists of 12 mass organizations, including GIBAS and the Betawi Rempug Forum (FBR). "It was a token of solidarity, though it did heat up a bit," Deni noted.
After the demonstration, the Bekasi Metro Police combed through a number of locations where thugs are known to gather. Some 92 men were rounded up during that operation in early November. "The police stepped up patrols to quell thuggery," said Comsr. Arman, chief of Bekasi Metro Police's criminal unit, on Thursday, November 7.
GIBAS is seen by some as a mass organization with thugs as members. Deni rejected those accusations, pointing out that his members do not only work as parking attendants. GIBAS takes advantage of political activities such as general, presidential, and local elections. Deni continued that GIBAS clinched a lot of projects to provide t-shirts and banners for campaigns.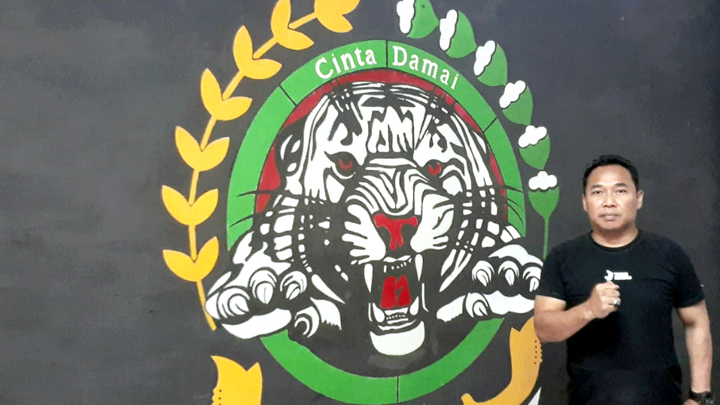 Bekasi Gibas leader, Deni Muham­mad Ali, November 15./TEMPO/Riky Ferdianto
Deni said that GIBAS is chosen by politicians because it has an organized structure until the village level. He claims that GIBAS has some 3,000 members in Bekasi, spread over 12 subdistricts. "GIBAS members prefer to make money from these kinds of political projects, instead of working as parking attendants," he explained.
One politician who has worked together with GIBAS is Bekasi Mayor Rahmat Effendi. Rahmat hired GIBAS services during his campaign, from installing banners to guarding ballot boxes in the mayoral elections in 2018. "We guarded him during the voting process," Deni said.
This relationship continued after Rahmat won the elections. After the demonstrations in Rawalumbu, for example, Rahmat asked Deni to meet with other local officials to cool down the situation. "The government and its ranks have the duty to make Bekasi residents feel safe," Rahmat Effendi said on Monday, November 4. After that meeting, Deni offered his apologies and promised to follow government's regulations.
Another meeting ensued a week after that in a restaurant in Bekasi's Harapan Indah housing complex. Rahmat invited heads of mass organizations which took part in the demonstrations, and called for restraint. "He wanted to maintain security in Bekasi," said Anwar Sadat, coordinator of the Mass Organization and Non-Governmental Organization Alliance, on Thursday, November 14.
Deni responded to Rahmat's request by withdrawing GIBAS members who had been working as parking attendants at some mini markets. He also ordered members to no longer be involved in managing empty plots of land in Bekasi. "We are ready to assist the government," Deni said.
Meanwhile, Rahmat is given a special position at GIBAS. His name is listed on the advisory board of Gibasnews, the organization's tabloid and news portal. According to Deni, Gibasnews' income have increased since Rahmat's name was added on the organization's media structure. Many Bekasi businesses, Deni continued, became contributors to Gibasnews. This media outlet now also enjoys more income from Bekasi administration ads.
Deni said he does enjoy a close relationship with Rahmat Effendi. As a mass organization leader, he said he is also close to other officials, including Bekasi's police and military high officials. He said that this closeness has made him easier to persuade the government to grant them tens of millions of rupiahs. That money is used, among others, to fund GIBAS' country defense program. "It's better to join that program instead of hanging around and joining criminal activities," Deni said.
A few years ago, Deni was an unknown quantity, and he is a new figure in Bekasi's mass organization scene. This former manager at a Japanese electronics company joined GIBAS in 2014. Prior to that, he had never joined any organization.
After leaving behind his regular office job in 2009, Deni went into the furniture business. He claimed that his business had a monthly turnover of up to Rp600 million. "I spend more money than I earn as head of GIBAS," he said.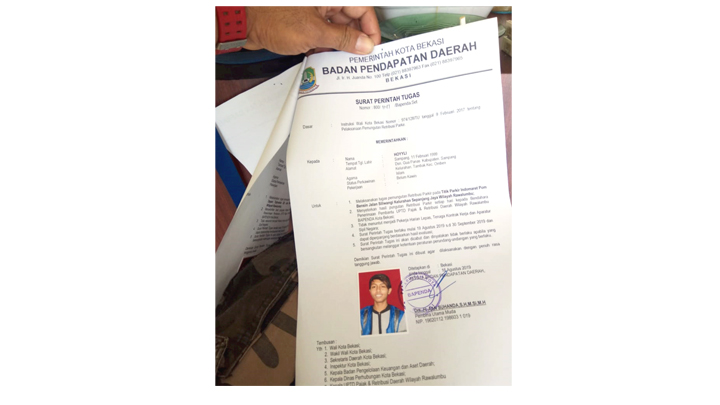 Letter appointment for the parking attendant of Indomaret store at the Jalan Siliwangi gas station, Rawalumbu, issued by the Regional Revenue Office.
SAUNG One Center in Marga Jaya, Southern Bekasi, owned by Engkus Prihatin, is the reunion site of three old friends. Engkus hosted Rahmat Effendi and Ali Anwar, a former journalist and historian from Bekasi. Rahmat, who at the time was still aspiring to become mayor, posed a question to Ali Anwar: "Do you choose BKMB or BKMKB?" Engkus said, quoting Rahmat's question to Ali.
BKMB is short for Bekasi Familial Community Body. Aan Suhanda, regional revenue head of Bekasi, was part of this organization. Meanwhile, BKMKB is short for the City of Bekasi Familial Community Body, headed by Rahmat Effendi. Both organizations were set up with the goal of conserving Bekasi culture. However, Rahmat's BKMKB was accused of going another direction.
Rahmat was said to use the BKMKB to gather support in his bid to become mayor. The BKMKB openly threw its support behind Rahmat. Asked about BKMKB's support and his policy for mass organizations in Bekasi, Rahmat declined to give comments. By telephone, he said he was not in Bekasi. "I will explain everything later," Rahmat said on Saturday, November 16.
Engkus said mass organizations in Bekasi and other areas are often entangled in political competition. Engkus had been one of the heads of Pemuda Pancasila (Pancasila Youth) in Bekasi, and competed with Rahmat for the mayoral seat last year. Engkus, however, ended his bid midway. "He asked me to withdraw," Engkus said when met at Saung One Center on Thursday, November 14.
Saung Engkus is the gathering place for the Laskar Merah Putih (Red White Troops) mass organization. It is built on 5,000 square meters of land in the center of Bekasi. Saung is not far from Mega City mall, and is next to Bekasi's Light Rail Transit station.
Bekasi cultural figures and politicians often meet there. The photos of Rahmat Effendi and Dede Yusuf Macan Effendi, when he was deputy governor of West Java, adorn the building's main room. "Public figures such as Pak Rahmat often come here," Engkus said.
At the BKMKB, Mayor Rahmat has installed a single-membership policy, since many BKMKB members were also part of the BKMB, led by Aan Suhanda. Although they are leaders of two different organizations, Rahmat and Aan are in line in managing the government.
The assignment letter issued by the Regional Revenue Office is prove of that. Through his lawyer, Aan said he had issued some 600 assignment letters for parking attendants to carry out Rahmat's policies to boost Bekasi's income. He rejected rumors that those letters were given to mass organization members. "Those were given to individual residents," said Purwadi, Aan's lawyer, on Thursday, November 14.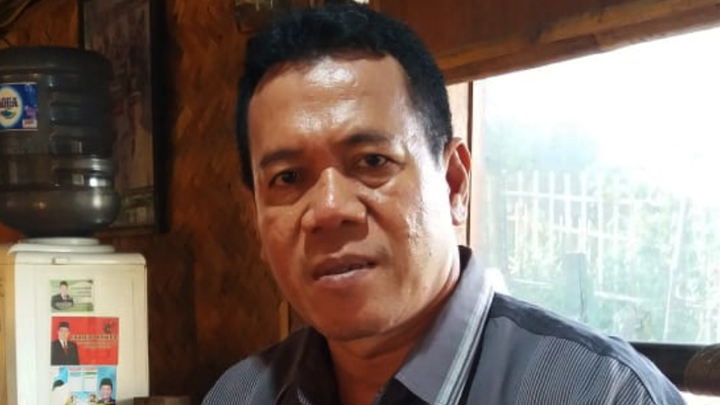 Engkus Prihatin/TEMPO/Adi Warsono
Engkus Prihatin from Laskar Merah Putih did not agree with the Bekasi city administration's use of mass organization members as parking attendants. He said that cooperation among the administration, private citizens and mass organizations must be in the form of a business entity. Through this entity, mass organizations can earn a legal income. "Their members do not need to extort people on the streets," Engkus said.
As an example, he mentioned the experience of a Laskar Merah Putih board member who succeeded in setting up a recycling business from factories' waste in the Bekasi industrial region. This cooperation, he said, was done through a business entity owned by the organization. The organization then had its members participate in the business. Engkus pointed out that this was a much more elegant way of working, instead of pressuring entrepreneurs for security services. "Companies that involve mass organizations as business partners will have security services as a bonus," he added.
Engkus said that the new generation of mass organization officials still rely on security services, which teeters on the brink of legality, as an income source. He named a mass organization which recently clinched a security project to free up land in Bekasi. The project involves billions of rupiahs. Engkus said that competition to provide security services result in sharper discord among organizations.
FBR Bekasi regional coordinator head Novel Said said the organizations which fall under the alliance live peacefully with each other. They routinely meet up every Tuesday to align their missions. "Our coalition is still solid," Novel said on Thursday, November 14.
Novel said that control over a region by one organization can potentially spark tension. However, he continued, the right of control over a location is determined by the locations' history. During the freeing up of land for Grand Galaxy City, for example, developers gave the task to the FBR. "Since the location's land clearing began, our members have guarded the housing construction, since we're the ones who were here first," he said.
GIBAS Bekasi head Deni Muhammad Ali said his organization continue to look for opportunities to earn money. Outside of that, Deni claims that GIBAS regularly gives to charities. "From matters of prayer mats to haram jadah (activities prohibited by Islamic law), we will do them all for the sake of our organization," Deni said.
RIKY FERDIANTO, LINDA TRIANITA, MUSTAFA SILALAHI, ADI WARSONO