Village Hero, City Thug
Kampung Gabus is known as the home of martial arts fighters and thugs in Bekasi. They now join with mass organizations.
Edition : 18 November 2019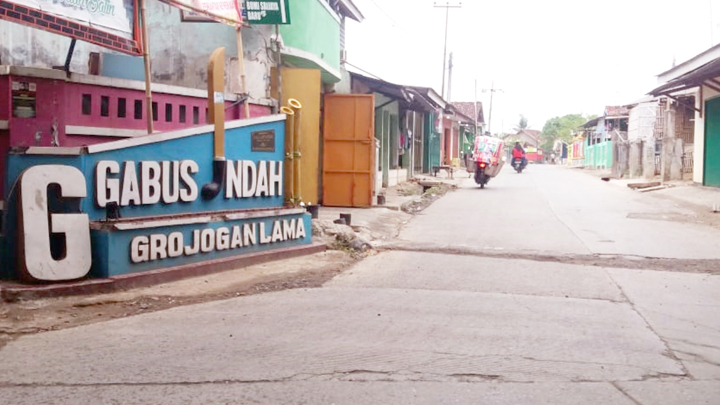 THE MOUSTACHE straddles his face all the way to his jaw, paired up with a greying beard. Both of the man's wrists are adorned with bracelets made out of bahar root. Two huge agate rings rest on his right middle and ring fingers. This is Pandih, 49, former thug from Kampung Gabus area in the Bekasi Regency, West Java.
This man, also known as Bewok, admitted to having controlled the streets of Kampung Gabus all the way to Bekasi since 1993. "I was a thug for about seven years," said Pandih when met by Tempo at his residence in Kampung Gabus at Srijaya village on Thursday, November 14. Although he has repented, his past life as a thug and a street 'champion' can still be clearly seen from his appearance.
Pandih is one of the many thugs from Kampung Gabus. This area of north Bekasi, which includes the villages of Srijaya, Sriamur, and Srimukti in the North Tabun subdistrict of the Bekasi Regency. Kampung Gabus and the city of Bekasi is only 10 kilometers apart. The stigma of Kampung Gabus being a thug village still remains until today. "Not just thugs, but many martial arts fighters from Bekasi were also born here," Pandih said.
He became a thug, he explained, because he was unemployed. He ruled the area from Kampung Gabus to Pasar Proyek (Proyek Market) in the city of Bekasi. According to him, he lived on the streets, carrying a machete or a sickle. Asserting a fierce appearance, Pandih extorted security payment from store owners and vehicles passing through his territory.
Pandih did not operate alone: his gang consisted of seven men, all of them from Kampung Gabus and martial arts practitioners. Pandih said martial arts gave them confidence when they extort or threaten victims. The money they squeeze from people would mostly be spent on food and alcohol.
Just like Pandih, a number of Kampung Gabus youth also operate the streets, markets, bus terminals, and other public locations from Bekasi to Cikarang. Pandih said he does not know how his friends live now.
Thugs from his generation, Pandih continued, have chosen to step out of that world. Pandih now has a silat (local martial arts) center with some 100 pupils and practices alternative medicine. He has also set up a 'trash bank' to help keep the environment clean. "Some former thugs are traders, security guards, and some are even businessmen," he said.
Kampung Gabus does not appear very different from other areas around Bekasi. Almost all of its roads are paved, and most houses have brick walls. Unlike 'narcotics villages' where residents are suspicious of outsiders, Kampung Gabus residents are open to newcomers. Its roads are busy, and stalls and stores line its streets.
Kampung Gabus community figure Drahim Sada, 38, said his area used to have a lot of swamps with gabus fish (Channa striata) in them, hence the name of the Kampung Gabus. Drahim further said that the indigenous people of Kampung Gabus are descendants of the Betawi Kranggan people of western Bekasi, while others come from Banten.
Drahim explained that Gabus youths fought during Indonesia's independence war. Their descendants then became martial arts fighters. "That's why people here disagree when they are called thugs. They see themselves as descendants of freedom fighters," said this former head of Srijaya village on Thursday, November 14.
---
Pandih now has a martial arts center with some 100 pupils and practices alternative medicine. He has also set up a 'trash bank' to help keep the environment clean.
---
He rejected the notion that Kampung Gabus is the source of thugs in Bekasi. He pointed out that this notion arises from the fact that some of its residents work at the market as coolies, parking attendants, and stall providers. This, Drahim said, makes them look like thugs.
Currently, Drahim continued, Kampung Gabus is a comfortable place to live in, and attracts outsiders to reside there. Educational facilities continue to improve, and every hamlet has a religious boarding school.
Najmuddin, secretary to the North Tambun subdistrict head, said that the local economy is growing rapidly. This has been ongoing since the Bekasi regency administration started developing Kampung Gabus as a residential area. Construction of new and modern houses are ongoing there.
Najmuddin further said that Kampung Gabus has some 200,000 residents. He predicted that the village will become an urban area in the next five years. The construction of a toll road between Cibitung and Cilincing, and the waterway project through the Cikarang-Bekasi-Java Sea canal are expected to further boost Kampung Gabus' economy. "Its residents used to be farmers, but now the majority have gone into business," said Najmuddin on Thursday, November 14.
However, its growing economy is not just due to improved infrastructure. According to Drahim Sada, some youths earn money from joining mass organizations. Almost all the mass organizations in Bekasi recruit Kampung Gabus residents as security guards. "They can earn their money in a halal (in accordance to Islamic law) manner," he said.
Pandih is one of those former thugs who have joined a mass organization, which is also involved in politics. This organization, for example, supported one of the presidential candidates in the past elections earlier this year. "We were present at the event declaring support for the candidate," said this father of three.
He said mass organizations are often disguises for thugs. Donning the organization's uniforms, Pandih said, members would go around extorting money from stores in Bekasi. "Now mass organizations are misused to earn small change," Pandih said, laughing.