Adithya Prakarsa Winata, Tomy Winata's son: The Infrastructure in Tual is Ready
DESPITE being less popular in the Artha Graha Group business circle, Adithya Prakarsa Winata is at the center of the plan made by the corporation founded by his father, Tomy Winata, to be involved in the Masela gas project.
Edition : 18 November 2019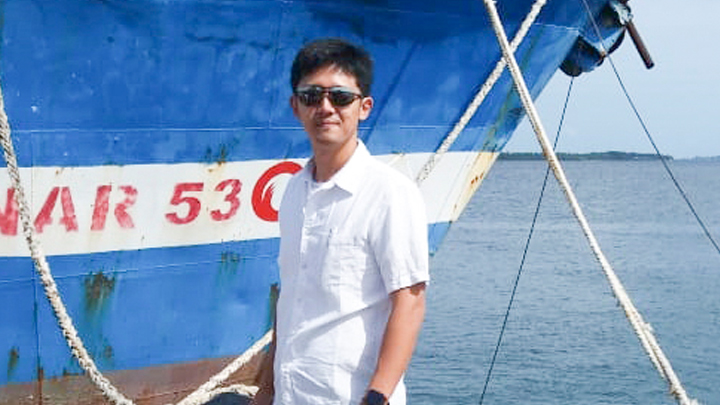 HE accompanied Tomy during a meeting with Masela Block's contractor to discuss facilities at the Samudera Indo Sejahtera port in Tual, Maluku—a potential location for the Rp280-trillion project's logistics base.
From Tuesday afternoon until midday Wednesday two weeks ago, on November 5-6, Adithya acted as a host when the Upstream Oil and Gas Regulatory Special Task Force (SKK Migas) Chairman Dwi Soetjipto and Maluku Governor Murad Ismail visited Maritim Timur Jaya's now-defunct fishing port. "(It) has not been in operation for several years," said the 31-year-old man. That day, a number of fishing boats and oil tankers were at the marina, riddled with rust.
Who proposed for the Samudera Indo Sejahtera port to be turned into a logistics base for the Masela project? Was it you or Governor Murad Ismail?
There are several infrastructures here. Maybe he (the governor) would like to see those that are not functioning optimally for himself. Then connections were made, which could be used to support (the Masela project)? So don't again say, "Oh, it needs time…" (The project is) delayed several years because this and that are not ready. No. The infrastructure is ready here. Don't give excuses for delays in the Masela project. So (we) really push (it) to be ready at Masela. We were asked to support. And we will certainly support him.
Did the company propose the idea to the government?
Maybe, but I don't know when.
You also came to the Inpex office some time ago in Jakarta?
Yes.
With your father (Tomy Winata)?
Yes.
How did the meeting happen? What was discussed?
I don't know. The governor of East Nusa Tenggara (Viktor Laiskodat) was there. Maluku Governor (Murad Ismail) was supposed to attend (it). To support the development work by Inpex. How were we able to support governors in surrounding (regions). So, we were also summoned. Maybe (it's) because of (the port facility).
Who invited you?
I don't know. We were invited and (we) came.
Did you present the facilities available in Tual?
Not really. Mr. Governor (East Nusa Tenggara governor) was the one who presented everything.
The Maluku governor was not present at the meeting?
No. I don't know why. I was asked to get ready to go there.
What is available at the Samudera Indo Sejahtera port facility?
There is a 6-megawatt diesel power plant. The total area of the complex is 160 hectares.
The facility has not been used in a very a long time. Is it still being maintained? The ships, for example.
Very minimally. There hasn't been any activity anyway. But before, for fisheries logistics, it was the most complete in Indonesia. We were among those who really invested, (we) built factories and so on. These ships can't be used. We want to bring them back to Ambon, for docking.
So there are no management staff from Jakarta overseeing things here?
We have staff here. The management travels back and forth between Tual and Jakarta. I myself help around at the holding (company). Here we have stopped operation for five years, so (there's) only day to day (activities). Several management staff from Jakarta travel back and forth. More for maintenance.