Contaminated Eggs
A research found a concentration of dioxin in chicken eggs in Tropodo, East Java, which was 80 times above the healthy standard and the second highest recorded in Asia. More tests are needed to determine if the food chain has been contaminated.
Edition : 26 November 2019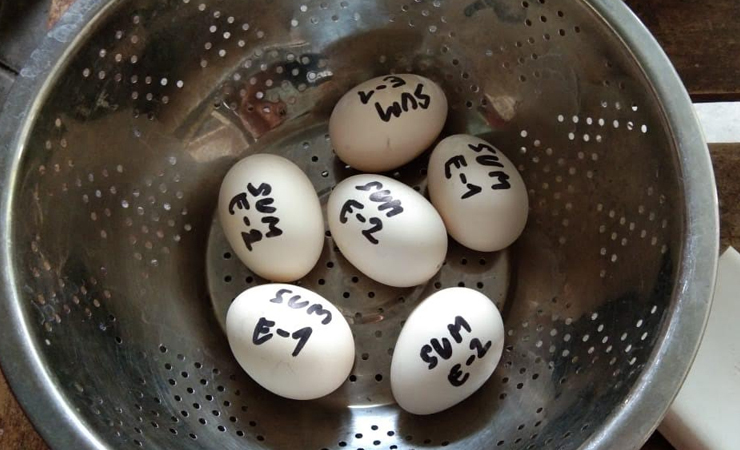 KHOIRUL Anam from the Klagen hamlet, Tropodo village, Sidoarjo Regency, East Java, said that he is now afraid of consuming chicken eggs. This is because the eggs of the free-range chickens owned by his father were used as a sample in a report entitled Plastic Waste Poisons Indonesia's Food Chain which has been the subject of news reporting in the media at home and abroad. This research conducted by the International Pollutants Elimination Network (IPEN) released on November 15 says that the concentration of dioxin in eggs in Tropodo is 80 times above the tolerable intake. "After finding out they contain dioxin, I'm afraid to eat (those) eggs," said that 47-year-old man.
The chicken eggs researched by the IPEN and their Indonesia partner, the Ecological Observation and Wetlands Conservation (Ecoton) and the Nexus Foundation for Environmental Health and Development (Nexus 3 Foundation), have become an indicator of the entry of dioxin into human food chain. The dioxin, an organic chemical compound which is very toxic and persistent, came from tofu producers in Tropodo that use imported plastic waste as fuel for the production activity.
Khoirul, who had managed a tofu factory he inherited from his father, said that business owners use plastic waste because it is much cheaper than grain husks or firewood. As a comparison, one truckload of firewood, which is enough to burn for four days, costs Rp1.5 million, while the cost of imported plastic waste of the same amount is just Rp100,000. "If we use firewood, we cannot compete with other producers who use plastic," said Khoirul, who shut down his tofu factory in 2002.
Prigi Arisandi, Executive Director of Ecoton, said that this research began when he collected three eggs from the Klagen hamlet and three more in the Kalitengah hamlet in Bangun village, Mojokerto Regency, last April 30. Prigi took those eggs which he had boiled for 15 minutes to Geneva, Switzerland, while attending the 14th Conference of the Parties to the Basel Convention (BC COP 14), on May. "I gave those eggs to researchers at the Arnika Association, who have access to the laboratory of the State Veterinary Institute in Prague, Czech Republic," he said.
According to Prigi, there are only a few labs in the world which can test for dioxin according to 14 parameters. "There are no labs in Indonesia that can test for dioxin. On top of that, it is very expensive to do so," said the winner of the 2011 Goldman Environmental Prize. "The cost of testing one egg for 14 parameters is about US$2,500."
The results of the laboratory testing, Prigi explained, indicated that the concentration of dioxin or polychlorinated dibenzo-p-dioxin (PCDD) and furan or polychlorinated dibenzofuran (PCDF) in the chicken eggs from Tropodo was 200 picograms per gram of fat. This is the second-highest figure found in Asia. "It is just 48 picograms less than chicken eggs from Bien Hoa, Vietnam," said Prigi. Bien Hoa is the site of the United States airbase where the land was contaminated by Agent Orange, a defoliant used as a chemical weapon.
Prigi continued, the Indonesian Drug and Food Control Agency Regulation No. 8/2018 regarding the maximum limits of chemical contamination in processed foods regulates that the maximum concentration of dioxin in processed eggs is 2.5 picograms per gram of fat. This standard is the same as that used by the World Health Organization (WHO) and the European Union. The chicken eggs from Bangun village, where there are large mounds of plastic waste, had a concentration of dioxin of 10.8 picograms per gram of fat.
Agus Haryono, a chemical polymer researcher at the Indonesian Institute of Sciences (LIPI), said that in general dioxin is an unintentional by-product of the process of burning trash or any industrial process which involves halogens—a VII group elements on the Periodic Table. "There are hundreds of types of dioxins which are emitted into the air. The most dangerous one is tetrachlorodibenzo-p-dioxin (TCDD)," said Agus, who is a LIPI deputy head for engineering sciences.
According to Agus, dioxin pollutes the air through the smoke which results from the burning of plastic which contains halogen or elements in the halogen group, such chlorine, fluorine, bromine, iodine, and astatine. "If rained on, the dioxin will fall and pollute the land. The resultant ash also contains dioxin which can pollute the area where the debris is disposed of," said this member of the Persistent Organic Pollutants Review Committee—a scientific committee which evaluates that particular type of organic chemical—representing the Asia-Pacific region.
Prigi suspects that the chickens which live in open coops measuring 3 x 10 meters behind the house of Khoirul's father, Karmawi, have been exposed to dioxin which has seeped into the ground. According to Khoirul, his father's house, which located across the street from his own house, is just 50 meters away from a tofu factory that regularly burns plastic. "Father has raised chickens since I was a kid. We eat the eggs and meat ourselves," said this employee of the religious affairs office in Krian.
Prigi's research only tested the dioxin content in the eggs and did not include examining the living creatures or their surroundings. However, he added, at present he is conducting a health survey of the residents of Tropodo and the neighboring village of Sedenganmijen. "We found that the most common illnesses in Tropodo and at the Griya Krian Residence housing complex in Sedenganmijen are chronic asthma, respiratory problems, heart problems, brain tumors, and lung spots," said Prigi.
A tofu factory worker in Tropodo village uses imported plastic waste as fuel. /Tempo/Nur Hadi
Health data obtained by Ecoton showed similar findings. According to that data, in 2019, the 10 illnesses most often reported by residents of Tropodo were: muscle pain (myalgia), hypertension, diabetes, acute respiratory passage infections, gastritis, headaches (cephalgia), diahhrea, toothaches, asthma, and dermatitis.
Tempo's investigation in Tropodo and Sedenganmijen found residents who were suffering from illnesses related to the poor air quality in that neighborhood which is surrounded by about 40 tofu producers. Susi, 48, a native to Klagen, feels bothered by the black smoke which billows for 12 hours a day from tofu factory chimneys. "There is no telling how many children have become ill from this polluted air," said Susi.
Oktarini, 48, who lives at the Griya Krian Residence housing complex, also complained about the smoke, which has resulted in her 10-year-old child making frequent hospital visits for recurring bouts of asthma. "The diagnosing doctor said that the smoke and dust from the tofu factories has worsened my child's acute asthma," said Oktarini, who moved there from Surabaya in 2013.
According to I Made Djaja, a professor of environmental pollution at the University of Indonesia's Faculty of Public Health, dioxin is dangerous for humans because it disrupts the body's metabolism, such as the production and release of hormones, growth, immunity, and the enzyme modification process. "Chronic exposure to concentrations of dioxin above safe levels can result in cancer, birth defects, and fertility problems," he said.
He added that if only eggs were tested then it will be difficult to determine if people have been poisoned by dioxin. "The patients who consumed those eggs or chickens must have their blood and urine examined to see if they contain concentrations of dioxin above the safe standard," said Made Djaja, who during the 1980s and 1990s researched emissions of dioxin and furan at petrochemical plants, pulp factories, and trash incinerators at hospitals in Jakarta.
According to him, it is too early to conclusively say that dioxin has entered the food chain, because only a small sample of chicken eggs have been examined. "Research must be done on dioxin and the food chain. Check the level of dioxin in the air, in animal feed, in the fat and muscle of chickens, and in the blood and urine of humans," he said. For him, IPEN's research only states that the concentration of dioxin in chicken eggs in Tropodo is above the daily tolerable intake.
DODY HIDAYAT, NUR HADI (SIDOARJO)