Stelarc, A Third Ear, A Third Arm
Stelarc, the controversial performance artist from Australia, known for going to extremes in using his own body as a canvas, was in Jakarta. He has made a name for taking his experiments to the limit, blurring the line between technology and human being.
Edition : 26 November 2019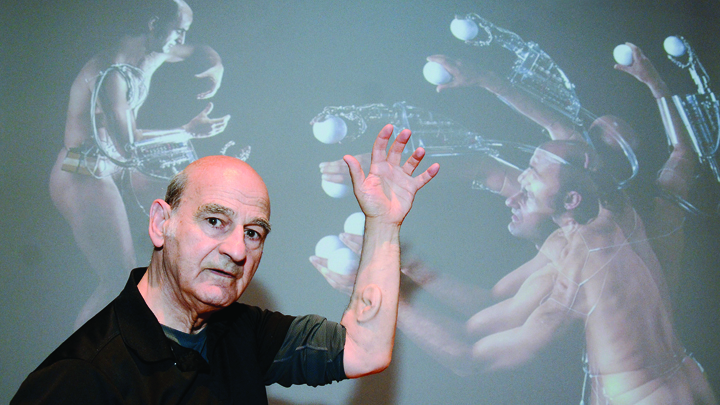 AN ear, a left ear to be precise, with its curves still imperfect bumps out from beneath the skin of Stelarc, the legendary performance artist from Australia. The ear does not grow out from the side of his head, rather from the inside of his left forearm, above the elbow crease. In our two meetings, Stelarc wore a long-sleeved top. But he unhesitatingly rolled up his t-shirt sleeve to show off his additional organ. "This ear is really now physically part of my body. I have a sense of touch for it. It fuses with the arm," said Stelarc, moments before he delivered his presentation at the Goethe-Institut Jakarta, Monday, November 11.
Stelarc has described his ear implant as his lifetime's longest lasting art project—the artist is 73. The Cyprus-born man came to the idea of adding on an extra ear back in 1996. It took 10 years before he could realize the notion. Besides the matter of getting funding for the project, Stelarc's biggest obstacle was convincing a surgeon to conduct the unorthodox medical procedure.
In 2015, he finally found three surgeons willing to do the operation, which was begun with an incision on his arm, putting in a prosthetic shaped like the soft tissue of an ear, then sucking out the surrounding air in order for the prosthetic to stay put under the skin. After three operations, the biodegradable scaffolding has encouraged cells to grow into the scaffold and created its own blood supply from the host body.
In the last operation, last year, Stelarc and his surgical team inserted a miniature microphone into that third ear. Stelarc also plans to put in an electronic augmenting device into the ear to allow for internet connection. The artist's big idea is to make his third ear one that anyone can listen in to from anywhere. "This ear is not for me. I already have two ears of my own that work perfectly well," he said. "I want every sound or voice caught by this ear to be accessible to anybody anywhere in the whole world."
The notion of sharing ownership of the body with others is one of Stelarc's obsessions about the human body, a theme he repeats in every performance. To Stelarc, the human body has become obsolete. He thinks the flesh and blood that forms the human person is inadequate because its functionality is subject to disease, death, and the limitations created by the person themselves. Stelarc modified his own body to go beyond those limits. He has made serious use of technology and medical science to do this. Stelarc dubs his work alternative anatomical architecture.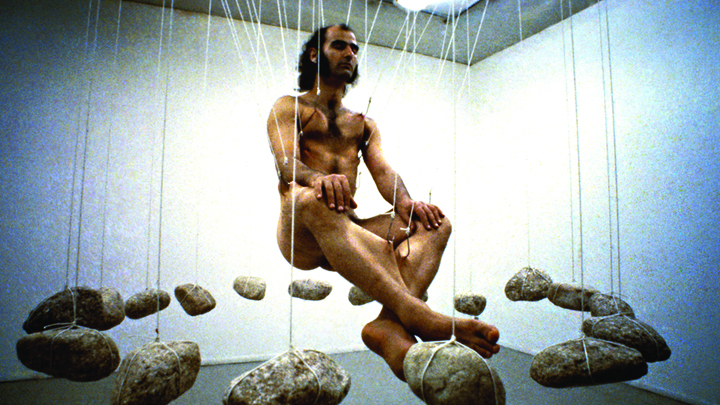 Sitting Swaying performance by Stelarc at Tamura Gallery, Tokyo, Japan, 1982./Keisuke Oki
In his work, Stelarc has done cutting edge explorations by creating auxiliary body parts that make possible actions undoable by organs of a natural body. In his work The Third Hand he presented in Tokyo in the early 1980s, Stelarc used a robotic arm, and challenged himself to write down a word with his three arms. Each hand began to write from different directions.
Then Stelarc explored the dimensions of sensation. One performance he has often done for three decades is suspension performance. In the performance, Stelarc lets his naked body be pierced by metal hooks hung on wires from the ceiling. When the hooks latch on to Stelarc's skin, the wires are slowly creaked upwards. The audience sees Stelarc's skin stretch horrifyingly as the body is lifted from solid terrain. One can hear the stifled screams of the audience, even those merely watching a video of the suspension, as at the video-screening at the Goethe-Institut Jakarta during the artist's lecture. When Stelarc's body is fully aloft in the air hovering from side to side and moved by momentum and gravity, it is impossible for the audience to not be horribly aware of the painful sensation of iron hooking up skin.
Some of his suspension performances were conducted in closed galleries to limited audiences. Stelarc once carried out his attraction in an open space. Among the buildings of East Village, New York, USA, in 2004, Stelarc's body hovered above passers-by, causing people to stop and stare. "The performance was stopped by the police," said Stelarc, laughing. "They were afraid I would fall and hurt the pedestrians below."
In his suspension performance, Stelarc not only conveys the body's immunity to the sensation of unbearable pain. According to Mark Fernandes, who studied Stelarc's work for CTheory—a journal on art and technology—Stelarc's attractions also prove that the human body can react autonomously upon external stimulus. The subjects are Stelarc's audiences. Although it is not their own bodies pierced by hooks, the audiences also feel the sensation of pain experienced by Stelarc. In a certain moment, the audience and the artist share a common physiological sensation.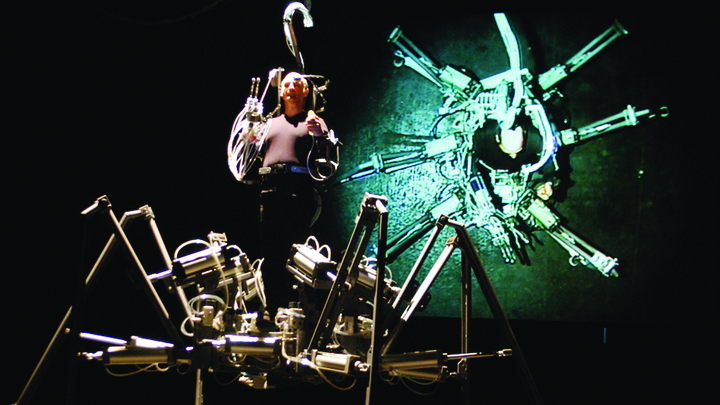 Stelarc's Exoskeleton in Cankarjev Dom, Ljubljana, Slovenia, 2003. Igor Skafar
The older he gets, Stelarc has become more and more attracted to creating performances that test established theories about the agency of the body. For centuries, Western philosophers have intoned the agency of free will and individual autonomy over one's own body. Stelarc is pushing that theory by sharing control over his body with other people. In Perth, Australia, two years ago, Stelarc conducted Re-Wired/Re-Mixed. For five days—six hours each day—Stelarc donned an exoskeleton connected to several other people in other countries. Using network technology and electromagnetic currents, Stelarc's body, which was in the Perth Institute of Contemporary Art, could only see things seen by a person in London and hear sounds heard by a person in New York. Meanwhile, anybody anywhere with Internet access could move Stelarc's right hand at will. A single body was owned by several people at the same time.
In Stickman, 2018, the exoskeleton was fitted to Stelarc's entire body. Except for his right leg which acted as his anchor, all Stelarc's body parts could be choreographed by an audience maneuvering a joystick. The audience could see Stelarc's body fold up into an unnatural position—an impossible posture to do if his body was under his own control. Interestingly, when describing his performances, Stelarc has discarded the terms "me" and "my body," and instead uses the terms "this body" and "that body."
Unfortunately, Jakarta audiences could only watch Stelarc's performances through the video clips he screened as he gave his talk. Stelarc's presence in Jakarta was part of a series in the Instrumenta 2: International Media Art Festival running October 23-November 19, at the National Gallery, Jakarta. This year, the exhibition's theme was Machine/Magic. The exhibition mapped out the intersection of artistic practice using media technology and contemporary cultural dynamics. According to Instrumenta artistic director, Agung Hujatnikajennong, Stelarc is the biggest name today in art media practice. "Stelarc was the festival's inspiration from the outset," he said.
MOYANG KASIH DEWIMERDEKA