the Treasurer's Record
The KPK questioned some business owners connected with the bribing of Medan Mayor Tengku Dzulmi Eldin. The case implicates a politician and the son of a cabinet minister.
Edition : 26 November 2019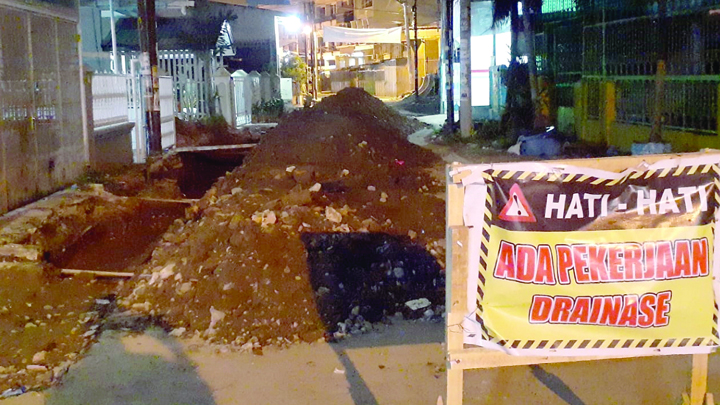 BINSAR Ricky Sanders Simarmata wrote to the Medan City government on Wednesday, November 20. He was protesting work in progress on a road drainage project in Jalan Galang and Jalan Wijaya. "That project should have been mine, but it was being done by another company," Binsar told Tempo on Friday, November 22. He sent copies of the letter to the North Sumatra Attorney General's Office and the North Sumatra Police Department.
The Electronic Procurement Services (LPSE) system of the Medan City government lists Tavia Anugerah Cemerlang owned by Binsar as being awarded a road drainage project in Jalan Galang and Jalan Wijaya. The project is valued at Rp2.1 billion. Binsar found out another party was working on the project after he received information from a colleague in mid-November.
The Medan City LPSE announced Tavia had been awarded the project on September 11. However, Binsar never received a service provision appointment letter from the city's public works and housing office, which is needed to start work on a project. "We have written to the committee to get them to issue that letter," he said.
Tempo checked on the work being done at those two locations on Thursday, November 21. Mounds of dirt nearly block the roadway of Jalan Galang in Medan Perjuangan. Tens of workers were laying reinforced concrete for a ditch 1.5 meters deep. Similar activity could be seen at Jalan Wijaya in Medan Helvetia. Dirt was also piled high on the side of the road, slowing passing traffic. The two streets are about eight kilometers apart.
There are no signs that indicate a project is underway. The project foreman at Jalan Wijaya, Syamsul, 40, said that laying of reinforced concrete for the drainage ditch began in early November. He does not know the name of the company which recruited him. "We only carry on with the project work," he said on Thursday, November 21.
Binsar said that the project tender committee never informed him about any change in who the project was awarded to. He asked several people about which company that took the project. "I heard it was being done by a part of the Saka Group," he said.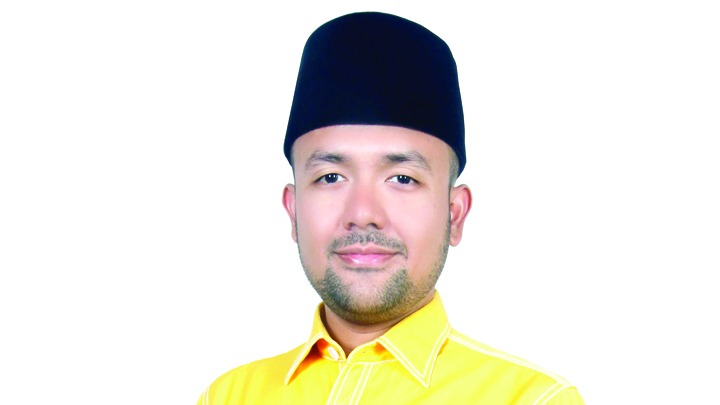 Akbar Himawan Buchari./Akbar Himawan Buchari's facebook
The Saka Group is a reference to Hotel Saka in Medan. Its owner is Akbar Himawan Buchari, a member of the Regional Legislative Council (DPRD) of North Sumatra from the Golkar Party. He was treasurer of the Golkar Party of North Sumatra and treasurer of the Joko Widodo-Ma'ruf Amin Regional Election Campaign Team in North Sumatra in the last presidential election. The 31-year-old man also owns a transportation company. Over the past several years, Akbar has expanded his businesses, such as in construction and mining.
Akbar's name came up in a bribing case of Chief of Medan's Public Works and Housing Office, Isa Ansyari, to Mayor Tengku Dzulmi Eldin. The Corruption Eradication Commission (KPK) arrested Isa and Eldin in a sting operation on Tuesday, October 15. Six days later, they searched Akbar's house in Jalan D.I. Panjaitan, Medan, but they did not find him there. "When the team was about to do the search, the house was empty," said KPK Spokesman Febri Diansyah.
The KPK banned Akbar from leaving the country on November 5. Investigators summoned him on Thursday, November 14, to be questioned as a witness. In addition to the matter of bribery, the KPK suspects that some business owners were involved in project trading at the public works office. "The bribery case in Medan will continue to develop," said KPK Deputy Chairman Saut Situmorang on Friday, November 22.
Mayor of Medan Tengku Dzulmi Eldin was getting physiotherapy for his legs at a private hospital in Medan when the KPK arrested him, on Tuesday, October 15. That night, the anti-graft agency officers took Eldin and an aide named Aidiel Putra, who was accompanying him, to Medan sPolice headquarters.
Before taking Eldin into custody, the KPK arrested Isa Ansyari at his house. Investigators put the two in a room for questioning at the Medan police headquarters. They did not deny the accusations leveled by the investigators. "The Mayor is prepared to take responsibility," said Dzulmi Eldin's lawyer, Fadli Nasution, on Tuesday, November 12.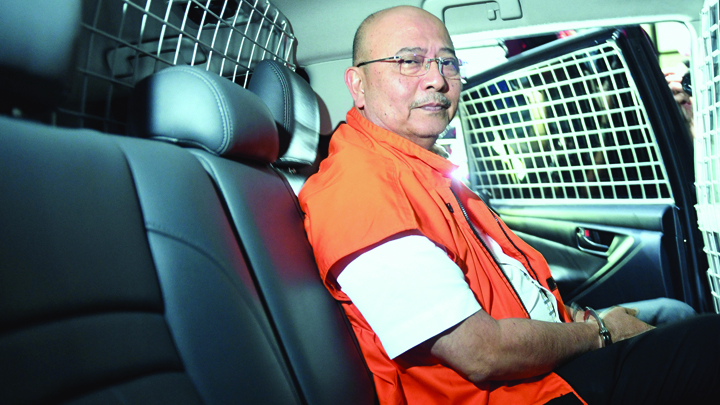 Medan Mayor Tengku Dzulmi Eldin after questioning at the KPK Building, Jakarta, last October./ANTARA/M Risyal Hidayat
Eldin is suspected of asking for payouts from a number of Medan City government institutions. He ordered Protocol Sub-section Head Syamsul Fitri Siregar to contact all of the heads of local government offices because he needed money to pay a debt for a trip to Ichikawa, Japan, taken back in mid-July. The KPK has named Eldin, Isa, and Syamsul as bribery suspects.
That visit to Japan was an official program of the Medan City government. Ichikawa and Medan have been sister cities for 30 years. Eldin took his wife and two children along on that four-day official visit. However, Eldin and family extended their stay for four more days. "They traveled to a lavender garden in another city in Japan," said Fadli.
The travel expenses in Japan increased to Rp1.4 billion. The Medan City government only budgeted Rp500 million in official travel expenses.
Isa Ansyari's lawyer, Razman Nasution, said that his client gave Rp250 million to Eldin. Isa, he said, wanted to help Eldin. "Those were personal funds," said Razman.
Funds were sent twice. Isa transferred Rp200 million to the bank account of a parent of Aidiel Putra, Eldin's aide, on Monday, October 14. He gave Rp50 million in cash to Andika, another one of Eldin's aides. Andika attempted to flee by hitting KPK personnel with his car after receiving the money from Isa.
Investigators suspect that the Rp250 million payout was not the first of its kind. Eldin appointed Isa as head of the local public works office last February. KPK Deputy Chairman Saut Situmorang said that Isa gave Rp80 million to Eldin from March to September. "He gave that money for being appointed as head of the PU (public works) office," said Saut.
There was a development in the investigation when the KPK found records of projects and the names of business owners who 'partnered' with the public works office. Investigators found those records when searching the public works office on Saturday, October 19. According to one law enforcement official, those records included the name Akbar Himawan, a businessman said to be close to Eldin.
In a press conference in Medan in October, Akbar said that he was close with Eldin. Akbar said he considers Eldin as being like a parent to him. "This is also true about other figures. We often talked together," he said, as was quoted by Gatra.com. "But I must say that my close relationship was never used for anything out of the ordinary."
One law enforcement official said that Akbar was awarded several major projects at the public works office. He is suspected of controlling a bank account used to hold funds for projects being sold at the public works office. According to one business owner and one law enforcement official, in order to get a project at the public works office, prospective candidates had to deposit 5 to 15 percent of the project value into that bank account. This account once received a transfer of Rp5.6 billion from the public works office.
In a written reply sent through Razman Nasution, Isa Ansyari denied working with Akbar to 'run' projects at the public works office. "I only know that he took part in (project) tenders at the public works office using a business organization," wrote Isa. However, he did concede that he is friends with Akbar. According to Isa, the two of them first met when he was still a staff member at the public works office in 2017. In the written reply Isa also denied bribing Eldin.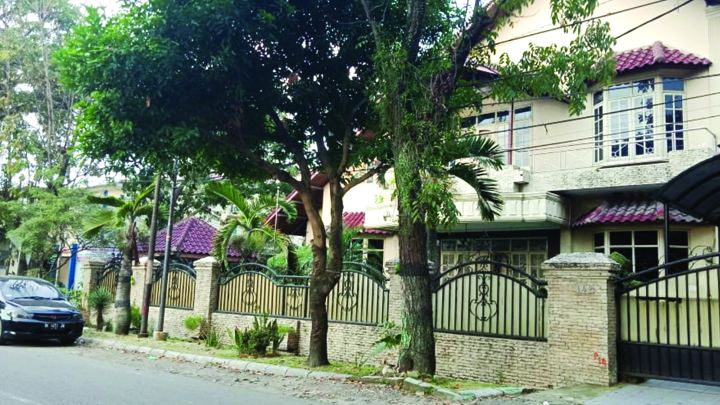 Akbar Himawan Buchari's house on Jalan D.I. Panjaitan No. 142, Medan, November 22./TEMPO/Riky Ferdianto
A business owner who was awarded projects by the Medan City government was Yamitema Tirtajaya Laoly, under the flag of Kani Jaya Sentosa. His name was listed in those records at the public works office. The KPK summoned Yamitema on Monday, November 18. Yamitema said that he knows Eldin, Isa, and Akbar. He declined to talk about Akbar's role in the public works office.
Yamitema denied depositing any funds in order to receive projects. "I must protect father's good name," said the son of Minister of Justice and Human Rights Yasonna Hamonangan Laoly.
That is why Yamitema supported Binsar Ricky Sanders Simarmata to report the work being done on the road drainage project in Jalan Galang and Jalan Wijaya to the authorities. He said that he often receives the same treatment when working on construction projects in Medan. "I often file reports to the inspectorate," he said.
Medan City government's Chief of Public Relations, Arrahman Pane, said that he did not know about project-related issues in Jalan Galang and Jalan Wijaya. He asked for some time to learn the case in question. "I must first ask to the related government offices," he said on Friday, November 22.
Tempo went to Akbar's residence in Jalan D.I. Panjaitan in Medan, on Friday, November 22, to request an interview. That house was empty. His two cellular phone numbers have been unreachable since the KPK announced his foreign travel ban. In a press conference in Medan last October, Akbar said that he did not know about Isa bribing Eldin. He was concerned about the case against the mayor. "I hope that there are no more such cases in the future," he said.
MUSTAFA SILALAHI, LINDA TRIANITA,
RIKY FERDIANTO (MEDAN)