If it's not safe, I would have been sued already
Terawan Agus Putranto, Health Minister:
Edition : 3 Desember 2019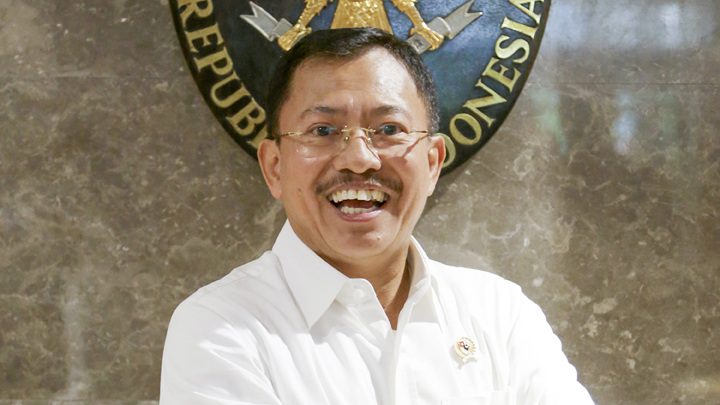 TERAWAN Agus Putranto's appointment as the health minister on October 23 came under the spotlight. The controversial 'brain wash' technique he pioneered has remained a topic of debate.
The pros and cons stemmed from his dispute with the Indonesian Doctors Association's executive board (PB IDI) after the association's medical ethics council (MKEK) issued a decree on March 23, 2018. The board viewed Terawan's 'brain wash' therapy had never undergone any proper clinical trials, while the MKEK accused him committed gross ethics violation by promoting his therapy that uses the digital subtraction angiography (DSA) and intra-arterial heparin flushing (IAHF) methods, and recommended the suspension of his medical license.
Terawan, 55, claimed that his method which includes the injection of blood thinning drug heparin could clear up clogged arteries—the main cause of stroke. Since he started offering the treatment over a decade ago, the number of his patients—from the common masses, public officials to celebrities and even thousands from several neighboring countries—has ballooned.
But the retired three-star army general chooses to ignore criticism. Terawan, who is also chief of the Gatot Soebroto Army Hospital in Jakarta, sees no problem in his relation with PB IDI. "It's unhealthy if the treatment continues to be a polemic," he said in a special interview with Tempo's Mahardika Satria Hadi, Aisha Shaidra, Nur Alfiyah and Raymundus Rikang in his office last Wednesday.
Besides the DSA therapy, Terawan also talked about his controversial dissertation, his job to curb stunting, the chaotic national health security scheme (BPJS) management and soaring drug prices. Excerpts:
W251bGwsIjIwMjEtMDMtMDEgMTE6NDk6MzAiXQ
How is your relation with PB IDI actually?
Geez, why making something out of nothing. This is the perception which happened to be created by organizations or institutions. Not all the regulations have to rely on the principle of power. Especially with regard to ethics, why use a power approach? That does not make sense. It's unhealthy if it (the treatment) remains a polemic.
Your use of 'brain wash' method for treatment is criticized because it is supposed to be used only to diagnose the peripheral artery disease.
Well, that depends on an individual's knowledge, how far it goes. If it's only about diagnosis, then he would view it as a diagnostic tool. If he understands that it can serve as a treatment, well, he will explore all possibilities. It's just a tool. For example, if I find a blockage while doing catheterization, should I stop with catheterization only? Of course not. I will work to handle the blockage because it presents a threat.
How do you know it's the right decision?
We evaluated before and after and found the results to be favorable. If the results are beneficial, why shouldn't the therapy be offered to patients?
The medical ethics council declared that you had committed gross ethics violation. What's your defense?
Before someone completes a doctoral research, he/she must first pass the bioethics of the given university. Universities are respected institutions, aren't they? Of course, I have more confidence in the education institution that has given me ethical clearance so I could continue my research and now I've completed my doctoral studies.
From which university did you get the clearance?
Hasanuddin University, Makassar.
But bioethics clearance is different from doing clinical trials.
They are different. Clinical trial you mean is an animal testing, right? It isn't necessary because the research has already been done before. A research could start from the bottom, the middle or the top. If you start from the bottom, your time is only spent on animal testing. For God's sake, others are already doing on humans. They have implemented it and are selling it. When will we become a leader?
So, there are steps you skipped in the 'brain wash' research?
There are certain steps we can skip if there are already studies done by others proving that the DSA is safe. The DSA is used as a diagnostic tool around the world. Later another research said heparin in a certain dose is safe. Well, so we use that dose, not more. It means it is safe.
Which research do you use as a reference for heparin use?
You just have to google regarding efficacy of the intra-arterial heparin dose. Nothing can be concealed nowadays. Then we have the DSA to examine the brain. Then we see specifications, sensitivity, side effects and complications which do exist.
According to our inquiry, one of the sources you referred to that declared this method to be safe is in Germany.
Not really in Germany, actually, because they only agreed on my method there. It's just a coincidence if a couple of patients were treated there (using the same method). It's not like they used my knowledge but they agreed that my treatment was safe.
Is it true that the literature you cited was of the clinical trials done on animals?
No. They were done on humans. Don't be mistaken. There are already 1,000 patients coming from Vietnam. Soon, another 3,000 patients from Malaysia are coming.
According to our findings, the literature you used mentioned that the heparin use was tested on dogs, not humans.
Let it be. I won't answer it because it was up to the university. My dissertation has gone through a panel. Continued allegations are troublesome.
Did you previously apply to enroll in the doctoral program at the Gadjah Mada university?
I enrolled there for another innovation—to create a technique to measure intestinal stenosis (obstruction) using a specially modified catheter. Modifying is my hobby so the previous cost of Rp30 million may be reduced to Rp500,000.
What is the result?
They felt that the innovation I proposed should be better performed by a biomedical or engineering expert. Then I thought that it was such a hassle, Well, you see I have so many ideas. If one idea is rejected, I have other ideas. I am a researcher. My ideas did not stop with the 'brain wash' therapy or the intra-arterial heparin flushing.
What are your other innovations?
Many of my works are innovative including the intra-arterial cell therapy where cells are inserted into organs. I also need ethical clearance for that. One is not allowed to act recklessly. Then, there is TACHI (the trans-arterial chemotherapy infusion) that I developed is used throughout the mainland China.
You are the only doctor who performs the DSA and IAHF methods in Indonesia?
No. All my students across Indonesia do that. It's just that they are not exposed. One has just done in Solo four days ago.
This treatment can only be done here?
I could have been done all over the world depending on preferences. What's important is its safety. If it's not safe, I would have already been sued. I've treated tens of thousands of patients, you know.
Everyone was cured?
There is no such thing as 'cure'. I as a doctor have never cured a patient.
Then?
Well, patients got better. I'm not the one solely responsible for patients' recovery. This is a multi-disciplinary action involving many other people. If a patient hasn't felt better, then he must be checked to find the cause. May be the cause is not in the brain. It could be in the digestive system or he has an auto-immune disease.
How many doctors in the RSPAD use the 'brain wash' therapy?
Eight including me. But I as the health minister will only monitor.
Are you still treating patients?
Yes, but only for consultation. Unless there is an emergency that needs a special technique.
When did you start performing this 'brain wash' therapy?
From 2005-2006. Perhaps it's been more than 13 years. I've remained quiet all this time. It became an issue when someone felt bothered by the extraordinary income it generates. Hugh income always 'tickles' people.
How much does a patient need to spend for this treatment?
It depends. There are also elements of compassion. I can also treat for free, right?
Are there free treatments?
Of course, many. That's why we hospitals should not be commercially oriented, but rather be socially orientated.
What is the minimum cost?
The DSA treatment itself is cheap actually. What's costly are single use medical items. If they are expensive, the cost becomes high. If you want to use a single use-not reusable-duct occluder or prefer a German-made instead of Japanese-made, the price will automatically go up.
Your patients are diverse, from ordinary folks to state officials and public figures. How do you set the fees?
I have many patients who are poor. There are also kyais (clerics). The fees are set by the hospital. The tariffs are in fact determined by the finance ministry since (state) hospitals are public service entities. You can't set your own tariffs. In fact, they should be free, if possible. Should a poor patient be forced to pay? After all, he/she needs to get well.
So, you don't handle the costs of the therapy?
I don't. If you want to know the costs, go and check at the RSPAD. I don't know by heart. (Based on the information obtained by Tempo, the DSA therapy alone at the RSPAD costs around 24-25 million rupiah.)
Can the DSA method have fatal results?
If the results may be fatal, then stop the treatment.
What are the worst side effects?
At least allergy but we can counteract (allergic reactions). That's why an anesthetist, etc. must be there to monitor.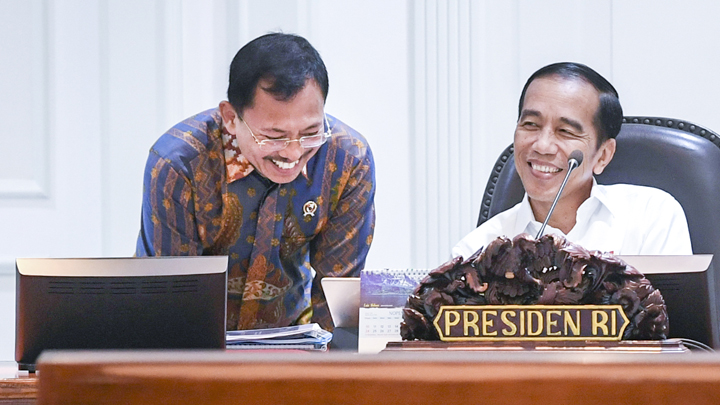 Health Minister Terawan Agus Putranto with Presiden Joko Widodo in a limited Cabinet meeting on the national health program at the Presidential Office, Jakarta, November 21. ANTARA/Wahyu Putro A
How do you explain the risks of the treatment to patients?
He or she must sign a piece of paper containing medical explanation and then give an informed consent. It is called patient autonomy.
What are explained to patients?
Everything including side effects, possibly allergy. Everything is explained in detail. If allergy occurs, we will give this or that drug, for instance. That's where honesty must be upheld. The family can even enter the operation room and observe the process.
Are patients awake during the treatment?
They are and you can talk with them. They can also chat with their families and tell them what they are feeling. That's called openness and transparency. So, clearly, we are very ethical.
Do you still offer this treatment option although a patient's condition is already in a serious stage?
We would explain the condition, the advantages and disadvantages. What we can achieve with the therapy (DSA). Whether the chance (for recover) increases 5 percent, 70 percent or 100 percent. Everything is informed. And most of all, whether there are risks or not. If none, well, then no problem (to go ahead with the treatment).
What are the most serious risks that you've ever explained to a patient?
Death or the impossibility to treat the disease.
The health ministry has formed a task force to probe suspected violations in the 'brain wash' method. Did you get the results?
I received a letter and I will read out the content. 'Please proceed with your treatment through research by services.' Bu Nila (Nila Moeloek, minister of health) signed it. So, it is not forbidden, but instead I'm asked to research by services meaning that the service should be continued.
When did you receive it?
Last year. I keep it as my amulet, (chuckles)...
How do you implement it?
I produce a lot of journals on DSA including eight in this year alone. I also managed to get approval for the research of DSA treatment for autism patients. Two researchers are working on it at the Padjadjaran University, Bandung, one using my intervention and the other is a neurologist. Publication of my international journals has also started.
Is it the correct procedure?
Yes, it should be like that. This proves that I follow the previous health minister's instruction to do research by services and the research findings have already been published.
One of the important points from the task force's investigation is your misconduct in citing several literatures for dissertation.
That's their opinion. The university has accepted and that is legal.
Did you directly verify it with the task force members?
I told them, 'How come. What statements do you disagree with?'
Did you reach an agreement?
I don't care about reaching agreement because my objective is to take it to the university as a legitimate institution. Let us not be like a worthless institution. That's not nice. It has to be a truly credible institution like a university.
Health insurance BPJS Kesehatan's budget deficit has reached Rp32 trillion. Do you agree with the planned 100 percent premium hike starting next year?
If you look at the report, the claim ratio for non-salaried (PBPU) and non-worker (BP) participants are above 400 percent, or even 500 percent. It means the utilization is four or five times above (the premiums paid?). So, the only solution is income (premiums). If they are subsidized but their utilization is so high, imagine what will happen. It won't be enough even if the subsidies are increased four times.
In such a scenario, to what percentage the deficit can be reduced?
Well, let us try and pray.
How is it calculated?
The national social security and BPJS Kesehatan board will do the calculations. My business as the health minister is to promote awareness that the governmentis is pushing for massive funding, and supports the BPJS services via subsidies for fully subsidized participants (PBI) and wage workers (PPU). The total amount paid for PBI alone reached RP37.5 trillion, a sharp increase from previous Rp26.7 trillion.
The fact is that many BPJS participants are objecting the premium increase or are opting for lower classes.
The state has the responsibility to take care of the poor people and abandoned children. They really are funded by the state via PBI and so on. It means the state has already done a lot.
But if they don't pay up the premiums, they cannot access the service.
That is the consequence. Therefore, people should be able to distinguish the consequence from the obligation.
President Joko Widodo stressed the importance of lowering the stunting rate. How do you respond?
Well, the rate has gone down from 37 to 27 percent. We just need to make sure that it goes down below the WHO target of 20 percent. From looking at the trend, it is achievable.
How?
We will continue the Germas program (Healthy Living Movement). Family empowerment and welfare movement and integrated community clinics will work together to raise the public awareness about the importance of nutritional intake. Medium, small and micro enterprises will be pushed forward to help ensure that masses have food security. The only difference is that I will return the public health centers' promotive and preventive functions,
Which regions still have high stunting rates?
It has spread from Sumatra, Kalimantan to Java and even Papua. I cannot point at just one lest it will create a bad perception.
What other duties did Jokowi assign to you?
About soaring drug prices and production of health devices domestically. How can the drug prices be high? Hospitals need medicines, and they are fully supplied but they haven't paid for them. This is the problem raised by pharmaceutical, drug and also health equipment associations. They spend so much to invest and employ millions of employees. They have to raise prices to cover their costs.
---
Terawan Agus Putranto
Place and date of birth:
Yogyakarta, August 5, 1964
Education:
Volunteer Military Officer School (1988-1989); Bachelor of Medicine, Gadjah Mada University, Yogyakarta (1990); Master of Radiology, Airlangga University, Surabaya (2000); PhD in Medicine, Hasanuddin University, Makassar (2013)
Career:
Medical Doctor, Battalion 742, Mataram (1990-1992); Chief of Emergency Care, Indonesian Army Health Education Center Hospital (1999); Member of Presidential Medical Team (2009-now); Chief, Gatot Soebroto Army Central Hospital (2015-now); Health Minister (2019-now)
Awards:
Bintang Mahaputra Utama, Bintang Kartika Eka Paksi Nararya, Satya Lencana Dwidya Sistha, Recognition for the discovery of DSA and for the most DSA therapies carried out from the Indonesian World Record Museum (2017)