Profiting from Word-of-Mouth
The 'brain wash' therapy developed by Terawan attracts foreign patients. The procedure makes up RSPAD's largest income.
Edition : 3 Desember 2019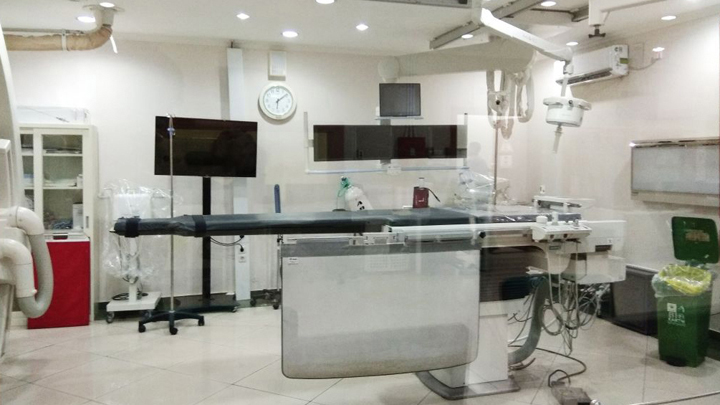 TWO female receptionists wearing beige kimonos greeted every customer entering Clinique Suisse on Thursday afternoon, November 28. The beauty and health clinic on the sixth floor of Wisma Keiai, Jalan Sudirman, Central Jakarta, offers various services such as tanning, liposuction and detox. Inside, there are rooms with beds.
Clinique Suisse General Manager Stephanie Elysia says the clinic has offered digital subtraction angiography (DSA) and intra-arterial heparin flushing (IAHFC) since last year. "Doctor Terawan's method," said Stephanie on the telephone one day before Tempo visited the clinic. Doctor Terawan Agus Putranto, now health minister, introduced the IAHF, or 'brain wash' method, using heparin solution in 2004. But the method received criticism from his colleagues in the Indonesian Doctors Association (IDI).
While he was chief of the Gatot Soebroto Army Hospital (RSPAD) in 2015-2019, the retired army's lieutenant general received a sanction from the Medical Ethics Council (MKEK) because it believed that his method was not clinically proven. Terawan was seen as excessively promoting method of treatment and prevention. He was also considered of charging an exorbitant amount of fee for the untested procedure. Chapter 3, article 17 in the Indonesian Medical Code of Ethics prohibits doctors from charging excessively for services, which runs counter to humanitarian values. The MKEK suspended Terawan from IDI for one year and revoked its recommendation for Terawan's medical license.
According to Stephanie, her clinic began providing DSA and IAHF therapies after it commenced a partnership with the RSPAD in November 2018. She does not take issue with Terawan's controversial method. Stephanie says the therapy can prevent illnesses. "There are studies. Why not?" she said. While refusing to divulge the name of Clinique Suisse's owner, Stephanie says Terawan has a close relationship with her boss. Clinique Suisse's deed of establishment shows that the company is owned by a Singaporean as well as several Indonesian citizens.
Despite providing DSA and IAHF services, Clinique Suisse does not perform medical procedures. Stephanie says the clinic only provides medical tourism services, for example, arranging a patient's schedule for undergoing DSA and 'brain wash' at the RSPAD as well as tours and accommodation while in Indonesia. Meanwhile, a team of RSPAD doctors handle the DSA and IAHF services. According to Stephanie, her clinic focuses on the convenience of foreign nationals wanting treatment. "Maybe they are a little bit scared to go to a foreign country for a medical procedure," she said.
Besides accommodating Indonesian patients, Clinique Suisse is also targeting patients from Vietnam because of the country's growing economy. During the partnership agreement signing, the clinic aimed for 1,000 patients from Vietnam to come and undergo therapy. Clinique Suisse even has a partnership with the Vietnamese government. Vietnamese ambassador to Indonesia, Pham Vinh Quang, was present at the event.
As of Friday, November 29, the Vietnamese embassy had not yet responded to interview requests sent by Tempo and Tirto. RSPAD chief of staff, Taruna Ikrar, confirmed that Clinique Suisse is working with his hospital in providing DSA and IAHF. "Vietnam is among the countries with a hospital-to-hospital partnership for DSA and IAHF through Clinique Suisse," said Taruna.
---
...the clinic only provides medical tourism services, for example, arranging a patient's schedule for undergoing DSA and 'brain wash' at the RSPAD as well as tours and accommodation while in Indonesia. Meanwhile, a team of RSPAD doctors handle the DSA and IAHF services.
---
Stephanie says patients from Vietnam must pay higher prices than domestic patients. She did not wish to say the exact amount, but according to a brochure in RSPAD's central venous catheters room, the cost of procedure for one patient is between Rp59.1 million and Rp61.7 million. The amount is the accumulated costs of the stages of treatment for one patient, from examination to post-procedural care.
According to Stephanie, Vietnamese patients must wait around one week before undergoing treatment at the RSPAD and have to spend two-three nights at the hospital during the therapy. Stephanie claims that Vietnamese patients experience physical changes. "Some see better, but it all depends on the patient's body," she said.
But one year after the partnership with the RSPAD began, the number of Vietnamese patients has not yet reached 1,000. Health Minister Terawan Agus Putranto claims otherwise, namely that the target of 1,000 patients has been achieved. In a special interview with Tempo on November 20, Terawan claimed that the IAHF helped bring the government's program to boost the number of medical tourists to success.
Terawan also claims that there are 3,000 patients from Malaysia who are now waiting to undergo 'brain wash' at the RSPAD. "Without my talking to them, there's already a word-of-mouth effect," said Terawan. Malaysian Ambassador to Indonesia, Zainal Abidin Bakar, says he was unaware of the information. "I don't have the information," he said on Thursday, November 28.
Taruna Ikrar, says he once accompanied Terawan during a 'brain wash' procedure performed on a Malaysian in August. At the time, said the neurologist, the patient who had complained about his eye immediately claimed there was improvement after the therapy. "His sight became clearer," said the professor from the National Health University, California.
Besides Vietnam and Malaysia, said Taruna, patients from other countries have been interested in undergoing 'brain wash' at the RSPAD, among others, those from Germany, Turkey, Hong Kong, Singapore and the Philippines. According to Taruna, Terawan's method is compelling to foreign patients because several heads of state have undergone the therapy, although Taruna refused to divulge their identities.
In regard to the high cost, Terawan denies that he is only thinking of the business side. He says he is only performing his medical duty. Doctors, says Terawan, must act and think for the sake of social interests. Terawan believes that the critics of the high cost are upset because the IAHF therapy has been able to generate revenue. According to Taruna Ikrar, the 'brain wash' therapy has been RSPAD's largest earning each month. "(Income from the therapy) can cover activities when there is state insurance (BPJS) debt," he said.
HUSSEIN ABRI DONGORAN