Indonesia Does Not Have A Tourism Masterplan Yet
Wishnutama Kusubandio, Minister of Tourism and Creative Economy:
Edition : 9 Desember 2019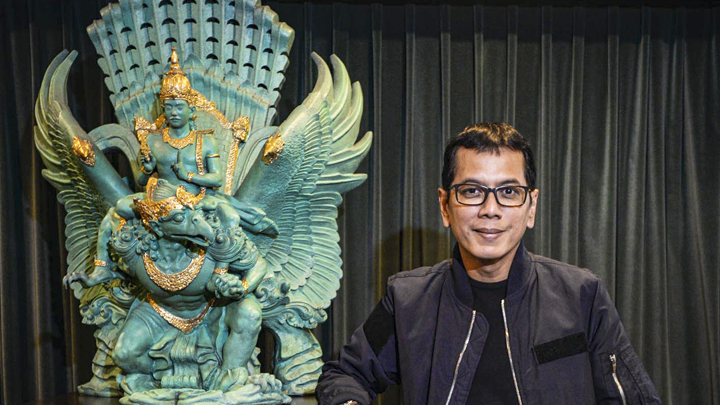 Thailand's gastronomic approach to promote tourism impressed Wishnutama Kusubandio, the newly minted tourism and creative economy minister. Throughout 2018, the land of the white elephants managed to attract 38.3 million overseas tourists, earning itself the title of the most visited Southeast Asian destination. Indonesia only made it to the fourth place behind Malaysia and Singapore.
Wishnutama said Thailand's smashing success is the fruit of the government's persistent efforts in bolstering the Thai cuisine overseas since late 80s. "They opened a massive number of fine dining Thai restaurants around the world," he said during a special interview with Tempo on Monday, December 2, 2019. The introduction to the flavors of Thai food piqued the interest of international tourists to visit the country.
Therefore, when he was picked to replace Arief Yahya, Wishnutama immediately set out to prepare a tourism development strategy. Alas, he was dumbfounded to learn that the ministry he was going to lead did not have a national tourism master plan. "Thailand, Malaysia and the United Arab Emirates have the master plan until the next 40 years," he said.
Since he took office on October 24, Wishnutama, 49, has already visited Bali, Mandalika and Labuan Bajo. He said his new task posed starkly different challenges. In addition to having to travel to various tourist destinations, he must also develop creative economy that could have positive impact on the locals.
To Tempo reporters Mahardika Satria Hadi, Hussein Abri Dongoran and Aisha Shaidra, Wishnutama explained various matters—from the new strategy to attract foreign tourists, the importance of the infrastructure, digital promotion to the merger of the creative economic agency (Berkraf) into his ministry to efforts boost the tourism industry to become the largest foreign exchange income generator. An additional interview was done via text messaging. Excerpts:
W251bGwsIjIwMjEtMDMtMDUgMDg6NDg6MDgiXQ
How will you reach the 18.5 million overseas tourists target next year?
We need to bolster our appeal. We've been only focusing on promoting existing attractions. In the future, we need to showcase our culture which is the most important element of tourism. Otherwise, things will be the same and so is the number of tourists.
But we haven't met our target for this year.
We had 13.6 million overseas tourists as of October out of the targeted 18 million. I estimate the number to climb to around 16.4 million at the end of the year.
Why doesn't the actual number match the target?
There are many events that made people reluctant to visit Indonesia. One of them is the general elections. Chaos in the country they saw in the news made them think twice to come here. Even if there were no incidents in the regions they planned to visit, people tend to generalize that it was Indonesia. Then there were so many travel warnings (and advisories) issued by our target countries in the wake of natural disasters. All of that hampered the tourism.
(Singapore, Malaysia, Thailand, the Philippines, Australia, Canada, UK, US and the Netherlands issued travel advisories to their citizens last May against traveling to Indonesia following the riots that ensued the presidential election result announcement.)
How will you overcome that?
By creating more appeal. For example, the calendar of events which President Joko Widodo often mentioned—our own events or international events. Then, the MICE (meetings, incentives, conferences and exhibitions) tourism industry which has its own appeal. These two can be our saviors in driving foreign exchange income from the tourism sector in 2020.
What is the special message from the President to you?
He said that local communities should feel the benefits from the creative economy. Events should be improved and held annually, if necessary, so that the tourism industry can be the highest foreign exchange income contributor. It has already generated US$20 billion this year.
Wishnutama Kusubandio (right) opening the Indonesia Tourism Outlook 2020 in Nusa Dua, Bali, November 22. ANTARA FOTO/Fikri Yusuf
Indonesia is expected to feel the effects of the global economic downturn next year. How will it affect tourism?
We should learn from the 2008 crisis in the US caused by housing loan defaults. All the industries were affected except the entertainment sector, particularly theme parks such as Disneyland and the Universal Studio. They even enjoyed increased number of visitors. Many people were stressed out by the crisis and sought respite. It means there are opportunities and a very high appeal there. That's what should be done in Indonesia: to stir up interest so people want to visit our tourist destinations.
What elements can actually be our appeal as a tourist destination?
Sixty percent is in the local culture and custom. Beautiful sceneries can be found in many countries, but what makes a tourist's experience extraordinary is the local cultures and the friendliness of the people.
What potentials do you see in the development of five 'new Bali' destinations?
So far I've seen Mandalika (West Nusa Tenggara) and Labuan Bajo (East Nusa Tenggara). There are also Borobudur (Central Java), Likupang (North Sulawesi) and the Toba Lake (North Sumatra). The 2021 MotoGP in Mandalika will create immense interest. If realized, it will draw up to 150,000 visitors. That's why we must prepare pre-event and post-event activities and so on. The location is also close to Bali. It can be reached via boats or small planes. So, it has a huge tourism potential. Tourism will flourish if there are (tourist) traffic and connectivity. Companies will calculate investments.
Out of the five, which are categorized as premium tourist destinations?
Labuan Bajo, for the time being. In the future, it shouldn't be only about the number of visitors. The quality is equally important. In 2018, there were around 15 million international arrivals and and with a US$1,220 (around Rp15.8 million) average spending per arrival (ASPA) per visitor. This needs to be improved. New Zealand had only four million visitors but each spent US$5,000. So indeed (trips) should be as expensive and long as possible.
How much ASPA is targeted?
In my estimation, US$1,400 in the next two to three years and Labuan Bajo as a specific premium destination will have an impact on the ASPA. This should be part of our strategy. After all, it's a pity if the number of tourists increases but their spending does not. We are talking about foreign exchange revenues.
What is the concept of a premium tourist destination?
It means tourists spend more there compared to other places. That's the reason why the President urged to build four to five stars hotels. For those opting to cheaper alternatives, we have village tourism and homestays. We also consider the duration of stay as there are many islands, culinary or cultural attractions to explore that encourage tourists to spend more.
How do the regional governments view this concept?
They are very supportive. I've met with the West Nusa Tenggara governor and the Labuan Bajo deputy regent. They are confident that enhanced tourism will benefit their regions and local communities.
How about Mandalika?
It is being developed aggressively. It takes time but we're getting there. The MotoGP track, albeit still being a dirt road now, is taking shape. So are the road from the airport and the clean water supply.
When will the infrastructure in the five 'new Bali' destinations be completed?
The five priority projects will be wrapped up at the end of 2020. In line with the President's instruction, we will start the promotions afterwards. We should not let down tourists by greeting them with concrete piles. We will use the most innovative and relevant promotional tools, such as films and influencers. We want visitors to come back.
Are there any other means?
We can make movies. We can also invite Hollywood to produce films here, if possible. That will have huge influence. To give you an example, the Crazy Rich Asians movie has given a massive tourism boost to Singapore. The Lord of the Rings promoted New Zealand's extraordinary beauty and helped draw tourists. Decades ago, many travelled to Austria after watching The Sound of Music. Another way is to collaborate with influencers. That's what the United Arab Emirates has done. Famous movie stars make movies and videos there.
Where is the role of the creative economy?
In craft, souvenir, clothes and culinary production. Local communities must be empowered. The creative economy must make use of local resources so that the locals, not just those in the cities, can feel the benefits. Therefore, in the future, there will be creative centers as training venues in the five super-priority destinations.
Increased airfares still pose obstacles in boosting tourism. What is your view?
Around 3.2 million Indonesians visited Malaysia whereas only 2.6 Malaysians came to Indonesia (data of 2018). It means our own tourists are choosing to visit other countries. I've discussed it with the state-owned enterprises minister and transportation minister, as to how we can make air ticket more affordable. A foreign tourist has also lamented to me, 'How come the domestic airfares are so high?'
A tourist from which country?
The US. For domestic flights, they compared the prices with those of similar flights in their country. That's one of our challenges and we must pull out all stops to make the airfares affordable. We should not lose our local tourists to foreign destinations and lose foreign exchange in the process. We fight tooth and nail to earn foreign exchange revenues only to be taken out of the country again. It's a headache, you see?
Last year, Malaysia managed to draw 25.8 million tourists or 10 million more than Indonesia. What can we learn from their tourism management?
The majority of Malaysia's foreign arrivals are Singaporeans who only need to 'jump over the fence' to visit Malaysia. Out of 26 million foreign visitors to Malaysia last year, 10.6 million were Singaporeans, more than Singapore's total population. The second highest number of tourists to Malaysia came from Indonesia. Last year, 3.2 million Indonesians went to Malaysia. We need to attract our own local travelers.
What made Malaysia attractive to many tourists?
Malaysia has developed its tourism sector gradually but consistently. They built Tioman Island in the 90s, then the Langkawi beach. So it's not just Legoland and Petronas or Genting Highlands which is an attraction in its own right. They claim Tioman Island is the most beautiful island in the world. But to me, it's just any other destination. But I was indeed tempted to visit. It means promotion is the key. If you want better, learn from Thailand.
Why?
They've driven tourism since the late 80s, opening a massive number of fine-dining Thai restaurants around the world. You would always find Thai restaurants in Boston, New York, Los Angeles or Sydney.
What's so special about those restaurants?
All these restaurants were supported by the government. Even the Thai Airways brought in raw materials and species for them. This is not about trade but promoting Thailand to the world via food. Besides using conventional tourism promotional activities, they use food. They created the presence of Thai food globally. Now Vietnam is following its footstep. You can find pho (Vietnamese noodle) restaurants everywhere nowadays.
What can we learn from them?
This is a strategy. For example, there are many premium Thai restaurants around the world. There don't put up banners shouting 'Visit Thailand'. They only focus on selling food, ambience, handicraft and everything is managed well. In the 90s, I lived in a small town called Framingham, around an hour's drive from Boston, Massachusetts. There was a fancy Thai restaurant that always drew large crowds.
What is the nationality of the majority of the diners?
Everyone I saw was westerner, not Thai. And the saddest thing is rendang (West Sumatran beef curry), satay and nasi goreng (fried rice) are the staples on the standard menu of all Thai restaurants. That time, when Indonesian students missed their food, they went to Thai restaurants. It means they built it on a master plan.
How will a master plan have impact on the number of tourists to a given country?
Through creating awareness. Look at Japan for example. Many people visit Japan for ramen (noodle) and other Japanese food. The food appeals to many people. Thai restaurants used to be called 'the Window of Thailand'. So we can promote tourism by hard and soft sells. The hard sell via advertisements but normally the soft sell is more effective.
Does Indonesia not have a master plan like that?
Since I became the minister, I searched for Indonesia's tourism master plan, starting from the time of Pak Joop Ave (the telecommunication, post and tourism minister from 1993 to 1998) until now. It turned out we don't have it. There are regional plans but not a grand plan. Well, this is what we want to do for both tourism and the creative economy.
Why is the master plan so crucial?
To give example, when someone develops a real estate, everything should be designed in a master plan. The location is arranged for houses, water, electricity, etc. When everything is sold, build a new cluster. Then there are different types of housing—for the rich, for the middle class or for the low-income class. But what is happening with the tourism sites in Indonesia is that everyone flocks to a good location. There is no comprehensive master plan.
How about the 'Visit Wonderful Indonesia' program?
That is a promotional program, not a master plan. Thailand, Malaysia and the United Arab Emirates have master plans for five, 10 or up to 40 years ahead.
Will market segmentation be part of the master plan?
We will determine sub-topics after the master plan. There will be super-premium, medium, economy or MICE tourisms. The infrastructure development will be based on these classes. Only afterwards, will they be marketed. We cannot only target millennials. There are also family travelers. Promotional and marketing methods have to be different using micro-targeting via digital platforms.
Recently there was a controversy that Bali would be designed as a halal or muslim friendly tourism destination.
Don't exaggerate negative news. Bali has always been a destination choice of foreign tourists. One of the proves is Bali is one of the reasons Indonesia is positioned as the best destination in the world by Conde Nast Traveler (an American lifestyle and travel magazine). Bali is a one of the main consideration in their review. Tourists come to Bali for their culture and nature.
Fodor's Travel includes Bali and the Komodo Island in their list of places not worth visit in 2020 for the trash and threat of the wildlife reasons among others. How do you see that?
We care not only trash problem, but the whole environment. We try to optimize the coordination with all regional governments as the cleanliness, including in the tourist destination, is in their hand. We also need to empower the locals through local tourism aware groups.
The Creative Economy Agency (Berkraf) is merged with the tourism ministry. What is your opinion?
In other countries, creative economy is integrated (with other departments). In the UK, it is combined with digital industries. In addition, at the ministry level, creative economy can make policies and regulations that can have impacts, not just recommendations. We will reorganize the organization's structure in the beginning of January to be more effective and competent.
As a separate entity, the creative economy agency contributed more than Rp1,000 trillion in gross domestic product last year.
Both the ministry and Berkraf contributed highly to the GDP. It should be even more productive after the merge. They can no longer be engaged in sectoral ego, but must forge collaboration and cooperation. Tourism is currently the second largest foreign exchange earner. With the merger, we hope that tourism can be the largest.
---
Wishnutama Kusubandio
Place and date of birth: Jayapura, May 4, 1970
Education: Kooralbyn International School, Queensland, Australia; International School of Singapore, Singapore; Norwich University-The Military College of Vermont, US; Liberal Arts Studies, Mount Ida College, Boston, US; Communication Studies, Emerson College, Boston
Career: Production Assistant, New England Cable News, US; Assistant Director, On Air Promotion WHDH-TV, US (1993-1994); CEO, Duta Visual Nusantara Tivi Tujuh (2006-2008); CEO, Televisi Transformasi Indonesia (2008-2012); Director, Agranet (2011-2012); Commissioner, Televisi Anak Spacetoon (2012-2014); CEO, Net Mediatama Televisi (2013-2018); Commissioner, Kumparan.com (2017-2019); President Commissioner, NET. (2019); Minister of Tourism and Creative Economy (2019-now)