The Carbon Center's Staggered Walk
Fire raged across part of the ecosystem restoration area of Katingan Mentaya Project in Central Kalimantan. This world's largest in the carbon trading program has been surrounded by oil palm plantations. The absence of the government regulation worsens the condition. Tempo collaborates with a Dutch investigative media organisation Investico and Narasi to make this report.
Edition : Tuesday, Desember 17, 2019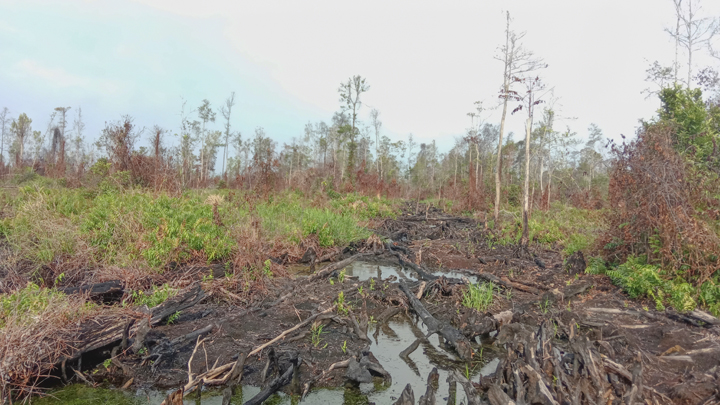 ABDUL Wahab had to turn his motor boat around in order to return home. Smoke from the fire near the end of the Hantipan canal in the Katingan Regency, Central Kalimantan, that September, was too thick to navigate through. He changed his mind upon seeing a group of people waiting for boat along the dock. This 30-kilometer long canal is the main access for residents of Katingan to get across the peatlands to reach the Sungai Mentaya (Mentaya River) region, East Kotawaringin Regency.
Holding back the pain in his eyes from the smoke, Wahab initially intended to deliver his passengers, who were traveling from the west. His six-passengers motor boat would also be have been filled with people for the return trip to Katingan. They had to go through the smoke-covered canal instead of taking the longer route through the Sampit Bay. Strong wind in the dry season resulted in high waves at sea. "A passenger passed out from the smoke," said Wahab on Saturday, November 23.
Fire had been raging in Katingan since mid-August. Dry weather and strong winds made the situation worse. Fire broke into the field around the canal in the ecosystem restoration area of Katingan Mentaya Project managed by Rimba Makmur Utama (RMU). The company's fire fighting team, aided by local residents, fought and cut off the fire. "Around 500 hectares of land went up in flames," said Apuk Harto, chief of Kampung Melayu village, a settlement nearest to the location of fire.
The rain in October helped extinguish the fire. Ferns and grass grew back, but the scorched marks left behind were still clearly visible. Grounds along the side of the canal were blackened. Fallen leaves and branches on top of the peatlands had turned to ash. Charred tree stumps dotted the land. "The fire was from outside of RMU's area, it spread quickly to the other side of the canal," said Wahab.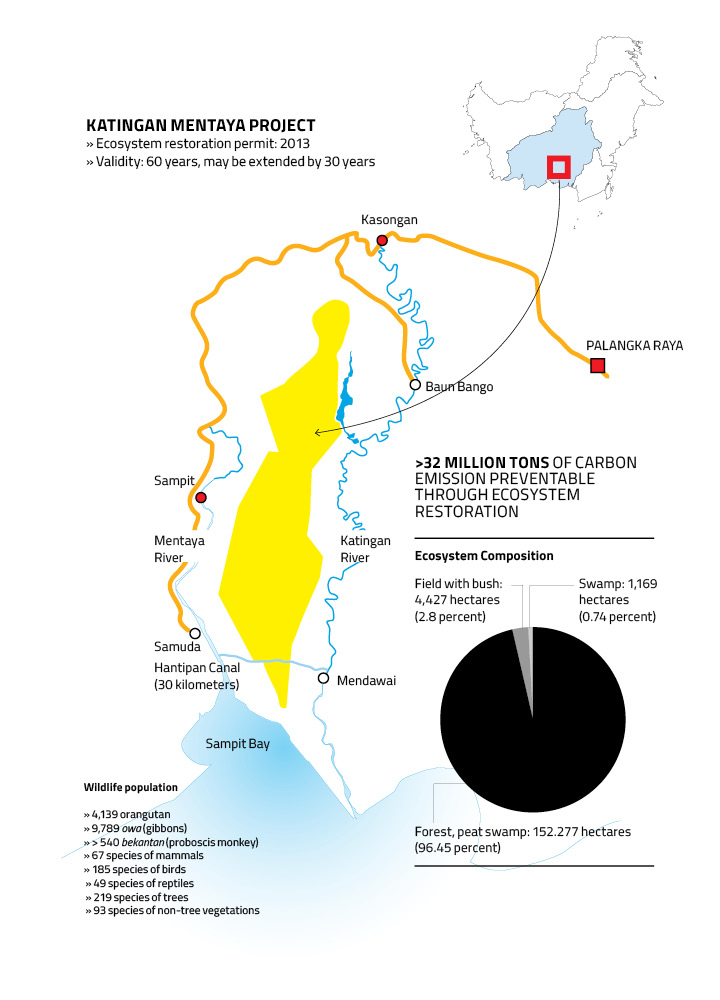 Katingan Mentaya Project/Tempo
W251bGwsIjIwMjEtMDQtMjEgMTU6NTY6MzEiXQ
Analysis of satellite data since January by environmental group Auriga revealed 160 hotspots in the concession area of Katingan Mentaya Project. Most of these, 130 spots, emerged in September. Their number only went down the following month.
An even larger fire occurred on the western side of RMU's concession area. Investigation by Tempo and Narasi journalists, Aqwam F. Hanifan and Achmad Nur Wahid in November found the fire location to be around eight kilometers from the Penyaguan village in the East Kotawaringin Regency. The area may be reached by taking a small boat going along a network of canals and continuing on foot.
The area destroyed by fire was once filled with shrubs and trees stretching for more than one kilometer. Part of the wet peatland was inundated by rainwater that had fallen earlier and had begun to be covered with weeds. Aerial photograph and video recording show the path of fire extending close to the wall of trees of the forest region. The black and brown colors of the scorched land stand in stark contrast to the greenery of dense vegetation in the peat forest.
Penyaguan village chief, Zaenal Abidin, said his village was covered by smoke from the fire for two weeks. However, the situation was still not as bad as during the large fire that swept Kalimantan in 2015 when thick smoke made the day almost as dark as the night. "This year the smoke was thinner, disappearing after sunrise," he said.
Rice plant now grow in some former sites of the fire. The seeds were sown shortly after the fire went out. Signs bearing names were used to mark locations. However, Zaenal assured that none of the residents intentionally burned the land for farming. They did not know where the fire came from. He suspected that fire was triggered by embers carried away by strong winds of the dry season. "People are only using the lands that were burned by fire," said Zaenal.
A field team from the Save Our Borneo environmental group used satellite imaging to measure the overall width of the area affected by fire, and discovered it was up to 1,900 hectares. This is roughly equal to 2,000 football fields. "A massive loss in the effort of peatland restoration, many of the saved carbon stocks are gone," said a member of Save Our Borneo, Muhammad Habibi.
RMU Chief Executive Officer (CEO) Dharsono Hartono said his team had done their best to prevent the fire from spreading. The area of fire was much smaller compared to 2015, when 9,000 hectares of land were affected. The burnt area was part of around 12,000 hectares of open field with few trees that had to be restored. "There wasn't fire during the last two years. This was the worst since 2015," said Dharsono.
•••
THE Katingan Mentaya Project was initiated by Dharsono Hartono and his partner, Rezal Kusumaatmaja, in 2007. There is an abundance of carbon in peat forests and swamps. They thought it was better to conserve the region, rather than convert it for agriculture or oil palm plantation. "Many companies open up peatlands, dry them, and then plant oil palm, resulting in deforestation and fire," said Dharsono.
Dharsono and Rezal submitted a proposal to manage some 200,000 hectares of land between Mentaya and Katingan Rivers, Central Kalimantan. They formulated a plan for carbon trading, an environmental service that was not yet widely known in Indonesia. Their ecosystem restoration permit was only issued five years later. "During that time, I disseminate the Katingan program to the village residents," said Dharsono.
Dharsono and his team promoted a system of farming that does not involve cutting down and burning the trees and plantations. Villagers often relied on the cut-and-burn method to clear lands for farming because it was considered faster and cheaper, but this caused huge losses when the fire spread. Dharsono also introduced a palm sugar manufacturing project in the southern part of the concession area, where coconut trees were plenty. "It took three years to negotiate with the residents," he said.
Rimba Makmur Utama partnered with 34 villages to maintain the forest area. They run a tree nursery project for restoration purposes. Until now, more than 340,000 tree seedlings have been planted on 800 hectares of land. Dharsono said local people empowerment is key to the ecosystem restoration project in Katingan. "If they could not produce in a sustainable way, they end up cutting down trees and burning lands," he said. "Sooner or later, it would spread to the conservation area."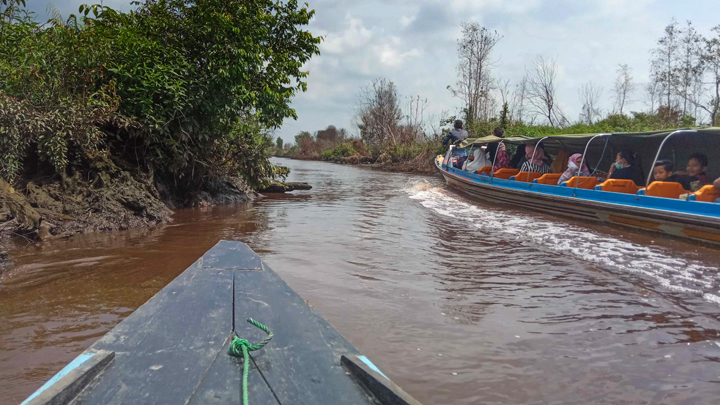 The Hantipan canal that split the southern part of the Katingan Mentaya Project, November 23./Tempo/Gabriel Wahyu Titiyoga
The amount of investment made to develop the Katingan carbon business project is around US$15 million or Rp209 billion. They work together with a British company, Permian Global, Puter Indonesia Foundation, and Wetlands International. They also partner with Verra, a carbon verification agency from the United States.
The Katingan Mentaya Project is estimated to prevent the release of around 7.5 million tons of carbon into the air every year. Dharsono refused to elaborate on the company's revenue or how many carbon credits it was selling. He only said that the sales trend for carbon rights have only surfaced during the last two years. They count Shell, Volkswagen, and BNP Paribas among their clients. "The price for carbon credit is around US$5 to 10 per ton," he said.
Shell was also not willing to reveal how much they had invested into the Katingan-Mentara carbon project. However, the fire will not influence the compensation they are delivering. In a written statement to Investico journalist, Daphne Dupont-Nivet, Shell stated that no carbon credit can be gained from an area affected by fire because there is no carbon to be absorbed by nature. "No credit will be available for purchase by Shell or other companies."
Shell stated that carbon credits must first be verified and validated before purchase. The company will only buy carbon credits which have been independently verified according to standards, such as the Verified Carbon Standard (VCS) from Verra and Gold Standard.
Dharsono said his clients buy carbon credits from the Katingan Mentaya Project through a long selection process. He guarantees that the carbon credits for sale have been verified and registered according to the VCS and the Climate Community and Biodiversity Standard. "We are open and transparent, and we publish report periodically," he said.
Muhammad Habibi considers RMU's efforts to restore and maintain the peatlands as a step in the right direction. Moreover, the territory between the Katingan River and Mentaya is a unified peat ecosystem. "There is no change in the functions of the forest, while the number of trees is increasing in areas that were previously damaged," he said.
The problem, Habibi continued, is that the Katingan Mentaya Project is negatively affected by adjacent oil palm plantations. Instead of establishing a protective zone, the government granted 40,000 hectares of forest and peatlands to three palm oil companies, which now surround the Katingan Mentaya Project.
Aside from that, construction of a canal connected to a natural river could potentially reduce water level and dry up the peatlands. This kind of condition makes the peatland flammable. Fires that occur every year, said Habibi, present an accumulated effect that hampers restoration efforts toward peatland ecosystem.
A researcher from the for International Forestry Research, Daniel Murdiyarso, said peatland restoration in Indonesia must be increased. Peatlands are originally covered in water. The opening and drying up up peatlands could potentially release long-kept stores of carbon. "The lands are also burned, so carbon is very quickly released," he said.
Stocks of carbon, according to Daniel, may be sold. However, there has not been a firm regulation regarding price. Supply is also higher than demand. The highest price buyers are willing to pay for is only around US$5. "The boundaries are not clear, and the possibility of carbon loss in the field prevents buyers from paying higher," he said.
Daniel said the government needs to issue regulations on restoration and carbon trade. These are related to the target of reducing national carbon emission by 29 percent in 2030. "We need to restore ourselves first, fulfill that 29 percent, then we talk about the trade," he said.
The environment and forestry ministry is still compiling regulation to regulate carbon trading mechanism. Climate Change Control Director-General of the Environment Ministry, Ruandha Agung Sugardiman, said that the rules regarding carbon trade is still being discussed since the Paris Agreement in 2015. "Every country wants all instruments to be completed now so that they can be carried out by January 2020," said Ruandha to Budi Setyarso from Tempo in between the Climate Change Conference in Madrid, Spain, December 12.
Despite the absence of a clear regulation, the environment ministry has been accommodating the carbon trade business run by a number of companies holding licenses for ecosystem restoration and social forestry. "Let it commence first, while taking care not to get too wide. We also have an obligation to reduce carbon emission," said Ruandha.
The government aims to reduce green house gas emission by 29 percent through own efforts—or 41 percent with international assistance—in 2030. The emission reduction targeted for 2030 is between 834 million tons to 1.08 gigaton equivalent of carbon dioxide. The large fire this year is predicted to reduce that target to around 20 percent. "We still have lots of work until 2030. The President has ordered that there must be no forest fire next year," said Ruandha.
Ruanda believes that Indonesia will not run short of carbon stocks due to the country's vast forests. Even so, if Indonesia needs additional carbon reserve for the emission reduction program, stocks for companies in the carbon trade may be withdrawn or stopped to prevent them from being sold. This term, according to Ruandha, is written in the companies' clause. They have also agreed to follow the government's regulation if the carbon stock is needed.
GABRIEL WAHYU TITIYOGA (KATINGAN),
DINI PRAMITA