Banana Art
A Banana was exhibited on a wall in a gallery in Miami, America, with a price tag of 120 dollars. It was part of the Basel Art exhibition held in mid December. The artist, Maurizio Cattelan, had titled it 'Comedian', probably after buying the banana at a supermarket for 20 cents.
Edition : Monday, Desember 23, 2019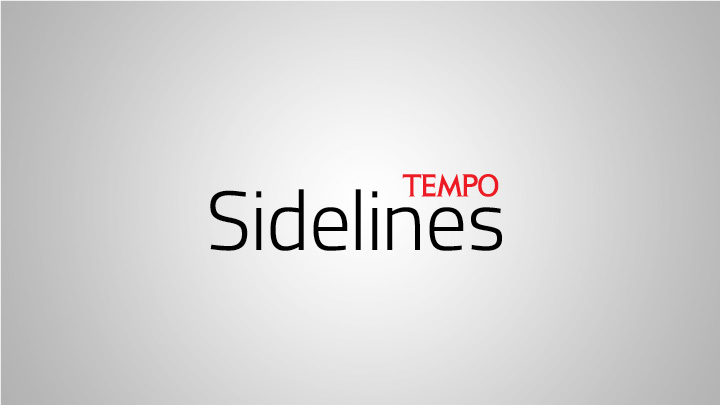 AND the banana art at Basel Art was sold. This caused a stir. Particularly when another artist turned up and without permission, released the banana from its duct tape and ate it. What he did, he said, was also a work of performance art, titled 'Hungry Artist'…
The New York Post reported this incident with the title 'Art World Gone Mad'.
Mad or not, the incident revived the two-century-year-old question: is this a sign that 'art' no longer exists – it is dead ?
It was Hegel, the great German philosopher, who first declared this death when he gave a lecture in Berlin in the early 1830s. The ensuing debate basically ignored the fact that Hegel had actually merely said that he saw that art in the modern era no longer fulfilled spiritual needs. Art no longer appeared as Darstellung des Absoluten, 'the representation of the Absolute Spirit'.
Hegel said this, I think, because he was taking classical European art as his example. He did not know Japanese ikebana, or what Sanento Yuliman called 'low art', like weaving and carving in Indonesia. Hegel considered art to have a noble calling: like religion and philosophy, art discovered and expressed meanings implicit in worldly things which come and go, by chance or in spite of them. But Hegel said this noble purpose was sadly now 'part of the past'.
Since then many have reiterated, if not exactly, Hegel's statement about the 'end of art'. When in 1964 the famous American art critic Arthur Danto attended an exhibition at the Stable Gallery in New York and saw Andy Warhol's work, he too spoke about 'The End of Art'.
He had seen Warhol's Brillo Boxes, made from plywood measuring 43.3 x 43.2 x 36.5 cm. Like common soap boxes, they had not not come from the hands of a master. Anyone could mass produce them. There was nothing unique and lasting like Da Vinci's Mona Lisa about them. But he had made a work of 'art' because it was presented in an art exhibition, sanctioned by the curator and the owner of the gallery.
Danto was probably perplexed, and his conclusion was like Hegel's: we live in a post-historical period of art. Art-makers produce works that have virtually no meaning and historical weight. In 2008, Danto said that the contemporary artworld was 'heading in no direction to speak of'.
But is that the end of art ?
Maurizio Cattelan's banana refutes that. It can even be seen as an affirmation that art has begotten descendants through interbreeding with all kinds of natural and cultural elements, to the extent that we no longer know who has given birth to what, and what was the source – if there even is a single source. And we also do not know what actually is called 'art' – if there is a single 'art'.
In Europe there used to be consensus: 'art' consisted of works ordained by the French state Académie des Beaux-Arts. That consensus limited artistic life and stifled the creative exploration of new expression. Feeling this pressure, in 1884 some artists formed the Société des Artistes Indépendants. There, anyone could be called an 'artist'. The only condition was that they paid the membership fee. And what came to be called the 'democratization of genius' blossomed. Demarcations collapsed. Hegemony was shaken. Artistic and intellectual exloration forged ahead.
One climax was the Duchamp 'incident'. In April 1917, Duchamp, the French artist who was once compared to Picasso, entered a factory-made porcelain urinal into an art exhibition in New York. He wanted to test whether the artists mounting the exhibition were true to their wish for the democratization of art, and whether they were open to creative exploration at its extreme.
He titled the urinal 'Fountain' and signed the exhibit R. Mutt.
The object was rejected. But that was exactly why it made history.
In the 1940s, Duchamp acknowledged the Fountain as his work. The response was him being hailed as the driving force – as though with renewed energy – of the next stage of creative freedom which had been pursued with Cubism in the early 20th century and Russian avant-garde art in the early 1920s. 'Beauty' was discarded. Art existed not for and because of 'beauty', but because it manifest and motivated the unpredictable. And everything completely changed. George Brecht, from the Fluxus art movement, proclaimed : 'anything can be art and anyone can do it.'
But democratization in determining and assessing art is actually problematic. In practice, artists, curators, gallery owners, collectors and critics interact and develop into a kind of regime. In that regime, following the Duchamp incident it was not the quality of a work but rather the idea that became the determiner. The banana in Miami, an object that quickly rots, is valued like a charm just because it is the product of theory – both from Cattelan and from the regime that ordained him.
In other words, what 'art' is, why it is special, why it changes from something costing 20 cents into something worth 120 thousand dollars, is not through the effort of the hands and senses of an artist. Hegel was right: art ends because in the modern era it has been 'transferred into our ideas'. It is no longer physical form, color, texture. It is concept.
Marx, in Das Kapital, introduced the term 'commodity fetishism' for when an object that is bought and sold in circulation charms people, as though produced magically without human effort. We can say the same thing about the banana art in Miami, with a little variation: 'I think (and only think), therefore art is. I am perplexed, therefore art is valuable.'
Goenawan Mohamad
W251bGwsIjIwMjEtMDUtMDggMTM6NTQ6MTEiXQ