End of PLN's game of Thrones
Zulkifli Zaini has been chosen to head Indonesia's state electricity company PLN. Communication between President Joko Widodo and former vice president Jusuf Kalla shadows the removal of former prime contender Rudiantara.
Edition : 30 Desember 2019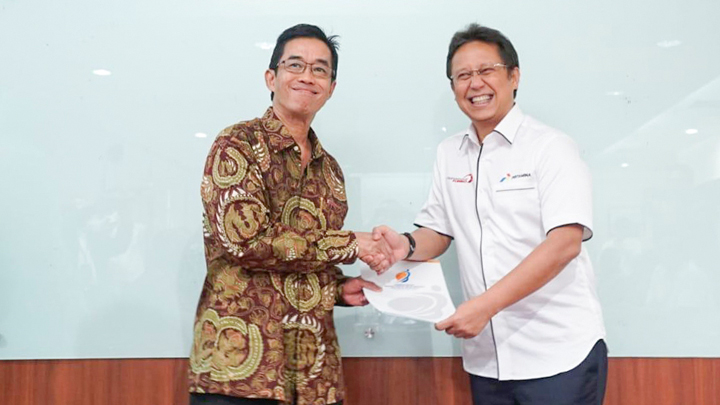 ON his first day in office on Tuesday, December 24, Zulkifli Zaini went full force. This new president director of PT Perusahaan Listrik Negara (Persero) (State Electricity Company) PLN was checking energy supplies ahead of Christmas at the Center for Information and Solutions P2IS at PLN's headquarters in Jakarta. One day prior, PLN's shareholders meeting had appointed Zulkifli to take the helm at this state enterprise.
Monitoring showed that basically all 22 major electric systems in Indonesia were doing well, and supply seems to be sufficient.
"Everything is monitored from P2IS. We are on alert, particularly in preparation for New Year's Eve," said PLN spokesperson Dwi Suryo Abdullah on Thursday, December 26.
Since the beginning, Zulkifli said that one of his biggest challenges was to assure that PLN is able to carry out its key mandates. One of them, he said, had been set by the shareholders' meeting, which is "overcoming blackouts, or security of supply."
Zulkifli's appointment as president director on Monday, December 23, solved the puzzle of filling PLN's top job, which had been ongoing since the beginning of this year. This former head of PT Bank Mandiri (Persero) Tbk was not even on the list of candidates given by the Ministry of State Owned Companies BUMN to the search team in the middle November. Until Friday, December 13, a number of Presidential Palace and ministry officials still confirmed that this team headed by President Joko Widodo agreed to appoint Rudiantara, the former minister for communications and information.
•••
THE conundrum intensified in the past three weeks. PLN's general shareholders' meeting RUPS, that had been set on Friday, December 13, was postponed. Prior to that, Rudiantara had been the strongest contender for the appointment, above the two other candidates: acting PLN head Sripeni Inten Cahyani and Ahmad Rofiq, PLN's regional business head for Maluku and Papua.
Jokowi, according to a number of officials aware of the selection process, approved of Rudiantara at the beginning of the process. Cabinet Secretary Pramono Anung even said on November 25 that plans for Rudiantara's return to PLN had been discussed by the search team. Rudiantara built his career in the telecommunication industry, and had been deputy head of PLN in 2008-2009.
While BUMN was waiting for a letter from the Presidential Palace, Coordinating Minister for Maritimes and Investment Affairs Luhut Binsar Pandjaitan had confirmed Rudiantara's appointment. "I believe the president's appointment of Pak Rudi was the perfect decision," Luhut said at the Sultan Hotel in Jakarta on December 9. Rudiantara, meanwhile, did not want to precede the government's decision. "The administration of the general shareholders' meeting is still in process," he said when contacted on Wednesday, December 11.
The cancellation of the RUPS on December 13 brought on new rumors: Rudiantara was kicked off the list. These rumors were intensified by the fact that Rudiantara had flown abroad. Eko Putro Sandjojo, former minister for village, development of disadvantaged regions and transmigration, posted a photo of him meeting Rudiantara at Singapore's Changi Airport on social media.
These rumors were clarified on Monday, December 16. When contacted by Tempo, Rudiantara admitted that he was in Beijing, and planned to go onwards to the US. "I cannot comment because I am not in the BUMN process loop," Rudiantara said when asked about the PLN head appointment.
Apparently, around the same time, the search team had started discussing Zulkifli Zaini's name. A number of BUMN officials said that Jokowi had asked for new names as candidates. Rudiantara's removal from the list was nothing personal, but instead was sparked by recent communications between Jokowi and his former vice president Jusuf Kalla.
Kalla, the sources told Tempo, praised Rudiantara in his communication with the president. The former VP also asked about the appointment agenda, which kept getting delayed. This, however, felt like an intervention for Jokowi, and consequently made him change his decision on Rudiantara.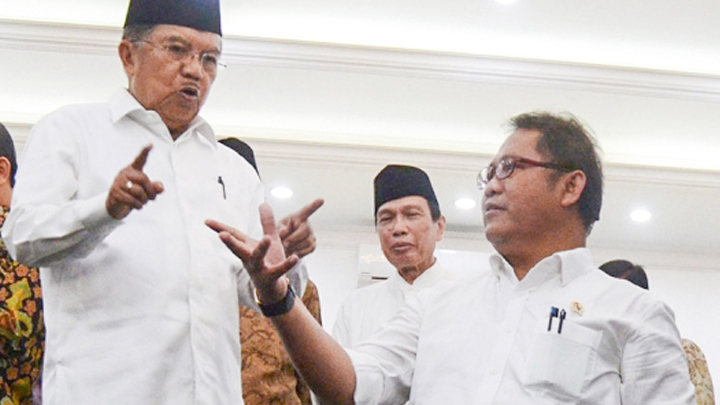 Rudiantara (right)./Tempo/Tony Hartawan
This, however, was denied by Jusuf Kalla's brother Achmad Kalla. He assured that his brother did not suggest or support any candidate to be head of PLN. "He holds himself back, and is very careful about such matters," Achmad said on Thursday, December 26.
He further said that Jusuf only knew about Rudiantara being a strong contender when it was widely discussed in the media. Even so, Achmad did not deny that Jusuf Kalla and Rudiantara have a close relationship. "He assists Pak Jusuf in the Mosque Council. I think people are just trying to look for connections," Achmad said. Jusuf Kalla and Rudiantara have indeed been at the helm of the Central Leadership for the Indonesian Mosque Council. Meanwhile the Kalla family, through a number of companies, is currently active in building hydro-power electricity centrals in Sulawesi.
Arya Sinulingga, a special staffer for the BUMN minister, declined to give details about the cancellation of Rudiantara's appointment. "Some are perfect (for the job), others are even more perfect. Don't twist things around," he said.
He assured that Zulkifli's appointment was a suggestion by the BUMN ministry to the TPA, the team who did the final search for the position. This team included Cabinet Secretary Pramono Anung, State Secretariat Minister Pratikno, BUMN Minister Erick Thohir, and Energy and Mineral Sources Minister Arifin Tasrif. "It was decided in the TPA. President Jokowi was also present," said Arya.
•••
AFTER decades of working in the financial sector, Zulkifli Zaini reached the peak of his banking career as Bank Mandiri President Director from July 2010 until April 2013. Prior to that, he was technology and operational director at the same bank.
As head of this bank with the second-largest assets in Indonesia, after PT Bank Rakyat Indonesia (Persero) Tbk, Zulkifli had been involved in the financing acceleration for the construction of a 10,000-megawatt power station during the reign of President Susilo Bambang Yudhoyono. His proximity to the power industry continued when Dahlan Iskan, then BUMN minister, named him as a PLN commissioner from July 2013 to April 2015.
Zulkifli continued his role in the banking world as an independent commissioner for PT Bank Negara Indonesia Tbk from March 2015 until March 2016. After that, he was asked to be independent commissioner at PT Indonesia Infrastructure Finance from June 2016 until November 2017. This civil engineer graduate from Bandung Institute of Technology ITB has also been commissioner at PT Bank Permata Tbk, which had just been acquired by Thailand's Bangkok Bank, since September 2017.
Zulkifli has also been commissioner at PT Triputra Agro Persada since June 2013. This oil palm and rubber plantation is part of the Triputra Group, a business enterprise owned by Theodore Permadi Rachmat, who is also shareholder at PT Adaro Energy Tbk together with Garibaldi Thohir, brother of BUMN Minister Erick Thohir.
Asked about the above connection, Arya Sinulingga underlined that Zulkifli's selection process is free of any conflict of interest with Minister Erick. "The TPA is there for a reason. Pak Erick is not alone in it; there are also technical ministers. Pak Jokowi was also present," he said.
Arya further said that Zulkifli was chosen because of PLN's need to strengthen its expansion of its transmission and distribution businesses. For this, a healthy and strong company cash flow is required. The government wants PLN to be led by a financial expert to control the company's financial burden, which would also lead to lower power costs.
RETNO SULISTYOWATI, KHAIRUL ANAM, CAESAR AKBAR