A Fateful Year for Unicorns
THERE is one more bubble that can potentially burst in 2020: the unicorn bubble. This is a very large bubble, as unicorns are internet-based startups with valuations of over one billion US dollars.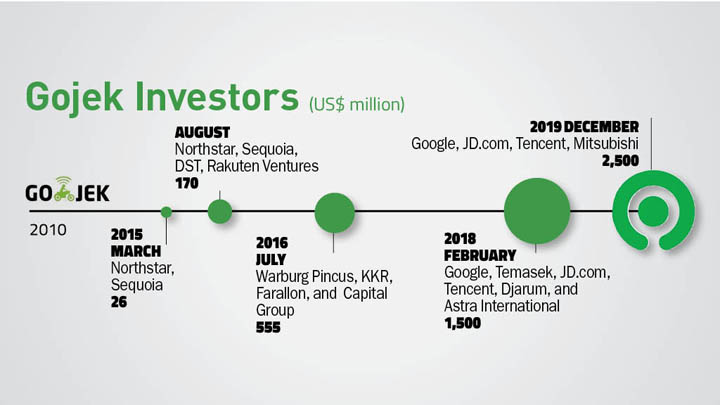 The problem starts with the unicorns' progressive business model. The valuation of a unicorn is not based on its profits since most unicorns are still "burning money", suffering heavy losses from the super generous discounts, cashbacks and exhorbitant promotion budget to draw as many users as possible.
The size of this userbase has convinced investors to put in billions of dollars. Investors at the initial stage of a unicorn's life are commonly venture capitalists such as SoftBank, which specialize their investments in startups. They invest even when the startups are making losses, hoping that its value will multiply once those unicorns succeed in conquering the market with their massive userbase.
If the value of the company surpasses US$10 billion, the unicorn turns into a decacorn. And venture capitalists have no intentions of being permanent owners. They want to exit as quickly as possible and cash out the profits, usually when the unicorn is finally able to go public through initial public offering (IPO).
Unfortunately, things don't always go that smoothly. Last year, the market has seen several phenomena which show that it will not accommodate an irrational unicorn or decacorn bubble so easily. Their valuations, which are not based on fundamentals, has caused market corrections. Unlike venture capitalists that do not care about fundamentals, the market refuses to hold on to the assumption that a large userbase will eventually bring in the money. If its millions of users do not result in profit, a company's stock prices will certainly fall.
That's what happened to Uber, the world famous ride-hailing company. Right after listing on Wall Street in May 2019, its stock price fell apart. Uber announced $5.2 billion US dollars in losses for Q2 2019 and 1.2 billion dollars in the next quarter. Uber stock, priced at $45 per share in the initial offer, collapsed to its lowest point, $25.99, in mid-November 2019.
The Uber horror story serves as bad precedent for startups that plan to IPO. WeWork, the co-working space provider, experienced it firsthand. The company's plan for IPO in August 2019 was a total failure. The market rejected WeWork, who wanted to enter with a valuation of $47 billion US dollars. SoftBank, one of WeWork's early investors, was forced to buy the majority of stocks from other investors on October 2019. In the transaction, WeWork's valuation was left at a mere 8 billion dollars.
This is the harsh lesson haunting financial markets. Startups that still require massive capital injection to survive are now having a hard time finding investors. Fundamentals of a company are no longer negligible factors. Having millions of users will seem unattractive if they fail to produce concrete results at the bottom line of financial reports. Indonesian unicorns also have to face this challenge. One of them is Gojek, which so far has managed to amass US$ 8.7 billion from its investors. Gojek's survival still depends on continuing capital injection until it can turn a profit from its operations. In its latest round of fund raising, according to the Financial Times, Gojek is gathering additional funds amounting to US$ 2.5 billion until the end of January 2020.
Gojek has an advantage though, in this raising money game. It has a much stronger investor profile compared to, just to mention a name, WeWork, which relied on SoftBank. Gojek's main investors are established corporations, such as Google, Temasek, Mitsubishi, Djarum, Astra International and Tencent, who do not rely only on userbase for its valuation like venture capitalists do.
Even so, this does not mean Gojek's heavy trials are over. The same goes for the other unicorns and decacorns. They must change their business model and generate profits while healthily operating as a commercial firm. If not, the cycle of drawing funds from investors will never end while some investors are already starting to lose confidence in the lofty and irrational valuations. If the situation does not change, the bubble of "burning money" unicorns and decacorns can truly burst in 2020.
YOPIE HIDAYAT (CONTRIBUTOR)