Game Over, Asabri
Asabri's share price plunged to an all-time low. The company is on the verge of demise as it fails to conduct proper placement studies.
Edition : Wednesday, January 15, 2020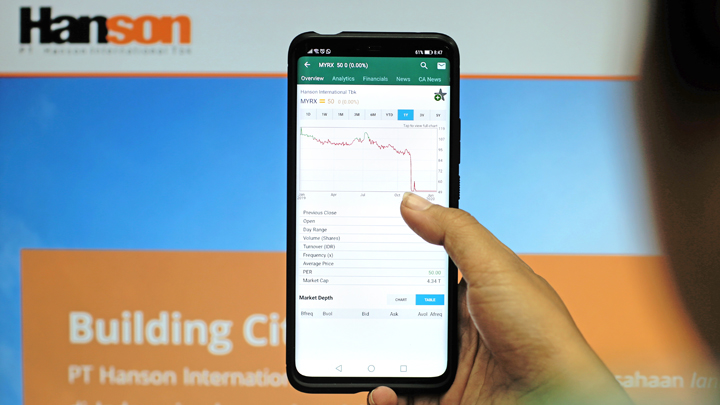 LONG before the investment crisis of Asuransi Sosial Angkatan Bersenjata Republik Indonesia (Asabri) caught the public's attention in early 2020, the Indonesian Ombudsman was secretly reviewing the fund placement patterns of the state insurance firm. The Ombudsman had been receiving reports from policy holders since last year, along with complaints from customers of Asuransi Jiwasraya and AJB Bumiputera 1912.
A team from the Ombudsman began investigating Asabri's finances at the end of 2019. They noted the company's weak supervision over their investments—just like what happened in Jiwasraya, which at the time was being investigated by the Attorney General's Office. They suspected Asabri of mortgaging shares since 2013.
"In terms of investment chaos, what happened is the same with Jiwasraya. The actors are also the same," Ombudsman member Ahmad Alamsyah Saragih told Tempo on Tuesday, January 14.
The Ombudsman's findings indicate that Asabri's investment portfolios are filled with unusual price changes, although most of the funds were placed in state-owned enterprises (SOEs). In 2016, for example, Asabri took the shares of nine SOEs. Of those shares, the investment return from the price hike came from companies that were not performing well. At the time, Asabri enjoyed profits from Indofarma and Semen Baturaja shares, which gained 307.2 percent and 43.2 percent respectively.
The problem is, of the Rp5.1 trillion stock investment that Asabri managed that years, only 12 percent was placed in the IDX80, which is an index of free-floating shares. In addition to having shares of SOEs with a squalid fundamentals, Asabri placed its money in affiliated companies such as Bank Yudha Bhakti, as well as a number of firms whose shares were later strongly indicated as dump shares—just like in the Jiwasraya case. These include shares of Hanson International (IDX: MYRX) and Inti Agri Resources (IIKP), which are affiliated with Benny Tjokrosaputro and Heru Hidayat, the two suspects in the Jiwasraya corruption case.
W251bGwsIjIwMjEtMDQtMjEgMjE6NTc6MDkiXQ
Based on the Ombudsman's initial findings, Asabri's funds under management (FUM) failure in non-liquid stocks is estimated to have started in early 2014. Before that year, Asabri only invested Rp56 billion in a handful of other companies. But after 2014, the company's FUM in its stock portfolios increased every year. "We suspect they bought some blue chip stocks as a cover up, to make it seem that they profited from them," Alamsyah said.
When the Jiwasraya case blew up, Asabri's investment playtime was 'game over'. Throughout 2019, its stock portfolios began collapsing one by one to nearly minus 90 percent. Alfa Energi Investama (FIRE), whose shares were also owned by Asabri, was corrected by 95.79 percent. The Indonesia Stock Exchange (IDX) in early January suspended FIRE from trading.
Meanwhile, MYRX experienced corrections over the past six months, down to Rp50 per share. Asabri owned 5.63 percent of those shares, valued at Rp4.6 billion. Alas, MYRX was suspended on January 16. IDX authority said that the suspension of Hanson's shares was triggered by the company's problems. "With regards to Hanson International's letter, we are announcing that there was a default on the company's individual loans," the exchange's website wrote.
THE Supreme Audit Agency (BPK) found fraudulences in Asabri's financial management fraud twice, and their findings were similar. The years 2014 to 2016 were a time of investment crisis for the company. Asabri's financial report as of December 31, 2015 showed stock investments worth Rp3.5 trillion in 28 issuers.
Asabri's biggest share ownerships were in Eureka Prima Jakarta (LCGP) and Sugih Energy (SUGI). Asabri bought 1.01 billion units of LCGP shares worth a total of Rp630.9 billion. The property firm's financial statements showed that it suffered a loss of Rp5.7 billion, caused by high general expenses and operating costs.
Throughout 2015, LCGP shares perched at the bottom of the trading board with an average closing price of just Rp449 per share. However, on the day before the year-end, LCGP soared to Rp620 per share. On the first two trading days of 2016, which were on January 4 and 5, the stock fell again to Rp505.
The BPK said what happened indicated that a 'year-end game' was being played. Meanwhile, based on the findings of the Ombudsman, Asabri was known to have reaped 53 percent return from the year-end trade close. "(They did it to) improve the company performance, so that it would appear as if Asabri's financial statements had a potential profit of Rp117.7 billion from unrealized monthly gains," the BPK wrote in its report.
Eureka Prima Jakarta, formerly called Laguna Cipta Griya, continued to experience stock price corrections in 2016. LCGP plunged to its all-time low in October that year to Rp98 per share. At the time, Asabri had 24.25 percent of LCGP shares, causing the company to suffer a loss of Rp603 billion. The last time Asabri owned these shares was at the end of 2017, when they had 19.66 percent of the stocks, worth Rp110.69 billion. In a list of LCGP shareholders for 2018, Tempo did not find the name Asabri.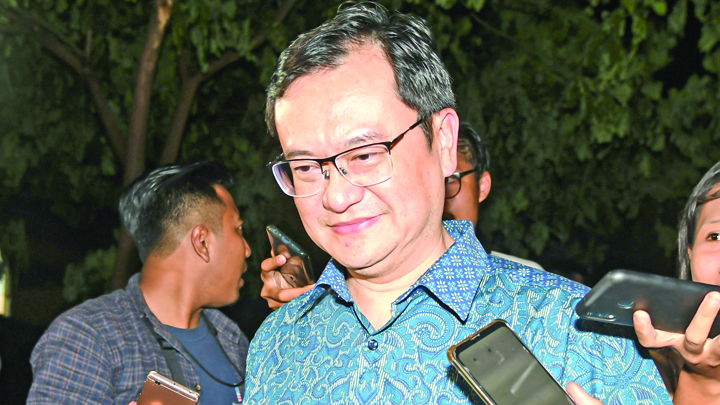 Benny Tjokrosaputro/ANTARA/Nova Wahyudi
The BPK also detected reckless fund placement in Sugih Energy (SUGI) shares during the same period. BPK's audit revealed that Asabri bought SUGI because the oil and gas exploration company was about to acquire the contractor of the Lemang Block, South Sumatra. Asabri predicted that the acquisition would push SUGI's price all the way to Rp900 per share, and so throughout 2015 Asabri made several purchases of SUGI, paying a total of Rp452 billion. Unfortunately, SUGI continues to be corrected after suffering losses in 2015 and 2016 due to Lemang Block's failure to start producing.
Just like LCGP, SUGI's price suddenly soared on December 30, 2015, jumped 24 percent to Rp470 in just one trading day. In the first two trading days of 2016, the price fell to Rp388. The brief gain is believed to have cranked Asabri's profit up by Rp124 billion from the yearly return of the 1.3 shares that it owned. But just like the yields of LCGP and IIKP, this was a pseudo profit that did not reflect actual conditions. A similar modus is found in Jiwasraya.
To the BPK, the board of directors of Asabri at that time admitted that they only held quick studies for before buying shares of the two companies. Their excuse for that was because the company did not have reliable analysis standards. "The company only had one analyst who was also multitasking as the executor, settlement officer, as well as handling the administration of transactions," BPK's report stated.
Asabri then resorted to committing the same practice as management Jiwasraya: mortgaging shares. The company sold 12 non-blue chips for Rp1.062 trillion to a number of investment managers that issued mutual funds, gaining a profit of Rp75 billion from the transaction. This transaction is actually the same: there was no shares released in trading, because the administrative records show that Asabri is still the majority owner of the mutual fund with 75.9 percent holding. This means that the shares bought by the investment managers were still owned by Asabri.
According to BPK's assessment, this practice was done by Asabri's investment and finance director as well as its investment division head, as a tactic to reduce the loss from purchasing shares, by transferring it to equity funds. That way, the company would not be seen as causing state losses. However, the end result is what we are seeing today: Asabri's investment return continues to plummet since 2016.
Tempo had requested clarification from Asabri management regarding the findings of the BPK and Ombudsman. As of Saturday, January 18, the company has not yet given an answer.
However, Asabri's management stated that all risks of declining investment value were caused by the sluggish capital market. The company claimed that it had mitigated this risk.
"Asabri always prioritizes the interests of the company during the conditions faced," CEO Sonny Widjaja said, adding that he has ensured that the retirement investment of the Indonesian Military (TNI), National Police, and the state civil apparatus of the defense ministry are safe.
Nevertheless, suspicions of investment crises in Jiwasraya and Asabri had prompted the Financial Services Authority (OJK) to be more aggressive in implementing capital market regulations. The OJK has suspended the sales of mutual funds by 37 investment managers, as they failed to comply with the required capital market standards and product sales, or market conduct.
"If they violate it again, we will act again. We want the numbers to decrease," OJK Director for Capital Market Supervision, Hoesen, said on January 16.
The OJK is also preparing a set of rules on the formation of third party managers to manage mid and small-cap shares that are not very liquid on the capital market. These third parties consist of securities or securities companies with large market capitalization. They will act as official price movers and providers of adequate quantity of offer quotations.
PUTRI ADITYOWATI, KHAIRUL ANAM, GHOIDA RAHMA