From Den Kisot to Patos Alley
By all appearances, 2019 did not produce many surprising works of art. Nevertheless, the Indonesian art scene still managed to come up with some strong gusts of fresh air, and several efforts were made to explore new aesthetic realms. Tempo invited a handful of art scene observers to select and discuss nominees before we elected them to become the works and our artist selection of the year.
Edition : 15 January 2020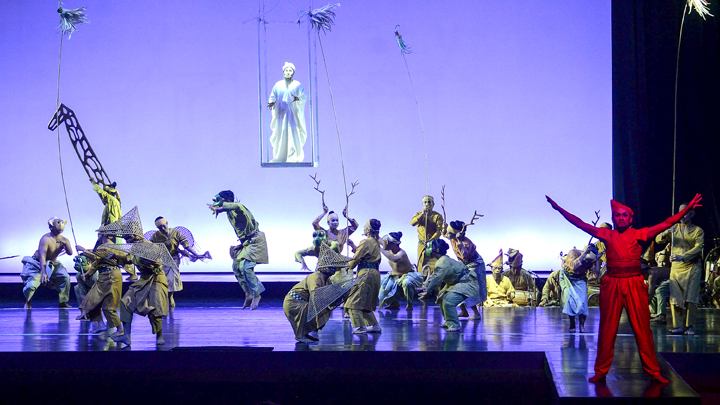 LARANTUKA, July 2019. Teater Garasi presented a collaborative theater work between Asian artists (Indonesia, Japan, Vietnam and Sri Lanka) stepping off from a play by 19th century Norwegian playwright, Henrik Ibsen, in the city park adjoining the Mater Dolorosa Prayer Garden. Peer Gynt by Ibsen has very rarely, if ever, been performed in Indonesia. In this initial performance, the work by Teater Garasi was produced with a unique point of view.
The theater company adapted and freely interpreted the work into Peer Gynt in Larantuka (A Tale of Wanderers from Asia). The piece was then staged in Japan in November 2019. In Larantuka, the collaboration directed by Yudi Ahmad Tajudin also roped in local actors and customary personages of East Flores. The story of Peer Gynt, which tells the tales of Peer Gynt's travels, became colored with tales of social realities in East Flores in East Nusa Tenggara, which is a complicated hotbed of ancient traditions, culture, modern statehood, and religion.
In Bandung, at the stage of ISBI's (Indonesian Art and Culture Institute) Dewi Asri Building, November 29, 2019, Rahman Sabur and the Teater Payung Hitam company produced Waiting for Godot using no words. Rahman Sabur, Teater Payung Hitam's director, made a radical interpretation of Samuel Beckett's play using only body movements for expression. The characters Vladimir, Estragon, Pozzo, and Lucky were there—the destitute homeless in Beckett's original work. The scenes were the same. But all the dialog, the repartee between the characters, had been eliminated. The entire interaction between the characters were created through movement. This was truly a different Godot production, a physical theater Godot.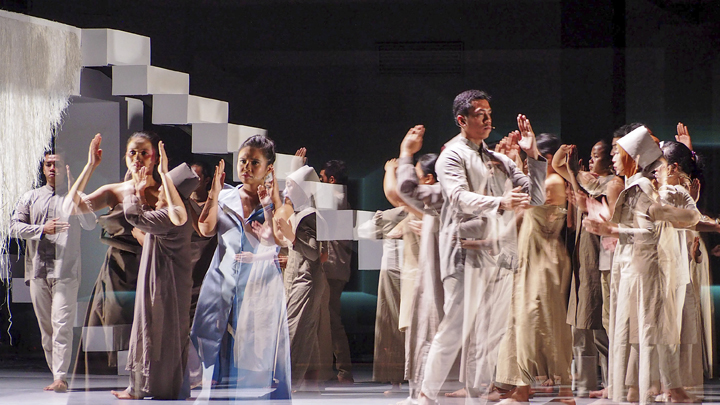 The rehearsal of Opera Gandari at Graha Bhakti Budaya, Taman Ismail Marzuki, Jakarta, December 13, 2019. TEMPO/Nurdiansah
Approaching year's end, on December 14-15, composer Tony Prabowo and poet Goenawan Mohamad presented their third version of Opera Gandari. Prior, Opera Gandari was staged in 2014 in Teater Jakarta, directed by Yudi Ahmad Tajudin, and in the Frankfurt Lab theater in Frankfurt, Germany, in October 2015, directed by Taiwanese artist, Su Wen-Chi. The two previous works also had different art directors, Teguh Ostenrik in the first, and Jay Subiyakto in the second. In this third version, Tony and Goenawan gave over directorship to Melati Suryodarmo. Jay was still artistic director, but his scenographic vision differed to that which he created in Frankfurt. Tony Prabowo's composition in this third version was also new. In this version, actress Christine Hakim narrated Goenawan's libretto throughout the entire production. Bernadeta Astari performed the solo vocals, and Peter Veale of Musikfabrik (Germany) conducted the orchestra.
W251bGwsIjIwMjEtMDMtMDUgMDc6MjI6NTQiXQ
These three productions colored Indonesia's performing arts in 2019. Many other performances were produced in 2019 worthy of appreciation. The I La Galigo directed by Robert Wilson with a total cast of Indonesian actors made a repeat performance, this time on the Ciputra Artpreneur stage in Jakarta, on July 3-7. I La Galigo's structure and stage performance at the Ciputra Artpreneur was similar to the orginal performance at the Esplanade in Singapore in March 2004. But this time around, the duration had been culled back from three hours to two hours 15 minutes. Several of the main actors were also replaced, one obviously being Puang Matoa Saidi, the androgynous bissu priest who had passed in June 2011.
Then there was Suprapto Suryodarmo's performance at the Borobudur Temple in Magelang, Central Java on November 23. Prapto—as the practitioner of movement meditation who hailed from Solo, Central Java was known—passed on December 20, 2019. But in that last performance staged in the temple's Kenari Field, he presented the Kalacakra Tantrayana ritual as performed by True Buddha Foundation bhikkhus (monks) of Taiwan in Kenari Field. Prapto collaborated with Sitras Anjalin, a spiritualist practitioner from the Tutup Ngisor studio from the Mount Merapi slope, and presented a work titled Umbul Donga Alang-Alang Kumitir. Prapto used as props ladders decorated with white, red and yellow cloth banners tied upright (known in Java and Bali as umbul-umbul). A man in Makassarese bissu costume, dressed all in white from head to toe, danced with a fan in hand from the ladders' topmost rungs. Buginese musicians circled round the mandala configuration created by the Tantrayana bhikkhu.
As in years past, at January's start we endeavour to look back on the progress of the art and literary scene in the previous year. We then elect a work in the various fields of the performng arts, literature, the fine arts and music we deem innovative and fresh, showed depth, and opened up new artistic possibilities. Besides members from our editorial board, to assess a Tempo 2019 selection work of art, literature, and music album, we invited well-versed writer in the literary scene, Seno Gumira Ajidarma; literary critic, Zen Hae; observer of the fine arts, Hendro Wiyanto, writer and performing arts critic, Bambang Bujono; music observer David Tarigan, and musician and academic from the Jakarta Institute of the Arts, Nyak Ina Raseuki.
•••
IN the fine arts, a delightful surprise came from Documenta in February 2019. Ruangrupa—an artists commune in Jagakarsa, South Jakarta—was selected as artistic director and main curator for the 15th Documenta being held in 2022. This is a wonderful surprise. Documenta is one of the world's high quality and most prestigious art events. The showcase held every five years in Kassel, Germany, is in a niche of its own compared to the world's biannual events, such as the Venice and the São Paulo Biennales. Ruangrupa being selected Documenta curator is a major achievement for the country's fine arts community. This obviously will create an international impact for Indonesia's world of fine art.
The Indonesian fine arts scene is indeed progressive. Yet, throughout last year, there were very few solo exhibitions which we deemed had shown mettle. One that grabbed our attention was the exhibition by Putu Sutawijaya titled Anetes at the Sangkring Art Space, Yogyakarta, from November 27 through December 5. In the solo work, Putu presented 10 pieces with a garuda theme inspired by the legend of the Garudeya bird as guardian of diversity. To create his pieces, Putu made trips to several temples and sites that had a Garudeya. He paid a visit to the excavation site of the Petirtaan Sumberbeji in Jombang, East Java. At the site, Putu noted a Garudeya sculpture that emerged from a bog of mud. It was as if the the sculpture made of andesite was in the midst of getting ready to soar. In its claws, the eagle held a cupu (bowl or box) filled with tirta amerta (the immortality water).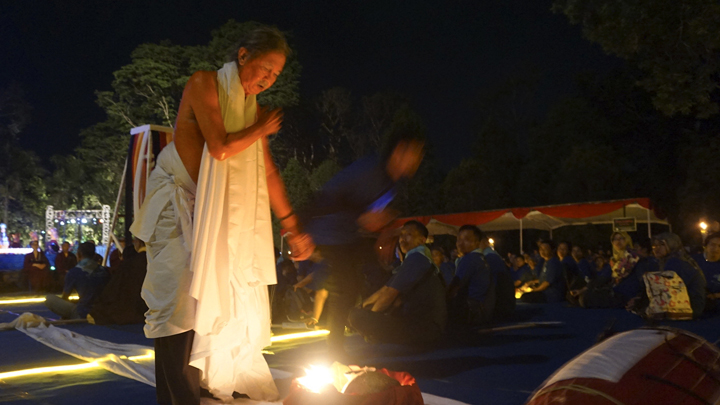 Suprapto Suryodarmo in Borobudur Writers & Cultural Festival 2019. TEMPO/Shinta Maharani
Another exhibition of interest was the art project by Uji "Hahan" Handoko in Dresden, Germany. In this project titled The Curious Deal on November 30 through December1, 2019, Hahan yet again created images and forms related to a contemporary Raden Saleh. Through his depictions, Hahan reinterpreted the narrative of Raden Saleh and the history of Dresden, the place where the Indonesian painting maestro once lived and worked. Hahan created a large painting 9 x 3 meters in size. He then 'cut up' the painting, which was a compiled reinterpretaion of several works by Raden Saleh, into 83 parts of varying sizes. Each part was offered for purchase to exhibition visitors through auction. The idea was that anyone should be able to afford a work of art according to availability of personal funds, without needing to be superwealthy.
Yet another work that drew our attention was a performance art by artist-couple Irwan Ahmett and Tita Salina. In an event titled The Archive of Violence at the Goethe-Institut Jakarta, December 20, 2019, Irwan and Tita presented a mash-up between art performance and lecture on the roots of violence. The two presented snippets of images and video on screen, some of which they recorded themselves, while some they edited from archives or the Internet. They also displayed on stage many objects they had found.
Then there was Ugo Untoro's solo exhibition. In the work titled Rindu Lukisan Merasuk di Badan (A Longing for Painting Has Seeped Into My Body) at the National Gallery, Jakarta, December 20, 2019 through January 12, 2020, Ugo presented some 70 paintings, among them from his Sleeping Buddha series, his Rain series, and his Painting Series collection. Ugo's work can at times be very intuitive and overly subjective, causing his audience having to find methods to enjoy them which differ from how people usually approach paintings in general.
•••
IN literature, we noted that 2019 was colored by many efforts to write prose in novelette and novella form (short novels). Among them were Omong-kosong yang Menyenangkan (Pleasant Nonsensical Conversations) by Robby Julianda, Dekat & Nyaring (Close & Resounding) by Sabda Armandio, Arapaima by Ruhaeni Intan, and Raymond Carver Terkubur Mi Instan di Iowa (Raymond Carver Has Been Buried by Instant Noodles in Iowa) by Faisal Oddang. In poetry, 2019 was chock-filled with anthologies. But these works had not moved on from the Indonesian poetry of previous years. Lyrical poetry full of atmosphere still dominated.
In electing the Tempo's Literary Selection of 2019, we used several parameters: novelty, language dexterity, and the fusion of concept and literary structure. From these parameters, for prose, our selection narrowed down to three nominees: Sawerigading Datang dari Laut (Sawerigading Came From the Sea) by Faisal Oddang, Cara Berbahagia tanpa Kepala (How to Be Happy Without a Head) by Triskaidekaman, and Dekat & Nyaring (Close & Resounding) by Sabda Armandio. For poetry, our three nominees were Anjing Gunung (Mountain Dog) by Irma Agryanti, Jalan Lain Ke Majapahit (Another Road to Majapahit) by Dadang Ari Murtono, and Khotbah Si Bisu (Sermon by A Dumb One) by Deddy Arsya.
In music we looked at how the recording industry in 2019 gave birth to scores of albums in various genre, from folk, pop,jazz, blues, to rock. We whittled them down to 10 albums. From 10, we elected one as Tempo's Music Album Selection of 2019. We had three candidates: Khawagaka by Zoo, Menari dengan Bayangan (Dancing With a Shadow) by Hindia, and Lexicon by Isyana Sarasvati.
•••
AFTER long debate, for the category of solo fine art exhibition, we finally agreed on the sound installation by Julian Abraham Togar as Tempo's Fine Art Selection of 2019. The sound installation exhibition by Togar was held in the Rubanah-Underground Hub, Jakarta, on April 27- May 18, 2019. In the exhibition titled Melintas Bunyi (Going Through Sound), Togar exhibited installation work that explored sound in daily life. "The Melintas Bunyi project tried to convince us that sound deserves to grab the attenton of contemporary artists who are all unaware they are trapped in an an ocular culture, and so can only worship the sense of sight," said Hendro Wiyanto.
Togar was born in Medan in 1987. He came to be known as a drummer, playing with several bands, before he was drawn to experimentation in sound while studying Radio-Television Broadcasting and Film at the Indonesian Communication Academy in Yogyakarta, and joined the House of Natural Fiber club. In 2015, he created the Instalasi Tanah Berbunyi (Installation of Land With Sound) at the Jatiwangi Art Factory Gallery, Majalengka, West Java, making use of the earthen floor in the grounds as the platform for a rhythmic drumming performance. Two years later, he exhibited a sound installation project, Sebelum Gendang (Before the Drum) at the Kedai Kebun Forum, Yogyakarta.
In 2018, he continued his sound project at the Cemeti-Institute for Art and Society, Yogyakarta, in an exhibition titled IIINNNGG. In 2019, Togar became ever more confident of his sound projects with the installation titled Melintas Bunyi (Beyond the Sound) at the Rubanah. The project aims at abandoning the language of fine art that is biased towards the sense of sight. In its place, Togar firmly places the sense of hearing as being of utmost importance when people absorb things. "To Togar, things are not only sources of sound, but the sounds they produce can create concrete fine art images, an envirornment, a situation, or an experience," said Hendro.
For the performing arts, we selected Den Kisot at the Salihara Gallery, Jakarta, on July 14, 2019. The performance created by Endo Suanda combined stage, wayang golek (wooden puppetry), and human acting. The work was created based on the Spanish classic, Don Quixote (Don Quijote), by Miguel de Cervantes. Don Quixote's name was twisted into Den Kisot hailing from the Sunda Land (West Java). Den Kisot had all the possibilities offered by a puppet show: real actors (not puppets), a video presentation of a book burning, with everything supported by a puppet which even if not performed would still convey solid meaning, much like a highly valued three dimensional work of art. "As the director, Endo was very deft in replacing texts usual read by one person into a performance wonderful to watch and the freedom to respond to, much like watching a people's theater," said Bambang Bujono.
Endo is a performer with a postdoctorate degree in ethnomusicology form the University of Washington, USA. He also studied puppetmastership and the wayang golek, besides dancing, making Cirebon masks, and the Baduy culture. "As an artist, Endo is composite. He has mastered the gamelan, wayang golek, maskmaking, and puppetmastery. Den Kisot was entirely in and from the hands of Endo," added a jury member.
For prose, we selected the novella Dekat & Nyaring as Tempo's Prose Selection of 2019. As a novella, Sabda Armandio's work feels dense. The author's discipline in his chosen form is admirable. "There is not a single extraneous paragraph or one that wanders off course. It's Sturdy. Dense," said Zen Hae. The diction in the 110-page long novella kept tight. "Its content too is compressed. He is prosaic and also poetic," said Seno Gumira Ajidarma.
Dekat & Nyaring, published by baNANA, is a short episode experienced by the residents of an alleyway crammed between a riverbank and a luxury housing estate, called the Gang Patos (Pathos Alley). The entire tale in the book occurs in a single day in the narrow alleyway, but much can be taken from the story cunningly told by Dio—how Sabda Armandio Alif is usually called.
Dio said the setting for Gang Patos was created from his frequent trips to tiny alleys around the Kemang area, South Jakarta, plus the inspiration he got after reading the comicbook A Contract with God by Will Eisner (1978). Dio began writing Dekat & Nyaring in 2017. A report by the Commission for Missing Persons and Victims of Violence about land grabbing conflict pushed Dio to start writing about the enforced displacement of people. Yet he was not into merely exploiting the misery of the little people, what Dio wished to convey was harsh criticism against the hierarchy of capitalism. "I was eyeing the very foot of that system, the police," said Dio, 28.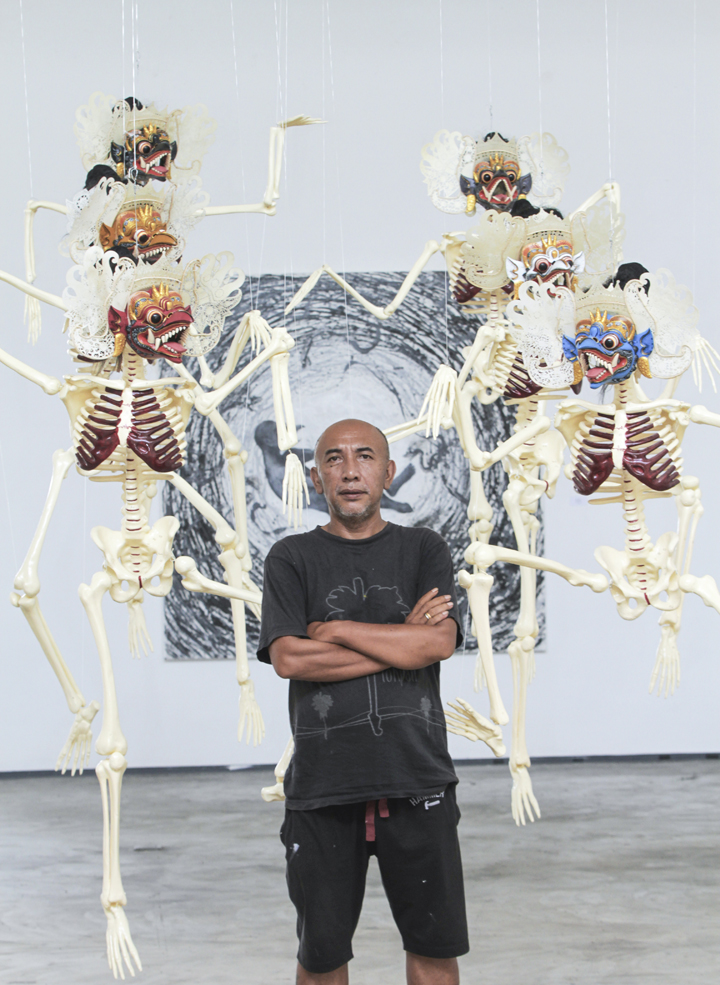 Putu Sutawijaya with his work, Anetes, at the Sangkring Art Space, Bantul, Yogyakarta, December 2, 2019. TEMPO/Gunawan Wicaksono
In poetry, we agreed Deddy Arsya's anthology Khotbah Si Bisu was the best. Deddy worked on a historical theme. But he did not rely on reality nor on reportage. His imagery is often unexpected. Deddy said his poems are overshadowed by historical narrative. It is not only his background as a graduate student of history at the Andalas University, Padang, to Deddy, his family background and his living environment are a historical archive. "I live in a society with a high level of historical conflict," he said.
Deddy's grandmother used to tell stories and loved sharing with him her experiences. The same with his father, Syamsir Adnan, who recorded political events probably difficult to find in history books. "My anthology has political overtones, with a mostly Old Order authoritarian background," he said. Yet Deddy deftly presents these political stories without making his poetry become verbal poetics. He created authoritarian imagery from a period he never directly experienced in a manner closer to fairytale storytelling.
In the category of music from industry, after long discussion, we finally agreed on electing Lexicon by Isyana Sarasvati as our album of the year. Lexicon is Isyana's milestone. "This is a very different Isyana album. She has abandoned her pop style very apparent in her two previous albums. In this one she shows her talent for playing western classical music," said David Tarigan.
Nyak Ina Raseuki, known as Ubiet, also had a similar opinion. According to Ubiet, differing from her music and style displayed in her two previous albums, showing her strength in pop, the singer in Lexicon showed her classical music style as the basis for her songwriting and music. "Yet it still remains popular music, her signature style and musical expression to her listeners," said Ubiet.
Lexicon has a strong conceptual base. The continual crosscutting between music with western classical overtones and popular music is apparent in practically every song in the album. "Moreover, Isyana's strength lies in her singing technique and expression which she conveys with lightness, shifting from popular techniques and style based on everyday conversational style, and the influence of bel canto, which is based on a high voice technique sung lightly," said Ubiet.