Fajar Merah, Musician: Human Rights Violators Are Cowards
FAJAR Merah is back with story-telling at the Lokananta music studio in Solo, Central Java. But unlike in his previous album, he is no longer telling stories set to music from the poetry of his father, Wiji Thukul.
Edition : Tuesday, January 28, 2020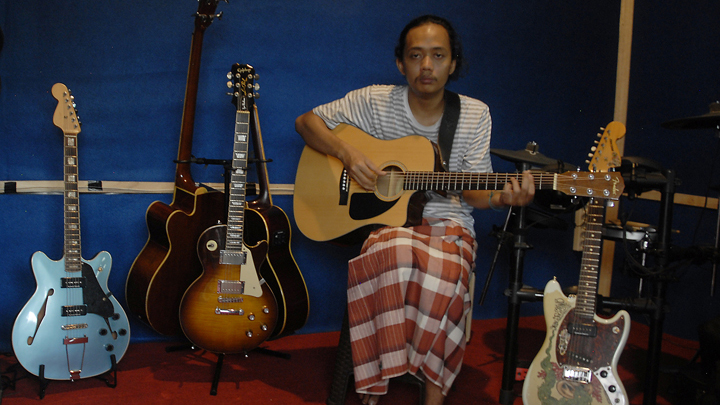 In this album, titled Nyanyian Sukma Lara (Songs of a Soul in Comtemplation), Fajar and his band, Merah Bercerita, formed in 2010, have decidedly broken out of their comfort zone and freed themselves from the long shadow of Wiji Thukul. Fajar said this second album is an achievement. "I am in a different class from Wiji Thukul, I have different topics, use a different language. And I can't force other people to consider my work as on par with Wiji Thukul's work," Fajar said in a special interview with Tempo on Wednesday in Solo.
The ten songs in the album are woven together to create one cohesive story. Unlike in the first album, this time around his lyrics are not too socially charged. He is in neutral, with no judgement towards current conditions. The album was released on January 17, the day after a screening of the movie, Nyanyian Akar Rumput (The Song of Grassroots), in 16 cinemas across Indonesia. The nearly two-hour long documentary directed by Yuda Kurniawan recounts the efforts of Fajar and his band putting Wiji Thukul's poetry to music.
Differing from the fictionalized biopic, Istirahatlah Kata-kata (Solo, Solitude), by Yosef Anggi Noen, which showcased the poet-activist's life and times prior to his alleged kidnapping by the New Order regime in 1998, Nyanyian Akar Rumput —which took four years to complete—spotlights Fajar as the main character. His mother, Siti Dyah Sujirah-family—known as Sipon—and his elder sister, Fitri Nganthi Wani, are also featured. The film garnered a number of awards: the Citra Award for Best Long Documentary at the 2018 Indonesian Film Festival; the Netpac Award at the 2018 Jogja-Netpac Asian Film Festival; Honorable Mention for Documentary Feature at the 2019 Figueira Film Art in Figueira da Foz, Portugal; and a 2019 Maya Award nomination in the Long Documentary category.
Fajar talked to Tempo's Dinda Leo Listy in detail about his new album, the idea behind also turning his own story into a movie, and his personal process trying to figure out, then finally coming to terms with his father's disappearance and absence. "To me, the perpetrators (the human rights violators), probably still out there, are real cowards," said the musician. The interview was supplemented with further comments through WhatsApp to Tempo's Aisha Shaidra.
This album, Nyanyian Sukma Lara, is devoid of any poetry by Wiji Thukul. What's the underlying reason for that decision?
There are always risks. I thank God if people listen to our songs, but it's also OK if they don't. I'll always be associated by people with Wiji Thukul, so even without my mentioning it, my identity (as his son) will always remain. In doing this second album, I finally figured out, my strength is in making music rather than writing. In terms of class, topics, the language I use, I'm different from Wiji Thukul. I can't force others to consider my writing as being on par with Wiji Thukul's work.
Tell us about your process making this album?
It took two years, between 2016 to 2017, getting the material together. Unlike for the previous album, all the songs in this one sprang from the music. We first recorded music and sounds using any available instrument. When a collection of sounds finally became a song, I let my imagination run free. From there, the lyrics came, mostly based on real events we turned into fiction. Most of the ideas (for vocals and guitar) were mine, which I discussed withbassist Yanuar Arifin, and drummer Lintang Bumi.
When did you decide to become a musician and form a band?
I've had a band since 2010 while still in high school (Surakarta State High School no.8 which focuses on karawitan music). The first band—I've forgotten the original name—was renamed Milagros. It sounded like a brand for bottled water. (Laughs). After that, the vocalist, a girl, left and we had a problem finding a replacement. (Fajar eventually became guitarist and vocalist). We already had four songs, but were not sure about our music. Our material was mixed. One of the songs, titled Merah Bercerita, is the guitar accomplishment intro included in this second album.
How did the initial process of musicalizing Wiji Thukul's poems go?
First, we tried to change the poem Bunga dan Tembok (Flowers and Walls). In fact I had no intention of adapting the poems. Neither did I understand that people call giving music to poems was musicalizing them. I edited the lyrics because some of the phrases didn't fit. I had some doubts cuting the poems. But the songs needed to fit. In the end, I finally omitted some of the poetry. Like the phrase, 'Wherever it exist—tyranny must fall!' That phrase sounded too unnerving for me.
What was your friends' reaction to musicalizing the poems?
Nothing outstanding. They didn't reject the idea. After "Bunga dan Tembok" was a hit with audiences, we adapted Derita Sudah Naik Seleher (Misery Up to the Neck) and Apa Guna (What's the Use?). Wiji Thukul's 'Apa Guna' was already song-like (He used to sing it without accompaniment). It turned, some other bands had also used it. As for 'Kebenaran Akan Terus Hidup' (The Truth Shall Live On), the lyrics are mine, but Wiji Thukul's poem was recited out in the middle part.
What went through your mind at the time?
Our only intention was introducing the poems in a relaxed manner, using a band and music, for a new generation who have no idea who Wiji Thukul is.
As an artist, how far is Wiji Thukul's influence on yourself?
To me, he is one of my most influential artists, but only in his writing, not how he lived his life. I think everyone fights for the same things—for themselves, for others and to search for happiness.
Wiji Thukul was declared missing when you were just two years old. As his son, how do you remember him?
He is a stranger whose name and life story has been present every single day of my life. And that's all. It's like when one hears a story about someone no longer around. When I was small, he was a fictional character, but now I can start to picture him. I know he was an activist, a writer, and so on.
When did you first find out about your father's disappearance?
Right after it happened, from my mother. But, well, I was still so small. I didn't really understand. I never understood where he actually went, or what was behind his absence, even though it was explained.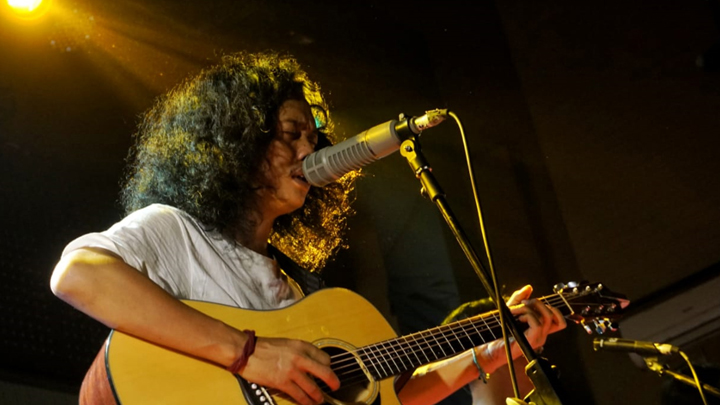 Fajar Merah at the album launch. TEMPO/Dinda Leo Listy
What sort of stories about him did you hear?
All the standard stories, actually. 'Your dad was great, you know.' The point was, people seemed to over-glorify him. Everything they talked about was how great he was. Yet my mother recounted the first time they met, how they were together in a theater group, how Bapak began writing and so on. Usually at bedtime she would tell all sorts of stories, and that was one of my bedtime stories.
How do you feel about not having a father since young?
I felt I was more feminine compared to the other boys, because I was only surrounded by women (Sipon and Fitri). Since very small, I only played with my sister's friends. Most of my kin are also women.
The movie "Istirahatlah Kata-kata" depicts the life of Wiji Thukul before his disappearance. How did you interpret it?
I sometimes think it is too absurd to imagine. Only for writing poetry and taking part in protests, they took such measures to keep him so hidden, not even his close friends knew where he was. I tried to imagine it, and felt so scared. How cruel everything was. The state had a very cruel system in place.
To what extent did his disappearance affect the life of your family?
As I was still small, all I knew was keeping my mother company in her struggle to keep us fed. Like selling our stuff, etc.
Has your perspective changed as you grew up?
After I grew up, I found Wiji Thukul was one of my favorite writers, regardless of me being his son, since I didn't actually know him. As an artist, he is in the list of artists who influenced me, though only for the merit of his work.
How do you build up what you know of your father?
Well, from books about him, and perhaps also observing my dad's siblings.
During your teen years, you allegedly disliked being linked with Wiji Thukul. Why was that?
I think it's normal for a boy in the process of finding himself, not wanting to be shackled with his background. It was also probably plain ego. I wanted people to take me as I was, not somebody's son. I think it was a normal reaction.
You also tried to hurt yourself in your frustration.
I was not good at imagining, so I consumed hallucinogens and managed to conjure up things that don't exist. In the end, I went crazy. Why was I making something out of nothing? It was both dumb and interesting at the same time. Consequently, I felt that a non-existent person existed somewhere. I eventually had to go for rehab.
You began your music career as your sister plunged into writing. Do you interactclosely with each other and discuss your work?
It's more a sibling relationship. We have different taste in music. As regards writing, Mbak Fitri is much better.
Was your mother concerned when you two chose almost the same field as your father?
No, she never was.
When the New Order was in power, Wiji Thukul was associated with the left-wing. Was your family ever terrorized?
Terror only exists in the mind. Any time unrest occurs between people and the authorities, one gets disturbed. One worries if the Wiji Thukul tragedy can recur.
Did you ever get into administrative tangles just for your ties with Wiji Thukul, who was labeled a communist?
My mother did. She was ineligible for a bank loan because the family card still lists Wiji Thukul, even though he is no longer. But that was all. Not because Wiji Thukul was considered a communist. It's all ridiculous, and is pure politics. None of us are interested in going into politics.
What's your take on human rights, particularly about the disappeared activists during the New Order regime?
In my opinion, music can raise awareness in the community. Maybe I will try to convey more messages through my music. I am very low on activism. I rarely join other families of victims in demonstrations. My mother usually goes with Mbak Fitri. All I can say is that I keep my mom company in most of her struggle.
Do you and your family still hold to the hope Wiji Thukul may return?
Personally, I've let it go. Everything we do has consequences. I'm very matter-of-fact. In a broader persepctive, I think an enforced disappearance by the state should not have happened. Why couldn't they take it easy? Issue can be discussed. To me, the perpetrators, human rights violators, probably still out there, are mere cowards. If they wanted war, they could have done it through ideas, or in the political arena, being humane. Why did they allow themselves to be carried away so emotionally? I really hope the government and the people can stay open with each other, and so any problem can be resolved. How come they were so primitive, resorting to violence? We could be more civilized.
When Joko Widodo was first elected president, your family was sure that the Wiji Thukul and other human rights cases would be thoroughly probed. Are you still optimistic?
Personally, I'm pessimistic. The president has the authority to settle any unresolved case. It is the president's obligation. I don't know much about the law, but for the sake of humanity, these cases should be resolved, and soon. For me, I never knew my father since I was little. But I know my mother and my sister and their struggle to search for truth. At the very least, a human rights court should be set up. These cases are not Jokowi's fault, nor the previous presidents. But the president has the highest authority to resolve them. Yet they remain unsolved. Why is that?
You're saying there has been no progress, whomever the president?
I think the human rights violations were only to stir things up. In Indonesia, they served as a political gimmick for those ambitious for power. I'm no longer surprised.
Why were you willing to appear in the documentary. Nyanyian Akar Rumput?
The movie's initial theme was about the band, Merah Bercerita.
But in the end, it was about your personal life.
Maybe because I was drunk. I say yes to everything when I'm high. (Laughs). I had just woken up and was in the bathroom, and director Yuda Kurniawan waited. I bought ice from next door, and the camera followed me. The camera was just propped up there, and it continued to record. Mas Yuda went all out.
You were quite flexible playing the main character.
It was a relatively long process. What made the film successful was, Mas Yuda found a way to get close to someone clumsy in front of the camera and make him completely disregard it. In the early stages of the documentary, for over a year, I didn't feel at all comfortable.
What do you expect from audiences who watched Nyanyian Akar Rumput?
To be aware we live in a country that still has a lot of problems. As simple as that. Even though the human rights violations are a small part of a big problem, in the end we still actually get along with each other. If I can think like that, I don't need to dream up things that don't exist. There is always a solution to every problem.
---
FAJAR MERAH
Place and date of birth: Solo, Central Java, December 22, 1995
Education: State High School No. 8, Surakarta (did not graduate)
Album (with Merah Bercerita): Merah Bercerita (2015), Nyanyian Sukma Lara (2020)
Filmography: Nyanyian Akar Rumput (2018)
W251bGwsIjIwMjEtMDQtMjEgMTU6NTM6MjkiXQ