Agung Firman Sampurna, Chairman, SUPREME Audit Agency: Jiwasraya Case Is Our Priority
THE Supreme Audit Agency (BPK) has a plethora of cases to work on. For this year alone, it targets to crack 29 cases that came from the central and regional governments, state-owned enterprises (SOEs) as well as regional government owned enterprises. "We prioritize the ones that cause massive losses to the state," said BPK Chief Agung Firman Sampurna in the special interview with Tempo at this office last Thursday, January 23.
Edition : 4 February 2020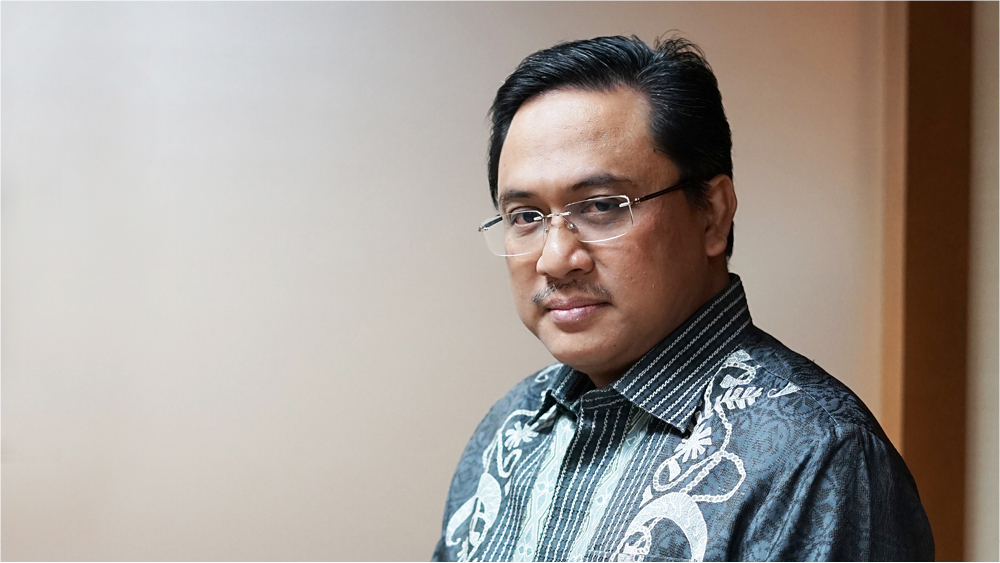 ONE of the cases that came under BPK's close scrutiny is the alleged fraud at the state insurance company, Asuransi Jiwasraya. The company's failed investments have led to a Rp13.7 trillion state loss. The BPK had already suspected that something was amiss during its audit on the company back in 2006. Now, the agency is collaborating with the Attorney-General's Office (AGO) which is investigating suspected corruption in the case and has already named five suspects.
Agung said that unraveling the case is of the agency's urgent concern given its massive scale as well as the need to restore the insurance industry's credibility, to recoup customers' money and to maintain investor confidence. "There are 7.7million clients as well as 17,000 investors including foreign investors in the JS Saving Plan," disclosed Agung, 48, referring to the investment product which lies at the heart of the Jiwasraya fiasco.
To Tempo reporters Mahardika Satria Hadi and Aisha Shaidra, Agung talked about the challenges the BPK faced in handling a myriad of cases, reform efforts within the agency, the prevalent practice of buying and selling audit results as well as efforts to maintain the agency's neutrality. He also discussed several cases but declined to be quoted. Excerpts:
How did BPK pick the 29 cases for examination?
Investigative audits are costly. Therefore, we focus on cases that potentially cause huge losses to the state. We should not be spending—say Rp750 million—for investigation just to recoup Rp200 million. That's inefficiency.
How do you choose them?
We pick out of 200 to 300 cases that are considered necessary to be probed further, primarily for investigative audit and calculating state losses. There are several levels in the process, public complaints, request for audit, review of preliminary information, etc. Then we determine which cases should be audited.
What are BPK's priority cases?
We will handle them all this year but we certainly prioritize Jiwasraya.
(Apart from the Jiwasraya case and alleged corruption at Asuransi Sosial Angkatan Bersenjata Republik Indonesia or Asabri [the armed forces' social insurance company], Agung declined to give further details of other cases being investigated by the BPK.)
How do BPK and AGO work together on the Jiwasraya case?
The AGO conducted searches (the suspects' wealth and assets) and handed over (the findings) to us and we investigate. However, we also do investigative audits at the same time. So, we synergize the activities.
What is the core problem in this case?
The Jiwasraya problem is not new. We've long monitored and conducted an audit in 2006. We even run a special SPI (Internal System Control) audit in 2011 where we saw that the entity has had problems from the start. Then they escalated very quickly. We decided to do an investigative audit in 2018. At the height of very intense political activities last year, we temporarily halted several audits to avoid unrest but resumed later to support the law enforcement process.
Jiwasraya failed to pay out claims several times. Did the BPK detect them from the beginning?
We knew that it already had problems in 2007. Before that, they did window dressing (an attempt to present improved financial statement or business portfolio to attract investors). From the SPI audit, we saw that the company did not carry out the corporate risk assessment that time.
What violations did the BPK find?
Relating to investment policies. That time we didn't realize the case was as complex as it is now because we only audited Jiwasraya, not relating to other issues. We thank the law enforcement agencies working on this case because they helped us identify potential state losses. With the state losses, the case can be classified as criminal corruption. Otherwise, it will be just a capital market fraud.
The attorney-general said that the potential state losses amount to Rp13 trillion. Is the number likely to go up?
Yes, around that number. But we are still identifying and calculating. The AGO and BPK are both involved in resolving the case to ensure that all investors are legally protected. Because there are 7.7 million customers and 17,000 investors including foreign investors in the JS Saving Plan.
Where did so many investors come from?
I can't disclose that. We hope that the case will not create commotion. We were compelled to use law enforcement as the case cannot be handled without it.
When is the deadline to wrap up the case?
For Jiwasraya, we use two steps. First, counting the state losses will not take more than two months. This concerns the five suspects. If God willing, the case can be elevated to prosecution and complete the legal process. However, there are still many others involved. So, there will be sequels. We also want a comprehensive system improvement, not just in Jiwasraya, but also in the capital markets.
What are the challenges BPK face in this case?
We need time to analyze 55,000 transactions. We can't do it alone. We hope that the Financial Transaction Reports and Analysis Center and Bank Indonesia would assist us.
The Financial Services Authority (OJK) fell under scrutiny for not being optimal in overseeing the financial problems at Jiwasraya. What is your view?
The agency is subject to be audited. The audit is underway. Therefore, I cannot answer that now. There are two supervising authorities in the OJK and one specially oversees insurance and capital markets. The capital market supervisory division has investigators.
The OKJ should have played the supervisory role then?
If you say so, yes it could. You can see one of the suspects has 635 companies on the stock exchange. Imagine what it looks like.
BPK Chairman Agung Firman Sampurna (left) with Attorney General Sanitiar Burhanuddin at the press conference on Asuransi Jiwasraya, at the BPK headquarters, Jakarta, January 8./TEMPO/Hilman Fathurrahman W
Is there any possibility of bailout to pay back customers and investors?
I have confidence that the government is strongly committed to settle this problem. One of the commitments is to maintain the country's reputation as a comfortable and attractive place for investors. This also relates to our money market. I suggest that all the recovery schemes being designed do not minimize the legal process.
How many recovery schemes are there besides the bailout plan?
I guess bailout is not yet included. It doesn't mean clients and investors will not be protected. We are still brainstorming about what sort of scheme we should have. The BPK has the authority not only to do audits which include findings, conclusions and recommendations, but also to give opinions.
What is BPK's rationale in excluding bailout in the recovery schemes?
We cannot say much at this time. For sure, our focus is on assisting with law enforcement so that the state losses could be calculated. Only afterwards, we will see options that do not burden the state budget. The government doesn't have to cash out and make other SOEs that are not yet sick become sick. Don't turn them into holding companies. At a later date, we will offer a number of options to the government.
Will you talk to President Joko Widodo directly?
We will forward the investigative audit result to the law enforcement authorities. Afterwards, the AGO will communicate it to the president. We will prepare schemes in the form of opinions relating to policies the president can choose from.
Now, talks are underway at the House of Representatives (DPR) to set up a special committee (pansus) to further expose the Jiwasraya scandal.
For that matter, don't you ask me what good pansus or panja (working committee) is.
After Jiwasraya, Asabri is also attracting public attention.
We've done an audit. We have to understand that although the case is equally huge, the treatment may be different as Asabri doesn't have default. But it doesn't mean the company doesn't have problems. We will see how frauds were committed, who are responsible for them and how much potential state losses are.
Is it true that Asabri and Jiwasraya cases are similar?
The M.Os (modi operandi) are the same.
How about the people involved?
We can't disclose that because the case is still under investigation.
The attorney-general has said that the Asabri case will be handled differently because its board members include active military officers. What is your opinion?
Actually, it doesn't matter. We also audited the State Intelligence Agency, the armed forces and the National Police. That is not the case. There is no default issue in Asabri. The case is different because pension contributions are deducted directly from the (salaries of) the employees of the armed forces, the national police and the defense ministry.
When will the Asabri investigation be completed?
We can't put a deadline on it but for sure it will not take more than a year. We will certainly try to start the investigation soon. At least, that will stall the (fraudulent activities) if they are still ongoing or completely stop them. Coincidentally, the law enforcement authorities including the Corruption Eradication Commission (KPK) have already asked us to proceed.
What other cases is BPK currently investigating?
We're looking into 29 cases—11 cases at the central government, three at the regional government, 14 at SOEs and one at the regional government-owned enterprise.
•••
How do you maintain BPK employees' integrity?
We have a whistleblowing system and the honorary council of code of ethics (MKKE) the secretary of which is the inspectorate. MKKE's specific job is to monitor auditors and report anyone—be it auditors, audit managers or BPK management—who engage in blackmailing, accepting gratification or other ethic violations that can influence BPK's neutrality.
How does one report via the whistleblowing system?
We have officers who will verify the report and the claimant will be summoned. If it is an anonymous report, then the claimant must produce evidence.
The public so far have faith in BPK's audit results. But why do bribery cases involving BPK employees and auditors still exist?
That is why we have to build a system. Humans have both free will and rationale. Ones that only exercises rationale are angels. And ones that only use free will are animals. Now we only have to design a system that will give rational and positive effects. On the other hand, we can carry out risk mapping to help mitigate risks. We now have a risk profile. Our activities are numerous and we document and map risks.
In some regions, buying and selling of BPK audit results is still rampant.
That's why we have the MKKE and the whistleblowing system. As such, the public can give us information about errant employees so the inspectorate can take appropriate measures against them. We've nailed them this way several times.
---
AGUNG FIRMAN SAMPURNA
| Place and date of birth: Palembang, November 19, 1971 • Education: Faculty of Economics, Sriwijaya University (1996); Postgraduate Program for Public Policy and Administration Studies, University of Indonesia (1998); PhD in Public Policy and Administration Studies, University of Indonesia (2011) • Career: General Function, Center for Policy Management of State Administration Agency, (2011-now), Member III, BPK (2012-2013), Member V BPK (2013-2014), Member I BPK (2014-2017), Member I BPK (2017-October 2019), Chairman,
BPK (October 2019-now) • Awards: Bintang Mahaputera Nararya (2014), Bintang Kartika Eka Paksi Honorary Charter (2019)
---
Can audit opinions be altered?
No. Opinions are final. The buying and selling process usually occurs before opinions are issued. They (auditors) would ask for something before audit reports are out. Usually, there are no problems with clients but they would tell them all sorts of things. They take advantage of clients' fear, you see. That's their M.O. We've taken care of them although we certainly need to constantly finetune the system.
How much room is there to tamper with audit results?
Not much. It's difficult. We've tried to such an extent that everything in the BPK only needs minimal subjective assessment. It's difficult if we use assessment only, as room for manipulation is wide open, but for minimal assessment we can set the criteria.
Is it possible to alter a disclaimer of opinion to an unqualified opinion?
It is hard to change 'disclaimer' to 'non-disclaimer'. The Jakarta provincial government once kicked up a fuss in 2014 about unqualified opinion (WTP) which became qualified opinion (WDP). The auditor representing the Jakarta administration was suspicious of me. "That is your finding, sir. Why can't it be 'disclaimer'?" Disclaimer of opinion is given when the scope of the examination is restricted to the extent that the auditor cannot perform the procedure. The restriction also includes the absence of test material. For instance, the auditor's inability to complete the examination due to lack of supporting documents which for example were destroyed in floods will lead to disclaimer of opinion.
How was the WTP changed to WDP or vice versa?
Well, manipulation may have occurred if the auditor reversed the two opinions. This is indeed absurd. It means the report was not presented according to the standard, possibly due to (the auditor's) incompetency, or all sorts of deviation, etc.
So, there are loopholes to manipulate audit results?
In terms of system, it's hard but if someone is bent on creating troubles, he will find ways to create troubles.
With such a stringent monitoring system, why are BPK auditors still involved in corruption?
Just like antibiotics. The longer you use, the stronger drug you need. But it doesn't guarantee recovery as viruses also become more virulent. Therefore, the system has to be upgraded all the time.
You have a professional background whereas other BPK leaders come from political parties. How do you maintain BPK's impartiality?
Our colleagues from political parties, particularly former DPR members, actually represent a huge interest, namely the public. So, policies they brought here come from various awareness. Then we professionals set the criteria as to how we choose certain policies. I'm talking here from an ideal context. Something ideal cannot run itself. There has to be a system within it.
W251bGwsIjIwMjEtMDMtMDUgMDc6NTc6MDkiXQ