Wood Export Conjuring Tricks
Toba Pulp Lestari is suspected of manipulating documents for wood pulp exports to China to transfer the company's profits offshore. Several media linked up in IndonesiaLeaks have been tracing the case for the past year.
Edition : 4 February 2020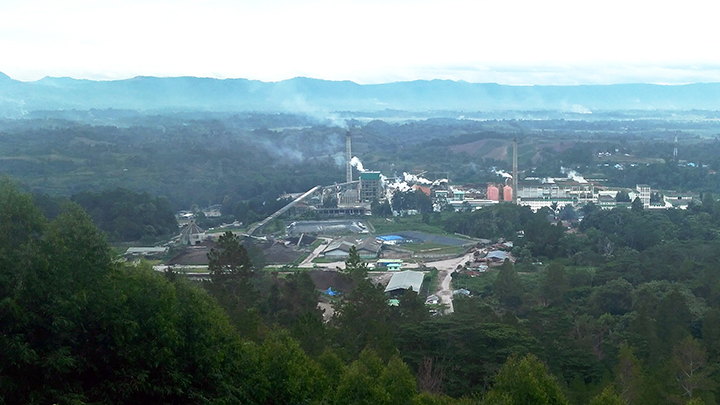 A TRONTON dump truck crawled shakily on the Siborong-borong-Parapat road, in North Sumatra, last November. Traversing the trans-Sumatra road which hugs the Toba Lake, its load protected by orange-colored tarpaulin soared up to two meters high. The truck driver was on a 230-kilometer drive from the Toba Pulp Lestari plant in Porsea headed towards the Belawan Port in Medan. The trip takes some 10 hours.
Every day these heavily-loaded long haul trucks are the key links in a chain that connects Toba Pulp's products to offshore export activities. In Belawan, the trucks are usually parked in the conventional docks, not far from where all manner of tugboats without containers are moored. "Our products are exported to China, India, Bangladesh and Thailand," said Toba Pulp Lestari's Head of Public Relations Norma Patty Handini Hutajulu.
It is a very little-known fact that the Toba Pulp products are connected in a long chain to two foreign companies: DP Macao and Sateri Holdings Limited in mainland China. Every year, hundreds of thousands of tons pulp from Toba Pulp Lestari is sold to DP Macao, which then forwards the goods to Sateri. The latter processes them into textile components to be purchased by well-known popular brands such as Zara and H&M.
At end of 2018, the IndonesiaLeaks team unearthed a number of documents showing suspicious transactions had occurred between Toba Pulp and the two affiliated companies. The transactions allegedly were done to conceal company profits amounting to hundreds of billions of rupiah between 2007-2016. These delinquent practices are believed to have been carried out by Toba Pulp by manipulating their export records to customs at Indonesian ports.
Indonesialeaks.id itself is a joint-effort by several Indonesian media outlets to respond to findings and information submitted by the public. The program established two years ago provide a space for any person wishing to share information deserving to be tracked through the works of investigative journalism. Any informant may disguise their identity in the interests of security and their personal safety.
•••
W251bGwsIjIwMjEtMDItMjcgMTM6NTk6NTEiXQ
Sateri Holdings Limited's report for 2010 released in Hong Kong, China, was the initial information that sparked off the suspicion that manipulation had occurred. Public report was announced as the company was in the throes of making an initial public offering at the Hong Kong stock exchange 10 years ago.
The copy of the documents obtained by IndonesiaLeaks showed a marketing contract had been drawn up between Toba Pulp Lestari and DP Macao, a marketing company based in an exclusive administrative zone in China. In the report to the Hong Kong stock exchange, Sateri wrote that DP Macao is a supplier of dissolving wood pulp (DWP) for their plant in China.
Sateri itself is a producer of viscose staple fiber (textile fiber). Sateri's key product is a special grade rayon material. Besides for textiles, the raw material they process can also be used for many ancillary products, such as fiber for tires, varnish, cosmetics, and pharmaceutical products. These product variants are processed based on the refining procedures employed. To produce such high grade fiber, Sateri depends on pulp in the category of dissolving wood.
In the document, Sateri also wrote their main raw material supplier for dissolving wood pulp was Toba Pulp Lestari. DP Macao is described in the document as the purchasing agent for Toba Pulp products, This agent then re-sells the Toba Pulp products to two companies owned by Sateri, namely Sateri Jiangxi and Sateri Fujian. The aggregate value of their transactions since December 2007 to mid-2010 totaled US$11.1million or Rp1.5 trillion when calculated with today's exchange rate.
Several other documents showed that Sateri and Toba Pulp Lestari originate from the same company. Sateri's prospectus, for example, states their majority shareholder is the same as that of Toba Pulp. The explanation seems to have been made to give assurance to investors regarding expediency of Sateri's supply of raw materials.
In the 2007-2009 period, Sateri also announced the raw material they purchased from DP Macao mostly came from Toba Pulp Lestari. Sateri guaranteed the availability of their raw material by conjoining with the largest plant for cellulose fiber in Brazil, Bahia Specialty Cellulose. All these companies are under a single holding company owned by business tycoon Sukanto Tanoto: Golden Silk.
Norma Patty Handini Hutajulu, the head of Toba Pulp Lestari public affairs, denied the connection between Toba Pulp and Sukanto. "At this time TPL does not have that stockholder in question. Regarding stock ownership in other companies, we do not know," said Norma.
•••
DURING 2007-2009, Toba Pulp Lestari was declared as a producer of dissolving wood pulp. What makes the issue thorny is that their export documents reported to the Indonesian government on that period showed the raw materials they dispatched from Belawan Port to Cina was bleached hardwood kraft pulp (BHKP).
The IndonesiaLeaks team examined Forestry Products Export Data Progress monthly reports in the ministry of environment and forestry and Indonesian export reports at the Central Statistics Agency. All the documents showed that Indonesian wood pulp exports to China in that period was dominated by BHKP, rather than dissolving wood pulp.
This gaffe is easily detected from the product classification code used, known as the HS Code. In international trade, the HS Code for the BHKP product differs from that for the dissolving wood pulp. The BHKP product is classified with the number of 4703.29.00.00, while dissolving wood pulp uses the 4702.00.00.00 HS Code. Data unearthed by IndonesiaLeaks revealed that export data reports made by Toba Pulp Lestari up to 2016 continually used the 4703.29.00.00 HS Code, alias for BHKP.
Identification of the HS Code is important considering the two types of wood pulp fetch widely varying prices on the international market. The difference can be noted by comparing the volume and transactional values of the two types on the United Nations Commodity Trade Statistics Database (UN Comtrade). The DWP type wood pulp fetches around US$1.5 per kilogram, or is more expensive by 30 to 40 percent compared to BHKP.
When asked for confirmation, Chief of the Pulp and Paper Main Office of the Trade Ministry Saiful Bahri stated, indeed dissolving wood pulp is pricier than BHKP. The difference lay in the fact that DWP products become rayon raw material.
In Indonesia, only two companies produce dissolving wood pulp, namely Toba Pulp Lestari and Asia Pacific Rayon. Asia Pacific Rayon only began producing DWP in 2017. "Toba Pulp Lestari has been the longest at producing DWP, and their products are exported to Sateri," said Saiful.
Sateri did describe purchasing raw materials from DP Macao in their financial reports at prices for dissolving wood pulp. Yet Toba Pulp sold products to DP Macao at the BHKP price. This discrepancy has resulted in Toba Pulp continually reporting non-optimal profit margins in Indonesia in that entire period.
•••
DURING 2008 to 2012, Sateri's annual report documents show that Toba Pulp Lestari sold almost all their pulp products to DP Macao. For the service, DP Macao received a commitment commission from Sateri at around two percent of total sales. Just from that fact one can calculate the profit levels enjoyed by DP Macao alone.
In the same time frame, DP Macao's profit margins reached 71 percent. The profit levels were made possible because they purchased their raw materials at BHKP prices, then resold them at DW pulp prices.
With this deviant practice, up to 2016, their total profit margin suspected of being hidden by Toba Pulp Lestari, is estimated at hundred of millions of rupiah. In 2008, for example, Toba Pulp sold up to 197,100 tons of pulp valued at US$115.5million. Of that, as much as 98.2 percent was Toba's total exports to DP Macao. Then DP Macao resold the same goods at a valuation of US$139,4million. Toba Pulp recorded profits at only US$3.8 million, yet DP Macao enjoyed profits amounting to US$22.9million.
In 2015, Toba Pulp claimed to have sustained losses of US$2.75million, thus were unable to pay the maximum entity taxation rate in Indonesia. Norma Patty Handini Hutajulu explained the losses were caused by a decline in net operational revenue at US$96.4 million, or a decline of 11.7 percent compared to 2014.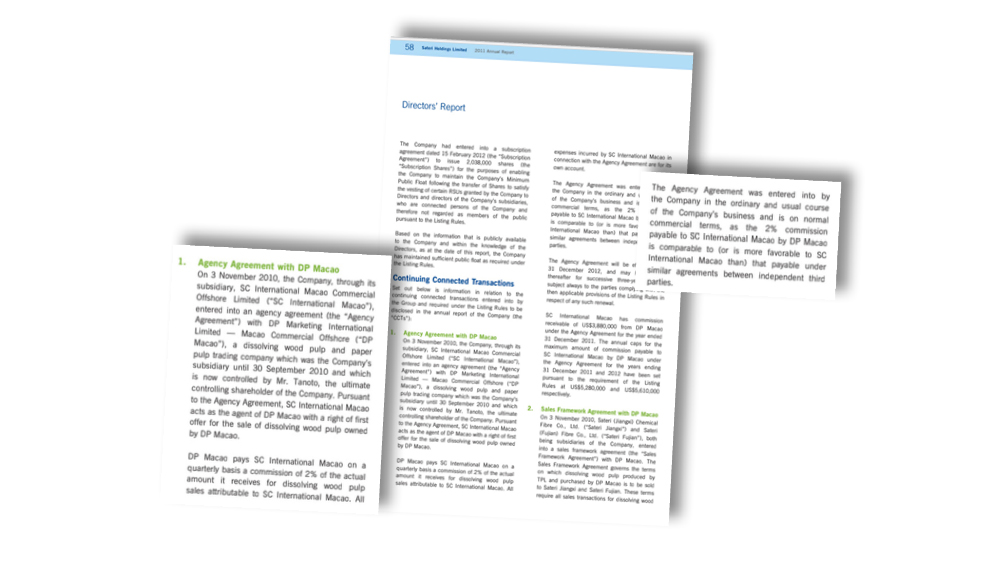 Sateri Holdings Limited 2011 annual report./Sateri Holdings Limited 2011 annual report.
According to Norma, the decline was the result of a decrease in sale volume at 165,057 tons, or a decrease of 16.1 percent. Meanwhile, production costs only declined by 7 percent in 2015, to US$85.6 million. "In that year there was also the elimination of plants worth US$2.6 million due to a pest attack. We had to replant all our trees," she said. Norma also refuted the accusation her company exported dissolving wood pulp in 2015-2016. "Our export product in that year was entirely of the kraft type," she said.
Norma also denied the assertion DWP business-wise is far more profitable compared to BHKP. The option to produced DWP or BHKP, she said, depends on market conditions and demand. Profits obtained from transactions of the two products, she said, fluctuate widely, depending on market conditions and buyer requests. "The profit margin of those two types of products is nearly the same for us," said Norma.
Because of this, according to Norma, Toba Pulp Lestari deliberately established a sales agreement contract with DP Macao to conduct business exclusively as a pulp producer. But she did admit to not knowing how much profit DP Macao made from the agreement. "Toba Pulp sells to DP Marketing International Limited based on pricing levels agreed to by both entities. Toba has no idea what sort of prices are offered the final customer," she said.
When contacted, former Toba Pulp Lestari quality control manager, Arlodis Nainggolan, gave a different explanation. To his view, Toba Pulp's main product is DWP. The company, he said, only once in a while produces BHKP, namely when India is experiencing a large kapok harvest. The raw material becomes a DWP substitute product, which sells at a much lower price. "BHKP production is only conducted one or two months (in a year)," said Arlodis, who worked at the plant since it was still Inti Indorayon Utama. He stopped working there in early 2019.
Norma is reluctant to comment on alleged manipulation of export reports by Toba Pulp Lestari. Meanwhile, Sateri Holdings Limited did not reply to questions submitted in writing through e-mail. When we visited their representative office in Jakarta on January 30, a staff member refused to provide a confirmation date.
•••
THE tax amnesty program launched by the government three years ago in fact could have buried this suspected delinquency by Toba Pulp. Indeed, asset values declared by Toba Pulp in their 2017 report showed low figures compared to the profit valuations suspected to have been transferred to DP Macao. The govenment issued a tax amnesty declaration for Toba Pulp on March 27, 2017.
Therein was stated that Toba Pulp withdrew funds from offshore amounting to Rp5 billion, or around US$367,000. They paid tax ransom amounting to Rp250 million, or 5 percent of their declared assets. In the same period, Toba Pulp obtained a value-added tax (VAT) refund of US$3.8 million. The annulment of the VAT was then noted as part of their profit and loss burden, meaning their net profit total recorded in company ledgers in 2017 showed decline.
Throughout 2016-2017, Toba Pulp also reported fiscal losses of up to US$32.02 million, resulting in the company paying practically no 25/29 income tax for that entire period. Taxation Director-General Sutomo was reluctant to comment on the finding. "We are gagged by a ruling which prohibits specific comment or data on a taxpayer," he said.
Tax researcher Yustinus Prastowo assessed that the taxation directorate-general could in fact claim any discrepancy if the taxpayer had made no statement of assets in accordance with actual conditions. This is governed in Article 18 of the Tax Amnesty Law. Indeed, he said, the taxation directorate-general can trace any report to test accuracy of the financial profile of any taxpayer. "This is a lifelong binding rule and recognizes no expiry date," he said.
Customs Technical Director of Directorate-General of Customs Fadjar Doni Tjahjadi said he would study the suspected export manipulation in the form of alleged custom violations allegedly conducted by Toba Pulp Lestari. To his view, what needs to be done is to investigate whether it was purely a case of discrepancy in HS Code classification between Indonesia and China, or whether there was deliberate intent to dodge compulsory taxation. "If it was a HS classification conflict, the instruments for resolution is bringing the case to the World Customs Organization," he said.
Chief of the Sub-Directorate for Communication and Publications of the Finance Ministry's Directorate-General of Customs, Deni Surjantoro, deemed it imperative that export of paper pulp be furnished with the complete V-Legal documents in accordance with Trade Minister Regulation No. 33/2017. The document would contain data about the product to be exported, including pricing, description of the goods, and the HS Code. "Violation of this rule can result in administrative or criminal sanctions," he said.
Yet, said Deni, both DWP and BHKP paper pulp are not commodity categories burdened with export customs payment according to Finance Minister Regulation No. 13/2017. A similar policy is applied by the Chinese government, which deleted the import tariff on both products. "From a customs policy point of view, there is no potential tax evasion. But false reporting will result in loss of income and tax calculations of the entity," he said.
INDONESIALEAKS