Running Out of Masks
Dozens of Indonesian citizens are holding out in Hubei. Masks have become an urgent necessity.
Edition : 11 February 2020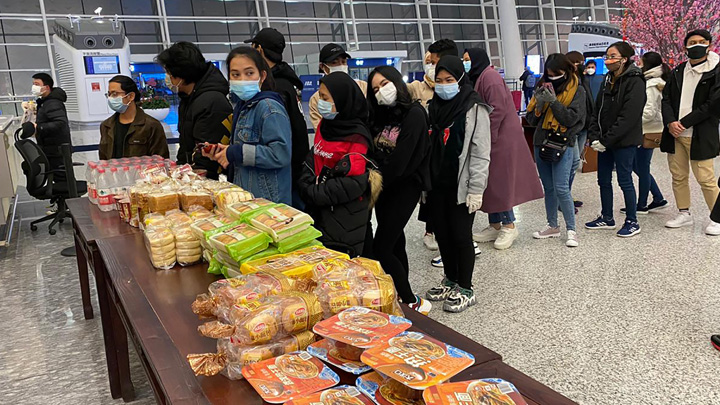 AFTER making thorough preparations, the government finally evacuated 237 Indonesians from Wuhan, the capital of the Hubei Province in China on February 2. As of Friday, February 7, over 600 people have died in that city from which the coronavirus first began to spread. Initially 244 people were to be evacuated, but four finally decided to stay behind, whether for family reasons or wanting to complete assignments, as well as three others who did not pass a health check due to fever.
Judha Nugraha, director of Indonesian citizens and legal entities protection at the foreign affairs ministry, said that some migrant workers have not been evacuated because they have not reported in to the Consulate General of the Republic of Indonesia (KJRI). "They number in the tens," said Judha in Jakarta, on February 7.
The Chinese government shut down the city of Wuhan after the number of people infected by the coronavirus continued to rapidly increase since January 23. All transportation in the city has been halted to prevent the spread of the virus, including airborne transportation. These restrictions have made Indonesians there, most of whom are university students, worried about food availability and the possibility of being infected by the coronavirus.
This virus has spread to at least 16 countries. According to data from Shine.cn, on February 7 there were 31,224 people confirmed to have been affected by coronavirus. A total of 637 people have died while 1,592 have recovered. The most victims are in the Hubei Province, with 22,112 people contracting the virus and 618 fatalities.
Other parts of China have begun to set restrictions, although not as severe as in Wuhan. One such area is Zhejiang, a province located about 600 kilometers east of Wuhan. According to Indah Morgan, an Indonesian there, Zhejiang began enforcing restrictions after 1,006 people are infected, even though none have died. "Maybe it will be closed soon because it has the third-highest number of victims across China," Indah said on February 6.
W251bGwsIjIwMjEtMDMtMDUgMDg6MjY6MTUiXQ
The Zhejiang government is attempting to curb the spread of the coronavirus by limiting residents outdoor movement. According to Indah, only one of four exits is open at the housing complex where she lives, which is home to 10,000 people. The government has issued allowances of exit coupons to each family. "You can only go out three times a week, and that is limited to one family member," she said.
When Wuhan was shut down, according to Indah, the situation in Zhejiang was still relatively normal. She noticed that many buses and other forms of public transportation were still operational. She could purchase her daily needs at a sundries shop within walking range inside the housing complex. When the number of victims began to increase, public transportation became less frequent. Many shops began to close, including the In City mall, which is a 10-minute walk from her home. "It was closed last night," she said.
Indonesians in Shanghai, which is about 830 kilometers from Wuhan, have also felt the impact of the restrictions. So far 277 cases of people infected by coronavirus have been confirmed there. "Activities are being limited through the checking of body temperature whenever entering or exiting a housing complex, mall, or other public area," said Susan, an Indonesian who lives in the Pudong District, where 25 people have tested positive for the coronavirus.
As a result of these restrictions, according to Susan, many have decided to shop online, including ordering food. However, online food delivery cannot freely enter housing complexes like they did before the outbreak. They can only deliver as far as the security post.
---
A box of 50 of them usually sells for 175 yuan or about Rp300,000. "However, they can't be found."
---
Things have slowly begun to return to normal. "However, many offices are not yet operating as usual," said Susan. "It seems that the work leave has been extended. Some universities will resume activities in April."
The KJRI in Shanghai, said Susan, has been collecting data on Indonesians there since February 3. "The plan is to distribute masks. Hopefully the KJRI can soon distribute them," she said. According Susan, masks are now a rare item. A box of 50 of them usually sells for 175 yuan or about Rp300,000. "However, they can't be found." The KJRI, she said, is calling on Indonesians to be cautious and not panic.
Like the Chinese mainland, Hong Kong has been directly affected as well. As of February 7, 24 people have contracted the coronavirus there. Indonesians there have encountered rather significant changes. There are about 180,000 migrant workers in Hong Kong. "Some schools have been let out until March 2. This might be extended if there is no change," said Yana, an Indonesian there.
However, there was a drastic change after a 39-year-old man died on February 3. This was the first coronavirus fatality in Hong Kong. After that, said Yana, the government closed most of its border with China, such as: the Lo Wu and Lok Ma Chau border crossing points; the Man Kam To, Hung Hom, and Sha Tau Kok checkpoints; the Hong Kong-China ferry terminal; the West Kowloon high-speed train railway station; and the Hong Kong-Macau and Tuen Mun crossing terminals. The Port of Shenzhen, the Hong Kong-Zhuhai-Macau Bridge, Hong Kong International Airport, and Kai Tak cruise ship terminal are still open.
The announcement of the closing of the border on February 4, said Yana, created a panic. The closure has affected the availability of fruits, vegetables and cleaning products which usually arrived from the Chinese mainland. The demand for rice is relatively low because Hong Kong residents usually eat rice at night and noodles the rest of the time. "Over the past two days, Hong Kong residents have been buying up food because they are worried supplies might run out," said this migrant worker community coordinator from the Under the Bridge Foundation.
Through Facebook, the KJRI in Hong Kong called on Indonesian migrant workers to limit their outdoor activities on the weekends. They usually use that time to go to Victoria Park or Kowloon Park. Today the streets of Hong Kong are rather empty, including on holidays. "One person went to Victoria Park on Sunday. It was only that person on the bus," said Yana.
The KJRI has been distributing masks since February 3. Initially, the KJRI, located at Causeway Bay, gave one to each migrant worker. This was increased the next day. "My friend who just went to the KJRI received three masks after waiting in line for 30 minutes," said Yana. Masks are a rare commodity in Hong Kong now. Their price has gone up from an initial Rp50,000 to as much as three times normal price. Stocks have basically run out.
Yana added that she has met with fellow migrant workers several times since the start of the coronavirus outbreak. "This situation has made me feel like going home, but that is not the solution. We have to stay here with the people of Hong Kong through this situation because we are bound by contracts," she said. Yana is hoping for prayers of support, as well as sending them masks, to get through this difficult time. She protects herself from the coronavirus by maintaining good hygiene, going to sleep earlier, and taking food supplements.
ABDUL MANAN, RAYMUNDUS RIKANG