Fracture Post-Reclamation
Sunny Tanuwidjaja became Basuki Tjahaja Purnama's right-hand man when the latter was Jakarta's deputy governor. Their close relationship ended after the KPK exposed the bribery surrounding the Jakarta Bay reclamation project.
Edition : 18 February 2020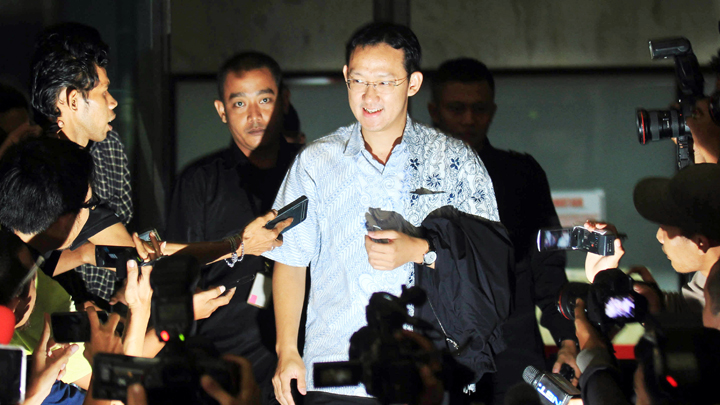 BASUKI Tjahaja Purnama often becomes angry when recalling his time testifying at the Jakarta Corruption Court on July 25, 2017. That day, the prosecutor played a recording of a conversation between Sunny Tanuwidjaja and Mohamad Sanusi, a suspect in the Jakarta Bay reclamation graft case. In the recording, Sunny asked Sanusi, a member of the Jakarta Legislative Council, why the draft regional regulation on the reclamation was not yet finished.
When the recording was played, Basuki—more familiarly known as Ahok—sensed something familiar. He tried to guess where Sunny was during the phone call. In one part of the recording, Ahok heard his own voice. He then realized that Sunny was calling Sanusi from inside the Jakarta governor's office. "I was extremely angry," Ahok told Tempo on Wednesday, February 12.
The reclamation case caused a fracture in Ahok and Sunny's relationship. Sunny was never again seen at the Jakarta City Hall. Prior, Sunny seemed to always accompany Ahok everywhere.
Because of the incident, the plan to support Ahok as an independent gubernatorial candidate through the Teman Ahok (Ahok's friends) movement fell apart. Until the time he left prison last year, Ahokwas still reluctant to return to his group of supporters, most of whom are actively involved in the Indonesian Solidarity Party (PSI). Instead, he chose to join the Indonesian Democratic Party of Struggle (PDI-P).
•••
AHOK and Sunny grew close because of an event for Indonesian university students in Chicago, United States, in the 2010s. Indonesian students in the city had invited Ahok, who was then a Golkar Faction member at the House of Representatives, to give a talk. Ahok agreed to come. He spoke about his experiences in politics, from being a regional legislative council member, a regent, a gubernatorial candidate, and a parliament member. The event's committee bought him an economy class ticket on an Etihad Airways flight. The flight Ahok took had a transfer in Manchester. "Stayed at a Holiday Inn in the suburb," he said.
During the five-day event, Ahok met with Sunny, who was at the time pursuing his doctorate at the Northern Illinois University. Alumni of this university include Centre for Strategic and International Studies (CSIS) Jakarta Director Philips Jusario Vermonte, Jakarta Governor Anies Rasyid Baswedan, and Populi Center Foundation Chairman Nico Harjanto. Sunny told Ahok that he was working on his dissertation on politics. "He wanted to meet many people," Ahok said.
---
"You think it's easy to found a party?" said Ahok. But Sunny and Jeffrie went ahead to form the Indonesian Solidarity Party.
---
Since the meeting, Ahok brought Sunny along everywhere. When Ahok was planning to run as an independent candidate in the 2012 Jakarta gubernatorial election, Sunny helped collect identity cards. But Ahok did not end up running as he did not meet the required number of supporters. Ahok then switched from the Golkar Party to Gerindra after he received the latter's support to run alongside Joko Widodo, who was nominated by the Indonesian Democratic Party of Struggle (PDI-P).
After Jokowi-Ahok won the gubernatorial election and occupied an office at the City Hall, Ahok and Sunny's relationship grew even more intense. Sunny became the director of the Center for Democracy and Transparency, founded by Ahok. Besides observing Ahok in his political activities, Sunny was given the added duty of arranging Ahok's schedule. On Twitter, Ahok once asked those who wanted to see him to first contact Sunny. Aside from helping with Sunny's dissertation, Ahok reasoned that, "He's the leader of all the interns."
At the time, Sunny's position at the City Hall was never clear. Once in a while, Ahok would call him an intern. But on other occasions, Ahok referred to Sunny as a member of his staff. Ahok has also called Sunny his political advisor. Sunny once said that he was frequently invited by Ahok to meet businesspeople and politicians. "So that there's a witness. If there's a conversation about politics, so I can give input," Sunny said on April 11, 2016.
After Jokowi took the presidency and Ahok became governor, there was conversation at the City Hall about Ahok's political vehicle in the next election. Sunny also brought businessman and former Golkar politician, Jeffrie Geovanie, to the City Hall. The three men discussed the possibility of founding a political party. A PSI politician and Ahok's former staff member, Rian Ernest, says his party was indeed initially founded to support Jokowi and Ahok. "As a new party, it was only natural that our timing was inspired by them," said Rian.
Ahok did not speak much when he listened to Sunny and Jeffrie's plan. He did speak about his experience establishing the New Indonesia Party (PIB). "You think it's easy to found a party?" said Ahok. But Sunny and Jeffrie went ahead to form the Indonesian Solidarity Party. Now they are, respectively, the chairman and secretary of PSI's advisory council. The party was one of Ahok's supporting parties in the 2017 Jakarta gubernatorial election.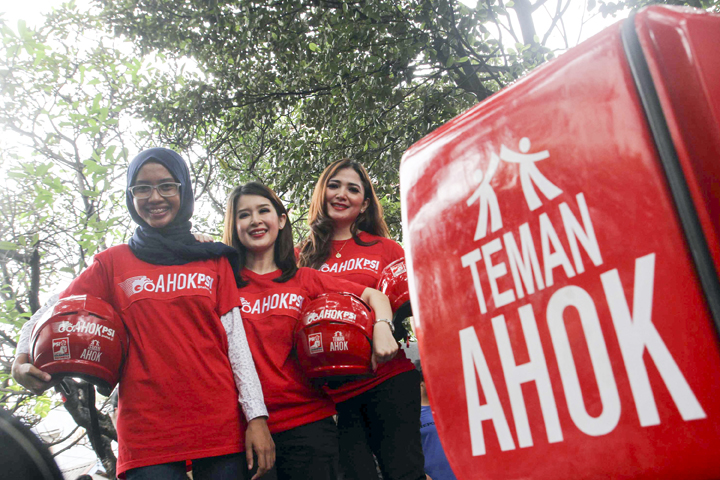 PSI General Chair Grace Natalie (center) with Teman Ahok volunteers in Jakarta, March 2016. TEMPO Doc./M. Iqbal Ichsan
While registering as a gubernatorial candidate, the reclamation scandal became widely discussed. Sunny was suspected of acting as an intermediary between the reclamation's developer and Ahok. Richard Halim Kusuma, CEO of Supporting Property Agung Sedayu Group, the developer, would often relay messages from his father, Sugianto Kusuma aka Aguan, to Ahok through Sunny. The Corruption Eradication Commission (KPK) even issued overseas travel bans for Sunny, Richard, and Aguan during the case's investigation.
Ahok and Sunny's relationship worsened after Tempo released its findings related to Teman Ahok (Ahok's supporter group) in June 2016. In its report, Tempo mentioned a suspected flow of money from the reclamation's developer to this organization, which was designed by Sunny with the Cyrus Network. Teman Ahok was indeed established to support Ahok's independent candidacy. Among the findings that stood out was the purchase of a Toyota Avanza car by Cyrus for Michael Sianipar, Ahok's staff member and current chairman of PSI Jakarta. "I was shocked when I read Tempo's report," Ahok said. Because of the article, Tempo was reported to the Press Council because it was considered to have published inaccurate information.
Out of curiosity, Ahok summoned Michael to clarify the information. Ahok says Michael explained that the car was purchased with a loan. "If (you) want to borrow money it should be with my knowledge," Ahok said furiously. Their relationship cooled down considerably after the incident. When Ahok was imprisoned, Michael wanted to visit his former boss, but Ahok rejected his visit. After failing to see his boss, Michael chose to send a letter. "The letter was long. 'Someday we will meet again in heaven, Pak,'" Ahok said, quoting the letter. Michael confirmed that he sent the letter. "To maintain relationship with the former boss."
After the reclamation scandal and Tempo's report on Teman Ahok, the City Hall's atmosphere changed. Ahok's staff was split into two camps. One camp sided with Sunny, and the other with Ahok. "Divided, like enemies," Ahok said. Michael Sianipar says the fracture was due to workload issues. Rian Ernest, on the other hand, saw it as being caused by other factors. "When we joined Ahok, we were half way (established), so that we were already used to thinking critically." So far, Sunny has not replied to Tempo's interview request.
Some members of the City Hall staff later on joined the PSI, including Michael Sianipar, Rian Ernest, and Idris Ahmad. But others stayed with Ahok, like Sakti Budiono. Meanwhile, Ima Mahdiah has followed Ahok into the PDI-P. Ahok's decision to join the PDI-P saddens Rian. "The disappointment is certainly there. Most of our cadres are, after all, hardline 'Ahokers'," he said.
WAYAN AGUS PURNOMO, STEFANUS PRAMONO