Jokowi's Mission for Ahok
After he was appointed Pertamina's president commissioner, Basuki Tjahaja Purnama has had to deal with various production and distribution issues. He now shoulders Jokowi's mandate to curb oil imports.
Edition : 18 February 2020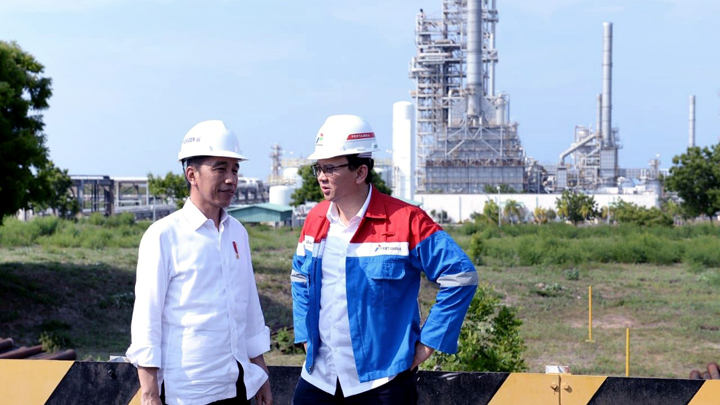 THUSRDAY mornings have been the most important time of the week for Basuki Tjahaja Purnama in the past three months. Every Thursday, he must attend a 7am meeting at state oil company Pertamina's headquarters in Gambir, Central Jakarta, if he does not wish to miss out on the latest report on the company's various programs from the board of directors. The routine meetings between Pertamina commissioners and directors are pushed forward two hours earlier than the previous regular schedule, to avoid overlaps with the management's other activities. "I was already used to standing by at 7am in Jakarta (governor's office)," said Ahok, as Basuki is known, on February 12.
Ahok—who has a long list of homework since his appointment as the vital state company's president commissioner at the end of November 2019—indeed needs these reports from the board of directors. Production security, for example, is the focus of the former Jakarta governor. This is only natural as the oil and gas sector determines the country's balance of payments.
In the past two years, the current account deficit has been quite high and has even exceeding the safe threshold of 3 percent of the gross domestic product. Oil imports, caused by domestic production that never manages to meet domestic demand, have been one of the primary contributors to this deficit.
President Jokowi relayed this mission when he summoned Ahok and Pertamina CEO Nicke Widyati to the State Palace on December 9, 2019. Jokowi repeatedly cautioned Pertamina to curb oil and gas imports. "Deficit can be lowered if oil and gas imports can be managed well. In essence, they expressed capability," said Jokowi.
This is why Ahok seemed agitated when he spoke about an incident on the second week of December 2019. One day after the meeting with Jokowi, he received bad news. Electricity at the Pertamina Refinery Unit II Dumai in Riau, went out on December 10. The electricity turbine went off for three days. As a result, oil production at the 170,000 barrel/day facility suffered.
The trouble is, the incident was not the first. The almost half-a-century-old oil refinery has been prone to unplanned shutdowns. Ahok suspects that such occurrences are no accident as he has been hearing about the oil and gas mafia's push to have Pertamina continue importing diesel fuel for domestic needs. After the government prohibited importing diesel and aviation fuel in May 2019, diesel drums were piled up in Singapore, waiting to enter Indonesia. "I said, 'Bu Nicke, don't be afraid of shutdown threats. Tomorrow we'll call the police, arrest those who are playing games,'" said Ahok.
Later, Ahok announced a change in Pertamina's website. The company's website now provides current operational data, covering provisions of crude oil, oil fuel as well as liquefied petroleum gas (LPG) and shipping status. This change was announced on his Twitter account, under the handle #basuki_btp, on February 12. He hopes that the public can help monitor Pertamina's performance using the open information channel. Otherwise, he said, "I'm only helping the CEO."
Pertamina Vice President of Corporate Communications, Fajriyah Usman, says the public can access information on the amounts and sources of crude oil imports, subsidized oil fuel quotas, appointments, as well as quotas realized in each city or regency. Besides upstream affairs, the data's digitization is also being prepared by Pertamina for monitoring supplies and transactions at public gas stations. "So that, in the future, the distribution of subsidized fuel will more accurately reach its targets," said Fajriyah on February 14.
•••
IT did not take long for Ahok to return to the political elite circle after leaving the Mobile Brigade Detention Center in Kelapa Dua, Depok, West Java, at the end of January 2019. Before he was appointed Pertamina's president commissioner, Ahok met with Jokowi at the Bogor Palace. The President asked what his former deputy at the Jakarta governor's office had planned. "(I) want to get into the chicken business," said Ahok.
During the same meeting, said Ahok, Jokowi explained the plan to repair the trade balance problem, with state-owned enterprises (SOEs) as one of his weapons. He hoped Ahok would help supervise, whether at the Social Security Agency (BPJS), the State Logistics Agency (Bulog), Pertamina, or at the state electricity company PLN. Ahok found the two last companies, which control 28 percent of all SOE assets, most appealing.
The initial conversation in Bogor was resumed by State Secretary Pratikno. The former Gadjah Mada University rector then arranged a meeting between Ahok and Erick Thohir, who had just been appointed SOEs minister in Jokowi's new cabinet. Rumor began to circulate that Ahok would be occupying an important post at an SOE after he was seen leaving the SOEs ministry following his meeting with Minister Erick on Wednesday, November 13, 2019.
Various speculations were in circulation. Coincidentally, Erick was then preparing to reform the managements of strategic SOEs. Several SOEs were also lacking an official CEO, such as the PLN, after Sofyan Basir was implicated in the Riau 1 Power Plant corruption case, although he was later on acquitted in court.
Ahok claims he asked Erick not to appoint him as CEO. "If (I become) a CEO, I wouldn't be able to work elsewhere on the side," he said. The 53-year-old man said he preferred to act as president commissioner. "As long as the CEO is good."
Pertamina became Ahok's new home. When announcing Ahok's appointment, Erick said Pertamina needed Ahok. The company's heavy work at this time is to reduce the country's dependency on oil and gas imports, and to realize development targets for neglected oil refineries. "We need someone to create breakthroughs," said Erick at the time.
The target of developing neglected refineries involves a new refinery megaproject and an expansion hoped to raise the capacity of fuel production from 775,000 to 2 million barrels per day. Among projects that have stalled for a long time is the development of the Refinery Development Master Plan Cilacap, with a plan to enlist Saudi Arabia's oil giant Saudi Aramco.
Since the plan emerged in 2014, negotiations for the US$5.8-billion joint venture have not reached an agreement regarding valuation and spin-off assets. Furthermore, as it turned out, Aramco was more interested in first enlisting Malaysia's Petronas and China's Norinco to develop integrated refineries and petrochemicals in both countries. "This is why we have to enter the development of petrochemical complexes," said Ahok.
But Pertamina and Aramco's partnership plan for the Cilacap refinery has not completely fallen through. Recently, Pertamina began preparing for a new partnership scheme by operating a new refinery, and it would pay the toll fee if the refinery processes the SOE's oil. Pertamina Director of Investment Planning and Risk Management, Heru Setiawan, says Aramco is still studying the scheme. "They will respond the first week of March," said Heru.
Outside of the planned project with Aramco, a number of plans to draw in investors for other refinery megaprojects are projected to conclude in the first semester of 2020. The development of the Balikpapan refinery, for example, will involve the Mubadala consortium (United Arab Emirates), BlackRock (United States), and GIC Private Limited (Singapore). According to Heru, investment partnerships with these foreign companies are targeted to be finalized in April 2020. "Meanwhile the development is almost at 20 percent," he said.
Putri Adityowati, Francisca Christy Rosana