Slow Growing Green Open Space
City administrations are having difficulties meeting the green open space requirement of 30 percent of overall city area. Jakarta sets an annual growth of 23 hectares of open space, far below the ideal amount of 650 hectares.
Edition : 24 February 2020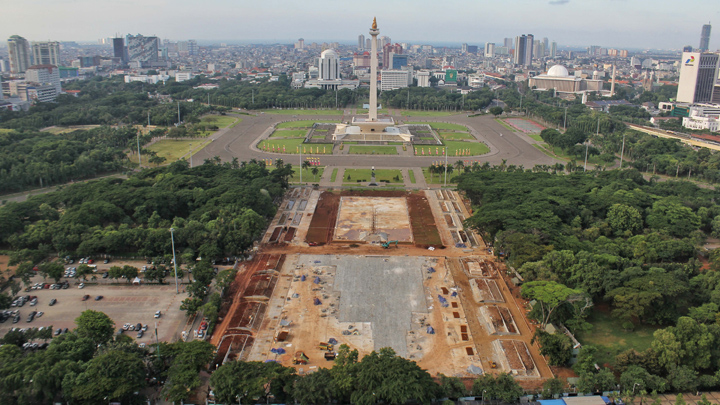 BEHIND the fence, workers in the National Monument (Monas) revitalization project were busy checking the hardness of the concrete covering the grounds at the southern side of Medan Merdeka Park, on Thursday, February 20. The concrete-covered court, wider than two soccer fields combined, is to serve as a plaza for ceremonies and a water pool in the future. Three months ago it was the largest city park in Jakarta, where grass, bushes, and shrubs grow alongside hundreds of trees, including mahogany, teak, rain tree, ashoka, crapemyrtle, royal palm, and blackboard tree.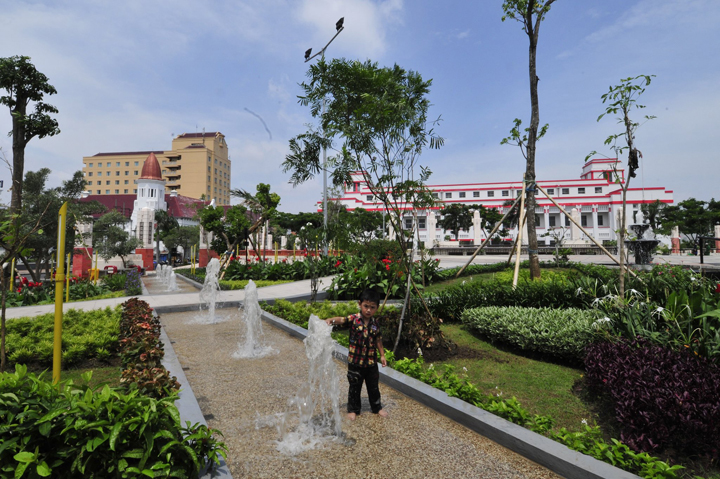 Jayengrono Park in Surabaya, East Java, September 2019. Surabaya Public Relations Office
In order to make way for the Rp114.47 billion-worth concrete court and water pool, the Jakarta provincial administration cut down at least 191 trees, both big and small. The Indonesian Forum for the Environment (Walhi) Jakarta Executive Director Tubagus Soleh Ahmadi regrets the loss of these decades-old trees. "People have been impacted by the effects of the lack of green open space, such as flood and air pollution," said Tubagus on January 21. "When Jakarta needs green open space and trees, the government cut them down instead," said Tubagus, who is a resident of the capital city.
The Jakarta administration promised to replace the loss with three times as many trees as those cut down. Nirwono Joga, a researcher from the Trisakti University Urban Studies Center, Jakarta, has doubts about this, saying that they will not be able to get equal replacement. "This is not about replacing the trees by three times the amount. The specification regarding their type, size, age, and ecological capabilities cannot be obtained in a short time," said Nirwono, author of the book RTH 30%! Resolusi (Kota) Hijau (Green City Resolution, 30% Green Open Space).
Tubagus said that the Jakarta administration has no ethics on the environment. He points to the city's amount and spread of green open space (RTH), which are still way below the 30 percent required by Law No. 26/2007 on spatial planning. "There has not been a significant addition to green open space. The government is still focusing on projects to 'beautify' existing green open spaces," he said.
Nirwono agrees with Tubagus's notion that the Jakarta administration prefers to beautify existing green open spaces, rather than adding new ones. The Monas revitalization project is one example of this, according to him. "That much budget may be used instead for land acquisition and establishment of 10 new green open spaces, 1 hectare wide each," he said. "The actual budget should be available for allocation. But this is because RTH is not yet considered as essential for the lives of the residents and the city."
W251bGwsIjIwMjEtMDMtMDUgMDg6MDc6MTAiXQ
Jakarta City's Park and Forestry Office Chief Suzi Marsitawati said the city's green open space is now at 9.97 percent of its total area. To pursue the 30 percent as mandated by law, she explained that Jakarta administration sets a target of increasing green open space by 23 hectares annually. "The amount of targeted addition is in accordance with the agreement in Jakarta medium-term development plan of 2017 to 2022," said Suzi when contacted on February 18.
For Nirwono, the 23 hectares of annual increase is very small. "At least 325 hectares are needed per year, or ideally 650 hectares per year," he said. The 650 hectares are based on his calculation if 6,500 hectares of green open space is to be achieved in 2030 or 10 years from now. Should only 23 hectares of green open space are added every year, he continued, Jakarta administration would need 282.6 years to obtain 30 percent of RTH or 6,500 hectares.
Land acquisition is difficult. However, Nirwono said there are plenty of opportunities to add more green open spaces within Jakarta territory. As an example, he suggested establishing green lanes along the banks of the 13 rivers running across the city, and also around the 109 lakes, retention basins, and water reservoirs. He further added that there are other potential areas, such as road median strips, train tracks, and underneath extra-high voltage power line towers (SUTET). These can be done by cooperating with the public works and public housing ministry, transportation ministry, energy and mineral resources ministry, Jasa Marga, Kereta Api Indonesia, and Perusahaan Listrik Negara.
Nirwono said that no city in Indonesia has managed to fulfill the green open space requirement of 30 percent of overall city area until now. He said that Jakarta's open green space has not been increasing because each successive governor was busy changing the name of the program, instead of focusing on significant RTH addition during their terms of office. The city of Surabaya in East Java, he continued, is among those that have not reached their target. "I am not sure if Surabaya has achieved beyond 30 percent. Moreover, it was flooded some time ago, which means its RTH requirement has not been met or otherwise not functioning properly," said Nirwono.
Urban expert and architecture professor emeritus from the Sepuluh Nopember Institute of Technology, Surabaya, Johan Silas, said that the City of Surabaya already had more than 30 percent of RTH since its beginning. Johan, who is an urban planning advisor to Surabaya Mayor Tri Rismaharini and six previous mayors, said that Surabaya was intended to be a green city right from the early city planning. "The spatial planning law was issued in 1992, while the City of Surabaya master plan was completed in 1973. At the time the RTH was probably 40 percent, now it is around 32 percent," said Johan on February 19.
Johan explained that two thirds of Surabaya overall area consist of sedimentary soil, not hard soil. He mentioned the Kaliasin area as an example, along with highlands such as Gunungsari, Lakarsantri, and Warugunung, which are the continuation of Gresik karst topography. "What must I do? Maintaining water ecosystem requires numerous forests and reservoirs. Referring to the first plan endorsed in 1978, it is indeed meant as a green city," he said.
Green Open Space Section Head of Surabaya City Sanitation and Green Open Space Office Hendri Setyanto said the RTH in Surabaya measures some 21.7 percent of the overall city area, comprising of around 400 passive parks and around 100 active parks. "But we continue pursuing the 30 percent amount by acquiring lands to be converted into RTH," said Hendri at his office on February 19. The Surabaya administration, Hendri explained, allocates a budget of Rp60 billion for green open space this year, down from Rp65 billion in the previous year.
Hendri continued that the city's administration enforces its Regional Regulation No. 19/2014 on tree protection. Residents who wish to cut or relocate trees managed by the city administration must first obtain permit from the mayor. "Violators are fined. Those who cut a tree down must plant another, hopefully more than just one," he said. However, Hendri admitted that his office has never done a census of trees or collecting their data.
Yogyakarta City administration is also experiencing difficulties in meeting the 30 percent green open space requirement. Yogyakarta Environment Office Head Suyana said green open space currently sits at 18.8 percent of the total city area of 32.5 square kilometers. "If Yogyakarta City is to fulfill the RTH target of 30 percent, that would mean turning four subdistricts into green open space," said Suyana on Friday, February 14.
As an old city, according to Suyana, Yogyakarta is characterized by very small area packed with narrow streets with numerous segments and bends. Suyana said it is hard to find a lot of land measuring more than 2,000 square meters. "The widest lands for sale in the city are only between 500 to 2,000 square meters," he said.
Public Green Open Space Section Head of the Yogyakarta Environment Office Indiah Widiningsih said that, of the city's 14 subdistricts, only three, Umbulharjo, Kotagede, and Tegalrejo are relatively able to increase their green open space. On average, said Indiah, the city administration receives between 1,000 to 2,000 square meters of new lands in five to six locations every year for green open space.
In order to provide land for green open space, Suyana said that the government sometimes acquires abandoned buildings in densely populated areas, such as the former teacher's official residence in Kotagede. An annual budget of Rp2 billion is allocated for establishing green open space. "That is outside the budget for provision of new lands," he said.
The City of Bandung has its own struggles regarding green open space. Increase has been slow and still far below the 30 percent requirement of the total Bandung City area, which measures some 16,729.65 hectares in all. "Bandung City RTH is currently at 12.23 percent," said Rieke Siti Fatimah, Landscaping Section Head of the Bandung City Housing, Residential Areas, Land Affairs, and Landscaping Office on February 20.
Bandung City's current green open space situation, said Rieke, is not much different from what it was in 2015, when 2,032.21 hectares (12.15 percent) of RTH were recorded. The spaces consisted of 218.07 hectares of city parks and tree nurseries, 148.39 hectares of cemeteries, 10.17 hectares of green lanes below SUTET, 18.31 hectares along river banks (riparian zone), 176.91 hectares along roads, 6.42 hectares along railroads, 4.12 hectares of conservation forests, 416.92 hectares of critical land management, and 74.43 hectares of green open space assets.
Those numbers are only data on paper. However, the width and number of green open spaces may be identified and analyzed using remote sensing technology, such as that owned by the Remote Sensing Utilization Center of the National Institute of Aeronautics and Space (Lapan). Lapan Remote Sensing Utilization Center Head M. Rokhis Khomarudin said his institution once researched the changes of watershed land cover of Cisadane, Ciliwung, and Citarum river basins (DAS) based on data from the Landsat-7 satellite in 2002 and Landsat-8 in 2019.
These researches, said Rokhis, revealed a decrease of wet agricultural land along Citarum river basin area from 317,901.06 hectares (46 percent) in 2002 to 268,850.12 hectares (39 percent) in 2019. Forest area decreased as well, from 174,971.29 hectares (26 percent) in 2002 to 89,234.69 hectares (14 percent) in 2019. Conversely, Rokhis noted that developed land area increased from 12,163.22 hectares in 2002 to 21,245.71 hectares in 2019.
The same trend was found along Cisadane and Ciliwung river basins, and also Krukut, Pesanggrahan, and Angke river zones subjected to Lapan's research. "The three river basins are a national priority for monitoring. Remote sensing enables historic land cover change monitoring over a wide area," said Rokhis. He said this method can also be used to identify green open space. "But a satellite with higher spatial resolution is needed if it only measures 100 square meters wide," he explained.
Rokhis continued that Landsat satellites have a 30 x 30 meters spatial resolution able to detect an area 900 square meters wide. "It only detects vegetation and non-vegetation," he said. Meanwhile, the SPOT 6/7 satellite, said Rokhis, have a spatial resolution of 2.5 x 2.5 meters capable of distinguishing between trees, bushes, shubs, and grasses. "Pleiades satellite has a spatial resolution of 0.6 x 0.6 meters so it can be used to count trees."
Another, more detailed method, Rokhis added, involves terrestrial survey using unmanned aerial vehicles (drones) or Google Street View, as done in the Treepedia Project by Massachusetts Institute of Technology Senseable City Lab, United States, to measure green open spaces in 27 cities around the world. "For narrow coverage needs such as around Monas, terrestrial survey with a drone or Google Street View may be more effective," he said.
DODY HIDAYAT, TAUFIQ SIDDIQ, NURHADI (SURABAYA), ANWAR SISWADI (BANDUNG), PRIBADI WICAKSONO (YOGYAKARTA)