Educational Reforms Will Take 10-15 Years
Minister of Education and Culture Nadiem Makarim: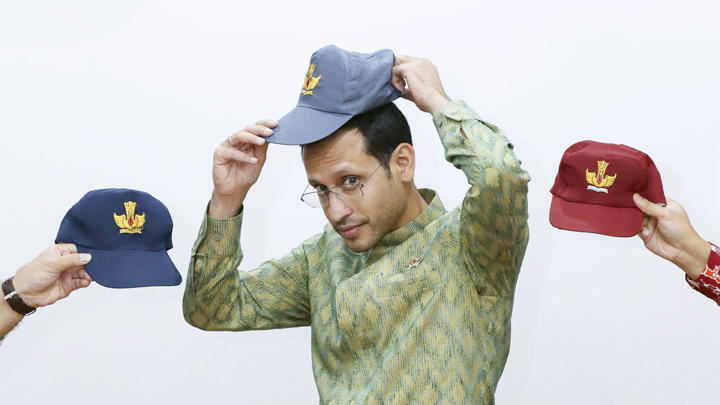 MINISTER of Education and Culture Nadiem Makarim has set some new policies for education, such as replacing the national test with competency testing in 2021. This former Chief Executive Officer of Gojek is also giving freedom to university students to apprentice for three semesters. Some have criticized this latter policy on the consideration that it will only prepare university students to work in the industrial sector.
Speaking to Tempo at his office on Friday, February 28, this minister with a Bachelor of Arts degree from Brown University and Master of Business Administration degree from Harvard Business School clarified some of his policies.
Why did you make a policy about Kampus Merdeka (Campus Freedom)?
The philosophy of Kampus Merdeka is that university students cannot reach their dreams if they do not have the autonomy to choose. Do they want to become specialists, researchers or instructors? We are challenging higher education to put out future leaders who are highly creative, innovative, and successful. But how can this happen if institutions and lecturers do not have the ability and are not allowed to innovate?
For example?
During the campus accreditation process, no one is teaching. Everyone must prepare documentation to prove they are working. This is also the case for schools, reports, finances, and other things. Student learning is ignored because they are busier with administrative matters. We are working to create a system to ensure that teachers, lecturers, and institutions focus on working. We are also liberating campuses from the government in the matter of accreditation and state institutions of higher learning which are legal entities.
What is the impact of Kampus Merdeka for university students?
While the campus is freed, it is not certain that the students will be. To date, university students have only been trained with one style and one discipline in one pool. Once in a while they need to take a dip in the ocean. University students must be trained in various skills so that they can be able to survive. So we are giving university students the right to study outside of their major for up to three semesters, two semesters of which can be outside the campus. This is not for the needs of industry alone, but to ensure that they do not sink.
You also want university students to understand the working world?
The subjects studied which are relevant not only for work but also for life are only 30 percent at the most. The rest are for student organization activities and the like. I am not satisfied with that number. Curriculum activity should be much more relevant to life. I cannot change this in five years only through campuses. The fastest way is to learn directly in the sea. At least they can be given flotation devices, because they are not truly working yet, just apprenticing.
You have been criticized as only preparing university students to work in industry, not in research or academia.
The number of undergraduate students who become academicians is small, in the single digits. Most of them want to work outside the campus or have an impact on the country. Now we are providing a faster way to determine their interests. For those three semesters of apprenticeships, university students can take part in research projects, for instance in Papua, or (join) foreign student exchange. These apprenticeships are not only with companies, but can also be with non-government organizations. In fact, we have a teaching project for one semester at school.
What obstacles is Kampus Merdeka facing?
There are still some who are protesting it, particularly those who study outside a major for three semesters. I have given the impetus to universities that it is time to change. It is up to them how they want to do it. However, they must give freedom to their students. This will indeed take years to achieve.
Is it possible that educational transformation be completed while you are still the minister?
If there are those who hope that I reform education in five years, it is just not possible. There are 50 million students, 300,000 schools, and two million teachers. That fundamental change will take at least 10-15 years. I hope to create irreversible change and a change ratio of 15-20 percent. For whatever, for 10-15 percent of teachers, schools, regions, and other things which can maintain continuity. For instance, technology and simplifying the regulations which are currently quite complicated through a revision to the law on the national education system.
What are your expectations in becoming minister?
They are not exceedingly high. It might not be possible to organize things in 100 days. When I first came, two ministries were combined. Usually it takes two years to combine two ministries. We completed the organizational structure last month (January). What has been done these 100 days has exceeded my expectations. There are some policies which could be set immediately. So, those 100 days were not for overhauling the education system, but to remove obstructions, to send a signal for change. For instance, making the national test become a competencies test. The competencies assessment is being developed for 2021, but the decision to do so has been made.
---
These apprenticeships are not only with companies, but can also be with non-government organizations.
---
Why have you decided to eliminate the national test as your first policy?
Without getting out of the prison of the national test (UN), the majority of teachers and schools will be teaching students in preparation for taking the UN. According to the law, the UN is not to assess student achievement. There cannot be multiple choice test to assess this. The teachers must assess student performance. After I debated with many people it became clear that we need per-school assessments. After that, I decided that the UN must be replaced.
There is Merdeka Belajar (Study Freedom), so why not have Merdeka Seragam (Uniform Freedom)?
That is a good idea. The cost of those uniforms is very high. There is some good in uniforms, as they show that everyone is equal and on the same standing. Economic status is a sensitive issue. We can imagine how children who are more affluent would dress. It is better if we allow a color scheme, not leave it completely open, but make a dress code. This would avoid opportunism of forced purchases and projects.
Lately some kids have often been involved in intolerant behavior. What is your solution?
We are going to create a character strengthening center under the secretariat-general. Intolerance, including hoaxes and bullying, occur because morals have not been inculcated and strong character has not been formed. Through the character strengthening center, we are going to make various content which is to be distributed in the mass media. The direct targets of this are parents and students. We are developing a filtering process at the character strengthening center. Of course there will be various activities at school, from early childhood education up to the higher levels.
Shouldn't character education be internalized in various things, including in the curriculum?
Indeed it should. However, schools only reach the children. If I cannot reach parents, their children will not be any different when they return home. We cannot wait to change the curriculum or for one teacher to change. So there has to be strengthening of character.
W251bGwsIjIwMjEtMDMtMDUgMDg6NDY6MTgiXQ