Head of the Legal, Cooperation, Public Communications, and Protocol Bureau of the Nuclear Energy Regulatory Agency Indra Gunawan: Radiation Is No Joking Matter
After unearthing cesium-137 (Cs-137) nuclear waste in an empty lot in the Batan Indah housing estate, Serpong, South Tangerang, Banten, the Nuclear Energy Regulatory Agency (Bapeten) and police discovered illegal radioactive material in a house on Block A-22 in the same complex. The house owner is Suhaedi Muhammad, a senior officer at the National Nuclear Energy Agency (Batan).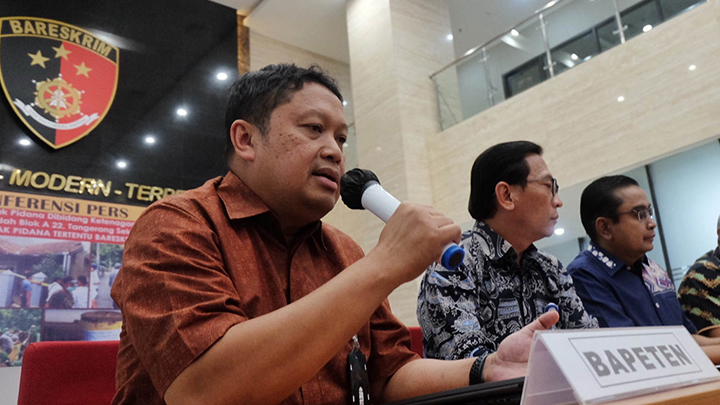 IN the midst of the hue and cry after the discovery of these dangerous substances, Bapeten announced a plan to purchase 126 units of radiation data monitoring systems (RDMS), to be hooked up at Meteorology, Climatology and Geophysics Agency stations. Bapeten is adding more of the equipment to be used by regional heads, cabinet ministers, and high ranking state officials. Accompanied by the Head of the Bapeten Public Communications and Protocol Department, Abdul Qohhar, Bapeten's Head of the Legal, Cooperation, Public Communications, and Protocol Bureau, Indra Gunawan, explained the reasoning behind the project plan, and about the Cs-137 spread out in the Batan Indah residential complex, on Thursday, March 12.
For what reason is Bapeten making a purchase of 126 units of RDMS all at once?
Hooking up RDMS is aimed more towards being anticipatory and disaster-readiness. The equipment will be put up to the north of Indonesia to face the same direction as other countries owning nuclear reactors. Formerly we had to dispatch somebody to Manado (North Sulawesi) just to detect radiation fallout during the nuclear leak case in Fukushima, Japan.
What are the plus points of RDMS?
RDMS is equipment for detection. But it has a larger volume and is more sensitive in capturing radiation fallout compared to other equipment. The equipment also able to immediately detect any type of substance. We have already put up six units at the nuclear installation center in Serpong, South Tangerang. The detector is now akin to one of the keys to national nuclear safety.
There is also a plan to purchase RPMs. What's the difference with RDMS?
RPM (radiation portal monitors) are more aimed towards security issues. So far we have hooked up the equipment at seven customs gateways, including the Tanjung Priok (Jakarta), Belawan (North Sumatra), Batam (Riau Islands), and Tanjung Perak (East Java) ports. Even that is not enough. There is only one monitor in Tanjung Priok, while the port has 47 gates that can be used for traffic of goods.
What is the urgency of the plan to provide detectors for regional heads?
This sort of thing is difficult to explain, because for sure there will be debate about it. It is similar to providing security equipment in the form of guns to police. In police circles, you can find personnel whom up to pension age had never used a gun. But because of that, does that mean they would never need firearms? Nuclear radiation is no joking matter. We will always need equipment. This is why the unearthing of the radioactive substances in the Batan Indah estate has to be used as an example,
You don't yet know who dumped the Cs-137 at the empty lot in the Batan Indah complex?
The police are still investigating it. The finding at the house of SM (Suhaedi Muhammad) at the Batan Indah complex Block A Number 22 can hopefully be a beacon towards clarification.
What sort of things were found in that house?
The radioactive substances we found were in a container, a sort of flask that impeded radioactive diffusion. Inside it we found cesium-137 and a type of iradium wrapped in a capsule made of pre-used metal. The whole outlay was deemed illegal.
Is it true Suhaedi Muhammad had once before been sanctioned for indiscipline?
From Batan, he was once transferred to work at Industri Nuklir Indonesia (Inuki). I have no idea about any sanctions upon him, because at the time he was still working there.
Is it true he was a broker for managing radioactive waste?
We aren't sure if that service is illegal. The law does not govern this issue explicitly. Responsibility to handle waste lies with the permit holder or the user benefiting from the use of radioactive substances. But, of course they could always join up with a third party. It is this third party that could be anybody.
And then there was another finding in Block F?
Yes, the same type, cesium-137. Police are also investigating the source of this substance. We face a problem because the owner of the house has long passed away. Despite this, the amount of contamination and from what radiologial sources it came from are technically still being calculated. We are tasked with providing the police with assistance.
What sort of assistance?
We give them all the data about companies who have put their permit papers together and which ones have created radioactive waste. In fact it should not be difficult to find the owner of the substance because each radioactive matter has a code. It is clear who are the producers, and who their customers are.
W251bGwsIjIwMjEtMDMtMDIgMDI6MTY6NDAiXQ