Fears Amid Pandemic
A number of regions in Indonesia are poorly prepared for the corona outbreak. They are still waiting for the health ministry to send necessary equipment.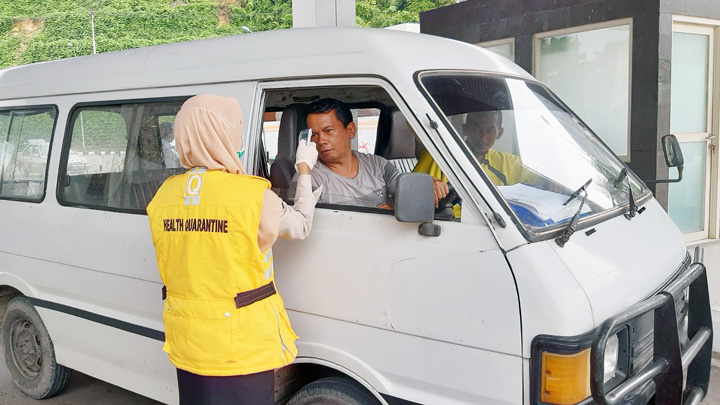 WEST Kalimantan's Health Office Chief Harrison was on the phone with a staff member while watching news about the Covid-19 outbreak. He asked about the shipment of protective gears for paramedics working on the frontline, handling patients suspected of having contracted the disease caused by this new coronavirus. "They still have not arrived today?" he asked the person on the other line, Friday, March 13.
Harrison wrote down numbers on a piece of paper, calculating how many protective gears the province has. Without hazmat suits, paramedics are at high risk of contracting the disease. Harrison sighed loudly. "The Soedarso General Hospital (Pontianak, West Kalimantan) have resorted to wearing raincoats," he lamented, adding that Ketapang and Sintang only have enough protective gears for the next three days.
Soedarso is the only hospital in Pontianak taking in Covid-19 referrals. In West Kalimantan, there are three other hospitals: Abdul Aziz Regional Hospital in Singkawang; Ade M. Djoen Regional Hospital in Sintang; and Agoesdjam Regional Hospital in Ketapang. All but Agoesdjam—which was only recently appointed as a referral hospital—are equipped with two to four isolation rooms.
There were 13 corona-suspect patients in the province. One was confirmed positive on March 14, while 10 tested negative. The other two are still waiting for lab results from the Health Ministry's Health Research and Development Agency (Balitbangkes) in Jakarta.
The central government decided to add more hospitals taking in corona cases in as there were many Chinese nationals working in that province. The province's Labor Office noted that in 2017 there were 468 Chinese citizens working at mining company Well Harvest Winning Alumina Refinery, located in Ketapang. Locals worry that these foreign workers will carry the virus. The issue went viral on social media.
The provincial government is afraid because they border directly with Sarawak, Malaysia, where three people have been tested positive for corona. West Kalimantan Governor Sutarmidji ordered those recently came from Sarawak to self-isolate for 30 days.
In addition to the lack of protective gears, Harrison said, they are also short on the special material needed to deliver the specimen, known as the virus transport media. Specimens taken from patients must be sent to the Balitbangkes. They had bought 50 sets of the material using their own funds. By March 13, they only have five left.
The health office is also worried because West Kalimantan only has one ventilator, which is at Soedarso Hospital. The health office is unable to use the province's funds for unexpected budget to buy the equipment, as it can only be used after the establisment of an extraordinary event (KLB). "And a KLB can only be declared after there is a case," Harrison said.
Meanwhile, the two provinces that have been infected by Covid-19—West Java and Jakarta—are ready to spend money. West Java will use Rp15 billion of its unexpected budget. West Java Governor Ridwan Kamil said they will use it to buy health supplies such as isolation room equipment, ventilators, and protective gears for health workers in hospitals that are not appointed as a referral by the health ministry. This include a Tasikmalaya hospital, which became a social media sensation after its paramedics were shown wearing raincoats when transporting a patient suspected of contracting Covid-19.
The governor alerted 27 hospitals, because West Java is a province with the largest population of 49 million people. If there is an outbreak, he fears that the eight hospitals appointed by the health ministry will not be able to accommodate patients. However, Rp15 billion is far below the actual funds needed, which is estimated at some Rp50 billion. West Java's Regional Representative Council Deputy Speaker Achmad Ru'yat said that one source of funds that can be used to cover the need is the money allocated for the regional bank's—the BJB—equity participation.
Meanwhile, Jakarta has prepared Rp54 billion that will be used, among others, to buy protective gears for paramedics. The Jakarta administration is also restricting public gatherings until April. "There are 30 activities being reviewed," said Benny Agus Chandra, head of the Jakarta government licensing review team, on March 12.
Jakarta has canceled three scheduled concerts for March: Head of the Clouds music festival by the United States promoter 88rising, Japanese group Babymetal; and United Kingdom band Foals. Jakarta Governor Anies Baswedan also decided to close all tourist attractions owned by the Jakarta government—including Ancol, Ragunan Zoo and the National Monument—for two weeks starting March 14.
Government Spokesman for Covid-19 Response, Achmad Yurianto, said that public gathering policies become regional governments' authorities. But medical devices will be assisted by the health ministry. The ministry has already shipped protective gear supplies to provincial pharmaceutical installations. If they do not have enough supplies, hospitals can ask them from local installations.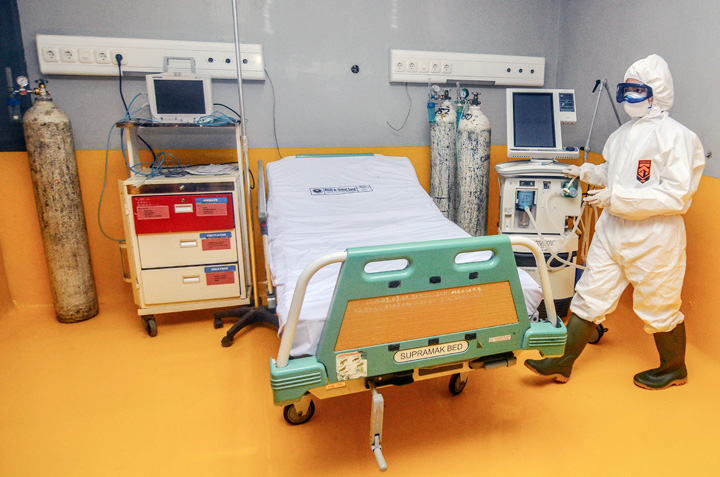 Isolation room for corona patients at Dr Slamet Hospital, Garut, West Java. ANTARA/Adeng Bustomi
However, the ministry did not distribute personal protective equipment equally to all provinces. "The burden in each region is not the same. In West Kalimantan there is only one patient," he said.
The health ministry two weeks ago appointed 10 provincial laboratories to examine specimens from corona-suspect patients. According to Yurianto, there are four Environmental Health and Disease Control Technology Main Centers as well as six Centers for Environmental Health and Disease Control Technology for this task.
The four main centers are in Jakarta, Yogyakarta, Surabaya and Banjarbaru (South Kalimantan). While the six local centers are in Batam (Riau Islands), Medan (North Sumatra), Palembang (South Sumatra), Makassar (South Sulawesi), Manado (North Sulawesi) and Ambon (Maluku).
Head of the Jakarta center, Naning Nugrahini, said that until now the Balitbangkes had not sent a primer, which is the basic material for determining if a sample is positive or negative for Covid-19. Without these primers, they cannot run tests.
"There are a number of hospitals from Jakarta, West Java and Banten that have sent specimens to us, but we cannot test them," she said. The Jakarta center finally sent the specimen to the Balitbangkes.
Naning heard that the Balitbangkes has ordered the primers, but they would not be available in two or three weeks. She is not sure that all centers would get the primary quota. "Perhaps as they did not order many, not every center will get it," she said.
Head of the Yogyakarta center, Irene, said that until March 13, tests were only conducted at the Balitbangkes. The staff at her office are only sending the specimens taken from hospitals to Jakarta.
According to Yurianto, the Balitbangkes is still unable to distribute primers because it is still training the regional staff in Jakarta. Once the training is finished, they will bring the primer home with them. "The Balitbangkes also needs to re-verify the existing equipment, to see if they are functioning properly or not," he said.
NUR ALFIYAH, LANI DIANA, ASHEANTY PAHLEVI (PONTIANAK), AHMAD FIKRI (BANDUNG), AHMAD RAFIQ (SOLO), PARLIZA HENDRAWAN (PALEMBANG), MEI LEANDHA (MEDAN), JAMAL A. NASHR (SEMARANG), NURHADI (SURABAYA), YOGI EKA SAHPUTRA (BATAM)