Kaaba Without Pilgrims
The Saudi government closed Mecca and Medina to minor pilgrimage. The country's economy takes a hit.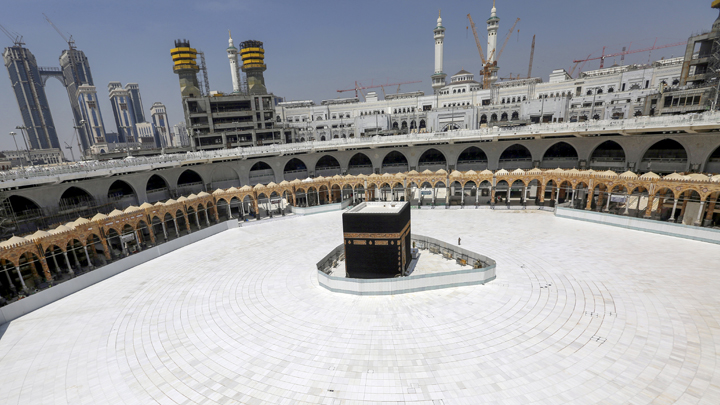 ZULKARNAEN Nasution, a haj and umrah (minor pilgrimage) guide from Indonesia, was driving down the Ibrahim al-Khalil Street in Mecca, Saudi Arabia, when he saw a group of people sitting on the yard of the Hilton Makkah Convention Hotel on the afternoon of Friday, March 6. The around 200 people wearing pilgrimage clothing were apparently Indonesians wanting to visit Kaaba at the al-Haram Mosque for a minor pilgrimage. "They had waited two days but couldn't enter for tawaf (circling the Kaaba)," Zulkarnaen told Tempo on Monday, March 9.
According to the man from Medan, North Sumatra, who has been a guide in Saudi Arabia for three and a half years, the Indonesians seemed disappointed. "They were hoping to see Kaaba." To fulfill umrah, Muslims must run from the Safa Hill to Marwa at the al-Haram Mosque and perform tawaf around Kaaba, which is located at the center. But the Saudi government has closed the complex in an effort to mitigate the coronavirus disease 2019, or Covid-19.
On March 5, when the complex was being closed down, Zulkarnaen saw Kaabah being cleaned and sprayed with disinfectant. Two layers of iron fences were erected around the structure purportedly built by the prophet Abraham around 2,000 B.C. Around one-meter tall fences were also erected between the pillars of the al-Haram Mosque, which faces Kaaba, so that people are not able to view Kaaba from that building.
As of March 13, the Saudi health ministry had announced 17 new corona cases, 11 of which were suffered by Egyptians now being quarantined in Mecca. As of Sunda, March 15 the total confirmed corona cases in Saudi have reached 103. The ministry also announced that one patient had recovered.
To prevent the virus from spreading, Islamic Affairs Minister Abdullatif al-Sheikh implemented several policies. According to the Saudi Gazette, these policies, among others, restrict Friday prayer to a maximum of 15 minutes and forbid i'tikaf, or staying at mosques overnight. Since March 8, the government has forbidden all visitors with an umrah visa from entering Mecca and Medina. This policy automatically prevents the minor pilgrimage. Saudi residents, however, are still allowed to visit both holy sites. "Mecca is still open to visitors from throughout the kingdom. Only umrah is postponed," Haj Deputy Minister Abdulfattah Mashat told Al Arabiya.
The Saudi haj and umrah ministry's 2018 survey recorded over 6.7 million people performed umrah during 2017-2018, or four times the 1.7 million who went on a haj pilgrimage. Umrah and haj activities contribute around US$12 billion or 7 percent of the country's annual gross domestic product. The Saudi government under Crown Prince Muhammad bin Salman plans to increase haj and umrah earnings to US$150 billion in 2022 as part of the 2030 Saudi vision and efforts to increase revenues from sectors other than oil export.
Around 43 percent of umrah pilgrims arrive in the Islamic months of Rajab, Sha'ban, and Ramadan, which fall between February and May this year. In other words, Mecca is closed during umrah peak season, which will impact Saudi's revenue this year.
Umrah agencies in Indonesia are also impacted. According to the religious affairs ministry, around 1 million Indonesians go on the minor pilgrimage each year. If the average cost of umrah is Rp20 million per person, such travel agencies may incur losses up to Rp20 trillion if they are not able to send pilgrims this year. Observing this development, Zulkarnaen Nasution decides to return home to Indonesia. "I'm going home. Why wait for an uncertainty?" he said.
IWAN KURNIAWAN