Chief of the Legal and Public Relations Bureau, Supreme Court, Abdullah: No Plenary Yet Prepared to Choose New Chair
Supreme Court Chairman Hatta Ali turns 70 years on April 7.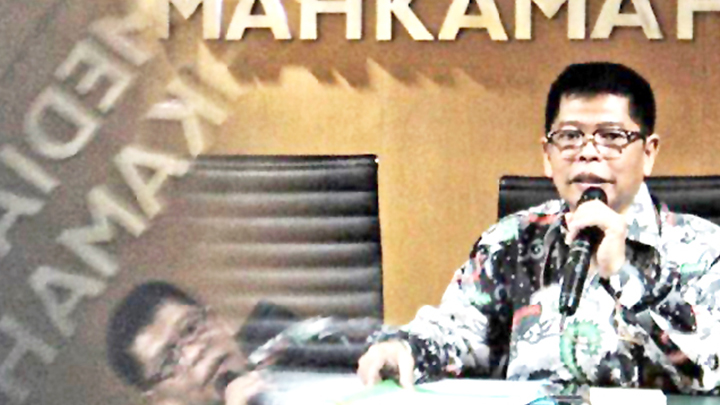 ACCORDING to Law No. 3/2009 on the second change on Law No. 14/1985 concerning the Supreme Court, a Supreme Court judge has to be pensioned off at that age. Despite the change having to happen in a matter of days, the Supreme Court has not yet planned a plenary to determine the new chair. Chief of Supreme Court's Legal and Public Relations Bureau Abdullah said, so far there has been no order to get the assembly ready. "But we are always at the ready for any sudden commands," said Abdullah through a teleconference on Thursday, March 19.
How have preparations been for the Supreme Court to appoint a new chair?
To date, we have received no information on when a plenary session will be held to select the new Supreme Court chair. It is still in the hands of the leaders. We don't yet know. Neither is there a committee, but it will be the same committee as usual, not one formed ad hoc. For sure they already know their tasks without need for any instruction. It'll be a routine matter.
In the annual Supreme Court report on February 26, Hatta Ali made no word of farewell, yet that was his very last speech. Is it because there's a plan to extend his term of duty?
I don't yet know. An extension of a term of duty is in the hands of the leadership, so we would not have any way of knowing. Neither may we comment on it. The annual report is the Supreme Court's accountability report to the public and to society.
Has Hatta Ali prepared a candidate to be his successor?
In this democratic era, would such an act be relevant? That is way off the mark. Pak Hatta is democratic. There's nothing of that sort.
There are three Supreme Court judges said to be strong candidates to become Hatta Ali's successor. Who are those three?
We here have heard nothing of the sort. Here, things are cool, exciting. The relationships between internal community members of the Supreme Court are outstandingly chummy. All Supreme Court judges are best of friends. Each has the same opportunity to be nominated or to nominate themselves in the first round. Later, the nominated judge will be put to the vote. The voting cards will be put into a transparent box. I can also choose another judge. The nominations are not through person A or person B. Also there's no campaigning. We are not the legislature. There are 48 Supreme Court judges, all hold the same rights.
The plenary session to choose the Supreme Court chair has totally not been prepared. Why then is the Supreme Court planning to hold a national coordination meeting instead, at the same time to celebrate Hatta Ali's birthday?
All our activities have been temporarily postponed till March 31 because of the call to contain the coronavirus spread. After March 31, we will reevaluate whether or not to go ahead with the event. Preparations for the event are completed. If suddenly it will be held, well, we're simply ready.
Recently a picture has been making the rounds of Hatta Ali with a businessperson looking over land in Mataram, West Nusa Tenggara, to be built into a hotel. Is Supreme Court chair allowed to make such a trip with a businessperson?
That's the perception of the public. Supreme Court chair can meet with anybody, nobody can limit that. For instance, they meet somebody, then shake hands, and people will say it was by appointment. Yet it's only public perception.
In that photo, Hatta Ali and the businessperson do not look like they met by accident…
Everybody has different networks, say, alumni associations, professional organizations, some have political parties, clubs from same places of origin, or from other places. So each person they meet will be construed differently. How difficult it must be to be a judge if merely meeting people is not allowed.
There's criticism surrounding the procedure of clearing up some 20,000 cases into only a mere 200 cases in the Supeme Court annual report in February. President Joko Widodo also made a reminder on the quality of the verdicts, and not only the quantity. Your response?
Quality is a commitment of the Supreme Court. We are always improving the quality of each decision. That is one of the points of our focus. Being a Supreme Court judge does not happen all at once. There's a long process behind it. From a career point of view, to become a Supreme Court judge, one has to have been a judge for decades before that. For those with no judge background, obviously there is a period of adaptation, you cannot suddenly be off and running.