Amin Soebandrio, Director, Eijkman Institute of Molecular Biology: The Novel Coronavirus Is Not Geographically Restricted
Ever since President Joko Widodo mentioned the need for decentralized coronavirus testing, Eijkman Molecular Biology Institute's phone lines have not stopped ringing.
"THE announcement caused a rush. A lot of people asked to be tested at Eijkman's lab," said Amin Soebandrio, the institute's director, during the special interview with Tempo at his office last Wednesday, March 18.
As the number of Coronavirus Disease 2019 or Covid-19 positive cases continued to climb, the government decided to decentralize lab testing which is usually done at the health ministry's health research and development center. During the press conference held at the Soekarno-Hatta airport on Friday, March 13, Jokowi said that the test could also be done elsewhere, among others, the labs at Airlangga University (Unair) Surabaya, East Java, and Eijkman Institute, the latter under the auspices of the research and technology ministry.
Amin, 66, said Jokowi's instruction was an implicit answer to the letter he wrote to Research and Technology Minister Bambang Brodjonegoro last January. That time, the corona outbreak was raging at its epicenter, Wuhan, the capital of Hubei province in China. Amin is confident that, coupled with its experience in handling the 2005-2007 avian flu pandemic and qualified laboratory and resources, the institute is capable of running tests to detect the coronavirus. "In essence, we are ready to assist (the health ministry) if we are asked to do direct detection or confirmation testing," he said.
In two different sessions of the interview, Amin explained to Tempo reporters Mahardika Satria Hadi, Gabriel Wahyu Titiyoga, Nur Alfiyah and Aisha Shaidra various matters, from the virus detection methods and Eijkman's role in testing samples to vaccine development opportunities. During the first session on Friday, February 28, before Indonesia's first positive case emerged, Amin had already stressed the importance of staying vigilant against potential imported cases.
What is Eijkman Institute's role in combating the coronavirus outbreak?
Eijkman is involved in two activities. First, in testing samples from hospitals to detect the virus. Second, in the vaccine development. The research and technology minister last Monday (March 16) said that Eijkman Institute has been asked to lead the vaccine development project. The target is that we have the vaccine seed ready within 12 to 18 months to be delivered to the industry, which in this case is Bio Farma, for vaccine production.
Who actually are involved in the vaccine development?
The corona vaccine consortium. It has Litbangkes (the health research and development center), Eijkman, Bio Farma and several universities. We haven't decided who will be members, but we have identified those with competence and commitment.
When did the government first contact Eijkman Institute to be involved in the Covid-19 management?
When Pak Jokowi announced last Friday (March 13) that tests could also be carried out in labs other than the Litbangkes, among others, in Unair and Eijkman. But we only received the research and technology ministry's official decree on Tuesday (March 17).
Did Eijkman ask to be involved from the start?
No. I sent a letter to the research and technology minister last January informing him that Eijkman has the capability, capacity, experience, tools, reagents, etc. to run the viral detection test. In essence, we are ready to assist (the ministry) if we are asked to do direct detection or confirmation testing. We asked (the ministry) to convey the message to the health ministry. We referred to our experience during the 2005-2007 bird flu outbreaks. That time Litbangkes' results were always confirmed at our lab.
What was the response?
Research and technology minister immediately inform health minister (Terawan Agus Putranto) verbally. The health minister has also been invited to Eijkman to see our facility, but he hasn't come yet. Until yesterday, we haven't been asked to be involved, perhaps because the number of cases was still low and the health ministry was still managing on its own.
Has Eijkman ever analyzed swabs from people with corona symptoms?
Actually, we informally tested samples from several hospitals because some say they have more confidence in Eijkman. In January, we analyzed 10 samples from patients who that time met World Health Organization (WHO) criteria to be classified as suspects. That time the virus was still called nCoV-2019 (now SARS-CoV-2).
What were the results?
The results were all negative. Just ordinary influenza infection.
Did the samples come from hospitals which have been designated to handle the Covid-19 cases?
No. From private hospitals and several institutions but I cannot give the names here.
From which region?
All from Jakarta.
That was before the government announced the first positive cases of Indonesia.
But some had sent samples. I happened to know some of them (the doctors) who asked me to check suspicious cases.
What kind of suspicious cases?
Symptoms that matched those of Covid-19 and people who had recently made overseas travels.
To Wuhan?
Not all. And in fact, some who returned from Wuhan tested negative. They were on tour and almost trapped in Wuhan. They rushed back home at the onset of the outbreak.
How many samples did Eijkman test since it first became involved in the Covid-19 management?
That's what we are still recording as the official designation letter only came in last Tuesday. But one thing for sure is that our two phone lines have not stopped ringing. The announcement (of Jokowi) has caused a rush. Many people, including reporters, asked to be checked at Eijkman. Since Pak BKS (Transportation Minister Budi Karya Sumadi) was declared positive, all the journalists who closely followed his activities got nervous.
How do you respond to these requests?
Since by principle Eijkman does not accept direct samples, I advised them to go to hospitals. But hospitals also have a policy: they don't refer healthy people for the test, and many were rejected. So, they came back to me, saying 'I was turned away by that hospital.' If there are no symptoms, hospitals do not have the reason to refer people for the test.
With the soaring number of virus carriers without showing any signs, what is the ideal way to test people?
Since carriers already have the virus, they will develop symptoms during the 14 days of the incubation period unless they could take care of themselves until the virus disappears.
So they don't need to get tested immediately?
Actually, it's not necessary to check immediately if you have had contact (with someone who may have signs of infection). The most crucial thing is to self-quarantine to prevent the spread while making sure that you not infected. You are considered safe if there are no symptoms after 14 days.
How about the people who are infected but due to their good immune system they don't develop any symptoms but, in the end, they spread the virus to others?
That can happen. Now people are inclined to know if they are infected or not. Say, your results are negative on the second or third day of the incubation period. It doesn't mean you will remain negative in the following days, whoever you are or whether you've had contact (with sick individuals) or not. It's only valid for everyone in incubation period as well as those who just want to check their condition. They should not think that they can get the coronavirus free health certificate. Singapore, for example, requires travelers from Indonesia to present this certificate while in fact it is only valid at the time of the test. You don't know what will happen in the next hour.
Is there misconception among the public?
Yes. We can't possible ascertain that we're constantly coronavirus free. Like the certificate above. You are declared healthy at the time of the test but you can get sick in the evening. We just don't know, you see.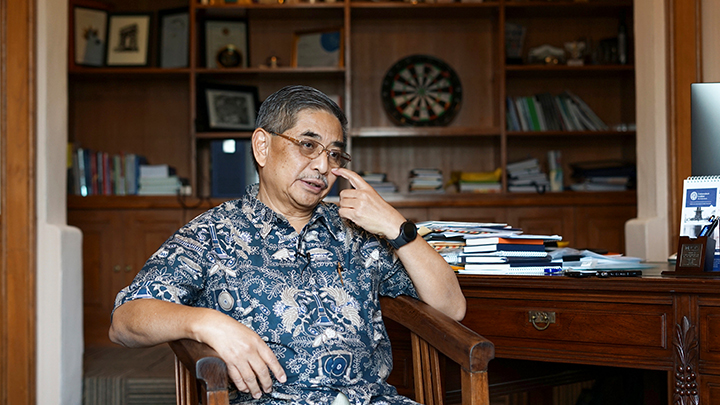 Amin Soebandrio in Jakarta, last February./TEMPO/Muhammad Hidayat
So, what is an ideal check?
If someone has already completed the 14 days of quaratine (the incubation period), he or she has to be tested at the end of the period. To make sure that someone who was previously sick is free of the virus, for example, he or she must be tested at least twice in a row every two days (serial). Only afterwards, he or she can be declared positive or negative.
How about a coordination mechanism between different labs?
The areas have been divided into, like zones. For example, X lab for a given zone. Actually, it is aimed at preventing a certain lab from being overburdened.
Which areas fall under Eijkman's zone?
Not many, actually, just those in the environs. But that is not a rigid guideline. The virus is not geographically restricted. It follows humans who move between different zones. So, we cannot limit that the infection in North Jakarta is different from that in South Jakarta.
How prepared is Eijkman's laboratory?
Currently we are still using the existing facilities and employing people who have routinely done the job. There are five researchers who routinely carry out the PCR test (polymerase chain reaction—a virus detection method). We can still manage at the moment as we can test up to 80 samples on one go. But later if the number climbs drastically, we surely have to increase our capacity.
How long does it take to analyze (each sample)?
Every day we run one PCR test which takes four to five hours. So, the samples are processed in the morning and if the results are negative, we report the results and it's done for the day. But if the results come out positive, the samples are reanalyzed for confirmation. We have to double check (the sample) to reconfirm the results while we hold the results. Samples that come in the afternoon have to follow the next day batch. That's why we say that it takes two to three days to get the result.
Do you still need to perform crosscheck using the genetic sequencing method?
Before we use the tool from the WHO, we used two steps. First, the PCR with pan coronavirus primer so all types of corona viruses were detected. Only when the result was positive, we confirmed it with the genome sequencing. But now we use one method recommended by the WHO and CDC (the US disease control and prevention agency) especially for SARS-CoV-2 detection.
The government is pushing for rapid testing. Is Eijkman also using it?
Rapid test does not detect the virus but antibodies (in infected people). We don't use this method. The PCR is still the gold standard method. Positive results from rapid test must still be confirmed with the PCR. Rapid test may be used to screen patients with suspicious symptoms whom doctors decide to treat normally or as a PDP (patient under surveillance). The PCR test currently takes time.
Is Eijkman also involved in the taskforce for accelerated handling of Covid-19 lead by chief of the National Disaster Mitigation Agency (BNPB)?
I was asked to be a member of the expert team (chaired by Prof. Wiku Adisasmito).
---
AMIN SOEBANDRIO
Place and Date of Birth: Semarang, July 2, 1953 • Education: Faculty of Medicine, University of Indonesia (1977); PhD in Immunogenetics, Osaka-Kobe University, Japan (1988); Specialist in Clinical Microbiology, Faculty of Medicine, University of Indonesia (1992); Professor of Clinical Microbiology, University of Indonesia • Career: Head, Functional Medical Staff of Clinical Microbiology, Cipto Mangunkusumo Hospital (1996-2000), Assistant Deputy for Health and Medicine, Ministry of Research and Technology (2000), Senior Lecturer in Clinical Microbiology, Faculty of Medicine, University of Indonesia (Since 2004), Advisor on Health and Drugs to Minister of Research and Technology (2007-2013), Director, Eijkman Institute of Molecular Biology (Since 2014) • Recognition: Satyalancana Pembangunan (2000), Satyalancana Wirakarya (2002)
---
What has been discussed within the taskforce?
We had a meeting at the BNPB building on Sunday (March 15). Representatives from the IDI (Indonesia Medical Association) board were also present. One of the recommendations of the meeting is to make patient information public to facilitate contact tracing. IDI representatives said that it did not violate the law.
What is the impact on the management of the outbreak?
The identity of the (infected) patient should be known to others. As such, those in his or her circle will know, 'I've been in contact with A.' It is hoped that they will voluntarily come to hospitals, labs or health departments at least to report to that effect. They will be put in the ODP (person under observation) list.
Mustn't patient's identity, except the gender and age, be kept confidential?
The initial consideration is to maintain the patients' privacy as part of the medical professionals' Hippocratic Oath. Provisions in the electronic transaction and information law, the medical law and the hospital law prohibit public disclosure of patient's personal and medical data except by court order or for greater public interests.
Why is it now recommended to disclose them?
Patients' data may be disclosed if there are important considerations for the interest of the public. We look at it from the aspect of pandemic control. The faster infections are identified, the faster they will be tackled. Because just one day in delay, one infected person can go around and possibly infect many others. Patient identification is not for stigmatizing. We have repeatedly said that people should not be embarrassed by coronavirus infection because it is not caused by indiscriminate behaviors. Everyone can get it.
From Eijkman's experience in handling the avian flu pandemic, what chances do you have to develop the Covid-19 vaccine?
The vaccine we produced in 2011 was for poultry. We could produce the vaccine seed within 10 months. Regulations for animal vaccines are less stringent compared with those for human vaccines. And there were not many cases involving humans that time. Meanwhile, today, there is no anti viral drug for humans. That time it was treated with Oseltamivir (anti-flu medication).
Is it possible to develop a human vaccine now?
We've prepared two strategies. If we already have the virus, we just have to study the antigens that can be used to make vaccine. But, since we don't have the viral isolates yet, we can use the in-silico technique where the genetic information of the virus sent by researchers in other countries to the GenBank or GISAID is used. Then, using bioinformatics, the virus' genetic information can be manipulated to predict its antigenicity. Based on the information, synthetic peptides are created to develop the vaccine.
Some allege that Eijkman and other research institutes are taking part in the anti-coronavirus management initiatives to get foreign aid. What is your response?
Well, go ahead and see. We will keep pushing on as Eijkman's research is largely funded by the research and technology ministry. We definitely work through international collaboration as we can't possibly work on our own.
How much of Eijkman's research is funded by the government?
International cooperation is around 15 percent of the total activities. Even that did not come in a financial form because officially we are not allowed to receive money from foreign parties. So, they supply the equipment, reagents and fund costs if samples need to be brought from outside the city. You can see that actually the amount is not huge.
How did the international cooperation go during the avian flu pandemic?
It was centered in the national commission on the avian influenza and pandemic influenza control working with the USAID and other international agencies.
W251bGwsIjIwMjEtMDMtMDUgMDg6MzE6MDUiXQ