Unarmed on the Front Lines
Medical personnel are struggling to treat coronavirus patients with limited supplies of protective equipment. Amid the shortage, a number of researchers are predicting a spike in confirmed Covid-19 cases in Indonesia. Experts believe that current health care facilities will not be able to accommodate the rising number of patients. There is not enough pulmonologists available to handle this predicted spike.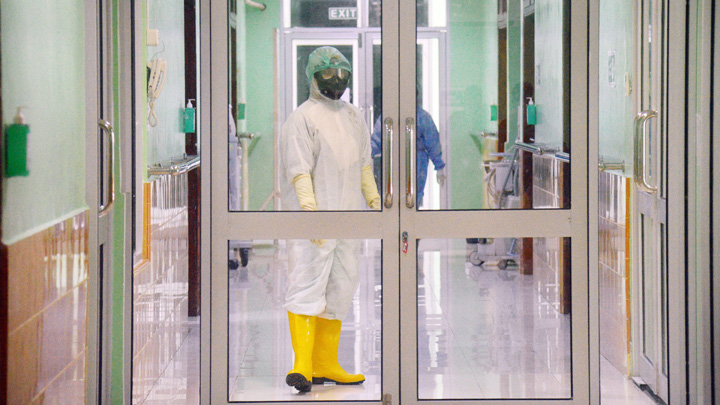 LISTIYANTI now wear more layers of protective gear than usual. Prior, the isolation ward nurse at the Sulianto Saroso Infectious Diseases Hospital (RSPI) would wear a hazmat suit and an N95 mask when making contact with a Coronavirus Disease 2019, or Covid-19, patient. When moving on to a new patient, she would change her entire gear.
Since March 18, the 40-year-old nurse has had to wear a single use medical robe made of plastic over her hazmat suit, and a surgical mask over her N95 respirator. When moving on to a new patient, Listiyanti would take off her surgical mask and plastic suit, but not the hazmat suit and N95 mask. "We have to use (protective gear) sparingly," she said. According to her, the procedure was implemented when the hospital management announced that the supply of protective gear at RSPI Sulianto Saroso was beginning to thin as the number of Covid-19 patients grew.
The Dr. Sardjito General Hospital in Yogyakarta implements a similar procedure. The hospital's Emergency Room Chief, Handoyo Pramusinto, says the hospital's supply of protective gear will only accommodate needs for another two months despite the hundreds of people wanting to get tested for corona at the hospital. Additionally, hospital personnel must also treat under monitoring patients (PDP).
To navigate the situation, said Handoyo, medical staff have arranged a schedule for treating patients. Doctors and nurses, each wearing a set of protective gear, will visit low-risk patients before treating the high-risk ones. After that, the gear is decontaminated. More recently, they received a donation of hazmat suits at Rp850,000 each—Rp600,000 more expensive than the standard protective suits owned by the hospital. "Sparingly doesn't mean lowering standards," said Handoyo.
Besides protective gear, there is also the limited availability of beds and ventilators at Covid-19 referral hospitals. Atika Rahmawani, a nurse at RSPI Sulianto Saroso, says the hospital's isolation ward—with one bed per one room for infected patients—only has 11 beds and one ventilator. After the number of corona patients swelled, RSPI Sulianto Saroso added several rooms in the intensive care ward and two ventilators. As of March 19, the hospital had 51 Covid-19 patients in its care. "Now the beds are at maximum capacity," said Atika.
THE overwhelmed medical staff and limited facilities at Covid-19 referral hospitals were the topics of discussion during a meeting organized by Presidential Special Staff member, Andi Taufan Garuda Putra. The 2.5-hour video conference was attended by 16 experts and representatives of the Covid-19 Mitigation Acceleration Task Force. Sidrotun Naim, member of the Indonesia Strategic Institute board of experts, who attended the meeting, said the experts criticized the government when discussing the problem of medical staff and facilities.
According to Sidrotun, the government should be guaranteeing the availability of protective gear for doctors and nurses, especially because they are dealing with a dangerous virus without a vaccine. "They are on the front lines and must be armed. If not, don't be reckless and go into the battle zone," said Sidrotun.
Mesty Ariotedjo from the Indonesian Pediatric Association, who also attended the video conference, believes that health facilities at referral hospitals are inadequate against the spike in the number of corona patients. Quoting the research of Indonesian researchers, experts who participated in the meeting say Covid-19 cases will increase drastically over the next few weeks. "We recommend that the government prepare isolation wards and respiratory aids at non-referral and private hospitals," said Mesty.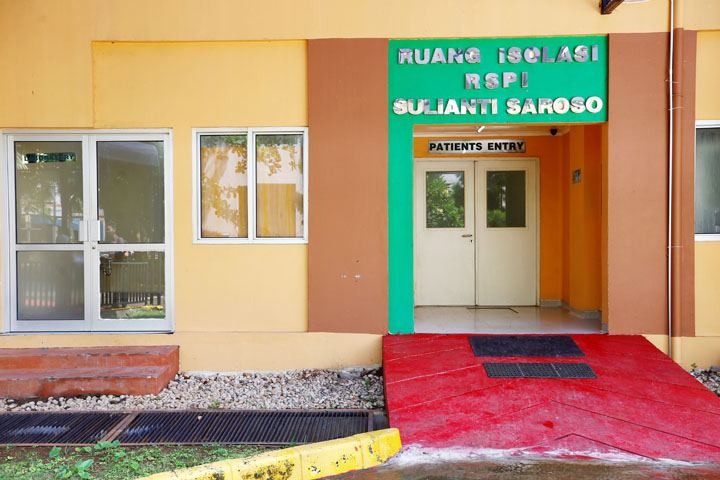 The isolation ward in RSPI Sulianti Saroso, last February. Reuters/Ajeng Dinar Ulfiana
One of the studies referenced is one led by Nuning Nuraini from the Bandung Institute of Technology's (ITB) Mathematical Modeling and Simulation Center. Using a model developed by F.J. Richards from the Imperial College London, Nuning and her colleagues estimated that there would be a drastic spike in late March-early April. Based on official figures released by the government on March 2-7, they predicted that there would be 8,000 confirmed coronavirus cases on April 12. "The number of new cases each day will also increase to 600 patients," she said.
But the predicted figure has only grown. On March 21, using the government's official data on March 2-20, Nuning and her team predicted that there will be 60,000 confirmed coronavirus cases in mid-April. Meanwhile, the number of new cases will increase to 2,000 patients per day. According to Nuning, her team chose Richards's model because it has been proven to be accurate in predicting the endemic phase of the severe acute respiratory syndrome (SARS) outbreak in Hong Kong in 2003. Even so, Nuning warns that the modeling is only part of a preliminary study, whose result may change according to the latest patient data.
Based on these predictions, the worry of experts invited to the palace meeting is more than reasonable. In Jakarta alone, the province with the highest number of Covid-19 cases, there are only 66 beds in the isolation ward. Quoting the data published on the official websites of referral hospitals and health ministry's health services directorate-general, these facilities are spread across three out of eight referral hospitals, namely, RSPI Sulianti Saroso, Persahabatan Hospital and Fatmawati Hospital. The number of available beds can grow to 500 units if one takes into account the number of beds in intensive care units, which were not built to quarantine infectious diseases patients.
Deputy Chief of the Jakarta Health Office, Khafifah Any, says all Covid-19 referral hospitals, in fact, have isolation wards with beds. "But the numbers are indeed very limited," she said. The Jakarta government is planning to add 500 new beds to a number of hospitals until early April.
To anticipate the need of isolation wards, the government is also rehabilitating the refugee camp meant for Vietnamese displaced persons on Galang Island, Riau Islands, so that it can function as an isolation hospital.
Public Works and People's Housing Ministry Director-General of Housing, Planning, and Urban Development, Danis Hidayat, says the isolation hospital is scheduled to be completed at the end of March. The contractor is rallying 1,400 workers to finish the development of 400 isolation rooms. "The estimated cost is Rp400 billion," said Danis.
President Jokowi has also ordered the Covid-19 task force to turn the Kemayoran athletes' dormitory into an emergency hospital. The faciilty, which was used for the 2018 Asian Games, has over 7,000 rooms in three buildings. The President asked for the dormitory to officially open as a hospital at the latest Saturday night, March 21.
Several hours before the planned opening on Saturday, March 21, tens of workers appeared busy at the dormitory site. A number of people were using lawnmowers to trim the weed growing in the yard. Dozens of black trash bags were piled in the lobby of Tower 1. An Indonesian Military (TNI) member assigned to Tower 1 says not just anyone allowed to enter since it was decided that the site would become an emergency hospital. Only Adhi Karya employees and those with authorization can enter.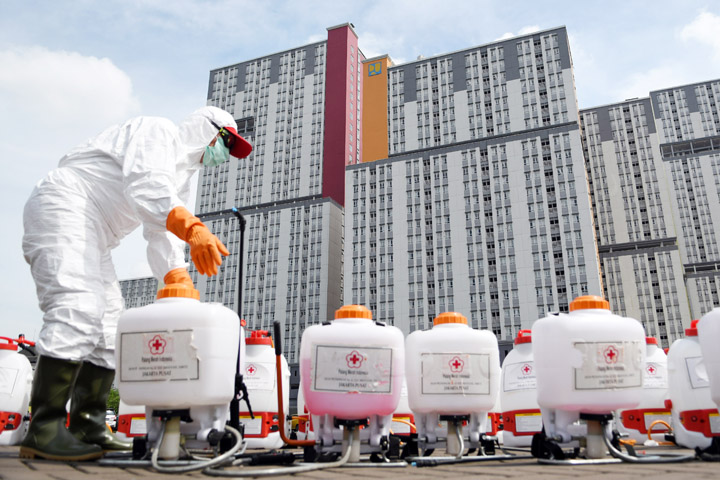 Disinfectant spray at the Kemayoran athletes dormitory, Jakarta, March 21. ANTARA/M. Risyal Hidayat
State-Owned Enterprises Minister Erick Thohir has ordered government hospitals to help manage corona patients. As many as 65 state hospitals with a total capacity of 155 beds and 66 observation rooms will be prepared. The government is also making use of 162 hospitals owned by the National Police and TNI. "We are mobilizing all the resources and infrastructures we have to overcome this outbreak," said Achmad Yurianto, government spokesman for Covid-19 mitigation efforts.
Additionally, the government is attempting to supply a number of health equipment, which has grown scarce in the market. In early March, President Jokowi said Indonesia still had a supply of 50 million masks. But last week, masks were still scarce in the capital city and other regions. On the night of Friday, March 20, two pharmacies at the Pejaten Village Mall, South Jakarta, had run out of face masks and hand sanitizers. Likewise, the state-owned phamarcy Kimia Farma in Jalan Warung Jati Barat, South Jakarta. According to the pharmacy's employee, Tami, masks were still available in the morning but were sold out in a matter of hours. "Each customer was only allowed to buy one package containing two masks."
Chandra Kristianto, a bank employee in South Jakarta, says he has had trouble finding face masks at a number of pharmacies in Semanggi and Bendungan Hilir. He only managed to obtain some on March 16, when his office began to distribute one mask to each employee every day. Novitri, a private employee in West Jakarta, even asked her family in Tuban, East Java, to find her masks. But even there it has been difficult to find some for sale. Rachmawati, a marketing employee, has also had trouble finding masks on online shops. "One mask can go for Rp5,000-8,000," she said.
The SOEs ministry is promising to make 4.7 million available through a state pharmaceutical company by the end of March. Indofarma Chief Executive Officer (CEO) Arief Pramuhanto says his company has been instructed to produce masks for domestic demands. However, the machine for manufacturing masks, planned to be purchased from China or India, will only arrive in two months, or in May. "The maximum capacity is 600,000 per month," said Arief.
Another concern is the number of medical personnel who will be handling corona patients. According to chairman of the Indonesian Society of Respirology (PDPI), Agus Dwi Susanto, there are around 1,000 pulmonologists in Indonesia, 200 of them work in Jakarta. Ideally, he explained, one pulmonologist should only be treating 10 patients. If the spike to 60,000 coronavirus patients happens at the end of May, as predicted by ITB mathematicians, there may be a shortage of pulmonologists.
Agus says corona patients are currently manageable. "There are enough pulmonologists," he said. If the spike happens, doctors with other specializations must necessarily be involved. But, with an outbreak that has spread wide, said Agus, the availability of doctors, nurses and medical equipment is no longer the primary concern. "There must be a policy that disrupts the chain of transmission, such as partial quarantine in regions with a high number of cases," said Agus.
LOCKDOWN was among the topics discussed during the health experts' meeting with the presidential special staff and the Covid-19 task force. Sidrotun Naim, member of the Indonesia Strategic Institute board of experts, say all experts disagree with completely isolating cities. Instead, they recommend modifying an isolation scheme of closing city borders and still allowing residents to deliver supplies and access health facilities.
A mitigation plan, should the government decide on a city quarantine, was also discussed. According to Sidrotun, experts are urging the government to conduct tests on a mass scale as soon as entry points are closed, possibly by visiting homes or assigning health clinics to function as testing posts. This discussion heated for some time, as most of the meeting's participants felt that the government should have been more prepared to perform testing before the disease spread. "The government should have used a crisis mindset, not a regular work rhythm," said Sidrotun, relaying input from a meeting participant.
The meeting grew even more tense when discussing the government's transparency. Sidrotun says an expert took issue with Jokowi's statement made on March 13, that the government was not making all data concerning the spread of the coronavirus disease open to public. At the time, Jokowi said he did not wish to create panic. According to said expert, the lack of transparency, such as concerning the real-time number of confirmed cases and transmission locations, may have caused the disease to spread further.

A Jakarta government official handling corona affairs says the information routinely relayed by the government does not describe actual field conditions. For example, he said, on March 18, the government reported 19 coronavirus-related deaths, 12 of whom were in Jakarta. However, said the official, the figure of 12 deaths in Jakarta was already known several days before the announcement.
Achmad Yurianto, dismisses the accusation that the government is covering up the number of confirmed corona cases and related deaths, arguing that hospitals do not report deaths on a routine bases. "The central government must again collect data on the numbers," said Yurianto.
Then what is the actual number of people infected with the novel coronavirus? Makhyan Jibril, a doctor who went to the University College London, used an epidemiological model by Tomas Pueyo—a tech expert and Stanford University graduate. Using this method, Makhyad came up with the formula that the number of people infected with corona is, in fact, 27 times more than the number detected by the government. Meaning, if the government announced 450 cases on Saturday, March 21, with 38 deaths and 20 recovered, there was an estimated 12,000 corona cases in Indonesia that day. "That's the mathematical equation. Can be lower or higher," said Makhyan.
Meanwhile, Achmad Yurianto estimates hundreds of thousand Indonesians are at risk of being exposed to the coronavirus. "According to our calculation data, the number of people at risk are at around 600 to 700,000," he said on Friday, March 20. The government, said Yurianto, is attempting to anticipate impacts by preparing mass testing in the near future, particularly for those who have had direct contact with confirmed corona patients.
RAYMUNDUS RIKANG, BUDIARTI UTAMI PUTRI, NUR ALFIYAH, PRAMONO, ANWAR SISWADI (BANDUNG), AHMAD RAFIQ (SOLO), SHINTA MAHARANI (YOGYAKARTA)