Those Who Risk Their Lives
All healthcare providers and staff in health facilities are vulnerable to contagion of Covid-19. Not only do they provide care, they also listen to the worries of the patients.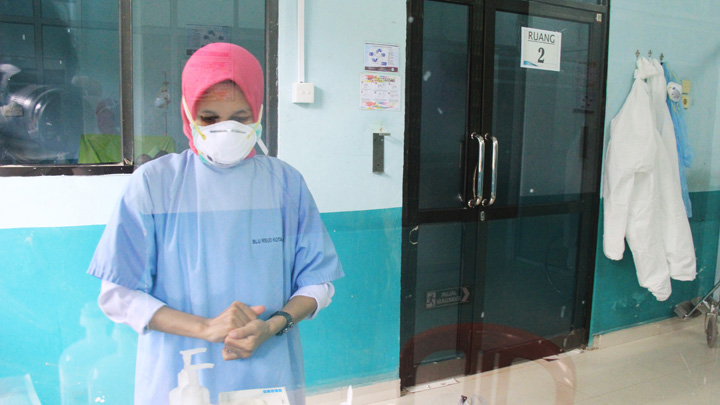 THOUGH she had not yet finished making her observations on a Covid-19 patient, already Atika Rahmawani was given a new task. The head of the nursing team on duty at the Sulianti Saroso Hospital for Infectious Diseases (RSPI), Jakarta, gave news a patient suspected of corona was waiting in the emergency unit. "I was tasked with bringing the patient to the isolation room," she said on Friday, March 20, relating her duties from early March, when the infectious disease triggered by the coronavirus had just begun to spread in Indonesia.
Atika hurriedly headed for the anteroom to change her protective gear. The 36-year-old nurse slipped off her visor, opened her tight-fitting goggles, took off her N95 mask which made it difficult for her to breathe properly, removed her hazmat gear—the astronaut-like protection suit—which had made her nurse's uniform sopping wet with her own sweat, and took off the long gloves and boots she was wearing. Atika was left wearing her daily uniform.
She wiped the visor and goggles with disinfectant wet tissues. She cleaned her boots with a chlorine solution. Atika then replaced the rest of her gear with a new set. An Infection Control and Prevention Nurse (ICPN) watched her on a closed-circuit television (CCTV) camera. If any of the protective gear was not properly fastened, the ICPN would reprimand Atika through the intercom. That time everything was fine.
Pacing her breath carefully, Atika approached the second Covid-19 patient. Each nurse is only allocated two patients to observe. Atika measured the patient's blood pressure, looked at their temperature, asked how they were feeling, and at the same time indulged the patient in chitchat. After the check-up which lasted an hour, Atika returned to the anteroom. Again she removed her entire protection gear, cleaned up, then changed into a new set as before. After that, she scurried off to the emergency unit, received a new patient, and followed all the instructions given by the head nurse.
---
"Indeed, some doctors have died for treating corona positive patients."
—Mohamad Adib Khumaidi
Deputy Chair of the Indonesian Doctors Association Central Board
---
Atika took the patient to the isolation room together with another nurse. "After that, I took all the protective gear off, showered, washed my hair, then returned to the nurse's station to observe the patient through the CCTV," she said. On each shift, Atika can shower and wash her hair up to three times in the hospital.
This has been her routine since Covid-19 began spreading in-country. The RSPI Sulianti Saroso is the first referral hospital to handle corona patients. Since receiving Case 01 and Case 02 Covid-19 patients on March 1—when they were as yet not declared positive—all health care staff of the facility were required to put on protective gear. Without the protective shield, they would have been rendered vulnerable. "We ourselves first have to be safe, because we too have families. At least that (safety) is our initial priority," said Listiyanti, another nurse at RSPI Sulianti Saroso.
Nevertheless, some medical staff did succumb to the virus. Up to last weekend, at least two doctors have reportedly died from corona. Deputy Chair of the Indonesian Doctors Association (IDI) Central Board, Mohamad Adib Khumaidi, verified the report.
"Indeed, some doctors have died for treating corona positive patients," said Adib on Saturday, March 21, when asked for confirmation. According to Adib, IDI is currently awaiting for complete data before they can verify the number of medical personnel and health workers who died while working on the frontlines.
ATIKA and Listiyanti are two of 30-some nurses handling Covid-19 patients at the RSPI Sulianti Saroso hospital. They treated Nursita Tyasutami (known as Sita, patient Case 01), Maria Darmaningsih (patient Case 02), and Ratri Anindyajati (patient Case 03) alongside some other patients in turn. "I am afraid of getting infected. But, if I don't do this, who's going to do it?" said Listiyanti. All three patients have been healed and are now back in their home in Depok, West Java.
A similar sense of anxiety is felt by nurse Edi Sukoco at the Dr Sardjito Central General Hospital, Yogyakarta. The 49-year-old man is worried that he may infect his wife and their two children at home. To keep on the safe side, Edi always makes sure he takes his own temperature before leaving work and goes straight to a doctor whenever he starts coughing.
Though living in anxiety, these nurses continue taking care of the needs of patients in the isolation wards, preparing them food, giving them liquids and supplementary medication, while monitoring the patients' condition. When conditions take a turn for the worse, it is they who move in quickly to handle things.
Not only do they give the patients care, they are also willing to lend their ears to each patient's concerns and worries. Sometimes they dispense jokes or encourage them to sing. "I put myself in their shoes, sick and all alone in the isolation room for days and days. They must feel stressed out," said Listiyanti. In fact, stress will decrease the body's immune system badly needed to fight the coronavirus.
Maria Darmaningsih related how the nurses at the RSPI Sulianti Saroso were very responsive to all her needs. She called them often, whenever her drinking water was depleted. They also tried to quell the worries of her daughters, particularly Sita. Sita had cried long and hard for feeling guilty that she had exposed her family to the coronavirus. Sita was also very stressed out for being at the brunt end of bullying on social media. "They came, patted her, and tried to calm her down through the intercom," said Maria.
A resident doctor at the Hasan Sadikin General Hospital in Bandung, West Java, Kevin Fachri Muhammad, also often get patients in isolation into conversation. The patients sometimes calls him for a videochat. They need a friend to quell their fears for being corona positive. "If we don't give them with positive vibes, we're afraid they'll slip into depression," he said.
Chair of the National Nurses Association of Indonesia, Harif Fadhillah, said, these nurses on the very front lines of referral hospitals are vulnerable to Covid-19 contagion. But his organization is more conerned about medical staff working in the non-referral hospitals, particularly those handling the emergency unit wards. They are not given adequate protective gear. In truth, it is highly possible a patient who arrives is already infected with corona. "Before the lab results come out, they would have no way of knowing whether the patient is positive or not," he said. A nurse in a non-referral hospital in Jakarta had died of Covid-19.
Surakarta Islam Foundation Hospital (Yarsis) in Sukoharjo, Central Java, is an example of a hospital that got the bad end of the stick. A patient who died in the Dr Moewardi Regional General Hospital in Surakarta, who was then confirmed Covid-19 positive, was a referral from the Yarsis Hospital. The hospital ended up having to quarantine 45 of its staff who had contact with the patient for two weeks. The room had to be sterilized. Since then, Yarsis Hospital has put in place a new procedure. All staff are compelled to wear complete protective gear when receiving patients. "We learned from that first lesson," said Yarsis Hospital General Director, Iswati.
NUR ALFIYAH, PRAMONO, AHMAD RAFIQ (SOLO), ANWAR SISWADI (BANDUNG), SHINTA MAHARANI (YOGYAKARTA), ASHEANTY (PONTIANAK), MADE ARGA (BALI), JAMAL A. NASHR (SEMARANG)