A War Without Ammunition
The WHO has cautioned early about the world's unpreparedness to face the corona pandemic. Health workers in the United States are complaining about the limited testing equipment available and the shortage of face masks.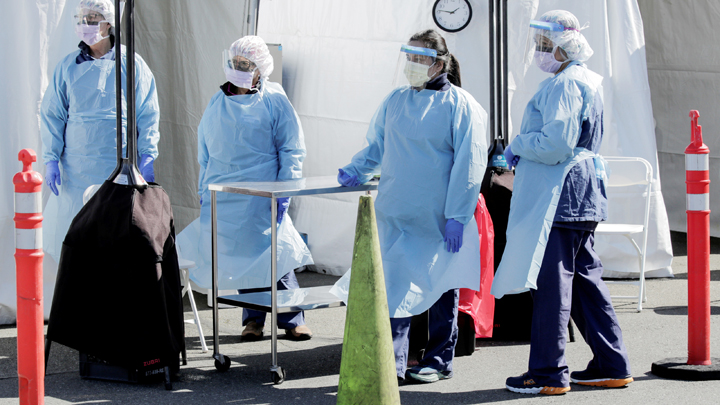 AN early warning on the international community's unpreparedness in facing the coronavirus was already expressed by the World Health Organization (WHO) at the end of last month. "We need to keep this virus slowed down because health systems around the world, and I mean North and South, are just not ready," said Mike Ryan, WHO Health Emergencies Program executive director, during a press conference at the WHO Headquarters in Geneva, Switzerland, February 28.
At the time, 84,615 corona cases were recorded all over the globe, with 2,923 deaths. Most of these cases and deaths were in China, at 79,251 cases and 2,835 deaths. Outside of China, the numbers were still relatively small at 4,351, with 67 deaths in 48 countries. No corona case was yet discovered in Indonesia at the time, while there were already 63 cases in the United States and 74 in Germany. No deaths were yet recorded in both countries.
Mike Ryan's hope of not seeing the coronavirus spread further did not come true. The number of cases grew throughout the world. As of March 22, the corona cases had fourfold increased to more than 330,000, with the number of people confirmed to have died surpassed 14.500.
Countries tried to mitigate the spread using various ways. Some put cities on lockdown to prevent transmission, while others tested their citizens and urging limited mobility, asking the public to stay at home to minimize the potential for transmission. Naturally, these countries put their health workers on alert and prepared supporting facilities.
These are efforts that were also undertaken by the United States, a country that, as of March 22, had recorded more than 31,000, with 390 deaths. Besides asking the people to limit activities outside their home, the United States is planning to perform testing on a mass scale, to identify the disease's distribution and act to mitigate. But, as mentioned in the Washington Post, the plan is prevented by a shortage of testing equipment.
Rush University Medical Center spokesperson Brian Stein says the delay in obtaining test results means that hospitals must make their medical staff wear protective gear longer without knowing whether patients can potentially infect others. In many places throughout the United States, the shortage in testing equipment has forced officials to create a priority scale for coronavirus testing.
On Tuesday, March 17, the Minnesota Health Department announced that, "Due to the national shortage in Covid-19 laboratory testing equipment, the state is forced to make an adjustment by focusing on specimens with the highest priority, including patients being treated at hospitals."
Utah health officials are also asking patients not to take the test unless they are showing Covid-19 symptoms. "We are faced with infrastructure and logistical challenges that are preventing us from being able to test everyone," said the state's epidemiologist, Angela Dunn.
According to the New York Times, another equally worrying problem is the shortage of face masks, surgical suits, and eye protectors. American hospitals have, in fact, been complaining about these shortages since early March. Besides patients, the face mask, for example, is much needed by health personnel.
The shortage of health equipment at hospitals is not only caused by the dwindling global supplies since the prolonged epidemic broke out in China but also due to panic buying. Most hospitals did not keep large supplies because they had been purchasing according to needs.
Doctors who see many sick patients outside of hospitals have grown increasingly worried. A doctor at an NYU Langone Health System clinic said, "We don't have N95 masks and are asked to see patients using surgical masks. We are considering refusing to handle potential Covid-19 patients unless we have appropriate protection."
"It's like we are at war without ammunition," said a surgeon in Fresno, California, describing the situation currently faced by health personnel. The surgeon, who wishes to remain anonymous, claims to not have access to the most basic surgical masks at his clinic and has a limited supply of respirator masks in the clinic's operating room.
According to the Washington Post, the national supply only includes 12 million N95 masks and 30 million surgical masks, or only around one percent of the 3.5 billion demand for one year predicted by the Health and Human Services (HHS) Department.
Nicole Lurie, assistant secretary for preparedness and response at the HHS Department during the Obama administration, says the shortage of protective gear for health personnel is worrisome. "If you can't protect health personnel and they get sick, the whole system will shut down," she said.
The government and hospitals are maneuvering to face the shortage of protective gear. To save on current supplies, the Chatham Hospital in Siler, North Carolina, for example, only allows one doctor and one nurse to examine a patient with respiratory symptoms.
Several hospitals are employing more serious tactics. On March 18, the Saint Peter Health System in New Jersey warned doctors via email that they would be subject to a disciplinary sanction if they wear a mask while not examining a patient.
In Oregon, a health official in Multnomah County is urging the public to donate rubber gloves, protective glasses, and masks that people may have at home or at work. The county, which covers Portland, only has enough medical supplies for less than one week.
Rebecca Bartles, head of infection prevention for the Providence St. Joseph hospital network based in Washington, says only several days are left before some of the network's 51 hospitals and 800 clinics run out of protective gear. This endangers the United States' capability to respond to the corona pandemic, which is currently still in its early stage.
In Bulgaria, the limited availability of health equipment is giving the country's health personnel cause for concern. According to Aljazeera, dozens of doctors and nurses tendered their resignation from two hospitals in Sofia, the capital city of Bulgaria, after they were told they had to treat Covid-19 patients. As of 19 March, Bulgaria had recorded 112 corona cases and three related deaths.
Kameliya Bachovska from the Second City Hospital in Sofia says she and 84 colleagues resigned after they were told that their hospital would be converted for the purpose of receiving Covid-19 patients. "Hospitals don't have enough protective gear. Our hospital is not the only one. Others don't have them, either," she said.
According to Bachovska, neither does the hospital have the required sanitation system and equipment for keeping infectious disease patients. Additionally, she said, the majority of doctors and nurses are close to retirement age—with some still working although they are retired—and are afraid they would be infected if asked to treat patients without putting on the proper protective gear.
Like other countries in Eastern Europe, Bulgaria is suffering from a lack of doctors, forcing hospitals to employ retired medical personnel. According to Stoyan Borisov, chairman of the Bulgarian Medical Association, as many as 250-300 doctors leave the country to work overseas each year.
Germany is also worried about the corona pandemic. The country with a 82-million population records a significant increase in the number of coronavirus patients. On March 22, the number of cases had drastically increased to around 30,000 and 90 deaths.
According to the Daily Mail, Germany now has around 25,000 beds for intensive care equipped with respiratory aid equipment. The Berlin government has also ordered adding thousands of new respirators.
"Germany has a very good health care system," said German Chancellor Angela Merkel in a public address on March 18. "Even so, our hospitals would be overwhelmed if too many patients with serious corona symptoms are brought in over a short period of time." Merkel says the coronavirus has been the most serious challenge Germany has faced since World War Two.
Abdul Manan (New York Times, Washington Post, CNBC, Aljazeera)