Lt. Gen. Doni Monardo, Chairman, Taskforce for Accelerated Covid-19 Pandemic Management: Don't Entirely Depend on the Central governemnt
A string of disasters that come one after another hardly gives Lt. Gen. Doni Monardo a breather.
Edition : Tuesday, March 31, 2020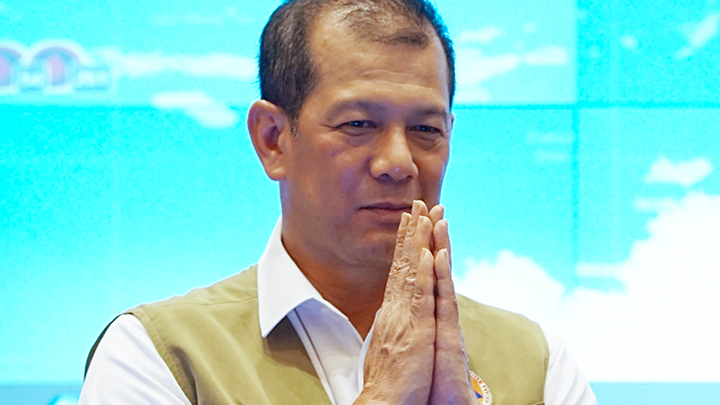 SINCE the start of this year, the chairman of the national disaster mitigation agency (BNPB) has been kept busy by a myriad of natural disasters- floods in Jakarta and the surrounding areas; landslides in Sukajaya, West Java; to flash floods that ravaged Sangihe, North Sulawesi.
Alas, as he still scrambled to mitigate the calamities, Doni faced an even bigger challenge from the new coronavirus outbreak originated in Wuhan, the capital of Hubei province, China. Soon, the BNPB took a pivotal role in the mission to repatriate of 237 Indonesian citizens from the epicenter on February 2 as well as hundreds of crew members from World Dream and Diamond Princess cruise ships. "I was involved from the start, from planning to bringing them home," Doni, 56, said in the special interview with Tempo at his office last Thursday, March 26.
Doni's role in tackling corona outbreak-related issues became more prominent when President Joko Widodo appointed him the chief of the Coronavirus Disease 2019 (Covid-19) taskforce on March 13. The appointment came following the surge in the number of infected cases since Jokowi announced the first two positive cases on March 2.
From the day he assumed the new position, Doni has chosen to stay in his office at Graha BNPB in East Jakarta. A black sofa in his office was marked with yellow tapes to remind guests not to sit closely. "I meet many people everyday. If I don't enforce the rules, I can get sick and the team's work will be disrupted," he said.
To Tempo reporters Mahardika Satria Hadi, Devy Ernis and Raymundus Rikang, former commander of the Indonesian army's special forces explained government's preparedness to face the pandemic, the plan to construct emergency hospitals in the regions for Covid-19 patients and his view on the regional quarantine option.
W251bGwsIjIwMjEtMDQtMjEgMTQ6NDE6MzkiXQ
Why hasn't the government considered the lockdown option for Jakarta to contain the coronavirus?
This question has been asked many times. About lockdown, slowdown or whatever, I have said repeatedly not to debate the status because every country has its own characteristics. Now, if Jakarta is locked down, what about the embassies of friendly countries? Is it possible for other governments to repatriate their citizens from Jakarta? And will Jakarta be capable of sustaining itself or of meeting its needs on its own? We need to understand these points first.
But Jakarta has already become the pandemic epicenter in Indonesia.
When a regional quarantine or lockdown is enforced, in accordance with the Article 55 of the law No. 6/2018 on health quarantine, the government must bear the costs of basic needs of the entire population in that region including their pets. That will deplete all our resources. The government must obey the law, you see. If the law is implemented with the specified requirements, what kind of impact will it have?
Then what is the best solution the government has at the moment?
Let us unite and follow the state's political decision. Pak Jokowi has decided that social distancing or as per today's interpretation physical distancing is the best solution. This is also the latest recommendation from the World Health Organization (WHO). Whatever our government decides to do, it does so based on various input and recommendations.
Is it possible to halt the spread of the virus to the regions without lockdown?
I am the head of the taskforce at the central level. We have governors at the regional level and their deputies are regional military command commanders and regional police chiefs. They can implement local policies as long as they do not run counter to the national policies nor affect other regions. As a simple example, if lockdown is an option, start it at RT (neighborhood units) level first. When an infected RT is locked down, no one must leave or enter it. All its needs will be fulfilled by surrounding RTs or the RW (community unit). Prove your solidarity first. If you want to take it to the next level, try at the kelurahan or urban community level. If other kelurahan are able to help locked down an area, we don't need national quarantine.
Are the regions already have the capacity to implement that?
That's what we have to do: to give directions. The regions that are still sterile can apply their own local policies as long as they don't interfere with other regions' policies, create additional problems nor deviate from the state's political decision. If the regions can mobilize the instruments they have, we can abate (the spread of the outbreak). Prevention is quite tough at this stage.
To what extent can physical distancing reduce the spread?
This is where we need the cooperation of all the components of the people. Here we push forward the community-based penta helix collaboration. The first component is the central and regional governments, the armed forces, the national police and other state instruments. The second includes education, research, pre-research sectors and their experts. Third, the business world. Fourth, communities, particularly the people-volunteers, community leaders, religious leaders, youth leaders and mass organizations. The fifth is media. If we have one narrative: we all follow the state's decision, we can overcome this together.
Several countries which opted lockdown have been quite successful in slowing the spread. What is your view?
As the head of the taskforce, I have only one commander. I don't want to discuss it. I will focus on implementing the state's political decision. If discussions are needed, they will be done within our internal circle. No one should think differently, not even a little bit because division will make us weak. Now we are in a state of war. If some soldiers decide to turn left or right when the commander orders us to advance, how do we defeat the enemy?
But the Chinese government's decision to seal off Wuhan in the initial phase of the outbreak has been proven effective in stemming further spread.
No nation, not even the advanced one, has been fully prepared for this. Only the countries which have a very strong chain of command in place to be able to restrict various aspects of people's lives are more successful (in containing the outbreak). Now we say we live in a democracy, so every time there is a policy, there have to be public polemics. We need to set aside sectoral egos for a while.
How far has the lockdown option been discussed within the taskforce?
Two weeks ago, Jakarta Governor Anies Baswedan came here. I told him, "Pak Governor, please focus on efforts to increase awareness about the danger of the virus." Because the public have lax attitude towards it due to lack of knowledge about its threat. The virus can strike anyone. Not having symptoms doesn't mean not having the virus. Those at high risks are people with genetic and underlying illnesses and the elderly. Therefore, everyone must strictly follow the protocols: to wash hands, to not touch eyes, nose, mouth before washing, to make sure hands are clean. If everyone follows them correctly, I'm confident we can 100 percent prevent the spread.
Has Anies proposed the lockdown option?
No, Pak Anies never proposed it. He prepared a number of options and the last one he proposed is zero mobility, not lockdown.
Do other regional heads often communicate with you?
Several governors did consult with me. I reminded them that they now have the authority. They can mobilize the armed forces and police personnel to handle Covid-19, from prevention, detection, investigation to patient management. Regional administrations must be able to take measures. Don't entirely depend on the central government. They—from governors to village heads—have budgets, right? Islamic schools, dormitories can already be quarantined partially.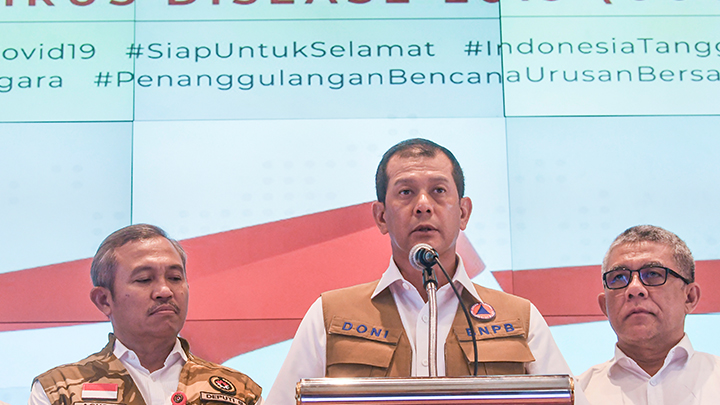 Doni Monardo (center) gives explanantion on the Covid-19 mitigation efforts at the Graha BNPB, Jakarta, March 14. /ANTARA/Muhammad Adimaja
Are instructions from governors sufficient?
Yes. Districts that are still sterile, for example, should isolate themselves independently, or, be put under local quarantine to keep themselves safe, if you will. If possible, the regions should already have pockets like these. Don't put all the burdens on the central government.
Many countries, including Indonesia, have lost medical professionals due to the scarcity of personal protective equipment (PPE). How will you overcome this problem?
Every country is struggling to fight this outbreak. America is facing PPE shortages. So is Europe. There are no textile industries in almost all developed countries as they have shifted to South Asia and Southeast Asia including Indonesia. We are one of the biggest textile producers but the problem is that we export almost 100 percent of the products. Now the government has already made a regulation to ban exports of certain products so as to prioritize domestic needs. The President has ordered relevant ministers to focus on increasing domestic production.
What are prioritized products?
PPEs, masks. When we have met our national PPE needs, we can help other countries.
How about the PPEs that were brought over from China some time ago?
It's been widely reported that they are donated by China but actually they are not.
Are they made in Indonesia?
The truth is, Customs have intercepted export of 205,000 units of PPE, not long after the arrival of Chinese donation.
Are they illegally exported?
They are legally ordered (from the producer in Indonesia) long before the outbreak.
Which part of PPE?
In complete sets except goggles, mask and gloves. Number one standard.
How many PPE exporters are here in Indonesia?
Many. I don't know exactly.
Given the high domestic demand, what instructions has the government given to the local PPE producers?
To prioritas the entire production of PPE, gloves, masks and goggles (for local use).
How about the contracts already made with their partners overseas?
I don't know the contract provisions. But, uniquely, 100 percent of the PPE raw materials come from other countries. The country which sends the raw materials imports back the finished items. So, sorry to say but we are merely hired hands. That's the issue at hand.
How many PPEs do we need to deal with the surge in the number of Covid-19 infections in the country?
What's important is that we produce maximally and we bring in what we don't have, such as rapid test kit.
Why are the designated hospitals in the regions running out of PPE?
Perhaps they have limited supply.
What should the supply mechanism be like?
Actually, we already have the database. The health ministry and regional hospitals (RSUD) make annual procurements. One of the must-have items according to RSUD standard operating procedure is PPE. Now we have to see which RSUDs have or do not have them. Let the public evaluate.
So, PPE should be procured by each RSUD?
Well, the fund comes from the regional budget, right?
How does the taskforce evaluate the performance of the Athlete Dormitory Covid-19 Emergency Hospital?
To date, there are 208 in-patients. It's highly effective as hospitals are no longer able to manage all the patients. Even non-designated hospitals are taking in Covid-19 patients. We hope that the athlete dormitory model would be applied not only in Jakarta but in all provinces. Therefore, we encourage the regional governments to make use of central public facilities in the regions, such as dormitories for Haj pilgrims or even ministry training centers. Moreover, they can also utilize military and police resources in the regions on one condition that they do not use military and police dorms to quarantine Covid-19 patients.
Why not?
We must fully protect military and police personnel. We should not allow them to get infected because they are our last resort. When difficulties become extreme, they will advance.
Is it true that there are still chaos in handling patients at the athlete dormitory emergency hospital?
Naturally as it is still new. It was already flooded with hundreds of people on the very first day. Just imagine. We will monitor the progress. We can't possibly hope everything to run perfectly.
You called on all the regions to prepare Covid-19 emergency hospitals. What are the preparations like?
RSUD and private hospitals in the regions must prepare themselves. Minister Basoeki Hadimoeljono told me that the public works and housing ministry was ready to renovate (hospitals) in all the provinces. The President has also tasked respective ministers to refocus and reallocate the regional and central budgets. Tens of trillions of rupiah budgets are being adjusted towards endeavors to combat corona, including those to assist the poor.
---
DONI MONARDO
• Place and date of birth: Cimahi, West Java, May 10, 1963 • Education: Military Academy (1985), Army Command and Staff College (1999), National Resilience Institute (2012) • Career: Commander, Presidential Security Force (2012-2014), Commander-General, Army Special Forces Command (2014-2015) Commander, Regional Military Command XVI/Pattimura (2015-2017), Commander, Regional Military Command III/Siliwangi (2017-2018) Secretary-General, National Resilience Council (2018-2019), Chief, National Disaster Mitigation Agency (Since January 2019), Chairman, Taskforce for Accelerated Covid-19 Management (Since March 2020)
---
Has there been increase in the number of cforona infections after mass rapid tests?
If, for example, the test kit is effective, increase is highly inevitable. There will be a spike but we shouldn't be worried (too much). What's crucial is to prevent a large number of causalities, particularly among medical and healthcare workers: doctors, nurses and hospital staff including ambulance and hearse drivers.
Is there a possibility to reevaluate the physical distancing protocol, if, for example, it is proven ineffective?
I say don't let such a question enter our mind. The protocol is the basic requirement. Physical distancing is the best solution to keep the virus at bay.
How will the government implement it when many people in the regions often ignore the advice to keep distance?
There is the need for collective awareness. If we use the full force of the law for that, prisons will be full. So, law enforcement isn't the right solution. It is imperative that we remind each and everyone. All the influential public figures must raise their voice or scream and convey the message in their respective regions by all means possible to save the nation.
In several incidents, police have to forcibly disperse gatherings.
We eventually have to resort to law enforcement. But, let me say this again, it does not solve the problem.
What should the public do as the end of fasting month Lebaran exodus draws near?
My appeal is to hold it first. Just be patient. We must stay at home first and everyone at home must also always keep distance.