Uneven Progress
Government's program to expedite a number of waste-to-energy plant projects are not progressing at the same pace. Only projects in Surabaya are ready to operate.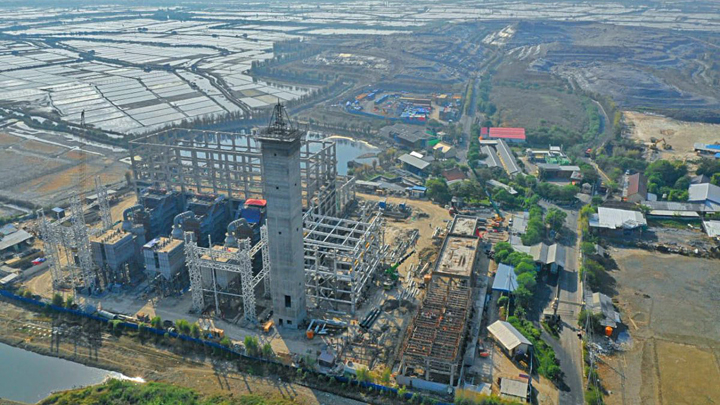 RED-and-white chimneys tower between two main installations of waste to energy plants (PLTSa) that lined up on the edge of Benowo Waste Final Disposal Site (TPA) in Surabaya, East Java. The construction of a second unit plant, which was a follow-up development of a previous unit, was completed. It now waits to be inaugurated by President Joko Widodo.
Hendra Iswahyudi, director of electricity business development at the energy and mineral resources ministry, is confident that the Benowo Power Plant can start operating soon. When visiting the site on March 13, Hendra checked the series of testing for the 9-megawatt plant's electrical tools and system. "This will serve as a pilot for 11 other cities," he said on Friday, March 27.
The Benowo PLTSa is one of 12 accelerated projects for the installation of waste management that converts garbage into electrical energy, based on eco-friendly technology. This is regulated in the Presidential Regulation No. 35/2018.
In addition to Surabaya, the plan is to build these municipality waste to energy plants in Jakarta, Tangerang (Banten), South Tangerang, Bekasi (West Java), Bandung (West Java), Semarang (Central Java), Surakarta (Central Java), Makassar (South Sulawesi), Denpasar (Bali), Palembang (South Sumatra), and Manado (North Sulawesi). All ministries, agencies and local governments are asked to work together to provide licensing facilities, so that the project will not stall.
The plant in Benowo, which just finished construction, is actually the second unit. Since 2015, the first unit with 1.65 megawatt (MW) capacity is running on landfill gas (LFG) that came from processing 1,000 tons of garbage every day. The new units run on thermal system, using hot steam produced by waste furnaces.
With the purchase agreement between state electricity company PLN finalized, as well as the availability of a 20-kilovolt network infrastructure at the project site, Sumber Organik—the project developer—is confident that the power plant can start operating before the end of 2020's first semester. "That way, we can supply electricity to people in Surabaya and surrounding area," Sumber Organik CEO Agus Nugroho said.
In Jakarta, the government is planning to develop an intermediate treatment facility (ITF) in Sunter, North Jakarta. The agenda is showing progress after years of uncertainty since its initiation in 2015. A development cooperation agreement between the Jakarta provincial government's environment office and Jakarta Propertindo (Jakpro), a regionally owned business entity, was signed in October 2019. The tipping fee for waste processing is Rp583,000 per ton, with guarantees of 2,200 tons of waste per day, was also agreed in February 2020 and will take effect once the Sunter ITF operates.
The Sunter ITF will be developed by Jakarta Solusi Lestari, a joint venture between Jakpro and Finnish company, Fortum. Development is estimated to take three years. Then, Jakarta Solusi Lestari will operate it for 25 years under a build-operate-transfer scheme. Once the concession period is over, the assets will be handed over to the Jakarta provincial government.
The Sunter PLTSa will use incineration technology, utilizing the use of trash incinerators. Head of Integrated Waste Management Unit at Jakarta's Environment Office, Asep Kuswanto, said that this method is mostly applied in large cities with limited processing areas that need to reduce waste in large volumes.
In Sunter, for example, there is only 3.05 hectares of space available to process 2,200 tons of waste per day. This is a lot smaller than in Benowo, where there is 37.4 hectares of area to process some 1,000 tons of garbage a day. "Thus it requires greater investment, operating costs, and maintenance," said Asep.
However, not all projects to accelerate waste power generator are showing progress. A study by the Corruption Eradication Commission's (KPK) directorate of research and prevention noted that some projects are progressing very slowly, even backwards. The study shows that this is due to the gigantic size of the project—both in terms of investment requirements and technology—that is not balanced with the human resources' abilities at the regional level.
In Palembang, for example, there were problems about the project's auction. It did not get a recommendation from the energy and mineral resources ministry, because the developer was unable to provide the required technical documents. The KPK is also highlighting a cooperation agreement between the Palembang City government and developer Indo Green Power, which they deem unbalanced. For example, the local government still has to pay a tipping fee of Rp297,000 per ton for 1,000 tons of waste supply per day, even if the actual volume of garbage delivered is less than that.
The Palembang City government actually plans to renegotiate, to amend the agreement. But the discussion has not finished yet, and it is now suspended because of the Covid-19 outbreak. "It is being postponed. We will reschedule after the Covid-19 situation is over," Palembang City Secretary Ratu Dewa told Tempo on March 25.
Under these conditions, the target to start construction of the 20-MW plant by mid-year is likely to be delayed. Alex Fernandus, head of Palembang City's environment and hygiene affairs department, said that until last week there had been no activity in the 22-hectare land prepared by developers in Keramasan, about 8 kilometers southwest of the city center.
Waste power plant project in Suwung landfill, Denpasar, Bali, also faces problems. The government has changed the assignment scheme to re-auction.
Bali's Environment Office Chief Made Teja said the local government will re-auction the project to adjust it to the terms of cooperation in a government-to-business scheme. "Later, if there are obstacles (in completing the documents), the regional government will determine a new pattern in the management of this waste-powered power plant," he said on March 27.
According to Made Teja, his department is collaborating with the department of public works, spatial planning, housing, and settlement areas. They are preparing a final business case for processing 1,000 tons of garbage per day, to be turned into up to 10MW of electricity.
"If this is finished on time, the next process is the transaction stage or the auction process," he said. He acknowledged that the process of completing documents until the execution would take a while, but said that it is necessary.
RETNO SULISTYOWATI, PARLIZA (PALEMBANG),
MADE ARGAWA (BALI)