Piles of Waste Problems
The KPK recommended that the government revise its waste power generating projects. They are considered as merely profiting investors and burdening the state budget.
Edition : Tuesday, March 31, 2020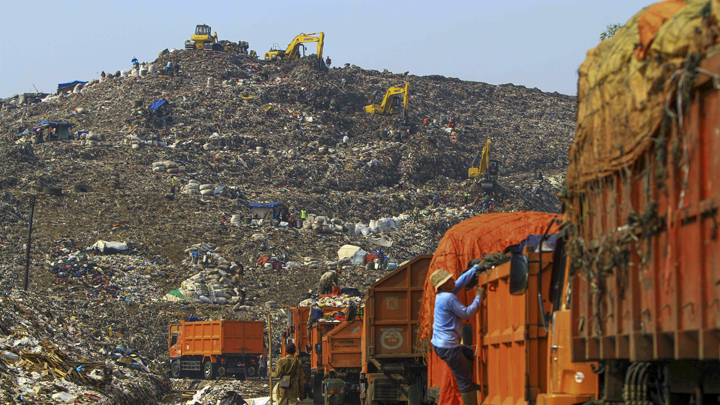 NEWS from Kuningan, Jakarta, on Friday, March 6, came as a shock to Yudi Prabangkara. That weekend, Corruption Eradication Commission (KPK) Deputy Chair Nurul Ghufron mentioned Presidential Regulation No. 35/2018, which was initiated by the coordinating ministry for maritime affairs and investment, where Yudi is assistant deputy for the infrastructure, mining and energy division.
What bothered him was Nurul's statement about the accelerated development of waste-to-energy construction project (PSEL). Nurul said that the PSEL, based on the presidential regulation, could potentially hurt the country. Nurul's statement was backed by a KPK study on the power sector. "We didn't know about the study. We had never been contacted," Yudi told Tempo on Thursday, March 26.
Nurul's statement, widely quoted by the media, immediately got a response from the coordinating ninistry for maritime affairs. Ridwan Djamaluddin, the ministry's deputy for infrastructure coordination and Yudi's boss, invited the KPK team to come and explain their study the following week on March 9.
The KPK team, led by its deputy for prevention Pahala Nainggolan, accepted the invitation. The study on which Nurul Ghufron based his statement on has been an ongoing project by members of the KPK's research and prevention section, headed by Pahala. Besides Ridwan and Yudi, several other officials related to the issue were present at that meeting. Rida Mulyana, director general for power, represented the energy and mineral resources ministry. Present for the state power company Perusahaan Listrik Negara (PLN) was Sripeni Inten Cahyani, director for strategic procurement.
The meeting, which went on for two hours, did not result in any decisions to follow up on the KPK recommendations. "No commitments were made yet," Pahala told Tempo.
W251bGwsIjIwMjEtMDUtMTIgMDg6NDY6MDgiXQ
Yudi said that this discussion was only the beginning, and that others were needed in order to confer about technical details.
In the meantime, the most important thing, Yudi said, is that the KPK report did not mention the potential for state losses in PSEL constructions in 12 cities, which is currently ongoing.
•••
THE premise of KPK report Managing Waste for Renewable Energy is the low portion of the new and renewable energy (EBT) in the national energy configuration. Its portion ranges from between 10 percent and 12 percent since 2013, even though years ago the government has set a target for EBT to reach 23 percent by 2025.
Since 2015, the KPK prevention team has been actively analyzing corruption risks in the power sector. This newest report on waste-to-energy project completes its series of reports, including that of other EBT sectors such as micro-hydro and solar plants, which were respectively completed in 2016 and 2017.
The construction of waste power plants in 12 regions mentioned by Yudi Prabangkara are the accelerated projects announced by President Joko Widodo through the issuance of Presidential Regulation No. 35/2018. The regions are Jakarta, Tangerang in Banten, South Tangerang, Bekasi (West Java), Bandung (West Java), Semarang (Central Java), Surakarta (Central Java), Surabaya (East Java), Makassar (South Sulawesi), Denpasar (Bali), Palembang (South Sumatra), and Manado (North Sulawesi). Some of those regions are among the biggest producers of national waste, which total 64 million tons.
Signed on April 12, 2018, the presidential regulation replaced the rule No. 18/2016 on the acceleration of waste power plants in seven locations: Jakarta, Tangerang, Bandung, Semarang, Surakarta, Surabaya, and Makassar. The old regulation was short-lived as it was annulled by the Supreme Court following a judicial review filed by some civil groups.
In the new regulation, the projects were no longer named waste power plant construction, but "the installation of waste processing into power." By doing this, Yudi explains, "the 'power' part is just a bonus. The main reason is not to generate power, but to process waste."
Thus, he continues, the government is aware that processing costs are not small. "But we must look at the benefits: the elimination of waste," Yudi said.
However, these costs are exactly what the KPK is focused on. The current development scheme of waste power plants could become a heavy burden to regional administrations and the PLN. This is because its business model and project financing separate two funding sources. Regional administrations and developers establish a waste processing agreement that forces them to buy a waste management service fee (BLPS), or the so-called tipping fee, in addition to gathering, transport and processing costs. From the total BLPS cost per ton, the central government will support up to a maximum of 49 percent, and Rp500,000 at the most.
The height of the subsidy depends on the region's budget. Jakarta, for example, will pay the full BLPS amount of Rp583,000 per ton because of its ample budget of Rp87.95 trillion for 2020. The Jakarta administration will be developing the Sunter Intermediate Treatment Facility, a PSEL project done by a consortium consisting of regional firm Jakarta Propertindo and Finnish energy company Fortum in North Jakarta.
Besides receiving state money in the form of BLPS, developers would sell power from waste processing to the PLN. This uses the so-called feed-in tariff, without negotiations and escalating for 25 years with a price of US$13.35 cents per kilowatt-hour for power generators with a capacity of under 20 megawatts.
The KPK deems that costs within this scheme will be a burden for central and regional administrations, and for the PLN. In total, administrations in 12 regions will have to pay at least Rp2 trillion a year to developers. Meanwhile, the PLN is estimated to have to pay some Rp1.6 trillion a year once the projects are completed. Thus, the amount the state and state-owned company must cough up for the next 25 years would total Rp90.9 trillion. "The only ones not risking anything are the investors," Pahala Nainggolan said. He agreed, however, that it would not be considered 'losses'. "It would be wasteful."
The KPK prevention team also saw a slew of other problems in the PSEL project, including unfair agreements between regional administrations and developers. The KPK gave an example of the PSEL project in Palembang. In the agreement between the city of Palembang and Indo Green Power, which won the tender, the BLPS agreed upon was Rp297,000 per ton. Palembang supplies a minimum of 1,000 tons of waste a day. Even if it were less than that, the city still has to pay for 1,000 tons.
The PLN also has to pay too much for power in this scheme. With last week's exchange rate of Rp16,200 to the US dollar, it would amount to Rp2,174 per kilowatt-hour. This is almost double the basic cost of PLN's power generating provision for the period of April 1, 2019 to March 31, 2020, which is only Rp1,119 per kilowatt-hour, or US$7.86 cent, based on the exchange rate at that time.
Presidential Regulation No. 35/2018 indeed indicates that the government can give compensation to the PLN for paying a high price for electricity. However, the KPK points out, this compensation does not happen automatically, and thus is without subsidies. Yudi confirmed that the chapter states that compensation for the PLN is not mandatory. "Compensation 'can' be done. That means it can be done, but it can also not be done," Yudi said. "If PLN's cash flow is as good as it is now, then it should be able to make the payments on its own."
Sripeni Inten Cahyani said that the PLN has signed trade contracts for waste power generator with the administrations of Jakarta, Surakarta, and Surabaya. Other contracts would be dependent on regional administrations and appointed consortiums. "Other regional administrations have not come forward yet," said Sripeni when contacted on March 27.
She further said that as a state-owned enterprise, PLN would continue to buy power based on the presidential regulation whenever the regional governments and developers are ready to do so. Commenting on KPK's statement that the high buying price is a burden to the PLN, the state-owned company puts that question to the government. "The compensation matter also already has implementation guidelines from the finance ministry," Sripeni said. "The Supreme Audit Agency (BPK) decides if something is included under 'compensation' or 'subsidy'."
The problem is that compensation received by the PLN often comes after the fact. In 2018, according to PLN's annual report, the firm booked claims for compensation to the government for Rp23.1 trillion. That number is the accumulation of compensation from several years, since the government has barred PLN from increasing its electricity prices at times when the cost of providing power continued to be high.
Sripeni said that the PLN is not too worried, as the portion of waste power generator is relatively small compared to other power sources. "It's not that significant. The PLN is also concerned about the environment," she said.
The World Bank, in its 2018 report, noted that East Asia is the region with the world's highest growth of waste. For Indonesia, waste is estimated to grow by 76 percent in the next decade.
Without an increase in waste processing capacity, this problem will have a chain effect, from environmental and health to economic consequences. The World Bank also said that Indonesia has set aside a budget of 2.6 percent of its total regional budget for this matter. This amounts to some US$5-6 per capita annually, markedly lower than the international benchmark of US$15-20 per capita per year.
•••
BESIDES finding potential dissipation in the waste-to-energy scheme, the KPK also offers advice for alternatives. Instead of using incinerators or thermal technology for waste processing, the state could use the so-called collaborative strategy.
This would mean that investors only process waste into pallets or briquettes. The PLN would then buy these waste-processed products to be mixed with coal in existing steam power plants. "This will eliminate added rates everywhere," Pahala Nainggolan said. The KPK recommended that the government revises regulation No. 35/2018, by setting the same technological standards in all regions.
The PLN has already tried this scheme in its Jeranjang Steam Power Plant (PLTU) in Lombok, West Nusa Tenggara, and Paiton PLTU in East Java. According to Sripeni, PLN has ordered 56 of its PLTUs in the middle of March to try out this strategy.
Sripeni added that in a meeting with the energy and environmental ministries on March 9, she has asked them to consider the pellets as part of the renewable energy scheme. "If they are not counted as EBT, then it would be useless for the PLN to buy them," she said.
She was confident that should these test cases be successful, then this option would be much more efficient. The waste processing service fees paid by local administrations would also go down. Meanwhile, power provision costs for the PLN will also be lower since it will not have to make new plants.
However, Sripeni said she understood that this would be unattractive for investors, as profits would be small. "But this has to do with waste processing. It's not so much about seeking profits," she said.
Well before the option of waste pellets came up, two city administrations—Surabaya and Semarang—have already developed the gasification method. This concept uses methane which comes from landfills, or LFG (landfill gas). This gas is then used to power turbines. According to the United States' Environmental Protection Agency (EPA), some 72 LFG projects have generated power in that country.
However, in regulation No. 35/2018, the government has stated that waste processing must lower its volumes in a short period, using existing technology. This is why, Yudi Prabangkara said, waste incineration processing methods must go through feasibility tests in every region.
Yudi said that several options, including that of converting waste into briquettes to be mixed with coal at PLTUs, must be tested further. "Can these pellets swiftly break down waste? Or would there still be piles of trash left?"
Meanwhile, the KPK study noted similar doubts regarding waste-to-energy plants currently in construction by the government. In the Greater Jakarta area, the biggest project with a capacity of 35 megawatts can only process 2,200 tons of waste per day, while the total waste production for this area is triple that amount.
KHAIRUL ANAM