Greeting from Behind the Hazmat
The athlete dormitory in Kemayoran is converted into a hospital to treat Covid-19 patients. There have been reports of below-par service, but management claims they are improving.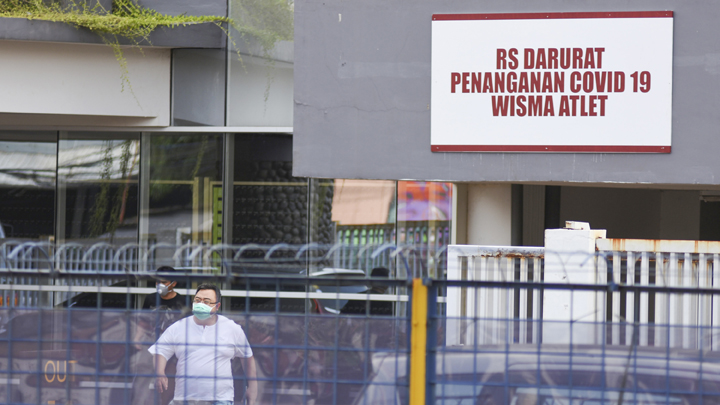 ON Tuesday, March 24, Sucipto Hari Wibowo contacted Noor Sidharta, secretary-general of the Witness and Victim Protection Agency (LPSK). Sucipto, chairman of the Indonesian Survivors Foundation—an organization that helps victims of bombings—said its member Dwieky Siti Rhomdoni was not receiving proper treatment at the Wisma Atlet (athletes dormitory) in Kemayoran, Central Jakarta, which has been converted into an emergency hospital for treating Corona patients.
Dwieky (37) was admitted to Wisma Atlet on Monday night, March 23. She was referred there after visiting the Gatot Soebroto Army Hospital and was diagnosed with the 2019 Coronavirus Disease or Covid-19. Sucipto said that Dwieky received limited food and drink while being treated, given irregularly. Dwieky was also running out on the food the she brought with her.
Survivors Foundation sent her food, fruit, vitamins and toiletries. According to Sucipto, Dwieky had also order food through an online motorcycle taxi app. But none of them was delivered to her, as they were kept by security guards. "We were panicking because Dwieky was alone there," Sucipto told Tempo on March 27.
Not only food, Dwieky also found it hard to receive treatments. According to Sucipto, she had to take turn sharing one ventilator with other patients. She also had to be taken from her ward at the 5th floor down to the first floor just to get oxygen. Sucipto turned to Noor Sidharta for help, to ensure that Dwieky can get better treatment.
Noor confirmed his conversation with Sucipto. Noor then contacted an official with the health ministry and informed him about the lack of proper treatment at the Wisma Atlet. "We asked them to specifically pay attention to Dwieky," Noor said on March 26. Dwieky said she contacted many people and explained to them her situation. "I am still sick and not getting proper treatment," she said via WhatsApp on March 25.
Dwieky also complained about the items and food that were kept at the security post. After three days of being treated at Wisma Atlet, Dwieky finally got the items after asking a medical officer, dressed in a hazmat suit, who was passing her room. According to Dwieky, the medical officer said that patients' families and relatives are allowed to send goods from outside if they deliver it to the nurses at the emergency department.
Head of the Covid-19 Response Task Force, Doni Monardo, did not dismiss reports that there were problems at Wisma Atlet. One reason, he said, is that the emergency hospital was flooded by hundreds of patients immediately after it opened. "There is no country fully prepared for this," he told Tempo on March 25.
Major General Eko Margiyono, chief of the Wisma Atlet Emergency Hospital, said that as soon as the hospital was inaugurated, 74 patients came on March 24. The next day, 178 came. On March 27, there were 274 patients at the hospital.
Eko said the health facility only handles patients with mild and moderate symptoms. Patients with severe conditions are recommended to a referral hospital. "If there are patients with mild symptoms but have underlying complications, we will also refer them," he said.
Doni Monardo said that although there were deficiencies during the early days of operation, the Wisma Atlet Emergency Hospital is improving in handling patients.
When contacted on March 27, Dwieky Siti Rhomdoni confirmed Doni's statement. After initially feeling that she was not given proper treatment, Dwieky said she was seeing improvements. Food boxes and bottled water have been delivered to each room, along with vitamins and medicines. The rooms, each with two beds, are now equipped with water dispensers.
That day was Dwieky's birthday. She received two videos of happy birthday greetings. One was from 30 other patients on the 5th floor of Wisma Atlet, another from a doctor and two nurses, all wearing white hazmat suits. "Keep your spirits up," the medical workers said.
HUSSEIN ABRI DONGORAN, AJI NUGROHO