Suharso Monoarfa, Minister of National Development Planning: We Should Not Create Any Moral Hazard
As the threats from the Covid-19 pandemic on the national economy looms, the government has modified this year's state budget posture and details.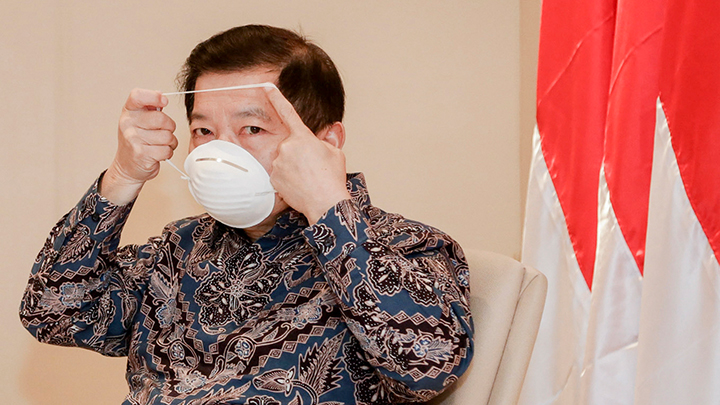 THE allocations for several ministries and high state institutions have been slashed and diverted to Covid-19 management programs. "The budget cuts were mostly done by the finance ministry but in consultation with the Bappenas (National Development Planning Agency)," said Suharso Monoarfa last Tuesday, April 7, in the special interview with Tempo.
Suharso, 65, said that the pandemic which is expected to rage on in the coming months can potentially push the poverty rate beyond the last year's 9 percent. If this monstrous outbreak is not squashed sooner, government's plan to lower the rate to around 7 percent by 2024 will most likely go up in smoke. As of last week, more than one million workers had been either laid off or asked to stay at home.
The government has also allocated additional Rp405.1 trillion for various purposes—from procurement of healthcare equipment, social protection, tax incentives to economic recovery programs. Suharso ascertained that the budget adjustments would not have significant effects on national strategic projects including the new capital development project. "We don't feel the need to suspend it," added the politician from United Development Party (PPP).
During the interview conducted via video conference, Suharso answered questions from reporters Mahardika Satria Hadi, Wayan Agus Purnomo, Hussein Abri Dongoran, Khairul Anam and Raymundus Rikang on various topics—from Covid-19's impact on the economy to the continuation of national strategic projects. The interview continued at Suharso's South Jakarta residence the next day.
How will the corona pandemic affect national development plans?
There will be impact for sure. National development plans consist of assumptions and targets. If one of the assumptions is altered, all the calculations will automatically change, in terms of both funding and timeframe. The most important assumption for us is the macro economic growth assumption. It will certainly have a huge impact on our economic growth.
Is the current economic impact far from Bappenas's assumptions?
Most countries did not expect the virus to have such a negative impact on their economies. Even the United States is still struggling with all sorts of alternative fiscal policies. So are Japan, Singapore and other major countries.
How does Bappenas rate Indonesia's economic preparedness in facing the pandemic?
Indonesia cannot be compared to other countries, for example, Singapore or Malaysia, which have higher GDPs (gross domestic products) above us. Even China's GDP per capita is already US$11,000. Based on that aspect, I have to say we are not in a 'prepared' position. These countries can issue (better) fiscal policies, or afford even larger spending to respond to this crisis. Meanwhile, we are still hoping to achieve the minimum economic growth of at least 5 percent and average 6 percent in 2024. So, we cannot make apples to apples comparison.
Finance minister estimates that the economic growth will plunge from 2.3 to 0.4 percent due to the pandemic. How about Bappenas's calculation?
We in fact think it could reach 2.2 percent at the end of the year. Well, hopefully the finance minister is right. We are a bit more pessimistic because of the significantly large shortfall in tax revenues. Then consumption fell. Household consumption is the highest contributor to our GDP, around 56 percent. Dwindling consumption is a warning sign. Investment is also disrupted as we cannot expect people to invest in a situation like this. On the other hand, we also have limited fiscal capacity to boost the economic growth. Luckily, the market absorbed our global bonds worth US$4.3 billion. But they are expensive and offer high yields.
How about other funding sources?
Our domestic capacity is also very limited. For instance, we have third-party funds in our banks which currently totaled around Rp5,500 trillion. The loan-to-deposit ratio is around 95 percent. It means 95 percent of the Rp5,500 trillion third-party funds have already been credited. The remaining 5 percent only amounts to Rp275 trillion, far below our need.
Didn't the government earmark Rp405.1 trillion to combat the pandemic?
To spend Rp405.1 trillion, we need to create deficit of Rp853 trillion. In addition, we also need to create Rp150 trillion below the line. It means, it is not only for spending, but also for funding. If you add them up, we need Rp1,000 trillion for economic recovery. Just imagine. So, we have no choice but to create a significant number of new bonds.
Will the massive fund needed to handle the corona pandemic affect the continuity of the national strategic projects?
Most strategic projects are multi-year projects. If the start date is April or May, there will be some delay for six to nine months or up to a year. So, it will be accommodated in the next phase. We hope there will be a 'spring effect' where the currently slow economy which has been suppressed to the lowest level will bounce really high after the outbreak. Who knows it will grow 7 percent next year? But to achieve that we have to push it through fiscal policies. The private sector has become really sluggish, not just in Indonesia, but throughout the world.
Are there any infrastructure projects that have been deferred?
Those that have begun can continue but perhaps after a slight delay. So, we are not suspending any project. Even the new capital city development will go ahead. We don't feel the need to discontinue it. But for the time being, we will now focus on 'soft work' and will step on gas when an opportune time comes.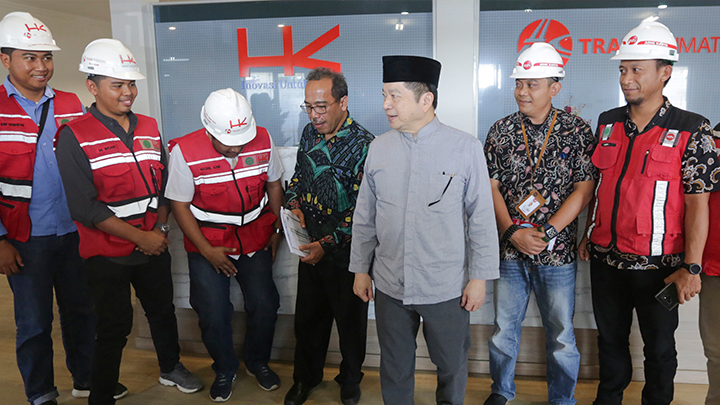 National Development Planning Minister/Bappenas Chairman Suharso Monoarfa (center) conversing with workers of the Sigli-Banda Aceh section of the Trans Sumatra toll road project, in Greater Aceh, Aceh, last March./ANTARA/Irwansyah Putra
What kind of soft work?
The work that is not related to construction. We are now in the process of wrapping up the master plan. I hope the detailed plan will also be completed by the end of the year or sooner so we can do the groundbreaking this year. Even if it is delayed, may be only a year. But we've done everything needed up to groundbreaking.
The new capital development project is estimated to gobble up Rp466 trillion with 19 percent of it taken from the state budget. What is the solution under the current financial conditions?
We need around Rp90 trillion from the state budget. We can disburse it in 3 years. The rest will be solicited from investors and the KPBU (cooperation between the government and business entities). This will create huge business opportunities after the corona outbreak ends.
Why is the government insistent on going ahead with the new capital project?
I understand that my statement that the project will continue can be misinterpreted, as if the government has no empathy towards the people when we're facing the pandemic. That is not the case. The Covid-19 outbreak is still our number one priority. If we are not done with it this year, the (capital city) project will be delayed further. But I believe we will not reach a point where we have to cancel it altogether because it is a political decision. If the bill is finalized this year, it will be a binding decision.
How does Bappenas view the potential rise in poverty rate following the masive wave of layoffs in the course of the coronavirus pandemic?
The poverty rate goes up because the vulnerable become poorer, those in the middle who barely get by become poor and the poor fall into extreme poverty. As a result, the extreme poverty rate will increase. Therefore, we will widen the social safety net which is crucial to buffer the impact. But target groups will not be according to the poverty data anymore. They will be the vulnerable who are on the brink of becoming poor because they rely on daily wage, or those who earn daily wage and have monthly installments to make. We will include them all in our fiscal policy to respond to the Covid-19. That's why, besides the Rp75 trillion healthcare budget, we have another Rp70 trillion which we will allocate to prevent the emergence of a new batch of poor people, in addition to Rp110 trillion safety net budget which certainly is to fight poverty.
How big is the number of recipients?
We've increased it from the previous a little over 15 million to 20 million. It will be an extraordinary success if we can eliminate poverty across Java alone as those who are most vulnerable to poverty live in Java which has 150 million population. Hence its highest poverty ratio.
What will the poverty rate be following the Covid-19 pandemic?
Maybe it remains at 9 percent. Hopefully it will not increase much given the social safety net we have in place to hold it back. Otherwise, it might reach the unfavorable number. Our hope is to bring it down to 7 percent in 2024. But we are being hampered by the current situation.
The number of Covid-19 patients continues to climb. When does Bappenas think the pandemic will peak?
We have involved Bandung Institute of Technology and University of Indonesia and even the WHO (World Health Organization) and UNICEF (United Nations Children's Fund) to gauge the odds and to come up with the best and the worst scenarios. The peak, as Pak Doni Monardo (chairman of Covid-19 task force) has correctly said, is expected in May with around 92,000 cases in total. That is after the government's maximum intervention.
What is the maximum intervention like?
First, to continue to enforce physical distancing. Second, to make available tests in the regions classified as red zones. Increased testing means increased, strengthened and expanded lab capacity. Then we prepare hospital capacity to anticipate the peak.
Are the current intervention measures taken by the government already maximum?
We continue to improve as we wade through the crisis. There are phases in the scenarios. Different interventions for different targets.
How higher the number of Covid-19 patients would be without the government intervention?
Without the intervention, 50 out of 100 persons could be infected and 2 to 3 percent of those infected—around four to six people—would die. That is a heard immunity theory. The pandemic will also take longer without intervention.
What are the dynamics within the Palace during the pandemic management?
I think President Joko Widodo has confidence in the team and the teamwork. We seek President's decision if there is difference of opinion.
For example?
For instance, how far are we willing to widen the budget deficit. I proposed 4 percent. Finance Minister said 5 percent or more is still ok. We followed President's decision.
Why do you think 4 percent deficit is sufficient?
I'm conservative when it comes to fiscal policies. When I was a special staffer to Pak Hamzah Haz (Vice President for 2002-2004), I participated in the formulation of Law No. 17/2003 regarding state finance. I discussed with, and learned from Pak Hamzah Haz who was a budget and tax expert. Why a 3 percent deficit threshold, why 60 percent debt to GDP ratio, etc. I think we can reopen those debates which are still relevant today to safeguard Indonesia. I was also in the House of Representatives (DPR) when we had to adjust the budget twice in 2008 because of the housing credit crisis in the United States which disrupted the payment system around the world and eventually led to the global economic downturn. I was the deputy chair of the budget committee which was involved in decision making. With that experience, I wanted to prevent us from getting trapped in a bad situation after the outbreak is over.
Why did the government issue the government regulation in lieu of the law (Perpu) on state finance policies and financial system stability in response to the pandemic?
Actually, we have the KSSK (Financial System Stability Committee). I'm not a member, mind you. KSSK meetings yielded a proposal which was later brought to a cabinet meeting by the finance minister. That's how the regulation came about.
---
Place and date of birth: Mataram, West Nusa Tenggara, October 31, 1954 • Education: Faculty of Planology, Bandung Institute of Technology (1974-1978); Executive Development Program, University of Michigan, US (1994); Executive Program, Stanford University, US (1995); Visiting Professor, Guangdong University of Finance, China, and Business School, University of Nottingham, UK (2016-2018) • Career: Executive in several companies (1984-2002), among others, Bukaka Sembawang Engineering; Special Staffer to Vice President Hamzah Haz (2002-2004); Member, House of Representatives (2004-2009); Minister of Public Housing (2009-2012); Member, President Advisory Council (2015-2019); Acting Chairman, United Development Party (since 2019); Minister of National Development Planning /Head of Bappenas (since 2019) • Awards: Honorary Doctorate Degree in Business from Central Queensland University, Australia (2019)
---
What are the considerations that time?
Indeed, we need to salvage all the economic sectors, but most vulnerable among them is the monetary sector. For example, when a factory can no longer manufacture, it means its cash flow is interrupted thus it cannot fulfill its obligations to pay bank interests and wages. It can't pay either debts for raw materials. If that happens to all the companies, banks' operations will also be disrupted. This situation will threaten the payment system and economic liquidity. Everything will be stalled. Like a clogged artery. Cases like the Bank Indonesia liquidity assistance scandal can happen again. Therefore, we have to prevent that by saving the economy with the Rp150 trillion fund injection.
Article 27 of the regulation drew criticism because it relieves all KSSK team members of criminal liability if state losses incur. What is your response?
What we fear is criminalization of the policy. You cannot judge and try a past incident under current conditions. For example, judging that a past policy is wrong because it is causing state losses. No, you can't. That's why the regulation is necessary so that what is done on a given day stops that day. But certainly it must be done with good intentions. We should not create any moral hazard. That's important. That's why the public, including journalists, must keep tabs on it. This regulation actually brings together fiscal and monetary authorities to face the economic challenges brought on by the Covid-19 pandemic. All of that overrides the normal conditions and I think we have already satisfied the force majeure criteria. First, state revenues have plummeted while spending continues. Second, the outbreak is exploding.
But the regulation is viewed as giving way too much authority to the president and the finance minister.
Actually, the government doesn't have much authority except about the 3 percent deficit. Much more authority has been given to the monetary authority and the KSSK.
How did the President react when the finance minister first informed him about the idea of that regulation?
First, the deficit will inevitably exceed 3 percent. That already violates the Law No. 17/2003. So, we do need a law that allows it. But we will only allow it in 2020, 2021 and 2022. Therefore, the provisions are not permanent.