Strategies for Closing the Capital
Anies Baswedan frequently communicated with business owners and academicians to prepare for setting limitations on movement in the Capital. There is a lobbying effort to relax regulations set by the minister of health.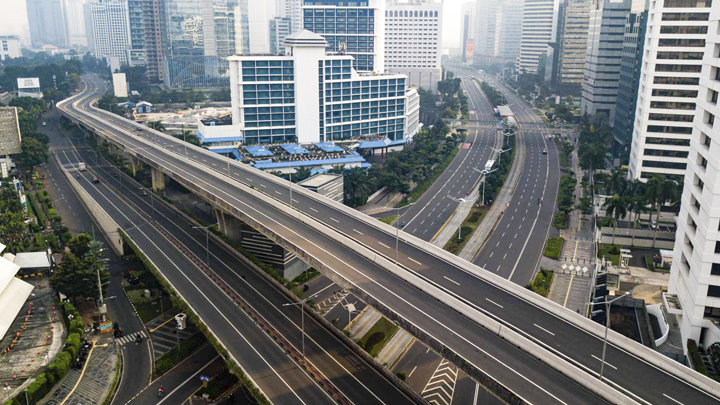 BY phone, Jakarta Governor Anies Rasyid Baswedan conveyed the news about the implementation of Large-Scale Social Restrictions (PSBB) to Diana Dewi, chair of the Jakarta Chamber of Commerce and Industry (KADIN), on April 7. Speaking to Diana, Anies said that the approval letter from the health ministry had been received by the Jakarta Capital Region government. This policy to prevent the spread of the coronavirus would go into effect three days later. "He asked about KADIN's stance on the issue," said Diana, telling Tempo about her conversation, on Wednesday, April 8.
Diana said business owners in KADIN have read the Health Minister Regulation No. 9/2020 regarding the implementation guidelines for the PSBB. This regulation mentions eight industries which are exempted from the PSBB application. One point of confusion among business owners is the definition for strategic industries which are exempted under that regulation.
Diana asked the governor to establish criteria for strategic industries so that the definition did not become broader. This could include industries which produce goods of public interest, such as pharmaceuticals and food. The governor was also asked to be mindful of micro-scale industries, which has seen a loss of customers. According to Diana, Anies said that he is working on a governor regulation to give a more detailed explanation on rules for industries. "He said that hopefully our requests can be included," she said.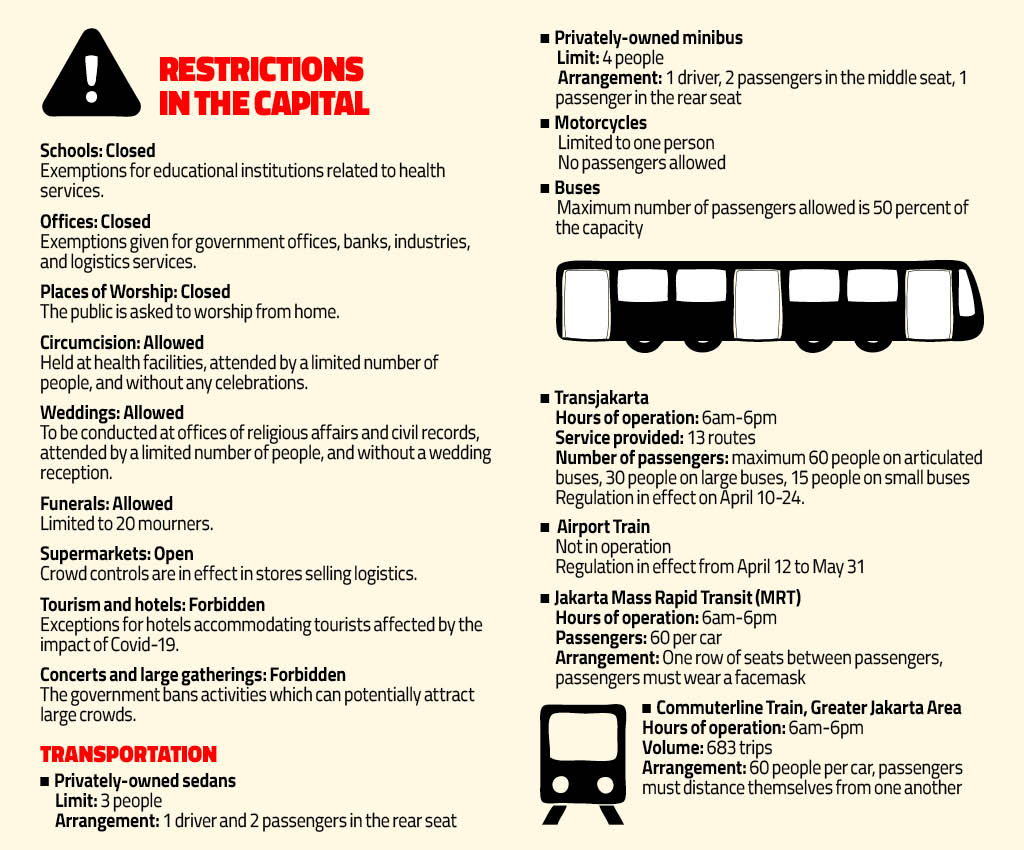 RESTRICTIONS IN THE CAPITAL
On April 9, Anies Baswedan issued Governor Regulation No. 33/2020 regarding social restriction in Jakarta. After mentioning eight sectors which are to be exempt, such as health, food commodities, energy, communication and information technology, Anies added two other sectors, namely basic services and public utilities. He also included industries which have been determined to be nationally vital, along with those that produce certain objects and daily needs. "There must be a regulation on the number of workers who can work as well as on physical limitations," said Anies.
Intensive communication between Anies and business owners took place soon after President Joko Widodo announced the first positive case of coronavirus on March 2. Ten days later, Anies met with entrepreneurs at City Hall. At that time, he made a presentation on the spread of the coronavirus in Jakarta. Diana Dewi said that the situation at that time was not overly concerning. A week later, Anies spoke with business owners by video conferencing. In this meeting, Anies asked what they needed during the coronavirus emergency. "Including what stimulus is being sought by entrepreneurs," said Diana.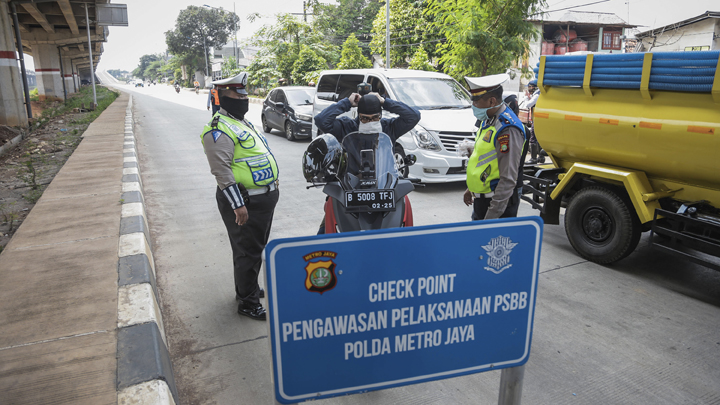 A Large-Scale Social Restrictions (PSBB) checkpoint in Jalan Raya Kalimalang, Jakarta./TEMPO/M. Taufan Rengganis
To facilitate communication with the governor and officials at City Hall, entrepreneurs took the initiative to create a WhatsApp group called Dunia Usaha (The Business Sector). They invited Anies Baswedan, Jakarta Regional Secretary Saefullah, and some heads of city government offices to the group. Business owners often hold discussions there and convey their aspirations to the city government. "Although the governor himself rarely makes comments in the group," said Diana.
•••
The Jakarta government had prepared a number of scenarios to face the spread of Coronavirus Disease 2019 or Covid-19 in early March. At that time, the capital city administration had prepared a regional quarantine scenario. However, later on the central government rejected that plan. In mid-March, Assistant Regional Secretary for the Economy Sri Hartati invited several economists for a meeting, including Institute for Development of Economics and Finance (Indef) researcher Enny Sri Hartati, Gadjah Mada University economist Elan Satriawan, and a former World Bank economic expert.
Enny Sri Hartati said that Jakarta government officials asked for input about what would happen if a regional quarantine went into effect. She predicted that there would be 1.5 million informal laborers and daily workers who would likely be affected by Covid-19. The number of recipients of assistance could be more than twice of that number. "We proposed to try it for 14 days," said Enny. She also suggested that the government cooperate with vendors in order to prepare food for Jakarta residents. For distribution, food vendors could cooperate with online motorcycle delivery services.
As for regulations on online motorcycle taxi (ojek) services, as of April 8 Anies Baswedan was still lobbying the transportation ministry to relax the restrictions. The Jakarta government has not banned online motorcycle taxi services from taking passengers, as long as drivers follow protocols, such as wearing masks and using hand sanitizer. The problem is, the Health Minister Regulation states that motorcycle drivers are only allowed to carry goods, not passengers. If the higher regulation is changed, said Anies, the city government will make the necessary adjustments.
Ahmad Yani, director of road transportation in the directorate-general of land transportation of the transportation ministry, has conveyed the Jakarta government's request to the health ministry. According to Yani, this measure is in line with the concept developed by the coordinating ministry for maritime affairs and investment, together with the Greater Jakarta (Jakarta-Bogor-Depok-Tangerang-Bekasi) transportation agency. The government will make safety protocols for online motorcycle taxi drivers and passengers if the regulations are relaxed. "The health ministry team will reformulate it," he said.
Rice stock at the Cipinang Market, Jakarta, last March./TEMPO/Muhammad Hidayat,
The Jakarta office of labor also met with a number of business associations to discuss various regional quarantine scenarios. Sarman Simanjorang, deputy general chairman of the Indonesian Association of Market Vendors, said that business owners need to be given flexibility in a number of matters. One has to do with food distribution. "Many of the needs of retail businesses and trade are supplied by factories outside of Jakarta," said Sarman.
Following the PSBB regulations which went into effect on Friday, April 10, management of the Gojek and Grab applications have temporarily stopped passenger services in Jakarta. However, online taxi service is still allowed. Gojek Chief for Corporate Affairs Nila Marita and Managing Director of Grab Indonesia Neneng Goenadi realize that this limitation is being done to prevent the spread of Covid-19.
Even though some limitations have been set on transportation, the Jakarta office of transportation is not stopping bus operations between cities during the PSBB period. Syafrin Liputo, chief of the Jakarta office of transportation, said that the operational hours of inter-city public bus will be limited from 6am to 6pm. This provision differs from the measure proposed by the city's office of transportation to the ministry of transportation at the end of last March, namely to stop all transportation between cities. Syafrin says that this relaxed stance is also not in line with the recommendation of the Greater Jakarta transportation agency. "We did not carry out that recommendation," said Syafrin.
•••
SINCE mid-March, the Jakarta government has also been racing to prepare logistics needed to face limitations on resident movement. On March 18, Chief Executive Officer (CEO) of Tjipinang Food Station, Arief Prasetio, received a visit from Comsr. Gen. Listyo Sigit Prabowo, chief of the National Police's criminal investigation department. Arief said that the police want to ensure the availability of logistics from production and distribution centers. At that time, Listyo Sigit explained that the stock of food commodities such as rice and garlic were still sufficient.
As of April 8, rice stocks at the Cipinang Central Rice Market were still at 30,000 tons. That day, the Cipinang Rice Market received an additional supply of 2,342 tons of rice. That market also received a stock of 500 tons of sugar, and another 1,000 tons from several producers in East Java. The target, said Arief, is to have 4,000 tons of sugar. "This is to meet the demand for 14 days in Jakarta," he said.
During these social restriction measures, according to Article 21 clause 1 of Governor Regulation No. 30/2020, the regional government is providing basic necessities assistance to vulnerable residents. Anies Baswedan said that the capital city is preparing food assistance for 1.2 million residents in the poor and near-poor category. The administration has prepared a Rp7-trillion budget. As of April 9, 20,000 families have received government food assistance.
Irmansyah, chief of the Jakarta social affairs office, said that this first stage of assistance will likely continue until April 18. In the following period, from April 19-23, the Jakarta administration will likely collect data on those who are unregistered. The Jakarta provincial government is planning to distribute basic necessities to residential areas in neighborhood (RT) and community (RW) units with the help of the military and police.
The distribution of logistics began on April 9. Lieutenant Col. Tri Handaka, commander of the North Jakarta Military District, said that they have mobilized troops to distribute supplies to 18 community units in Penjaringan. This logistical assistance will be stored at some points in the urban village offices before being distributed from door-to-door. "We are assigning soldiers to each RW," said Tri Handaka.
The Jakarta government is also increasing Covid-19 testing through rapid tests and polymerase chain reaction (PCR) tests. The capital city is targeting 100,000 residents for testing. To date, said Jakarta Covid-19 Task Force Chairman Catur Laswanto, 30,802 people have taken the rapid test. "As many as 3.1 percent or 949 people tested positive," said Catur.
The Jakarta health laboratory has prepared a PCR test device, which was placed in the Pasar Minggu Regional General Hospital (RSUD). On its Instagram account, the Jakarta health laboratory states that their lab has been operating since April 9. Jakarta Health Office Chief Widyastuti and Jakarta Health Laboratory Head Endra Muryanto could not be reached for confirmation about the capacity of that laboratory. However, Pasar Minggu RSUD spokesperson Wati said that she does not know about the existence of that lab. "I will check on it," she said.
WAYAN AGUS PURNOMO, FRANCISCA CHRISTY ROSANA, TAUFIQ SIDDIQ