Daeng Mohammad Faqih, Chairman, Indonesian Medical Association: Patient Information Should Be Released
Following the March 22 announcement of the death of six doctors, the Indonesian Medical Association's executive board (BP IDI) began posting on its social media pages obituaries for doctors who succumbed to the Covid-19, complete with a black and white portrait of the deceased doctors next to their names and academic titles.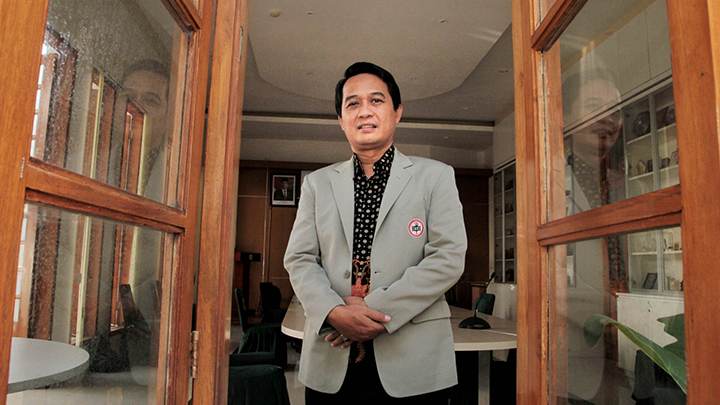 PB IDI's posts amid the rising death toll drew public attention. They seem to jolt the public into reality that medical personnel, particularly doctors, who are fighting at the frontline of the battle against the corona pandemic are falling one by one. "It's only fitting for us to honor our members who died in the fight," said the PB IDI Chairman Daeng Mohammad Faqih during a special interview with Tempo last Friday, April 17, adding that the virus had already claimed the lives of 24 doctors.
PB IDI reasoned that the identities of the deceased were revealed also to remind their colleagues to be more vigilant when handling virus-stricken patients, particularly when not all the doctors in the regions have enough personal protective equipment (PPE). Faqih lamented that the low PPE supply had become a dire problem. Since last month, PB IDI has been underlining the importance of PPE in ensuring medical personnel's safety. However, the supply still has not reached several regional hospitals.
In between his busy schedule of distributing mask and hazmat suit donations for branch IDI members in various regions, Faqih received Tempo's Mahardika Satria Hadi and Nur Alfiyah in his office. The medical doctor who also studied medical law explained various matters-from PPE shortages, the importance of mass swabs and additional referral hospitals to the need to release patient information to contain the spread of the outbreak.
What actually is the cause behind the deaths of many doctors?
There are two major factors. First, the PPE shortage. We are very concerned that our colleagues are using modified PPE out of raincoats or even plastic because the improvised PPE do not give 100 percent protection. Second, we are actually worry about the (safety) of the doctors who are practicing in community clinics, private clinics or other hospitals more than the ones who worked at referral hospitals.
Why were they more susceptible to infection?
Their patients varied. Perhaps they (patients) had Covid-19 but they didn't know they had it and went to these doctors for other illnesses. Some patients happend to be asymptomatic (OTG) Covid-19 carrier. Since they came for other sicknesses, for example, bone-related problems, the doctors may not have been very concerned about the (coronavirus) risks. So, they didn't wear PPE.
Are there many incidents like these?
A lot. Most of the deceased doctors in fact worked in non-referral hospitals or had private practices. They were not aware they were seeing OTGs mentioned above. When they examined the patients' mouths, droplets could have come out. That's where the high risk of getting infected is present. That's why we issued an appeal to doctors to reduce practice hours and to restrict face to face interactions unless for urgent and emergency situations. If they must have face to face examination, they should wear PPE even if the patients did not show Covid-19 symptoms.
Is it true that many doctors do not heed that advice?
Perhaps our colleagues are still confident that they are healthy or the patients are not Covid-19 patients. Then they let their guard down. It's not like they are disobeying the advice. Who isn't afraid of getting Covid-19?
A lot of patients did not reveal their contacts or their travels to Covid-19 prevalent countries because they were afraid of being rejected by hospitals.
I only heard about it but they were not many. There was such a case in South Jakarta. That behavior is indeed very dangerous. When he did not tell the truth, even more so if he is OTG, well, that spelled trouble for healthcare workers. When he was asked why, he said he was afraid of being turned away by the doctor.
How do we overcome this problem so that it won't happen again?
The government must designate hospitals to specifically treat Covid-19 patients only. This is very crucial for doctors and patients alike. But on the condition that the designated hospitals monitor the development. If the number of patients multiplies, well, they must promptly add more beds.
---
...patients' identities may be released to safeguard public interests. Public interest certainly is different compared with ethical and personal interests. After all, the public safety is the highest law.
---
Referral hospitals are beginning to feel the heat from the 'explosion' in the number of patients. What is the solution?
Under the circumstances, we want the regional governments to add more referral hospitals and to regulate patient management. Patients with mild and moderate symptoms should not be treated in referral hospitals but moved to Wisma Atlet emergency hospital to allow suficients beds in referral hospitals to accommodate patients in severe conditions.
What is the ideal patient referral system?
It should be based on swab results and clinical symptoms. Let's say a given patient is confirmed positive. Then we should also look at his or her clinical condition: no symptom, mild to moderate or breathing difficulties. Based on the three (clinical) criteria, the treatment will vary although the patient will be isolated nonetheless. So, Covid-19 positive patients without symptoms should self-isolate themselves at home, those with mild to moderate symptoms should be isolated in the emergency hospital and those with severe symptoms in referral hospitals. Therefore, referral is to be determined after the tests.
Ideally, where should examinations be done?
They can be done at healthcare facilities at hospitals but the government should first determine the hospitals. We would recommend to expand it down to hospitals at the lowest level-type C and D government hospitals. Or mass tests can also be done at community clinics.
In a condition like this, how many more referral hospitals are needed?
It's difficult to calculate it because we don't know where the PDPs (patients under surveillance) are which, according to the government, stood at 11,000. Meanwhile, there are 150,000 ODPs (people under observation). Many people who were not positive are now being treated. If we know PDPs' positions and conditions—whether severe or mild—we know how to manage them. A lot of PDPs have died before their test results came out so their status had not been reported.
How critical it is to locate OTGs in managing this pandemic?
OTG is a person who has Covid-19 but does not manifest any clinical symptoms. In the past they are categorized as ODPs but now they are separated. OTGs with no symptom at all and ODPs with very mild symptoms can self-isolate themselves at home. OTGs management is very crucial in stemming the spread. They are purposely separated from others because it is reported that 80 percent of the infected people are asymptomatic and can spread the disease to others. OTGs don't feel any symptoms and people they come in contact neither suspect them of having coronavirus.
How will OTGs be detected?
Via the PCR (polymerase chain reaction) test, not the anti-body test which will not detect the virus in OTGs. Therefore, PCR as a strategic test to identify OTGs is crucial in breaking the chain of infection. Once they are identified, they should be quarantined.
Do you think patient data reported by the government is still sketchy?
It is because of fast and dynamic developments. There are limited test kits available from the beginning and they are added periodically over time. The data still need to be consolidated for sure. We hope that the data will be available more swiftly once tests are ready.
Are there any problems in the provision of patient information by the government?
We've proposed to the government to release patient information for the sake of public interest, for contact tracing and the outbreak management. We saw that in other cases such as dengue fever outbreaks, when residents of certain villages are hospitalized, the hospitals would immediately inform village heads or community clinic heads and the latter would go to the locations and the surrounding areas to warn them against possible spread.
What are the obstacles?
Well, I don't know for certain. But some say that it concerns the medical code of ethics and confidentiality, regulations and patients' rights so the information should not be released. IDI only asked for name and address to be released to people tasked with localizing the infection and contact tracing. For example, A is confirmed positive. This should be informed to the personnel, healthcare officials in his or her area of residence along with his or her name and address. Then A should be quarantined and his or her contacts traced.
Hasn't contact tracing been so far done by health office officials?
Actually, they should go to the lowest levels. Heads of neighborhood and community units, non-commissioned village officials and the national police's security development agency must be informed. Healthcare officials and cadres or even community leaders can also help trace and localize (patients) because there are people who still flout the order to wear face masks. There is resistance. But if the information is open to the authorities, they can educate and guide the public.
What are the legal consequences for releasing patient information?
From what I see, we are not in a normal condition. Several legal experts whom I consulted with said patients' identities may be released to safeguard public interests. Public interest certainly is different compared with ethical and personal interests. After all, the public safety is the highest law.
---
DAENG MOHAMMAD FAQIH
Place and date of birth: Pamekasan, East Java, June 30, 1969 • Education: Faculty of Medicine, Brawijaya University, Malang (1996); Master of Law, Hasanuddin University, Makassar (2011); Faculty of Law, Jakarta University (2014) • Career: Supervisory Board, Bukit Asam Medika Hospital; Supervisory Board, Dompet Dhuafa Integrated Hospital, Parung, Bogor, West Java; Supervisory Council, Kartika Hospital, Pulomas | Organization: Deputy Chairman, Bureau of Legal Affairs, Guidance and Defense of Members of Executive Board of Indonesian Medical Association (2009-2012); Member, Bioethics and Health Law Study Center; Member, Indonesian Health Law Society; Member, Expert Panel, Collegium of Primary Care Doctors; Secretary-General, PB IDI (2012-2015); Deputy Chairman, PB IDI (2015-2018); Chairman, PB IDI (2018-2021)
---
Is it also PB IDI's consideration in announcing the identities of the doctors who died from suspected Covid-19 infection?
First, as a medical doctors' association, it's only fitting for us to honor our members who died. Second, we also want to remind our other colleagues to be more careful. Let us not lower our vigilance.
Isn't there any warning from the health ministry for the doctors?
There is but I don't think it announced the doctors' deaths.
How did PB IDI get the information of the deceased doctors?
It spread by word of mouth, from colleagues who give news whenever a colleague of ours die or from the deceased's colleagues or families. But not from the government since it hasn't released the data. We then corroborated the news as to whether the said doctors really died and whether their deaths were related to Covid-19. For this, we formed an audit team to verify the news.
So far, according to the record, how many doctors died from suspected Covid-19?
As of now, 24 doctors have died of corona related illnesses. We finalized and checked the data. If we have official data from the government, we wouldn't have to check everything including as to how they were infected. We want to give recommendations both internally for medical practice regulations and also to the government on preferable steps.
How does PB IDI view the Covid-19 pandemic management so far?
There is still room for improvement, for example, to carry out fast and widespread testing. Early detection via testing is paramount. President's instruction is already correct but the implementation should be expedited. For example, testing equipment should be swiftly delivered, reagent should be fast and testing locations should be promptly designated.
What kind of situation do doctors face in the field?
The number of patients is still climbing, perhaps 400 patients a day. In the field, especially in the red zones such as Jabodetabek, hospitals are already stretched to maximum capacity.
Is it because of increase in positive patients?
Not just positive patients but also pneumonia patients with breathing difficulties.
Has any doctor complained out of frustration or despair because of the current conditions?
I don't think they reached a point of despair but, many do complain out of fear or concern. That's why we keep screaming for PPE. Our colleagues are very worried.
Didn't the government distribute hundreds of thousands of PPE?
All the regional government hospitals' needs have been met. But private hospitals handling Covid-19 patients—not just in the regions but also around Jakarta—are still suffering shortages. For example, Kramat 128 and Annisa hospital in Bekasi (West Java). We know because they've asked for IDI's help.
How does PB IDI anticipate the impact on the doctors who are vulnerable to infection from patients?
Actually, physicians responsible for Covid-19 patients should be pulmonologists and internists who are pulmonary consultants and tropical infectious diseases consultants. The same goes for cases involving children. They should be pediatricians who are lung consultants. Then anesthetists for patients treated in intensive care units (ICU). But later we thought that all doctors must be able to handle patients due to the limited number of specialized doctors available, perhaps only 6,000 in the whole country.
How?
IDI has initiated Gerakan Dokter Semesta Melawan Covid-19, a universal movement to fight the pandemic. We've had a meeting with the association, regional IDI and PB IDI's Covid-19 task force. Since the number of cases continues to soar, there has to be a backup scenario. All doctors will be trained to handle Covid-19 (patients). This is important given the mass testing we will have later. We will need to provide a lot of services. We have to have a backup force so as to relieve the burden of doctors responsible for Covid-19 patients.
In a condition like now, what aspects of the accelerated Covid-19 mitigation task force need to be evaluated?
Since this pandemic has been categorized as the national disaster, the task force should no longer be a mere coordinator. It can initiate and execute measures. It cannot accelerate the Covid-19 mitigation if its duty is only to coordinate. The task force should already be able to freely execute what is necessary. I just have one message: please expedite testing. It has been already planned in all the cities, hasn't it? Afterwards, prepare additional referral hospitals.
Does PB IDI often participate in the task force's discussion?
Although we are not a government organization, we've been frequently asked to attend their meetings, for example, to discuss testing and patient management guidelines. We've often had discussions with Pak Doni Monardo even before he was appointed as the task force chief.
PB IDI also maintains communication with the health ministry?
In this case (the outbreak), I coordinate with Pak Terawan (Health Minster) about PPE, services at the hospitals, the need to increase the competency of our doctor colleagues to face the pandemic. We talk in person at the health ministry. Keeping ties to face this pandemic.
PB IDI and Terawan Agus Putranto once locked horns over the medical ethics issue. Did the incident affect the relation between IDI and Terawan?
It's about ethic problems and was resolved, right? The honorary medical ethics council (MKEK) has already issued the decree long ago, even before I became the chairman. We certainly ensure that all doctors comply with and follow ethics regulations. MKEK's job is to oversee and give guidance on ethics issues. But, of course, we must also maintain the peer relationship.
How about enforcing disciplinary sanctions against Terawan?
I don't know because the verdict was executed in a branch IDI, you see. When he came to PB IDI office last year, Pak Terawan said, "I've closed my practice," although the sanction was actually for temporary closure, if I'm not wrong, for a year. But it's more than a year now. Then he became the minister so it looks like it's becoming more difficult for him to open a practice. We respect him as a state official.