Lots of Oil, No Tanks
In order to take advantage of sagging prices, Pertamina plans to buy oil in bulk. The problem is where to store it.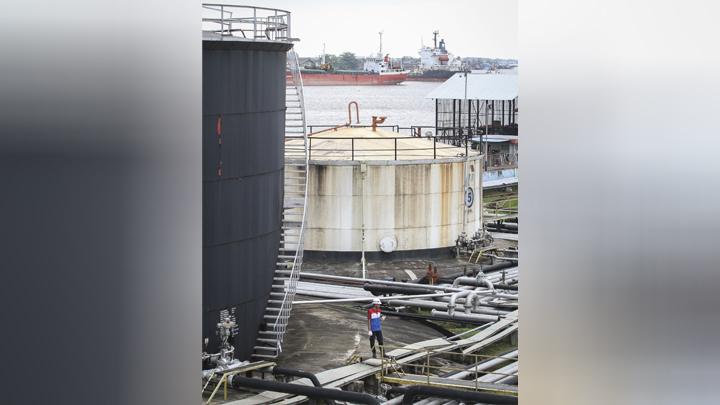 IT is anything but easy to readily find storage for 1.5 billion liters of crude oil, even for state-owned oil and gas company Pertamina. Pertamina is having difficulty finding enough tanks for the 10 million barrels of crude oil plans to be imported in order to get benefit from the falling global oil prices.
Realizing the need of giant tanks, Pertamina sent a letter to the Upstream Oil and Gas Special Regulatory Task Force (SKK Migas), asking the latter to use its crude oil storage facilities managed by other oil and gas contractors. "The letter only arrived in early April," said Satya Widya Yudha, expert advisor for SKK Migas chair, on Friday, April 24.
The crude oil tanks are situated in working blocks owned by the state, represented by the SKK Migas. However, they are managed by contractors' cooperation contract (KKKS)—companies that hold contracts in oil and gas working areas—to accommodate drilling products.
Now, however, Pertamina needs that storage space. The state company is seeking additional storage for at least 10 million barrels of crude oil—equal to 1.5 billion liters—they plan to import. Since early March, Pertamina has been working out options to buy large amounts of oil from abroad as international oil prices are nosediving.
Pertamina Chief Executive Officer (CEO) Nicke Widyawati rehashed the company's strategy in hearings with the House of Representative's (DPR) Commission VII on April 21. "We will see where we can add more, taking advantage of the cheap prices," Nicke said during the virtual hearings with the Energy Commission. "We are making use of this time to buy."
W251bGwsIjIwMjEtMDMtMDEgMTE6NTY6MjUiXQ
Since early March, global oil prices have been dropped to around US$30 a barrel. The price for Brent, Indonesia's main reference for crude oil, is down 24.69 percent to US$34 a barrel. Meanwhile the price for West Texas Intermediate (WTI), the reference for oil in the United States, was down even more at US$30.77 a barrel, a fall of 25.46 percent.
International crude oil prices have tumbled due to falling the demand as the Covid-19 pandemic has halted global consumption. Air traffic has drastically fallen, journeys on halt, and fuel-using industries have closed down in many countries following social-distancing policies implemented to curb the spread of coronavirus. Meanwhile, oil-producing countries have been unable to agree on cutting production, resulting in a supply overflow.
Thus, world oil prices have taken a further beating. The lowest point came when WTI prices at the New York Mercantile Exchange (NYMEX) went below zero to US$-37.63 a barrel early last week.
In the midst of this, Pertamina saw its chance to buy large quantities of oil. Oil in the form of gasoline is also in the picture, with an import target of 9.3 million barrels as the market is in dire need of buyers.
•••
PERTAMINA's hearing with the the Energy Commission on April 21, was not just used to detail the plans during the Covid-19 period. In the virtual meeting, some DPR members questioned why domestic fuel prices have not gone down. "Global oil prices are lower, so why are Indonesian fuel prices not down?" said Sartono, a House member from the Democrat Party. Several other voiced the same question.
Nicke Widyawati had a firm answer: oil-based fuel prices are set by the government through Regulation No. 62K/2020, issued by the energy and mineral resources ministry. Pertamina is merely the executor. "We already communicated with the government. Hopefully, they will take the right decision," Nicke said.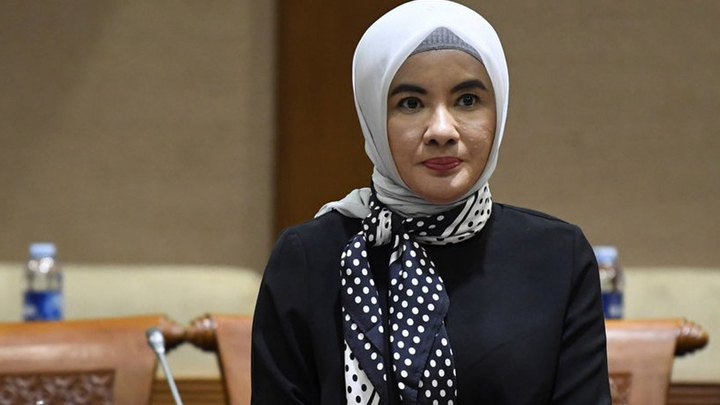 Pertamina Chief Executive Officer, Nicke Widyawati./ANTARA/Puspa Perwitasari
She further pointed out that many parties assume that Pertamina is reaping profits from the current situation: fuel prices are not down, but the company can buy crude oil in cheap prices. However, Nicke said, the US dollar is going up. Meanwhile, sale of fuel has also fallen drastically. Pertamina's potential profits are thus out of the window. "Are we benefitting from the current conditions? No," she said. "Basically, if there is no demand, then there are no profits."
Some 80 percent of Pertamina's income until now has come from its downstream business, which is fuel sales. The rest comes from its upstream business, including exploration production. However, so far its downstream business has only contributed 20 percent to profits, while a large chunk of profits has come from the upstream part. Thus, Nicke explained, in the current situation, Pertamina is being hit from both sides.
Covid-19 and falling international oil prices have forced Pertamina, and also many other KKKS parties, to lower their projection of upstream production this year. The SKK Migas estimates its oil production would only reach 725,000 barrels a day, down 10,000 barrels per day from its original projections. Production revisions are also done for gas, which is expected to only reach 5,727 million standard cubic feet per day (MMSCFD), down from earlier estimates of 5,959 MMSCFD.
On the other hand, Pertamina is seeing a sharp decline in its fuel sales. Throughout April, average retail fuel sales have gone down 24 percent compared to normal periods. The company estimates sales in this downstream sector to be down by 20 percent for 2020. Expectations are that industrial and aviation fuel sales will be 30 percent lower this year.
Thus, Pertamina plans to cut its crude oil processing in its refineries. In May, the company will lower its crude oil processing by 43 percent. While its monthly refinery production in normal times could reach 4.76 million kiloliters, this amount will now be cut roughly in half to 2.72 million kiloliters during the Covid-19 pandemic period.
Nicke has even said that closing refineries could be better for Pertamina in the current period. "Imported fuel is now cheaper. Looking at the prices now, it would have been better if we were to close down all our refineries," she said. "However, that can't be done."
•••
AS soon as Pertamina's letter arrived, the SKK Migas team immediately calculated the readiness of crude oil refineries that could be used to store the additional oil imports. Until now, said SKK Migas Chairman Dwi Soetjipto, total upstream storage capacity is 31 million barrels. However, tanks actively operational only have capacity of 25 million barrels. From that amount, some 13.6 million barrels are onshore, while the rest is offshore.
After mapping out conditions, the SKK Migas found storage space for 12 million barrels for Pertamina, ample for the 10 million barrels of additional crude oil to be imported. Storage with a capacity of five million barrels is distributed among 16 offshore tanks. Space for another seven million barrels is found on 30 onshore terminals. Pertamina is also able to use space for 1.8 million barrels in idle tanks.
The problem, Dwi continued, is that not all the tanks can be used to store imported oil originating from ships. Some of the tanks can only receive oil from land as they are designed for onshore production. Many tanks can only be used in conjunction with smaller ships, not giant tankers usually carrying imported oil. "This is currently being calculated by SKK Migas' operational team and Pertamina's Integrated Supply Chain," Dwi said on March 24.
Satya Widya Yudha said that Pertamina can use the tanks free of charge. However, the company still has to process agreements with KKKS parties which are also using the tanks. "That's just to confirm users' responsibility," Satya said.
Besides stocking up on crude oil, Pertamina is also adding to its oil reserves. Nicke Widyawati said the company will gradually add gasoline imports up to 9.3 million barrels. Taking advantage of the low prices, Pertamina will also stock up on Premium, Pertamax, and similar products to be stored in company tanks.
Imported fuel prices are currently even lower than that of crude oil due to muted demand. From the middle to the end of March, Pertamina has imported crude oil for US$24 per barrel. Meanwhile, it only needed to pay US$22.50 a barrel for gasoline.
However, Pertamina's plans to import gasoline are not free of problems. Pertamina's fuel storage facilities only has capacity for six million kiloliters, or 37.7 million barrels. The majority of that is already in use, with very little going out due to the low level of demand in the Covid-19 pandemic. The fact that the storage tanks are filled almost to capacity is mirrored in Pertamina's overflowing fuel stock, much more than its usual stock enough for 20 days—much lower than the minimum 90-day standard of oil-importing countries.
Due to the corona pandemic, stock for Premium remains 1.4 million kiloliters, or commensurate to what is needed for 25 days. Meanwhile, stock for Pertamax is 1.2 million kiloliters (41 days), diesel fuels is 2 million kiloliters (33 days), Pertamina Dex 78,000 kiloliters (77 days), LPG (liquefied petroleum gas) is 347,000 kiloliters (16 days). Stock of Aviation turbine fuel, or Avtur, is overflowing: 514,000 kiloliters, enough for 91 days. "Avtur stock at one point was enough for 114 days," Nicke said. After operations at a number of refineries were halted, including in Balikpapan which produces a lot of Avtur, stock for aviation fuel finally went down.
Nicke further said that Pertamina has already given stock to buyers. Efforts to get rid of stock has included selling products for discounted prices and servicing credit buyers, particularly for enterprises servicing public fueling stations and bulk buyers. However, its stock remains relatively high, and now this creates problems as the company plans to buy large amounts of import fuel.
Pertamina is now forced to look at storage tanks owned by other parties. Pertamina Corporate Communication Vice President Fajriyah Usman said the company needs additional storage capacity for at least 150,000 kiloliters, or 943,000 barrels. "If needed, we may rent external facilities," Fajriyah said on April 24.
Satya Yudha pointed out that this is a reminder of how important it is to increase strategic energy reserve capacity. If national fuel storage capacity were larger than it is now, Pertamina would have been able to buy more gasoline. The United States, for example, plans to buy 75 million barrels to fill up its strategic reserves. "This could have been used by the government as a momentum to implement its strategic energy reserves," he said.
KHAIRUL ANAM, RETNO SULISTYOWATI, HENDARTYO HANGGI, CAESAR AKBAR