Earth's Hope
These young women dedicate themselves to protecting the environment. Some are keeping a watchful eye over ecosystems, while others are mobilizing communities, educating the younger generation and defending the environment. In spite of their sometimes trying journey, these women have continued forward.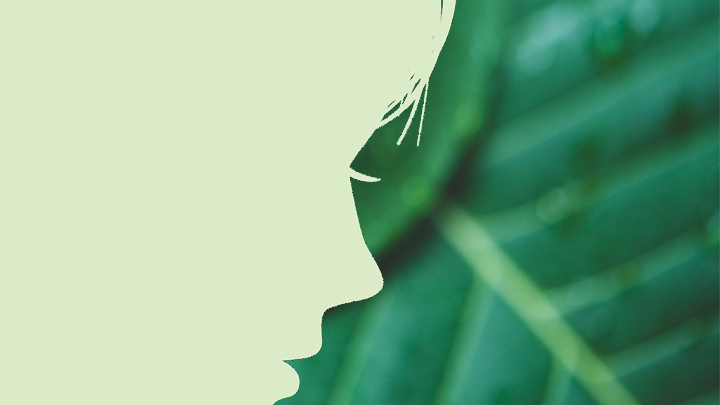 DEEP in Ujang village's forest in the Sekatak subdistrict, Bulungan Regency, North Kalimantan, Sri Tiawati is working to turn her dream into reality. Amid a difficult terrain, she is determined to raise the awareness of around 70 Dayak Punan Tribe children in the Semeriot community. Sri refuses to receive more reports of outsiders cutting down trees in the forest or taking over land owned by members of the Punan Tribe. "Those in the Punan Tribe freely give their thumb prints because they can't read nor write," said Sri on Tuesday, April 21.
Sri, 27 years old, founded the Punan Semeriot Customary School in 2014. Her parents were at first resistant to this plan because Sri had been diagnosed with cancer. But Sri was determined. She worked and saved her salary for eight months to fund her teaching. She would travel four hours on a ketinting (small boat) from her home in the Kelembunan village, to Semeriot hamlet. Despite repeated rejection from Semeriot's children, she did not give up.
Sri's struggle has yielded results. The Semeriot people can now begin to read and write, and differentiate between rupiah bills. And the older people no longer clear land at will. She now has 105 students and has asked some of them to take the A-Package exam so they can receive their elementary-school equivalency diplomas. Sri is collecting money to fund the exam.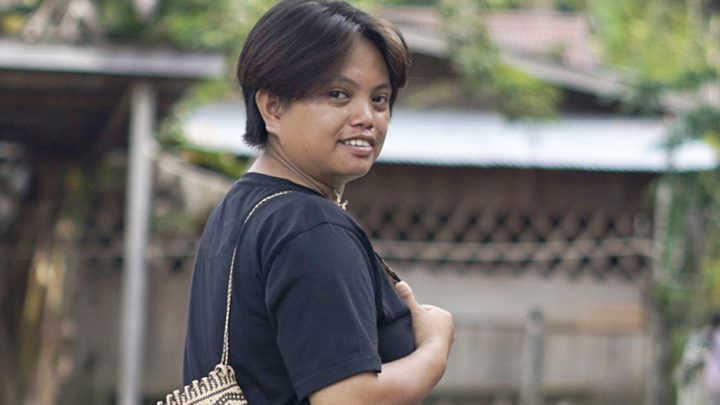 Sri Tiawati
The desire to protect the environment has also taken Lia Putrinda, 26, up a steep road. In 2015, Lia and her father, Saptoyo, even had to spend a night in jail. The police accused them of trespassing into the Clungup Beach state land in the Malang Regency, East Java, when they planted mangrove in the damaged 70-hectare coastal area. "We went there as members of the community who had seen destruction," said Lia.
Lia and Saptoyo planted mangrove on Clungup Beach in 2005. They then expanded to the Tiga Warna Beach. The area, which was once arid, has now turned green, drawing the interest of tourists. Lia protects the result of their work throughout the years by founding Lembaga Masyarakat Konservasi (Conservation Community Organization). Strict regulations are made to prevent tourists from littering.
Sri and Lia represent the many young women who wish to protect the Earth by looking after the environment. We also present the stories of other women in five categories: defenders, conservationists, educators, mobilizers and protectors.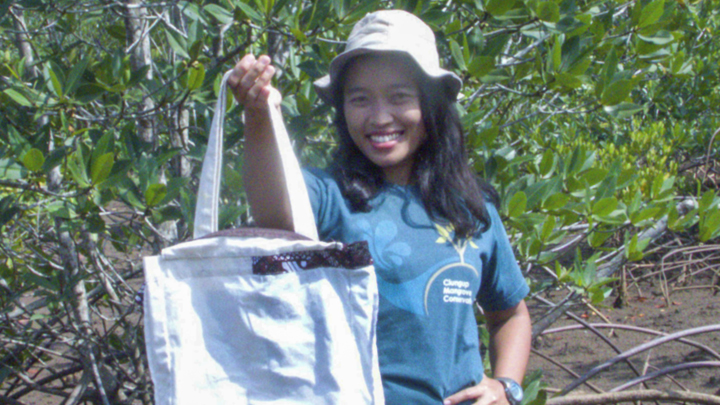 Lia Putrinda
Among these women are Solfarina, who established the Rimba Satwa Foundation to protect elephants at the Balai Raja and Giam Siak Kecil Wildlife Sanctuaries in Riau; Eva Bachtiar, who created Garda Pangan (Food Guard) to distribute decent leftover food to those in need; and Lasma Natalia, who is assisting farmers in Indramayu and Cirebon to resist the development of a coal-fired steam power plant.
To commemorate Kartini Day and Earth Day, we wish to show that women occupy indispensable positions in the giant movement to confront the climate crisis.
They are following in the footsteps of legendary women from previous generations, who paved the road to environmental conservation. The world is certainly well-acquainted with the work of Jane Goodall, Dian Fossey, and Birutë Galdikas in the 1960s and 70s.
These women researchers introduced us to the world of non-human primates and laid down the foundation for how we see the importance of environmental conservation. For decades, Goodall, Fossey, and Galdikas lived deep in the jungles of Tanzania, Rwanda, and Indonesia, and taught us how important nature is for the continued existence of chimpanzees, gorillas and orangutans.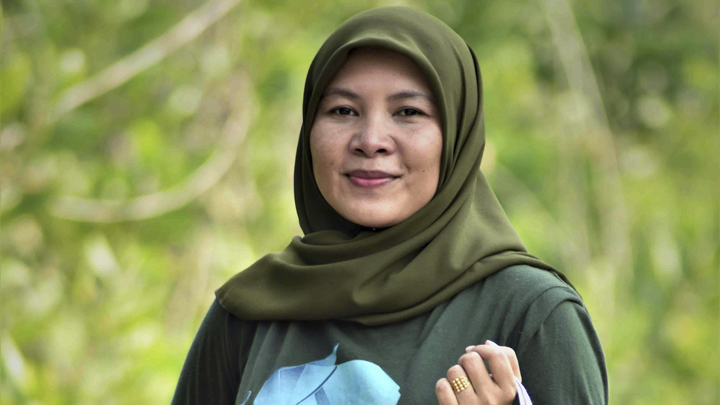 Solfarina
Now many are familiar with Greta Thunberg, a conservation activist from Sweden, who has spoken up to demand the accountability of politicians and world leaders for the destruction of nature. Since a very young age, Thunberg has spoken about the importance of all nations' political will to join hands in order to effect a transformation.
Indonesia also has its own earth defenders, who are just as militant. Our research since the beginning of this year resulted in the names of hundreds of young women activists who are working in conservation and have embarked on great labor and extraordinary work.
To obtain the names of these capable women, we held a series of discussions with the Indonesian Forum for Environment (WALHI) Chief of Campaign, Khalisha Khalid; World Wide Fund for Nature (WWF) Communications Manager, Dewi Satriani; and The Climate Reality Project Indonesia Manager and concurrently Presidential Special Envoy for Climate Change Chief of Expert Team, Amanda Katili. "It's important to reach (our) friends in the regions, who have not been exposed by social media and the news," said Khalisha.
Besides engaging in discussions and observing social media, we also made announcements through environmental communities. We asked members of these communities to register the names of their colleagues, who have fought hard despite limitations and succeeded to make positive changes.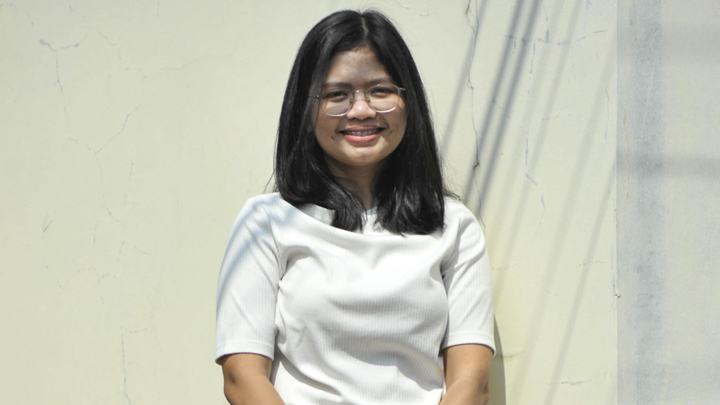 Lasma Natalia
In the first week, we received almost 100 names from Aceh to Papua. Their stories were truly heartwarming.
Through a layered verification process, we created a shortlist. We chose to focus on those who have created results and have been able to inspire other young people. We then discussed these names with several experts.
We had a long discussion with Humanitarian Forum Indonesia Executive Director, Hening Parlan, who has worked for WALHI and the Indonesian Society for Disaster Management. We also spoke with Rina Kusuma, currently EcoNusa's public and youth mobilization manager, and Mardiyah Chamim, an environmental journalist.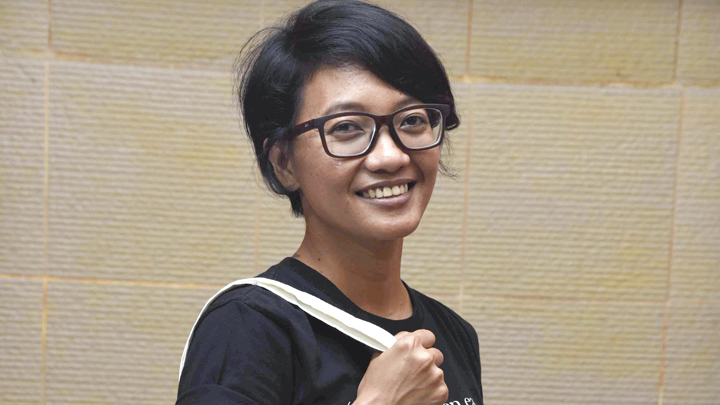 Eva Bachtiar
Meanwhile, we determined the five categories based on the distinct backgrounds of the women on our list. Some women are defending the environment from illegal loggers and poachers, while others are restoring the environment and introducing ways to make use of natural resources without polluting the earth. The next category includes women who are mobilizing the people, raising awareness of the threat of climate change and transforming lifestyles. There is another category of educators who are teaching the younger generation to prevent them from repeating their predecessors' mistake of destroying the environment. The last category include those who are defending the earth and taking those who destroy the environment to court.
We decided on one primary figure in every category, a person who has not received much exposure. These figures were chosen because of their success despite extraordinary challenges.
We of course realize that there are still plenty of accomplished young women out there. It is also possible that some names were not detected by our radar despite their work. But, at the very least, we hope that these 26 women in the five categories can rekindle our hope for a better earth.
---
Team Leaders: Sapto Yunus, Dody Hidayat | Project Head: Nur Alfiyah | Writers: Agung Sedayu, Aisha Shaidra, Hussein Abri Dongoran, Gabriel Wahyu Titiyoga, Linda Trianita, Mahardika Satria Hadi, Moyang Kasih Dewimerdeka, Nur Alfiyah | Editors: Agoeng Wijaya, Bagja Hidayat, Dody Hidayat, Mustafa Silalahi, Nurdin Kalim, Sapto Yunus, Stefanus Pramono | Contributors: Dini Pramita, Made Argawa (Bali), Kukuh S. Wibowo (Surabaya), Nurhadi (Surabaya) | Photographers: Gunawan Wicaksono, Prima Mulia (Bandung), Aris Novia Hidayat (Surabaya) Photo researchers: Gunawan Wicaksono, Jati Mahatmaji, Ratih Purnama Ningsih | English Editor: Lucas Edward, Philipus Parea, Purwani Dyah Prabandari | Design: Ahmad Fatoni, Djunaedi, Munzir Fadly, Lukmanul Hakim, Kuswoyo | Digital: Rio Ariseno, Riyan Akbar, Imam Riyadi Untung