From Forest to Sea
These women dedicate their time to protecting the environment. They spend days at a time in the jungle.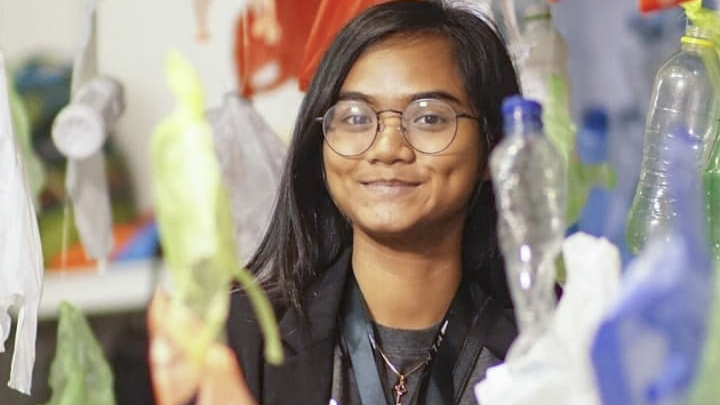 ROSA Rika Wahyuni's cellular phone rang on Wednesday afternoon, April 17. On the other end, her boss, Chief of the Aceh Natural Resources Conservation Agency (BSKDA), Agus Arianto, asked her to head to the Seumanah Jaya village, East Aceh, Aceh, to perform a necropsy on the body of an elephant that had begun to rot. "I was asked to prepare (for the job)," said Rosa on April 19.
Rosa's eldest daughter, Jasmine, 12 years old, sulked when she saw her mother packing. She did not want Rosa to leave during the Covid-19 lockdown in Aceh. Jasmine was also worried that her mother would be gone for days, as usual. "But this is my duty, child," Rosa told Jasmine.
Rosa, 37 years old, is the chairperson of the Aceh BKSDA medical team. The veterinarian who graduated from the Syiah Kuala University, Aceh, has worked for the agency for 10 years as a non-permanent employee. Rosa once applied to become a civil servant, but her file was rejected during verification. When she wanted to re-apply, she was still in the forest during the deadline. "Sometimes I would spend up to 15 days there," she said.
The duties of Rosa and other members of the BKSDA team, among others, are to rescue wildlife, including elephants, in all of Aceh Province. One of their methods is to place a global positioning system collar on the leaders of elephant herds, to track their positions. If the large animals are monitored as approaching a plantation area, officers can immediately act to lead them away, to avoid conflict with locals.
Rosa Rika Wahyuni treating a wound on a baby elephant in Saree, Aceh./ANTARA/Ampelsa
She is also often asked to rescue wild animals that have been caught in a snare or to perform necropsy on dead animals, taking turns with other veterinarians. So far this year, eight elephants have been found dead and two others ensnared. "Whereever she's sent, Rosa has never refused," said Agus.
When she is not on an official trip, Rosa works at the BKSDA's elephant conservation center in Saree, Greater Aceh. The conservation center, among others, treats wounded animals. A picture of Rosa with a elephant baby elephant named Amirah went viral on social media two years ago. According to Rosa, the baby elephant saw her as the mother and would sleep longer whenever Rosa sat near. "She'd wake up when I'd leave," she said.
In the same regency, Farwiza Farhan, 34 years old, and her friend founded the Aceh Forest, Nature and Environment Foundation (HAkA), focusing on protecting the Leuser Ecosystem, in 2012. Wiza—as Fawriza is called—and her friends perform advocacy and conservation work in the 2.6-million hectare area, covering some of Aceh Province and North Sumatra.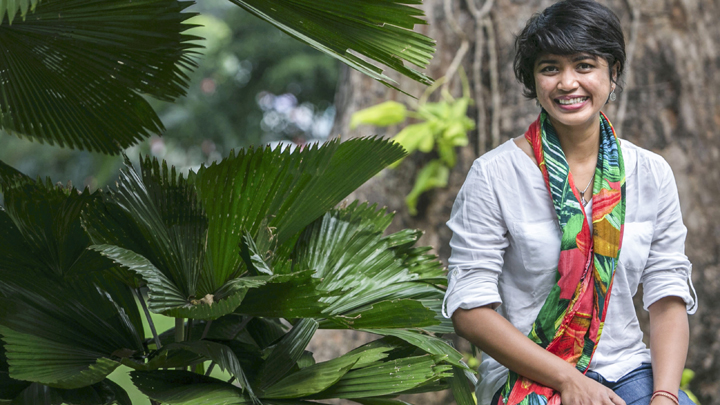 Farwiza Farhan./ TEMPO doc./Rizki Putra
For example, they helped the women in Damaran Baru, Bener Meriah Regency, Aceh, obtain a village forest management permit from the environmental and forestry ministry in 2019. The forest had been damaged by illegal logging and poaching. "Because of the logging, their village at the foot of the mountain was damaged by a flash flood in 2015," said the HAkA director.
The women from the gampong (community unit) were first trained to restore and protect the forest. They were taught to collect data on the wildlife and plants inside the forst, and to drive away poachers and illegal loggers. In February, the women formed Ranger Mpu Eutan, an all-women forest guard unit.
This is one of the ways Wiza and her friends have protected the Aceh's forest cover area, which has continued to shrink every year. In 2018, for example, there was still a forest cover area of 3,004,352 hectares, but one year later the number had dwindled to 2,989,212 hectares. In 2018, Aceh lost around 15,071 hectares of forest cover, or equal to 41 hectares of forest per day.
Nurain Lapolo, 28 years old, was also called to conserve the environment, and chose mangrove as a focus. She became interested in the plant during her days as a biology student at the Gorontalo State University Mathematics and Natural Sciences Department. In 2013, as part of her practical study experience (KKN), she was placed in Torosiaje village, Torosiaje Jaya, and Bumi Bahari, in Pohuwato Regency, in Gorontalo, which is home to the Bajo tribe. The men there were used to cutting down mangrove trees, to sell the wood as firewood or as construction material. "The price per cubic can reach Rp1 million," said Nurain.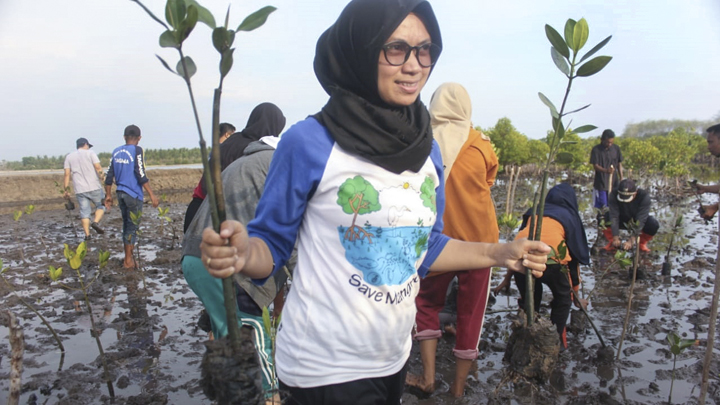 Nurain Japolo planting mangrove during the Conservation Day./private doc.
According to Prof. Ramli Utina, Nurain's former professor, the Bajo community believes that mangrove is poisonous, which has led them to cut down the trees. "The fruit is indeed poisonous, but if processed properly, it's not dangerous," said Ramli.
Nurain and her KKN friends provided training for the women in the three villages, teaching them to process the mangrove fruit into syrup. This training program continued one year later, when Nurain joined Ramli's mangrove research team in the three villages. Nurain also invited the communities to plant mangrove trees and informed them on the importance of the plant for marine ecosystem, among other, as fish habitat.
Now mangrove flourishes in the three villages. Men who work as fishermen no longer need to worry when monsoon arrives. These fishermen, who cannot go out to sea during the monsoon, can simply go to the mangrove forest. "They can get fish there," said Nurain.
Swietenia Puspa Lestari, 25 years old, also care about the ocean. Tenia—short for Swietenia—grew concerned when she found plastic trash at every place she had gone diving. "Even on unpopulated islands there is plastic trash," she said passionately.
Tenia, who is fond of diving, and her friends initiated the Divers Clean Action in 2015. Once a month, they collect trash from the waters of the Thousand Islands. They gather data on the trash they collect and found that 63 percent of the trash they found in the sea and on beaches come from single-use plastic wrappers or bags, and that there are around 900 plastic straws in every 100 square meters of beach area. "We looked for direct data to find a solution for the problem," she said.
Their activities continued to grow. Tenia and her friends invited local communities, particularly on the Pramuka, Pari, and Harapan Islands, to routinely clean their beaches and the sea, process the trash for added value when it is sold, and to implement environmentally friendly tourism activities that yield little waste. Around 500,000 tourists visit the Thousand Islands annually.
Because of their finding on used straws, Tenia and her friends launched an anti-plastic straw campaign, successfully recruiting 10 major restaurants. With the hashtag #nostrawmovement, they have enlisted the fast food restaurant chain Kentucky Fried Chicken. They are also working with McDonald's, using the hashtag #mulaitanpasedotan (start not using straws).