The Activists Roundup
Police arrested and intimidated some activists. Many things do not add up.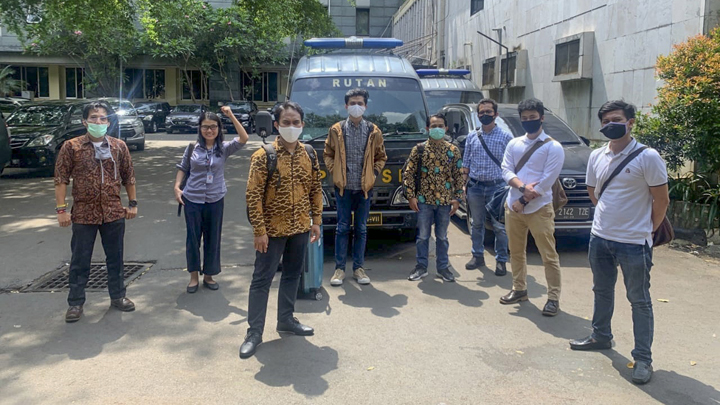 OVER a dozen men surrounded Ravio Patra in front of the J.CO donut shop in Jalan Blora, Menteng, Central Jakarta, on Wednesday, April 22, at around 9pm. One of them grabbed him by the neck, while another restrained his hands. This independent public policy researcher was repeatedly insulted. "I was called 'stupid', 'a criminal'," said Ravio, taking about his experience via e-mail to Tempo, on April 25.
Asking about the warrant for his arrest, this 27-year-old was told to be quiet and to squat. In an intimidating move, one man took out a pistol. Ravio was dragged into an Avanza car. His facemask and left shoe fell off. Escorted by four police cars, he was taken to the Jakarta Police Department. On the way there, one police officer asked about messages he sent to several phone numbers.
That is when Ravio began to understand what was going on. That day his WhatsApp account had been hacked. He had also received some phone calls from unknown numbers from the United States and Malaysia. When identified, those numbers belonged to a senior adjunct commissioner from the police and a colonel in the military. Once his account was under the control of a hacker, it was used to send provocations to other numbers. Those messages called for looting and arson at the end of April.
Damar Juniarto, executive director of SAFEnet, an institution which is concerned about the public's digital rights on the Internet, was also contacted by Ravio. Damar believes that these messages were intentionally crafted to provoke his colleagues to be responsible for a riot. "It was a kind of plot to accuse Ravio," he said. Ravio said that he felt like he was being watched. A guard at his boarding house said that a gruff-looking man was looking for him. Damar asked Ravio to turn off his cellular phone and go to a safe location. He was eventually caught by police.
Soon after Ravio was taken to the Jakarta police department, he was taken in plastic handcuffs to his rented room in Menteng. The police searched the room for about three hours, and took some of his personal records. On Thursday, April 23, at around 3am, he was questioned as a suspect. Because the police did not allow him to contact his legal representative, he was reluctant to be questioned.
W251bGwsIjIwMjEtMDMtMDEgMTE6NTc6MjAiXQ
Seven hours later, he was questioned after his status was changed to that of a witness. He saw that the police report which was used as the basis for his arrest had an A code, which meant that it originated from inside the police department. According to Ravio, that report was made at 12:30pm on the day that he was arrested. However, the authenticated message from WhatsApp when his account was hacked were sent at 12:11pm. "This means that the police report was made in 19 minutes," he said.
Some human rights institutions which belong to the Coalition Against Criminalization and Case Falsification believe that Ravio was arrested in connection to the criticisms he often makes. This graduate of in international relations at Padjadjaran University has strongly criticized the government on issues such as data on the victims of Coronavirus Disease 2019 or Covid-19 and conflicts of interest of President Joko Widodo's special staff members.
Early on April 21, before being arrested, Ravio sent a message to Gracia Josaphat Jobel Mambrasar, a Presidential special staff member. He asked about some government projects in Papua and Maluku being worked on by a company owned by Billy—Gracia Mambrasar's nickname. At around 6am, Ravio read a reply from Billy that he had already resigned. Ravio asked for proof of his resignation, but Billy replied that the resignation was done verbally. When asked for comment, Billy did not respond to telephone calls and did not reply to questions sent by Tempo to his WhatsApp number.
After Ravio was arrested, that coalition of fundamental rights activists consisting of, among others, SAFENet, Amnesty International Indonesia, the Indonesian Legal Aid Institute Foundation, and the Commission for Missing Persons and Victims of Violence had been searching for him. It was not until afternoon on Thursday, April 23, that they learned what had happened from the news. At that time, Sr. Comsr. Yusri Yunus, chief of public relations division at the Jakarta police department, said that Ravio had been arrested on suspicion of spreading hate speech.
Brigadier Gen. Raden Prabowo Argo Yuwono, chief of the National Police public information bureau, said that Ravio was arrested along with a Dutch national with initials RS just as they were about to enter a vehicle with CD plates used by the diplomatic corps of the Kingdom of the Netherlands. Brechtje Klandermans, a spokesperson for the Dutch Embassy in Indonesia, verified there was communication between one of their diplomats and a human rights activist. "That activist had jumped into the diplomat's automobile, followed by plain-clothes police officers," said Klandermans. The police later released RS. Ravio was held for 33 hours before being released.
The police have not yet provided information regarding the arrest timeline and the charges against Ravio. When asked for confirmation, Sr. Comsr. Asep Adi Saputra, chief of the National Police public information division, suggested that Tempo ask the Jakarta police department. Yusri Yunus from the Jakarta police department did not respond to requests for an interview made by phone and WhatsApp.
Coordinating Minister for Political, Legal and Security Affairs Mahfud Md. asked the police to be more reserved in making arrests. "If there is no strong evidence, just consider it to be a criticism," he said. However, Mahfud also asked the public to be more careful in making public criticisms.


***
Activists have also been arrested in Malang, East Java. Malang district police department arrested three university students, accused of being members of Anarko Sindikalis, on Sunday, April 19. They were Ahmad Fitron Fernanda, M. Alfian Aris Subakti, and Saka Ridho. Lukman Hakim, Head of the Malang office of Surabaya Legal Aid Institute, said that the arrests are procedurally flawed. "The police arrested them without showing warrants. They were treated like terrorists," said Lukman.
According to Lukman, Fitron is a press activist on the campus of Malang State University. Fitron is active in the Thursday Action Committee, which calls for the solving of human rights cases every Thursday afternoon in front of Malang City Hall. He also often reports on the activities of farmers who are against mining in Mount Tumpang Pitu, Banyuwangi. Alfian and Saka, in addition to taking part in those weekly Thursday protests, also work with farmers from Tegalrejo village, Sumbermanjing Wetan, in their agrarian conflict with state-owned Perkebunan Nusantara.
Senior Comsr. Leonardus Simarmata, chief of the City of Malang police department, said that police arrested them for acts of vandalism marked by incitement at four locations on April 4, namely by making graffiti calling on the public to oppose capitalism. As for the police being accused of not making the arrests according to procedure, Brig. Gen. Argo Yuwono said that the victims could make a legal challenge through a pre-trial mechanism.
---
"The police arrested them without showing warrants. They were treated like terrorists."
---
There is also suspicion that the police intimidated activists dealing with the coronavirus response in Yogyakarta. The public kitchen of the Solidaritas Pangan Jogja in Ngadiwinatan was visited by plain-clothes police officers on the afternoon of Saturday, April 18. Without showing any written orders, officers of the Ngampilan subdistrict police department in Yogyakarta forcibly took photographs of the kitchen's activities. According to Ita Fatia Nadia, the initiator of the Solidaritas Pangan Jogja public kitchen, the police also asked her to hand over a membership list, kitchen addresses, and founders of the movement. "I did not want to give that," said Ita on April 22.
Ita's house is one of 11 public kitchens run by Solidaritas Pangan Jogja. It is a movement to help poor people affected by the impact of the corona pandemic, by distributing rice meals, basic needs, vitamins, and face masks to pedicab drivers, trash scavengers, coolies, traditional market vendors, and former political prisoners of 1965. Most of their volunteers are university students and activists from the Aliansi Rakyat Bergerak (Alliance of People Movement), which actively opposes problematic bills in the Gejayan Memanggil (Gejayan Calls) protests.
Also that Saturday night, the office of the Indonesian Forum for the Environment (WALHI) in Kotagede, Yogyakarta was flooded with officers from the Kotagede precinct and some local residents. The police and the residents broke up a meeting of the volunteers, who were evaluating the implementation of a public kitchen. The police said that the meeting violated a circular of the Mayor of Yogyakarta which forbid gatherings. "During the meeting we wore face masks and maintained our distance," said Himawan Kurniadi, a spokesman for WALHI of Yogyakarta.
Senior Comsr. Yulianto, chief of public relations at the Yogyakarta police department, denied that there was any intimidation of activists or volunteers of Solidaritas Pangan Jogja. He said that the data being collected by the police was a routine work to maintain public security and order. "There was no intimidation," said Yulianto. Commissioner Dwi Tavianto, chief of the Kotagede precinct, claimed that the presence of his institution at the WALHI office was to mediate the tension among residents and volunteers.
Azhar Jusardi Putra and Syahdan Husein, student activists from the Aliansi Rakyat Bergerak who are also volunteers at a public kitchen run by Solidaritas Pangan Jogja, had experiences similar to that of Ravio Patra. Early on the morning of Thursday, April 23, the WhatsApp accounts of those two students at Gadjah Mada University were hacked and used to send threatening and distasteful messages. According to Syahdan, this hacking has occurred before and after protests they made criticizing government policies. "The state should be protecting privacy, not criminalizing it".
DEVY ERNIS, MUSTHOFA BISRI (MADURA), SHINTA MAHARANI (DIY), EKO WIDIANTO (MALANG)