The Foul Smell of Imported Waste
Customs directorate-general uncovered a scandal over the import of plastic scrap containing hazardous and toxic waste exceeding the limit. Of the dozen importers, only one has been prosecuted. There are suspicions of lobbying to a number of House of Representatives members.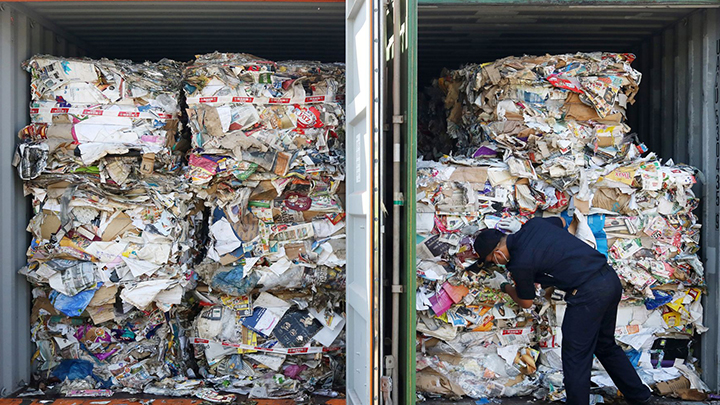 WITH 13 members of the House of Representatives' (DPR) Commission IV, Dedi Mulyadi visited Tanjung Priok Port in North Jakarta at the end of January. Dedy, deputy chairman of the commission that deals with, among others, environmental and forestry issues, led the group to inspect plastic waste containers that had been sitting at the port for several months. Shortly after arriving there, the legislators witnessed two containers being opened by finance ministry's customs. "It turns out that the garbage came from overseas garbage disposal sites," Dedi said when met in early February.
In addition to members of the DPR, a number of related ministry officials also came along. From the environment and forestry ministry's there were its Director-General of Garbage, Waste and Hazardous Toxic Material Management, Rosa Vivien Ratnawati and Director-General of Law Enforcement Rasio Ridho Sani. There were also Director-General of Foreign Trade Indrasari Wisnu Wardana and port authority of the directorate-general of customs, as well as a team from Sucofindo as a surveyor.
To the entourage, Sucofindo claimed that the imported waste was to be recycled into raw materials. They said that the scrap plastic imported from the United States, United Kingdom, Australia, and several other countries were clean and has met the standards regulated by the law on raw material imports. However, the inside of those two containers are plastic waste that looked very dirty, mixed with hazardous materials.
According to Dedi, Sucofindo, a state company that partners with the trade ministry, should acted as an entity that filters imported goods. However, its neglect had resulted in garbage entering Indonesia. "If it is for industries, the raw materials should be clean," he said.
The thousands of containers have sat idly at the port since May last year. Most of them belong to New Harvestindo International, its office address in Tangerang, Banten. From May to August 2019, the customs directorate-general detained 2,041 containers, including those belonging to the two companies in Tangerang, as the contents were mixed with hazardous and toxic waste beyond the limit set by the government.
New Harvestindo International's factory in Tangerang, Banten, April 21./Photos: TEMPO/Hilman Fathurrahman W
There are a number of ports that detained plastic scrap containers: Tanjung Perak in Surabaya, East Java; the Port of Batam, Riau Islands; Tanjung Priok; and Tangerang. "Some have been returned to their countries of origins," Customs Director-General Heru Pambudi said in a press statement, September 2019.
Provisions on the import of scrap plastic are set in the Trade Minister's Regulation No. 92/2019 on the import of non-hazardous and toxic waste as industrial raw materials. "In the regulation, it is clear that raw materials must not be mixed with garbage, came from final disposal sites, or mixed with B3 waste," says Rosa Vivien Ratnawati, the environment ministry's director-general of garbage, waste and hazardous toxic material management, referring to hazardous and toxic materials. The contaminated content should not exceed two percent of the total.
A DPR member who was also there at the port, said that three days after the visit, Sucofindo sent delegates to him and a number of other Commission IV members. The envoy asked them to help free the containers held by customs. The company messengers, he said, complained about bills and financial burden from the demurrage that they have to pay, which is almost Rp200 billion. "They wanted the containers released," said the politician who had been a member of the parliament for several terms.
Shortly after that, he added, another envoy—claiming to have close ties with high-ranking politicians—came to meet members of Commission IV. He also asked similar favors.
Dedi Mulyadi did not confirm nor deny the alleged lobbying. But he promised to continue investigating. "We will continue to talk to entrepreneurs and surveyors. At the moment, the process is suspended because of the (coronavirus) pandemic," the Golkar Party politician said.
Sucofindo's management declined to respond to lobbying efforts accusations. "This problem is being handled by relevant ministries. That is all what we can say," said the company's head of the corporate secretariat Iwan Eddy Himawanto.
• • •
Containers with customs seal on their doors are lining up at Jalan Kampung Picung in Tangerang, April 15. One registered as SKHU892041, which came from Tsuruga, Japan, was allowed to enter the factory of New Harvestindo International. The remaining 13 containers—also imported—are still waiting with several local trucks to be unloaded to the bonded area of the plastic scrap importer.
Although the goods continue to arrive, New Harvestindo International's General Manager Agung Priadi said his company has stopped importing raw materials since mid-2019, when 1,015 of their containers were withheld by customs at the ports of Tanjung Priok and Banten. "There are no more imports," Agung said on April 22.
New Harvestindo is one of 14 plastic and paper recycling companies being sanctioned by customs for importing scraps mixed with waste containing hazardous and toxic materials (B3). From May to the end of 2019, customs had detained 2,041 containers; 1,024 in Tanjung Priok; 257 at Tanjung Perak Port; 467 in Batu Ampar Port, Riau; and the rest in Merak, Banten. Half of those containers carrying garbage belong to Harvestindo.
The issuance a this intelligence report began in mid-2019 when waste was discovered inside containers of scrap paper belonging to three companies, AS in Surabaya, PD in Karawang (West Java), and FSW in Bekasi (West Java). The garbage was sold to residents, leading to piles of trash scattered at villages, some even thrown into the river. This random check was also held after the Philippines and Malaysia rejected junk shipments from the United States, Canada, Australia and the United Kingdom.
Developed countries began aggressively shipping waste to Southeast Asia through Hong Kong after China stopped accepting plastic and recycled waste from around the world, due to environmental problems. China enacted the 'National Sword' policy in 2018. In 2016, China processed 45.1 percent of plastic exports, paper, and world metals, including rubbish from England. The volume was enough to fill up 10,000 Olympic-size swimming pools.
After China's policy was put in place, the volume of Indonesia's waste imports began to mount up. Tempo's investigation found that from 2015 to 2017 Indonesia's waste import volume averaged between 200 and 2,000 containers per month. But from 2018 to April 2020, it reached 2,000 to 6,000 containers per month. The total import duty paid by these companies between 2015-April 2020 should be around Rp37 billion. However, because these companies are mostly in bonded zones, the state provides suspension of import duties and other tax relaxations.
The rubbish sent to Indonesia also came from the United States, United Kingdom, Marshall Islands, Australia, New Zealand, China, Spain, Hong Kong, and other countries. Customs cooperates with the environment ministry's directorate-general of garbage, waste and hazardous and toxic material management to test the waste content, including those owned by companies with access to green belt and bonded zones. "We help check if there are requests from customs," said Director-General of Waste Management Rosa Vivien Ratnawati.
Of the 800 containers inspected, the environment ministry found that the contents are mixed with medical waste. "The most extreme we found were those with more than 50 percent contamination. Many cracked bottles of medicine, used bandages and IV tubes," said a member of the inspection team. The worst waste was found in a container from Australia, which was confiscated in Banten.
When visiting the lands owned by Harvestindo garbage buyers in Sindang Jaya subdistrict, Tangerang, Tempo found many pieces of shattered glass bottles. A Sindang Jaya resident, Maman, said he had used that plot for sorting out garbage he bought from a Chinese-owned company. "But for the past six months, we have not received a shipment," said the 60-year-old man.
Not only shards, the plot of land is also filled with food wraps from England. Yuyus Ismawati, senior advisor of Nexus3—a non-governmental organization that focuses on environmental issues, found that New Harvestindo received supplies of plastic and paper waste from Wales, United Kingdom, a company named My Recycling Wales. The garbage includes containers of detergent, meat and other goods. In 2018, there were 1,539 tons of plastic waste and 1,039 tons of paper sent to Harvestindo. "There were also waste from other companies. Around 36.9 percent of Wales' recyclable waste is sent to Indonesia," said the woman who lives in the UK.
Trade Ministry's Regulation No. 31/2016 on the provisions for importing non-hazardous and toxic waste, stated that no more than two percent of contaminated waste is allowed. The two percent contamination residue is required to be incinerated under the supervision of the Indonesian Environmental Care Committee. "Those countries, when they dispose of their waste, must certainly pay," Yuyun said.
An importer told his story about the process of buying garbage from overseas. He, along with other entrepreneurs, owns factories to process recycled plastic into raw materials for textiles, chairs, and others. He does not have a preference over which countries the supplies come from.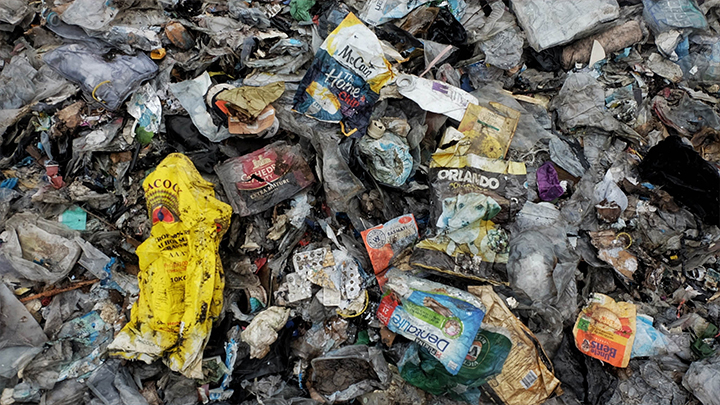 Piles of imported garbage in Tangerang, April 21./Photos: TEMPO/Hilman Fathurrahman W
The price of waste also varies, from US$200 to US$800 per container. "Our trash is examined by surveyors. There is an official rate for surveyor inspection. The trash that is considered dirty here, has been checked and cleared by the surveyor," he said.
Usually, the trash is bought in bulks, about 400 containers per purchase. For large buys, the country of origin sometimes gives bonuses in the form of dozens of extra containers filled with plastic scraps mixed with various kinds of dirty waste.
The Environment and Forestry Ministry's Director-General of Law Enforcement, Rasio Ridho Sani—who goes by Roy—said that based on the purchase price, it is apparent that businessmen deliberately inserted waste, not raw materials. "This is interesting to us, they have evil intentions," he said.
So far, the environment ministry has only filed charges against one company. That company, established in 2019 by a Singaporean entrepreneur, shipped 63 containers of scarp mixed with waste without a permit. Twenty-four of those containers have entered the bonded zone in Cikupa, Tangerang. "We have charged the commissioner and the corporation as suspects," said Roy.
He gave an ultimatum to dozens of other companies to re-export or return the waste to their countries of origins. "If the re-export does not work, we will issue criminal charges," he said. Roy also said he will coordinate with customs and the trade ministry for the re-export.
Aflah Farobi, chief of Banten customs regional office, said that relevant ministries quite often hold meetings on re-export. Until the Covid-19 pandemic, no decisions had been made. "The (environment ministry) is in charge with the matter," Aflah said.
Dedi Hermanto, head of sea transportation traffic at Tanjung Priok Port authority office, also said that the environment ministry has the authority to determine the certainty of the re-export.
Meanwhile, Chairman of the Indonesian Industrial Plastics Import and Export Association Akhmad Ma'ruf Maulana, said that the lengthy process of container detainment is costing financial losses to its members. He said that this problem stems from the differing views between relevant ministries on the level of impurity, which is two percent, or without being tolerated as the environment ministry wishes. "The detainment of these raw materials is costing us a lot," said Ma'ruf.
LINDA TRIANITA