New Spirit from the Grassroots
Five young women are mobilizing communities in their own regions to effect change, from waste management to environmental advocacy and indigenous rights. After surmounting various obstacles, these women have achieved success.
TOURISM activities in Gampong Nusa, Greater Aceh Regency, Aceh, have had to be temporary suspended. Since the end of March, dozens of Malaysian would-be tourists had to cancel their visit due to the Covid-19 lockdown in their country. "Most of them wanted to observe local culture," said 35-year-old Rubama M., who developed Gampong Nusa into a tourism village for nature and culture, when contacted on Monday, April 20.
Rubama says Gampong—or village in the Acehnese language—Nusa was visited by almost 8,000 tourists last year. Seven thousand of them came from Malaysia, while the rest came from Europe, the United States, and within the country. Most visitors would take an overnight package, staying at dozens of homestays owned by locals, eating traditional culinary delights, and enjoying local culture and landscapes.
The tourism village is the result of Rubama's fight to mobilize the people of her village. After the 2004 tsunami destroyed the village 10 kilometers southwest of Banda Aceh, life in the village turned glum. The tsunami did not only claim lives and leave behind mounds of trash, but also took the villagers' livelihoods. Ironically, the great amounts of assistance from hundreds of international non-governmental organizations only made Nusa residents stand idle. "The culture of cooperation, which used to be strong, had become eroded and washed out," said the Aceh Forest, Nature and Environment Foundation activist.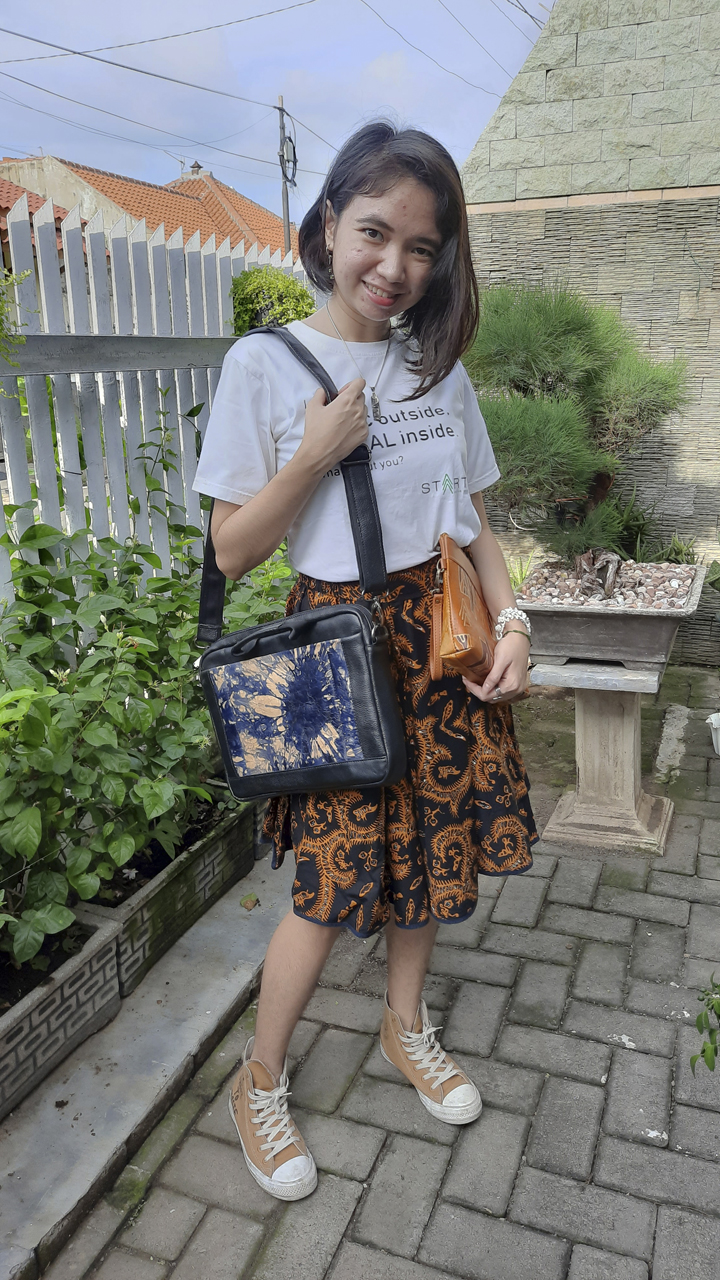 Vania Santoso. TEMPO/Kukuh S Wibowo
Rubama, who grew restless at seeing this development, was moved to make changes. She had once joined waste management training in Calang, Aceh Jaya, and so she initiated a social movement for women to manage trash into commercial products in 2005. "During each routine meeting, I would discuss various women's issues," she said.
She expanded her advocacy to reach the youth and children by building a trash bank and the Al Hayah community focused on reviving traditional dance.
In over five years, her movement has successfully changed local residents' perception of waste management. Furthermore, the economic situation of hundreds of women there has improved. After seeing the multitudes of people visiting Nusa to observe its waste management and traditional dance, in 2010 Rubama had the plan to turn her village into a tourism village. Some local residents and village officials laughed at this plan. A conservative and closed culture were some of the causes for resistance.
Rubama did not give up and moved to convince other villagers. Five years later, the number of homestays had grown from one or two to 45. Some of the locals and village officials who had sneered at her and accused her of wanting to build a place for immoral activities, are now among those who enjoy the tourism village as their livelihood. "Our big dream is so that Nusa becomes a more independent gampong," said Rubama.
Vania Santoso shares a similar spirit. On April 19, the founder of a recycled products company displayed 100 bags made of used cement sacks with leather straps in the heySTARTIC exhibition room in the Jemursari area, Surabaya, East Java. The environmentally friendly bags are used to carry staples, which are distributed to poor people impacted by Covid-19. "The durability has been tested by filling them with cooking oil, flour, coffee, and others," she said.
Vania, 28 years old, is focused on processing used cement sacks and leather into fashion as well as home decor products. Through her sociopreneur business, heySTARTIC, she enlisted 11 locals, whom she trained to produce keychains, wallets, purses, shoes, eating utensils, make-up boxes and lamp shades. Her used goods innovation earned her an award from the United Nations in 2007.
Vania's work as an environmental activist began in 2005, partly because of the flood that would storm her house every rainy season. With her sister, Agnes Santoso, she formed an environmental education community and visited villages and schools. Until today, Vania has actively organized entrepreneurship training, businesses courses and created innovative products as well as a platform for youth innovations.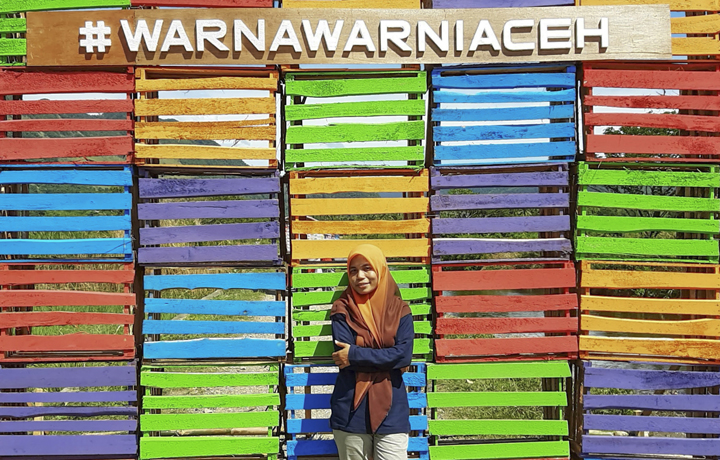 Rubama. Private Doc.
Melati Wijsen and Isabel Wijsen have also shown concern for the environment since a young age. Plastic trash pollution caught the attention of the two sisters living in the Prerenan village, Badung Regency, Bali, seven years ago. Through a simple campaign dubbed Bye Bye Plastic Bags, Melati and Isabel, who are still students, began the call to reduce the use of single-use plastic bags. "This is a youth movement. We began when I was 12 years old and Isabel 10," said Melati on April 18.
Since the campaign was launched, Bye Bye Plastic Bags has had 100 members in Bali, all of whom are still young. Now, the campaign movement initiated by the Wijsen sisters has 50 teams in 29 countries across the globe.
The idea for the Bye Bye Plastic Bags campaign originated from the Wijsen sisters' restlessness upon seeing the massive amounts of trash in their neighborhood. Government's urgings did nothing to push locals to sort their plastic trash. But the people's awareness quickly grew through the Bye Bye Plastic Bags campaign. Their efforts saw a positive result when Bali Governor Wayan Koster issued a regulation against the use of single-use plastic bags in 2018.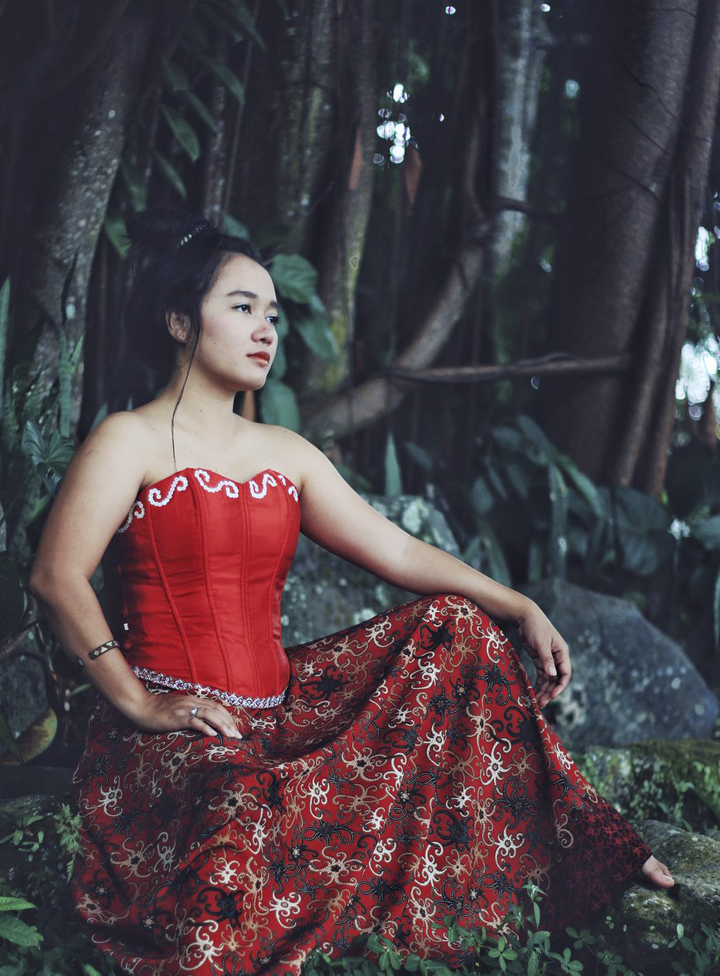 Emmanuela Shinta. Private Doc.
In Palangka Raya, Central Kalimantan, Dayak activist Emmanuela Dewi Shinta founded the Ranu Welum Foundation in 2016 to mobilize Dayak youth to increase their awareness and concern for their environment. Ranu Welum—which means water of life in the Dayak Maanyan language—began as a film community, which would discuss day-to-day issues in Kalimantan since 2014. "My mission at the time was that I had to create a movement," said Shinta on April 18.
By producing short films and documentaries, as well as screening films and holding discussions, Shinta, 27 years old, brought topics such as indigenous communities and the environment to university student, school student, youth, and religious communities. Her movement gained momentum when smog from forest fires enshrouded Kalimantan in 2015. "Our community moved as volunteers at the front lines to put out the fires," she said.
Since then, Shinta has embraced a wider group of Dayak youth communities across Kalimantan. Through the Heartland Project, Indigenous Initiatives, and Youth act programs, she promotes real actions to confront various problems. She plants trees, engages in environmental advocacy in villages, volunteering for the effort to mitigate Covid-19 pandemic by providing information to older members of indigenous communities, among others, by printing flyers in the Dayak language. She also initiated the Indigenous Film Festival, a festival film for indigenous communities, involving many other indigenous filmmakers in Indonesia, even from other Southeast Asian countries.