Governor of Central Java Ganjar Pranowo: Returnees Will Be Sent Back
While several governors and regional heads sought permission to apply the Large-Scale Social Restrictions (PSBB) to waylay further spread of the coronavirus, Central Java Governor Ganjar Pranowo has a different take.
RATHER than the PSBB, he elected to focus on community awareness-raising to impede the Coronavirus Disease 2019 (Covid-19) pandemic. Data from the Covid-19 acceleration mitigation task force show, up to Saturday April 25, there were 575 corona positive cases in Central Java with 54 dead.
The Central Java government has prepared a community-based response to the pandemic using a promotional and preventive approach. Ganjar said, in the past two weeks, all village heads have put in place centers for self-quarantine. The provincial government also promoted a ban on the annual homecoming trip home known as mudik, conducted by Muslim families who wish to get together with their families for end of fasting month Idul Fitri celebration. The ban was in application on Friday, April 24. Dissemination was also extended to people from outside residing in Central Java. "We encouraged them to also not conduct mudik," said Ganjar, 51, in a special interview with Tempo.
Central Java is one of the provinces targeted by huge numbers of people who annually return home for the holiday family gathering. Before the mudik ban was announced, people originally from Central Java residing in Greater Jakarta and vicinities—known as Jabodetabek—had already made the trip home in droves. "Maybe more than 600,000 people have left for their family homes," he said. According to Ganjar, the mudik season last year recorded some 5.9 million homecomers thronging Central Java.
To Tempo reporters, Mahardika Satria Hadi and Jamal Abdun Nashr, Ganjar described Central Java's strategy to handle the influx of homecomers from the Jabodetabek area, blocking further spread of Covid-19, distribution of social welfare, up to his fundraising efforts. The interview was conducted by phone on Tuesday, April 21, and Friday, April 24.
President Joko Widodo has announced a ban on mudik, followed by an operational halt of all transportation modes used for mudik. What's your response?
We simply comply, since it's already been decided. The transportation offices have also been in communication, including with the directorate-general of land transportation at the transportation ministry, and the police. We have also been in meeting with the coordinating minister for maratime affairs and investment (Luhut Binsar Pandjaitan) who is ad interim transportation minister.
How will surveillance be conducted at the borders to block private vehicles and buses from Jabodetabek slipping into Central Java?
Surveillance has already been done from Jakarta. We have no direct borders with Jabodetabek. If keeping things safe are good in Jakarta and West Java, then Central Java, Yogyakarta, and East Java will also be fine. Unless there is an influx from the East Java direction. If Greater Surabaya has applied the PSBB, we will prepare additional security posts at the common border with East Java.
What about newcomers from outside residing in Central Java?
We are encouraging them to also not do mudik. If they persist in going mudik, for sure they will be intercepted at the border. They will simply be told to turn back.
How will you handle homecomers who turn out to be Covid-19 positive?
That indeed will be a tough nut. Particulary the ones who are asymptomatic, or carriers who do not suffer any symptoms. We will take care of the positive people. We are currently 'hunting down'the attendees of the Ijtima Ulama (Ulama Gathering) in Gowa, South Sulawesi. We will continue looking for them because it has been one month since they came back to the province, and several among them when tested turned out to be (Covid-19) positive.
To what parts did they spread out to?
They are in almost every regency. This is why we cannot take this lightly. I personally asked that they be 'hunted' down, be questioned, and then I urged every man and woman who went to Gowa, to kindly report themselves and tell us what other places they had been to.
How many have been detected so far?
There were quite a few. I don't know the figures by heart in each town. But nearly all the regents called me and reported, "Pak, we have found this many out of so much." Okay, I simply told them to continue with the search.
The spread of the coronavirus threatens to spike during the mudik trip approaching Idul Fitri. How prepared is Central Java in anticipation of the influx of people doing mudik?
We have established a command post in Jakarta. We mobilized all community groups to compile their own database. So far we have counted up to 100,000 people, and still we are compiling data. We reinforced the system with a so-called call center. I contacted the regent heads to make estimates of how many of their people are living over there (in Jabodetabek).
What exactly is the total amount of Central Javanese living in Jabodetabek?
The estimation is around 7 million. Last year alone, 5.9 million people went on the mudik.
Has data on the people who went mudik earlier been recorded?
I dont know the exact position, maybe more than 600,000.
Most are heading for which area?
It falls quite evenly, many go back to Banyumas, Wonogiri, Wonosobo. Prior, we had already made their data. Those who suffered being laid off from work went back home earlier. If you follow my Instagram account, there is a stonemason from Jakarta who went home to Batang Regency and is now in quarantine. I am using his story. It is an example of the very first village to establish a quarantine, and its residents willingly go into quarantine. They were all healthy. I paid them a visit. The location is on a mountain peak, the last village on the edge of a tea plantation.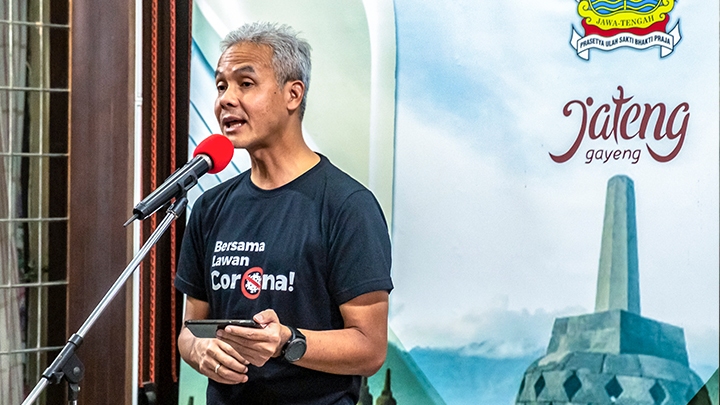 Ganjar Pranowo at a press conference on coronavirus at his official residence, Semarang, last March./Tempo
You have met with regional heads from Greater Semarang who applied to put the PSBB in place. What's the result of that meeting?
We have not come to the PSBB yet. We plan to make tighter measures, particularly in places with high concentrations of people, such as markets and factories. We convened on April 24. Meeting attendees included the Mayor of Semarang, the Deputy Mayor of Salatiga, Regent of Demak, Regent of Grobogan, Regent of Kendal, Regent of Semarang. They all agreed that within this one week, particularly for the city of Semarang, parts of Semarang Regency, parts of Kendal and Demak fregencies, they will reorganize all places that usually have high concentrations of people. There will also be a patrol. We also requested they make estimates of the numbers of people affected, and then to coordinate all aid assistance, from the state budget, the regional budget, the regency and town budget, right down to the village fund.
What if this approach is ineffective to quell the virus spread?
If with such serious measures taken the community continues to be lackadaisical and non-compliant, it is not impossible we will escalate to a PSBB. We will make an evaluation within this coming week.
Why from the outset did you not support application for a PSBB?
To me, the PSBB is not a goal. We have learned from the Jabodetabek PSBB. We learnt from the Tegal Mayor, who even before the PSBB policy had already used the term 'lockdown'. In the Jabodetabek instance, we learnt that managing a PSBB is not easy. I also asked the Tegal Mayor (Dedy Yon Supriyono), "When you announced Tegal's lockdown, had you already prepared things? What did you do about social relations, logistics, transportation systems, and security matters?" It turned out he had not. We want to flatten the expanding curve through preventive and promotion measures. We do not want to be slapdash in applying for the PSBB.
What was the Tegal Mayor's explanation for putting his city in quarantine?
"In fact I am pretty confused, Pak, because people do not want to be disciplined." His reply was as simple as that. This could mean, people crying out PSBB in fact have no understanding of it. Many have requested the PSBB because they are stumped and stressed out at not being able to handle things. As if with the PSBB, things will turn out fine, when in fact it is not. Later, there will emerge security and social issues. We have to be careful about this. Before applying for a PSBB, eveything has to be calculated thoroughly first.
The Tegal City PSBB was finally approved for one month. Your response?
I asked (the city administration) to keep things in control. They need to establish a call center so the community has a means of communication. This can be through WhatsApp, telephone, social media, so that if some community members face any difficulty, the state and government can provide proper service.
What is the difference between Central Java's approach and the PSBB?
In a PSBB, all practical limitations are of huge scale. Let's look at the PSBB items: work from home, (school) study from home, social distancing. All these are carried out. Limiting transportation, this decreased on its own. In fact, compared to the PSBB, conditions in Central Java today are slightly tighter. A few days ago there was an incident at the Cipulir Market (in Jakarta). That was the PSBB, you know. I'm sure the Jakarta Governor is feeling the complications. Here, our preventive initiatives are not like that. Pre-conditioning the people towards the PSBB is of utmost importance. This is why we designed a community-based pandemic response from the village level. Central Java is filled with villagers. Bearing this in mind, the heads of villages in the past two weeks organized facilties for self-isolation or self-quarantine, compiled a database of vulnerable people, those who will potentially become destitute, those who have just returned from red zones, right up to those qualifying for assistance.
With different levels of understanding within the community, isn't this approach fraught with risk?
Any decision has its risks. But we feel this method is better. If necessary, food barns will be readied, the jimpitan tradition (people voluntarily putting out small amounts of uncooked rice on their verandas for the nightwatch to collect and store in the village center) be revived, people's individual yards be planted with basic vegetables and healing herbs. Just very simple things. Those who have can share with those who have not. If these things are pre-conditioned well, once we get ready to escalate a tiny step towards the PSBB, the community will already understand.
Why did you elect to raise community awareness from the bottom first?
Because that is where the problem lies. The problem is not with hospitals, doctors, nurses. At this moment we are the frontline, the guards at the foremost front to combat Covid-19. The methods? Well, wash your hands, keep your distance, wear a mask, do not socialize in crowds, follow the rules.
You're not starting from the neighborhood unit (RT)?
The RT unit is too small. The RW (community unit) is different, because there is a village adviser, village social welfare personnel, the PKH (Family Hope Program) advisers, the women of the PKK (Family Welfare Enhancement) movement, and the village youths. We are establishing the model. Later I expect each village to have their own patrols, assisted by the village advisory guards and the village security and social order guards, making things 'softer'. We are roping in ulama, religious leaders, community elders. And it will be different in each area, for instance we have the Banyumas model, the Greater Semarang, Greater Solo, Pekalongan, Kedu models.
Are you convinced this method is more effective compared to the PSBB?
I have yet to see someone declaring PSBB has been effective, whether through a survey or through other types of assessment. What I see has been successful is the Vietnam model. As soon as there is a case, they immediately put up a police line. In Hubei and Wuhan, the minute there was a case, they immediately did lockdown. Do you yourself dare say the PSBB in Jabodetabek has been effective to date? Please make a statement. So far, no-one has dared do so. Let the most eminent expert make a statement today.
How big a fund have you allocated to handle the Covid-19?
We have allocated Rp2.2 trilion to conduct a social security, economy, and health safety net. The large budget posts we deducted were from things like infrastructure, official visits, official meetings, and refreshment budgets. We reviewed all our workplans. Infrastructure has the biggest portions of postponement because it has the largest amount of money, around Rp2 trillion from the regional budget of Rp29 trillion. I have been looking into the possibility of annulling the 13th salary and Idul Fitri holiday incentive for civil servants. That is an additional Rp300-400 billion right there. We will deduct and keep it for the time, because things are still so uncertain. We are seeking an additional Rp1 trillion, but we are running out of breath.
How much is really needed to handle the corona pandemic?
For me, roughly speaking it would go like this, "Let's just try, let's put in a reserve of up to Rp5triliion." Then we would be able to manouver more comfortably. But I feel this will be too burdensome.
What about money from the city and regency funds?
The City of Semarang, as an example, has the highest regional budget in the whole of Central Java, and the administration allocated Rp30 billion. That can't be right. I asked them for Rp200 billion. Wonogiri, which is not wealthy, with many people working elsewhere, allocated Rp110-120 billion. Their sincerity is awe-inspiring. What I mean is, let's not be stingy in a matter such as this. This is for the people. We have to also calculate the security risk. We've already calculated a bowed-under economy and next year's regional budget for sure will have downsized.
How large is the assistance from the central government?
There is assistance from the PKH and the social affairs ministry. Assistance or no assistance, the coronavirus will still continue. Our target is 182,565 families. Then there is the non-cash food assistance (for daily basic necessities). Each family will get Rp200,000 a month for nine months, our target is 1,263,194 people, amounting to Rp2.27 trillion. We have made this a guarantee for people in the Desil 1 (ultra poor) and Desil 2 (poor) categories. The coordinating ministry for the economy has the pre-employment card program with money amounting to Rp3.55 million for a quota of 421,705 people. So far only 25-30 percent are registered. The amount is Rp1.49 trillion. The village affairs ministry is giving assistance for daily necessities valued at Rp600,000 from the village fund.
What's the preparedness level of the provincial government in conducting rapid tests to detect Covid-19?
The rapid tests are merely for surveillance. I am not doubting it, but to be more accurate, we need the PCR (polymerase chain reaction) model, using swabs. Though not in mass, we are doing tests on those being monitored. Some are conducted in hospitals and the health offices, except in the instance where an incident needs rapid intervention, say an outbreak at the Kariadi Hospital. That went all over the place. We are reorganizing our systems, procedures, and protocols. In the end, I have been flooded under by offers and peddlers to use testing products.
---
GANJAR PRANOWO
• Place and Date of Birth: Karanganyar, Central Java, October 28, 1968. • Education: Undergraduate Faculty of Law, Gadjah Mada University, Yogyakarta (1995), Postgraduate Political Science University of Indonesia (2013) • Career: Human Resource Consultant, Prakarsa (1995-1999), Member of House of Representative (2004-2009, 2009-2013), Governor of Central Java (2013-2018, 2018-2023)• Organizations: Chair National Government Department Central Governing Board Indonesian Democratic Party of Struggle (since 2010), General Chair Gadjah Mada Alumni Association (2014-2024).
---
Are there many putting in offers?
Nowadays, everything is on offer; there are test kits, PPE (personal protection) kits, drugs they say are derived from stem cells costing several tens of millions. How could they have the heart to do that?
Isn't there a test kit distribution by the Covid-19 acceleration mitigation task force?
Yes, but for sure there will be many requests.
When did Central Java last obtain assistance from the task force?
Last week. If I am not mistaken, it was a packet of PPEs. Yesterday, there was another donation of PPEs and rapid test kits. Practically every day we get donations from the community. Some we purchase ourselves. In this situation, I am learning really hard. I have requested all hospitals to establish a special logistics information system related to the corona pandemic response.
What sort of information system?
The hospitals are compiling their logistics data. So they all have an offline database. To date, I have data concerning villages still in green, are entering yellow, or are now red. Now I know which hospitals have how much stock. Say, for N95 masks, hazmat gear, everything has to be counted. With a patient escalation of this rate, we can calculate how many items are needed and still need to be sought for, and where. This is possible so long as the data is continually updated.
How prepared are hospitals to receive Covid-19 patients whose numbers indeed escalate by the day?
The City of Semarang is the most red. Followed by Solo with a high rate of positive cases. If we want to be in curative mode at the hospital level, then we are doomed. That's why I am telling the community, if we want a PSBB, we have to be prepared. You are not to leave your homes, hang around with friends. Your lives will not be comfy. Which do you choose, discipline now, or should we go into the PSBB?
W251bGwsIjIwMjEtMDMtMDEgMTE6NTI6NTMiXQ