Sri Tiawati: The Tribe's Stubborn School Teacher
Sri Tiawati was adamant to build a school for her tribe in Semeriot village. She was once embarrassed to have been a native of Dayak Punan.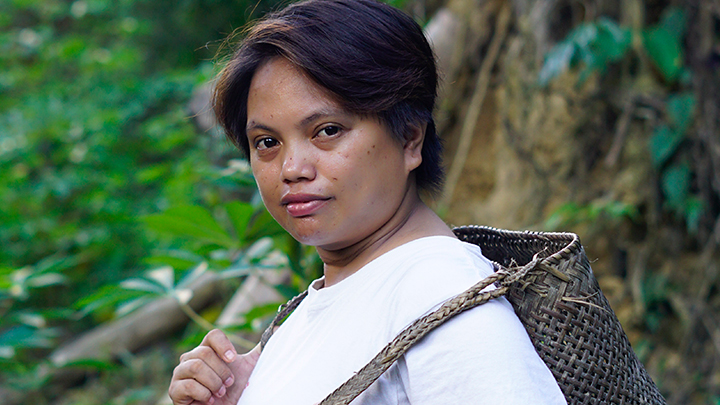 STANDING in front of 12 Punan Dayak children, Sri Tiawati distributed books and stationery at the end of 2014. Sri taught at a locally-established school in Semeriot, a hamlet in Ujang village of Bulungan Regency, North Kalimantan. She had tried giving lessons like in a formal school—by standing in front of the students. But she realized, the children did not like it. "The kids hated me and my teaching equipment," Sri recalled her experience when she spoke to Tempo on Tuesday, April 21.
The children refused to study and left the customary chief's house. Sri (27) reports what happened to the parents in Semeriot. She explained to them that education is needed to secure the future of the area's forests, which covers a land of 43,000 hectares. The parents agreed and motivated their children to go back to the customary chief's house to study again.
Sri then asked the children how they prefer to study. They said they wanted to study in the woods. So, she took them there, choosing a big tree for a place to sit under. However, the kids immediately climbed the tree bringing their books with them. Class dismissed, and Sri returned to Ujang village.
The next day, the class wanted to study at the bank of Bulusu River. Once they arrived, they jumped into the river for a swim. "I was angry. I felt they were not acknowledging me," she said.
Sri packed her bags and left. She returned to her parents' home in Kelembunan village, a two-hour journey by boat—the only means of transportation. Sri thought hard, trying to figure out a teaching method that the children of Dayak Punan can accept. She contacted some friends, including Mei Christy Sengoq from Folks of Dayak. Mei suggested Sri to give what the children wanted to learn. "If they want to play, you play," Sri said.
Sri was reminded of the reason she established a school at Punan Hamlet. Sri, also a descendant of the Punan tribe, was ashamed to be one. Before she came to Semeriot, the Punan tribe was always made fun of for being uneducated and having poor hygiene. As they did not know modern education, they do not understand about money, and often fell into scam when selling their crops or purchasing goods. They also did not understand about land issues, so when forest encroachers take away their lands, they willingly gave their fingerprint stamp on a piece of blank paper.
Sri joined an apprenticeship program at the Indigenous Peoples' Alliance of the Archipelago (AMAN) in Jakarta at the end of 2012. There, she was tasked to map out the participation levels of the indigenous people in Ujang village for two weeks. She lives with the Punan tribe in Semeriot hamlet, and saw children who are not in school are helping their parents work in the fields. At the time, Sri was determined to help provide education for the children of the Punan tribe.
After her internship, Sri saved up money to spend more time in Semeriot, carrying a number of books with her. She earned money working at a paper factory for eight months, and used the salary to pay for her trip to Semeriot. Her parents opposed the idea, because Sri is not in perfect health. She had been hit by a motorcycle, and she was diagnosed with cancer.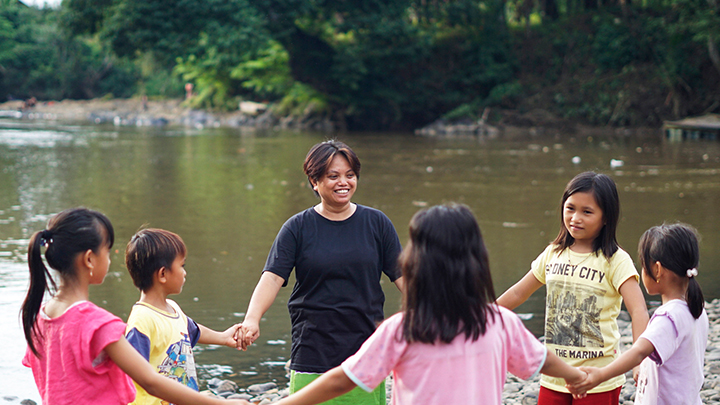 Sri Tiawati (center) in Sekatak, Bulungan, North Kalimantan, April 21./ZAH PHOTOGRAPH
Sri's friend Sofie Anggraini said she gave Sri money for medication. But Sri used it to buy books and stationaries. "She is stubborn, and she is relentless in her fight to provide education to indigenous children," Sofie remarked.
Her dream to educate Punan tribe brought Sri back to Ujang hamlet. She stayed there for one month, knocking on doors asking parents to let their children study again. It was a harvest season and the children were guarding rice paddies—shooing birds. That day, the first lessons given were bird-watching and how to prevent rice plants from getting ruined.
From then on, the children of Punan fell in love with studying with Sri. Then, she founded the Punan Semeriot Indigenous School (SAPS), which sees more and more pupils enrolling. Not just the kids, their parents come to study as well. The elderly tribe chiefs helped with the teaching as well as learning. Sri said that a tribe elderly, Gading, taught children about the history of their tribe, who used to live in a cave with knowledge of medicine. Gading, Sri said, also teaches about customary rules to the village teenagers.
According to Sri, the lessons taught by Gading became a special subject at SAPS. They also have a number of subjects besides reading, writing and arithmetic. Among them are local farming and making traditional medicine. Sofie Anggraini, volunteering to teach at Semeriot in 2016, said that it was because of Sri's teaching that the villagers are now literate and enlightened. They no longer easily trust companies scheming to steal their land.
Sofie said Sri is not afraid to argue with locals who mined gold illegally near Ujang hamlet. "Because Sri cares about the environment," she said.
Sri confirmed this, and said she warned the miners that illegal mining using mercury will damage their health as well as the environment.
Six years later, many changes happened at Semeriot. The customary school now has 105 students. Residents are now confident to confront outsiders seeking to buy their lands. Abdon Nababan, deputy of AMAN Council, said the school Sri founded saved the customary land. "The people have also stopped clearing lands recklessly," he said.
The parents in Semeriot village asked Sri to stay and keep teaching. But Sri had to refuse because of health reasons and because she had to look after her younger brother. He hopes that a formal school can be established soon in Semeriot, so that her students' dreams can come true. According to Sri, there are Punan children who want to become soldiers so they can guard their territories. There are also those who want to become teachers to help educate their village people.
To help them achieve the dreams, Sri enrolled 12 of her students in Semeriot to take the A-Package test, so they can obtain elementary school diploma. With help from donors, Sri paid the examination fee of Rp1 million per person. Sri said that it was the only thing she could do. "I'm sad when they told me what they wanted to grow up to be. Sad because I cannot send them to school and give more to them," she said with tears in her eyes.