Graffiti Resistance
The police suspect that Anarko is behind a number of crimes in Java cities. The group is without strong organizations and logistics.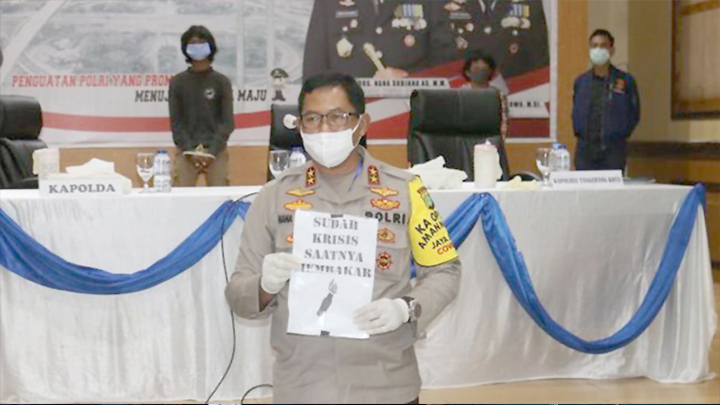 SIXTEEN days under police detention, Muhammad Rizki (21); Rio Imanuel (23); and AA (17) were unable to see lawyers. Their legal advisors only managed to see them on April 26 at the Jakarta Metro Police detention room.
Shaleh Al Ghifari, a lawyer from the Jakarta Legal Aid Institute, criticized the difficulty he faced to represent the young men. "This is a (legal) violation," he said on April 28, stressing that every suspect deserves legal help.
Rio and Rizki are charged with inciting riots. AA who is still underage has also been named suspect. The Tangerang Police team arrested them at Kafe Egaliter in Tangerang, Banten, on April 9.
When arrested, they had stencils and spray paints with them. The police accused them of painting graffiti on the walls near Tangerang's Anyar Market. The content: provoking the public to commit mass riots. Locals' security cameras recorded the skinny men in action.
That same week, the police arrested two more young men who were also charged as members of the group Anarko—a subculture movement dreaming of no state intervention—in Bekasi, West Java. The two young men, however, had lawyers provided by the police. They were brought to Jakarta Metro Police's State Security Sub-Directorate. They were interrogated several days after their arrest, together with Rizki, Rio, and AA.
Jakarta Metro Police Chief, Insp. Gen. Nana Sudjana, said the five guys are provoking riots through vandalism. Their graffiti said, among others, "crisis is here, it's time to burn," "kill the rich," and "die silly or fight back." "We are charging them with incitement and provocation," Nana said on April 11.
These young men, he said, are unhappy with how the government is dealing with Covid-19 pandemic. The police also said that Anarko is a criminal group aiming to cause riots and looting.
Nana said the five suspects are only a small part of the Anarko group. According to Nana, members of this group are spread in Jakarta, Bandung, and other large cities in Java. "Although separated and sporadic, they are connected through social media," he said.
Adjutant. Sr. Comsr. Dwiasi Wiyatputera, chief of Police State Security Sub-Directorate, said the five suspects have several Instagram accounts with hundreds of followers. They use the account to communicate with other Anarko sub groups, such as Red Amplifier, Mutual Advensif, and Grassroots.
They also have a Telegram channel names 'Keluarga Cendana'. "They are connected with other groups with similar ideologies," Dwiasi said. According to him, Anarko supporters created the accounts as a 'resistance strategy' and to incite a 'structured, systematic and massive' rally.
Dwiasi said the group plans to agitate the public, turning them against the government. "Most of them took part in the mass rally at the DPR (House of Representatives) some time ago," he said.
However, Shaleh Al Ghifari said that the police are exaggerating their narrative about Anarko. He said the three young men do not have the skill to mobilize the masses. They made the graffiti, he said, as a way to express their disappointment as young adults, not an invitation to cause riots.
In Malang, East Java, the police arrested Ahmad Fitron Fernanda, M. Alfian Aris Subakti, and Saka Ridho for spray-painting walls is Malang with the words "Tegalrejo Fights Back." Their act of vandalism branded them as members of Anarko.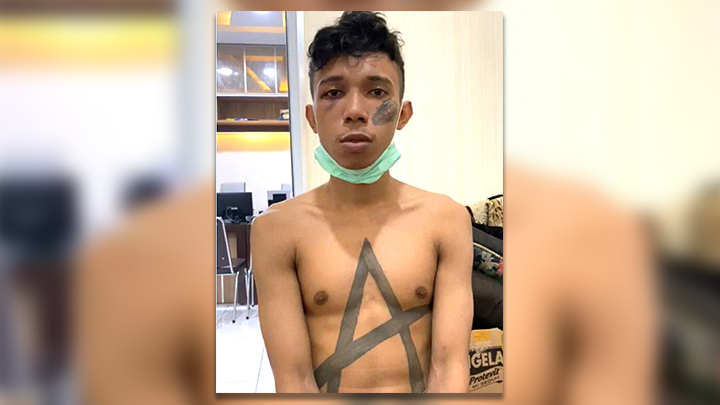 Pius Lout Alubwaman./Special Phtoto
National Police Chief of Public Information Sr. Comsr. Asep Adi Saputra said these young men are arrested for inciting riots. "We are criminalizing them for provoking and promoting riots. How they do it is also an act of vandalizing public facility," he said.
Fitron, Alfian, and Ridho are university students and supporters of the Kamisan Act in Malang. Kamisan Malang activist Dinda Ayu does not believe the police's suspicions. She said that the phrase "Tegalrejo Fights Back" is a campaign for political advocacy for the land conflict between the residents of Tegalrejo with state-owned Perkebunan Nusantara XII. "It is a huge mistake to think that the phrase 'Tegalrejo Fights Back' is part of 'Anarko Sindikalis'," she said.
• • •
NOT only in graffiti, calls for riots are also coming from the WhatsApp account of Ravio Patra Asri, a social media activist and observer of public policy, on April 23. While the police have arrested the people who spray-painted walls, they still do not know who sent the WhatsApp message using Ravio's account, as Ravio said his WhatsApp was hacked.
Ravio claimed he did not know that his number was used to broadcast a call for a mass riot on April 30. The message was sent to numbers that were not even in his contact list. Ravio was arrested, but later released and named as a witness. Together with the Coalition to Reject Criminalization and Case Engineering (Katrok), Ravio is now looking for evidence that his WhatsApp account was hacked.
The massive calls for riots lead to police visit to the Solidaritas Pangan Jogja movement. Four police officers in plain clothes came to their kitchen in Sembungan, Yogyakarta. One asked where they got their funding and kitchen donation. They also asked about the identity of volunteers, and took pictures of them.
Solidaritas Pangan Jogja's initiator Ita Fadia Nadia said the emergency kitchen was set up to help provide food for the urban poors during the pandemic. Instead of receiving help from the government, Ita and her friends are accused as being part of Anarko. "They have been watching us ever since," she said.
Anarko's case gained traction after a confession video by Pius Lout Alubwaman (25) was posted online. Pius, who has a large "A" tattooed on him, said he was A1—the highest leader of 'Anarko Sindikalis', a group that wants a world without governments. He also said that the group has member ranks, and his subordinates are ranked A2, A3, and so forth. The video went viral.
Emma, a high-ranking member at Anarko Sindikalis—a group that focuses on labor struggles—is disgusted by Pius's statement. Emma said she and her friends do not know who Pius is. Members and supporters of Anarko Sindikalis, she said, often meet and join labor demonstrations. "I suspect he was forced to make that confession," Emma remarked.
Later, it was revealed that Pius was arrested on April 12 after stealing a policeman's helmet in Semanggi, South Jakarta. A week after, the police conducted a mental health check on him. His laboratory tests also revealed he consumed marijuana. "He was speaking incoherently," Jakarta Metro Police's Public Relations Chief Yusri Yunus said.
According to Emma, the Anarko movement has no leadership structure. "In Anarko, everyone is a leader. Anyone can act on their own initiative," she said. Emma and her friends denied police accusations that Anarko is a state threat.
Anarko group, Emma said, does not have proper logistics to draw up resistance. Supporters of this movement only work with Internet data quota. They mostly do their campaign on social media, and do not travel. "They can't even spare money to pay for public transportation," she said, chuckling.
Bima Satria Putra, author of Perang yang Tidak Akan Kita Menangkan: Anarkisme dan Sindikalisme dalam Pergerakan Kolonial hingga Revolusi Indonesia (War We Won't Win: Anarchism and Syndicalism in the Colonial Movement until the Indonesian Revolution, 1908-1948), said that anarchism is a movement that easily mingle with other social movements. "As a result, it is often difficult for people to distinguish between what is Anarko's doing and what is not," he said.
RIKY FERDIANTO, M. ZULNIS FIRMANSYAH,
SHINTA MAHARANI (YOGYAKARTA),
EKO WIDIANTO (MALANG)