Money At Your Doorstep
Aid has not been properly distributed in various regions. Well-to-do people also received it.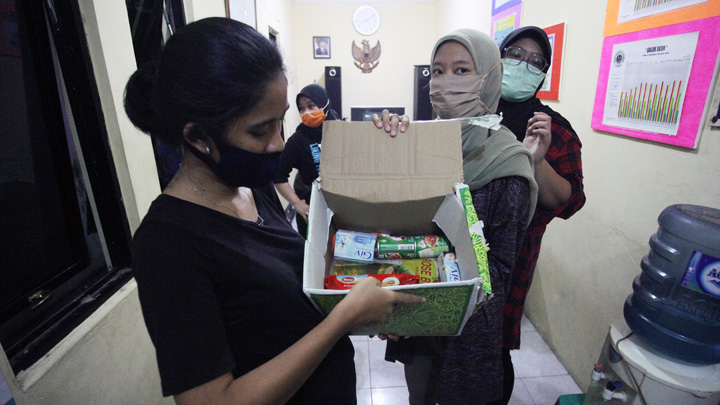 THE atmosphere heated at the Simpang Baru administrative village office, Pekanbaru, Riau, around Sunday noon, April 26. Head of Simpang Baru Community Unit (RW) 5, Sutomo Marsudi, firmly refused to distribute aid packages from the Pekanbaru City social affairs office, which had already arrived at the administrative village office. His reason for refusing to distribute the aid was that there were only 261 aid packages with six kilograms of rice, a dozen eggs, 10 instant noodles, and one can of sardines.
This number is far below the data Sutomo submitted. He recorded that over 2,300 families were impacted by the coronavirus pandemic. "We refuse (the aid), in order to prevent pandemonium," Sutomo explained to Tempo on April 28.
According to Sutomo, the subdistrict and administrative village chiefs attempted to persuade him to receive the aid. Administrative village personnel were to deliver the relief on a pick-up truck, accompanied by community unit and neighborhood association staff. Sutomo refused and suggested distributing the aid at the adminsitrative village office. But Simpang Baru Administrative Village Chief Jaspi Yubion refused because he was afraid that the masses would attack his office. In the end, the aid was not distributed.
Jaspi says the aid was given based on the Pekan Baru social services office data, which is a list of poor families earning under Rp500,000 per month. Jaspi feels that the data is inaccurate because some of the people on the list still have jobs. There are also some others who own numerous rented houses.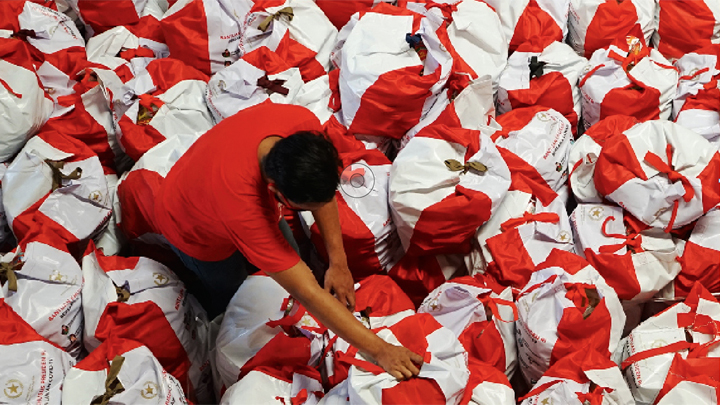 Checking the social aid recipients data for food relief from the President for residents who are impacted by the Covid-19, in Pasar Minggu, South Jakarta, April 28./TEMPO/Muhammad Hidayat
According to Pekanbaru City's Chief of Public Relations, Irba Sulaiman, the staple food packages in Simpang Baru come from a quota of around 15,000 packages. Recipients are adjusted based on the family cards collected after Pekanbaru implemented the large-scale social restrictions on April 17. As many as 139,000 families were recorded as having submitted their family cards. According to Irba, this number is far above the early estimate of 39,000 families. "We've continued to verify. And the 15,000 packages distributed were the result of checking data accuracy in the field," he said.
Chaos surrounding social aid distribution has also happened in various regions that implement large-scale social restrictions. In the capital city, a number of residents who belong to the economically well-to-do group have also been receiving aid. The government of East Jakarta city, for example, withdrew 9,205 aid packages given by the Jakarta government as well as 390 staple food packages from the social affairs ministry. East Jakarta Mayor Muhammad Anwar says most of these aid recipients are still working and have a home and a vehicle. "We withdrew (the aid) because of the incorrect recipients," he said on April 30.
During the first-stage social aid distribution on April 9-24, some residents who live in an elite area and own motorized vehicles also received aid from the Jakarta government. The aid included five kilograms of rice, two cans of sardines, cooking oil, two fabric masks, and two soap bars, at a value of Rp149,500. The packages will be distributed four times in one month. The Jakarta government has allocated a social safety net budget of Rp7.6 trillion.
At the Ciomas Hills Residential Complex in Ciomas, Bogor, West Java, Syamsul Budiman received a notification from Neighborhood Association (RT) 04 on April 26, that he would be receiving Rp600,000 from the social affairs ministry. He had no need to worry about obtaining the aid because the money was to be delivered by Pos Indonesia directly to his doorstep. The private forestry sector employee did not know why he would be given aid as he felt certain he did not need it. "(It's) impossible to return (the aid) because it was to be delivered to my doorstep," said Symasul. Hidayat, another Ciomas Hill resident, also said he received the aid.
One day after receiving the news, Syamsul and other Ciomas Hills residents decided to submit the aid to RT 04 chief. Later, the money will be distributed to the complex's residents who have been truly impacted by the pandemic. An estimated 19 families of the 200 families in Ciomas Hills need aid. Recipients are required to sign an aid transfer statement letter.
In the Makrik hamlet, Bekasi, West Java, 55-year-old Katmo has not received social aid. The local RT chief has, in fact, made efforts to get Katmo his aid. But, as someone who has moved from Sukabumi, Katmo does not have Bekasi City on his ID card. "RT staff have asked for an ID card (KTP) and a family card, but there is no guarantee that he'll get (the aid)," he said on April 30.
Katmo, who lives in a semi-permanent home, no longer has any money. He was sent home by his employer—a property development company—two weeks ago. Neither has his salary been paid for two months. He is forced to borrow money right and left to feed himself as well as his wife and children.
KPK Prevention Deputy, Pahala Nainggolan, says the prevention coordination and supervision team has warned the regions to use the integrated data of social welfare (DTKS). Pahala has also asked regional governments to update their data, so that relief can be given to those who need it, especially as several regions have limited budgets. "Chaos has happened because regional governments have been lazy to update their data," said Pahala.
The government also admits that the distribution of social aid has been slow because the data used as reference comes from the DTKS. The data was last updated in 2015. Social Affairs Ministry Secretary-General Hartono Laras says regional governments can fix the data. "If there are families who should be receiving aid, that can be proposed."
Besides the data issue, some regional governments are concerned about distributing social aid due to certain regulations. Regent of East Bolaang Mongondow, North Sulawesi, Salim Landjar, said there was some chaos on April 25, in the Iyok village, Nuangan Subdistrict. Recipients of the Hope Family Program aid were not allowed receive assistance from the regional government although relief from the central government had not arrived. Aid in the form of rice, cooking oil and canned fish from the local government was held back for three hours.
In the end, Sehan decided that residents recorded as recipients of aid from the central government would be allowed to receive these relief packages. "I'm responsible," he said. Social Affairs Minister Juliari Peter Batubara says the regions need not worry if some of their residents receive double aid as assistance from the central government comes from the state budget while aid from the region comes from the regional budget. "No hindrance at all from the central government," said the Indonesian Democratic Party of Struggle (PDI-P) politician.
HUSSEIN ABRI DONGORAN, AYU CIPTA (TANGERANG), ADI WARSONO (BEKASI), YOGI EKA SAHPUTRA (BATAM), MADE ARGAWA (BALI)